Eric Kent : Artistry In & On the Bottle
About 18 months ago, I first wrote about Eric Kent Wine Cellars (PinotFile, Volume 5, Issue 36). Paul Root, of Root's Cellar (a fine wine retailer in Healdsburg), first turned me onto this producer, and since then Eric Kent has become quite a noteworthy cult winery.
I must inform you, however, there really is no Eric Kent. "Eric" is owner Kent Humphrey's middle name and "Kent" is his first name. Being on the humble side, Kent just could not bear to be blatantly eponymous. He also could not imagine people in a toney restaurant asking the sommelier for a bottle of "Humphrey" Pinot Noir. So, he inverted his first and middle names and his "nom de vin" came to be. In addition, designing a logo with two nice, short words seemed a good way to go.
Kent grew up in California around a family table that enjoyed wine. His college path, however, was not initially wine, but rather the PhD program at University of California Berkeley in French (happily with a full ride as a Regent's Fellow). He soon opted out of academia and pursued a job in advertising. He started his own agency and the company grew to more than fifty people. That experience gave him an in-depth look at big companies - their politics, creative accounting, and inherent failure to put people first. Kent's youthful idealism was decimated in the end and the work nearly "sucked the joy out of life." During these ten years of real-life experiences, he sampled, savored, collected and delighted in wine. When he finally decided to leave the advertising world, his friends and family encouraged him to seek a career in wine.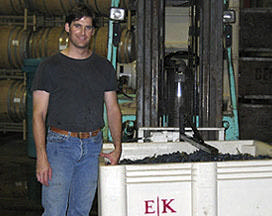 Initially he considered attending University of California Davis for winemaking training, but realized that many of the wines he most admired were made by people who had no formal training in wine. So he sought some hands-on experience and worked at two different winery facilities. A couple of years later, he was offered the chance to obtain some really classy fruit from top-notch vineyards. While a year earlier than he had planned, he couldn't pass up the opportunity and Eric Kent Wine Cellars was born. Kent chose to make Pinot Noir, Chardonnay and Syrah since these were the varietals that gave him the most personal pleasure. He produced 375 cases in the inaugural 2003 vintage. He has since reached nearly 2,000 cases a year. Given his run-in with big business, he still plans to stay small with growth stopping between 3,000 and 4,000 cases. The plan for that buildup is sensibly paced and he is content to take whatever time is necessary to do it well.

Kent and his wife, Colleen, an accomplished artist, decided one day over a dinner of burgers and Zinfandel to showcase artists on their bottles. The two work in harmony, she assisting him in making blending decisions and he helping her in choosing the individual art works that grace the bottles of Eric Kent wines. Kent and Colleen freelance as an art director/copywriter team to help pay for their winemaking project.
The works of art that are part of the front label of every Eric Kent wine are quite striking. The art is from deserving, but as yet undiscovered talent. Each artist brings a unique vision that compliments the spirit behind the wines. With every vintage, a portion of the wine sales is donated to help support the work of struggling artists. As Paul Root so aptly put it, "The wines speak for themselves and the labels add another dimension to the wine by creating a built-in discussion with every cork pulled."
The labels for vintages 2003 (top), 2004 (center) and 2005 (bottom) Eric Kent Stiling Vineyard Pinot Noir are shown below. The artists are from top to bottom, Erik Jacobsen, Kevin Keul, and Darin Fenn. For more information on the artists, visit the Eric Kent website at www.erickentwines.com.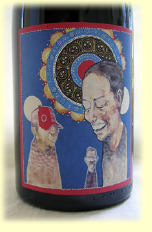 ,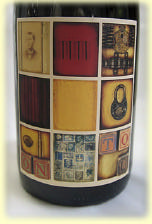 ,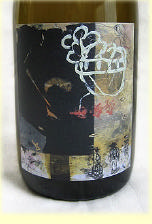 ,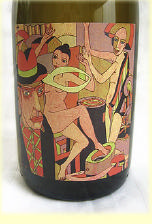 In the future, Kent will be introducing an additional Pinot Noir from the Windsor Oaks Vineyard in the Russian River Valley. Kent expects his two Pinot Noir bottlings to be quite distinct from one another. He is also thrilled with the line-up of 2006 label artists.

Eric Kent Wine Cellars is located in Santa Rosa, CA. The wines are produced at a Santa Rosa custom crush facility. 707-527-9700. Members of the winery's E/K Direct Club receive 20-25% discounts. Join the club at www.erickentwines.com. Demand has increased markedly in the last year (the 2005 vintage is completely sold out) and most all of the wine is now sold to E/K Direct Club members. This is so Kent can guarantee that all new club members can order up to a half a case of any or all the wines as part of their pre-release club shipments. There is still some retail and restaurant distribution. Paul Root at Root's Cellars in Healdsburg receives an allocation each year as well - join his e-mail list at www.rootscellar.com. The 2006 Stiling Vineyard Russian River Valley Pinot Noir and Sonoma Coast and Russian River Valley Chardonnay will be released in late March or early April, 2008. The two Syrahs will follow in mid-October of the same year. I believe the bottles/art work will become collectables.