Fiddlestix Vineyard
In each of the wine growing appellations of California that are pinocentric, there are a few notable vineyards that define the region. Fiddlestix Vineyard, located in the Sta. Rita Hills appellation of Santa Barbara County, is a vineyard of such renown that along with special vineyards like Sanford & Benedict, La Rinconada, La Encantada, Cargassachi, and Clos Pepe, the Fiddlestix name on a label has become a guarantee of excellence in Pinot Noir from the area.
The story behind Fiddlestix Vineyard is of interest. Kathy Joseph, the current effusive owner and winemaker at Fiddlehead Cellars, started out as a premed major in college (this is a familiar refrain quite unique to many winemakers). She eventually majored in biochemistry and attended University of California Davis graduate school. After working in the Napa Valley, she founded her own label, Fiddlehead Cellars, in 1988. Kathy searched for a strange or catchy name for her winery by exploring many books, but the name, Fiddlehead, came to her after one day in her garden nurturing some ferns that were just unfurling - Fiddlehead ferns to be specific. She loved the name and the visual connection with it. There was also a curly association - the fern curled up ready to emerge, and Kathy with her curly hair. The "fiddle' theme became the source for the name of her vineyard (Fiddlestix), her own nom de plume, the "Head Fiddle," and her annual event celebrating the wines from her vineyard, "Fiddlefest" (more about this later).
In the mid 1990s, Kathy began searching for her own vineyard in the Sta. Rita Hills region. She found a 133- acre flower farm across Santa Rosa Road from the famed Sanford & Benedict Vineyard. The land shared the same well-drained soils and the cooling ocean coastal breezes that Sanford & Benedict Vineyard enjoyed. As fortune would have it, Kathy had established a close friendship with veteran viticulturalist, Robert "Taz" Steinhauer. "Taz," is short for Tasmanian devil, a nickname Steinhauer acquired because he was a "whirling dervish" with boundless energy in the vineyards. Steinhauer joined Beringer Blass Wine Estates in 1979 and was a veteran of many harvests when he linked up with Joseph. The two formed a partnership with Beringer Blass Wine Estates, bought the ex-flower farm in 1996, and oversaw the planting of 100 acres of Pinot Noir beginning in 1998.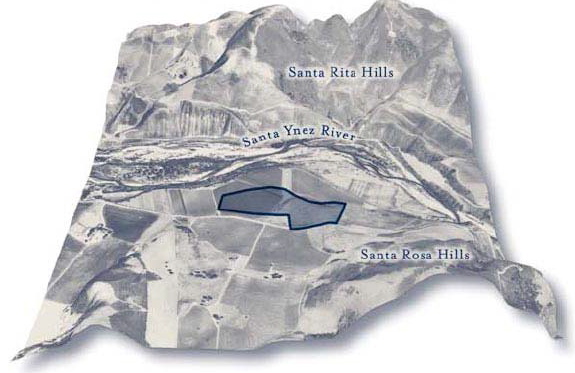 Located at mile marker 7.28 on Santa Rosa Road, Fiddlestix Vineyard is 10 miles from the Pacific Ocean at the western end of the Santa Ynez Valley. The Santa Rosa Hills are to the South and the Santa Rita Hills are to the North. The valley is unique for California in that it has an east-west orientation, drawing ocean breezes in and creating a very long growing season. Fog in the mornings and daytime temperatures barely rising above 75º make the Sta. Rita Hills appellation one of the coolest growing regions in California. The appellation (established in 2001) is a subdivision of the much larger Santa Ynez Valley appellation and is about 100 square miles in size, extending from Buellton in the West to Lompoc in the East and has about 700 planted hillside acres. It is one of three AVAs in Santa Barbara County, the other two being Santa Ynez Valley and Santa Maria Valley. The Santa Rita Hills appellation is officially named Sta. Rita Hills, since Vina Santa Rita, a 123-year-old winery in Santiago, Chile, filed suit in 2001 to stop California vintners from using the Santa Rita Hills name. Sta. Rita Hills is pronounced the same, but reads a little awkwardly. Photos below of Fiddlestix Vineyard are looking north, showing the east-west orientation of the northerly Santa Rita Hills.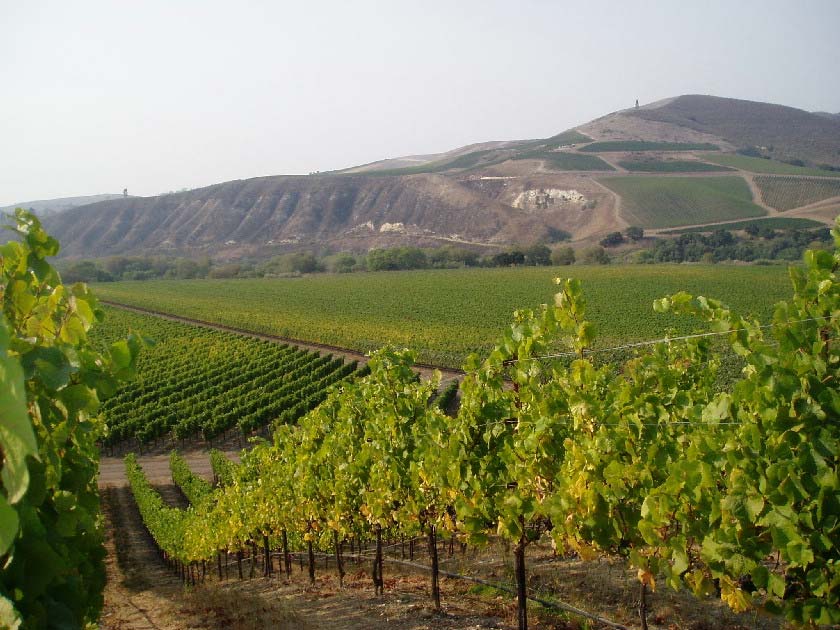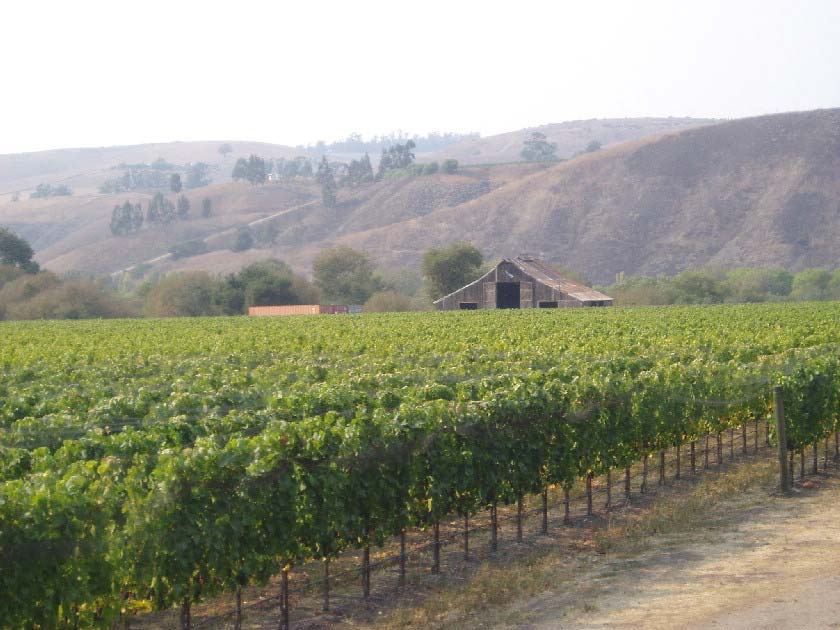 The Fiddlestix Vineyard is planted to thirty-five individual blocks, three rootstocks, and seven clones (Pommard 4 & 5, Dijon 113, 115, 667, 777, and Swan selection) of Pinot Noir. Tight spacing (1,556 vines per acre), VSP trellising, and primarily north-south facing rows throughout. The vineyard is under the management of Jeff Newton and Larry Finkle of Coastal Vineyard Care. Shoot thinning, leaf pulling and crop thinning is employed several times each season to limit yields.
Kathy Joseph retains about 15% of the vineyard's output for her own label, and sells the rest on contract to several prestigious wineries including Ampelos Cellars, Ancien Wines, Anglim Winery, Ampelos, Arcadian Winery, Bonaccorsi Wine Company, Dragonette Cellars, Jonata, Ken Brown, Hartley-Ostini Hitching Post Wines, Gainey, Ortman Family Vineyards, Pali Wine Company, Paul Lato, Prodigal Wines, RN Estate, Rusack, Summerland, Tyler, Vogelzang, Wedell Cellars and TAZ. She lives on the vineyard property with her husband, Tom Doyle, a medical malpractice attorney practicing in Northern California (they have a second home in Davis, California, where she spends much of the off season and which is used as the Fiddlehead Business Office). Along with a handful of full-time helpers, Kathy directs all the site-specific and sustainable farming on the vineyard. She has a very loyal crew including the vineyard supervisor, Rafa Medina, who has been at Fiddlestix since the beginning. Kathy recently took a class in Spanish so she could communicate more closely with her vineyard crew. The quality of the grapes from this vineyard are held in such high esteem that those who source grapes rarely request any changing in farming practices.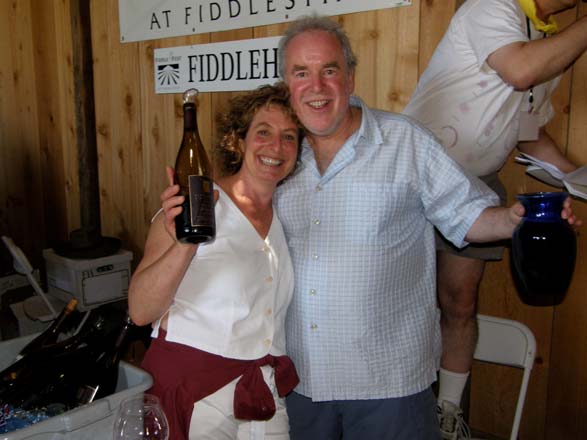 Beginning in 2006, Kathy Joseph has annually hosted Fiddlefest at Fiddlestix, a tribute to the vineyard that recognizes the winemakers who purchase grapes and craft wines from Fiddlestix Vineyard. It is staged in a refurbished barn on the vineyard property and this year (June 22, 2008), sixteen producers offered their Pinot Noirs. Despite searing heat, a hundred Pinot geeks converged at Fiddlestix to enjoy the luscious Pinots, feast on food from the Hitching Post II Restaurant in Buellton and rollick to the fiddling from The Southside Bluegrass Band. This is one of my favorite Pinot events of the year and is open to the public. Next year marks the 20th anniversary of Fiddlehead and the 10th vintage anniversary of Fiddlestix so a special event is planned (stay tuned at www.fiddleheadcellars.com). Below are some photos that capture the spirit of the event.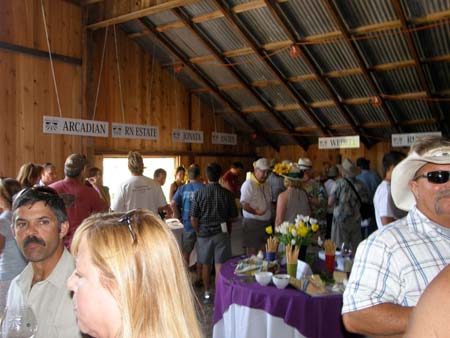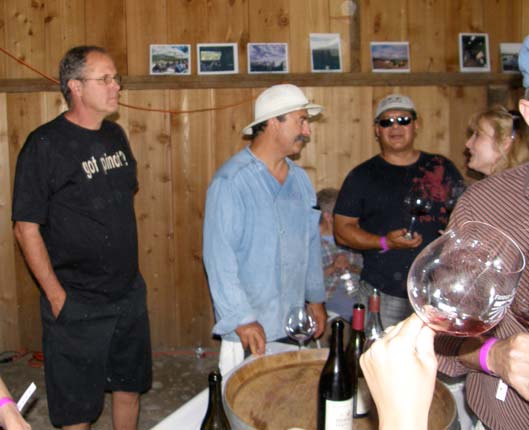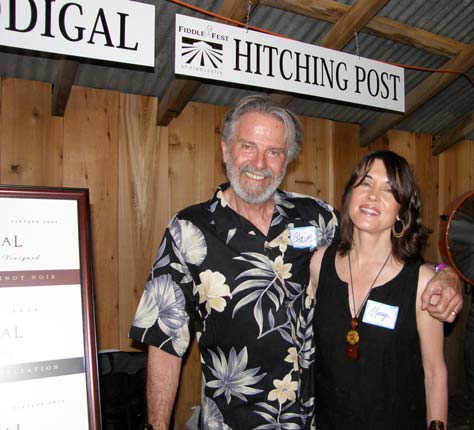 The wines that stood out for me at Fiddlefest were: 2006 Anglim Winery Fiddlestix Vineyard Pinot Noir, 2006 Dragonette Cellars Sta. Rita Hills Pinot Noir, 2002-2005 Fiddlehead Cellars Lollapalooza Pinot Noirs, 2006 Harley-Ostini Hitching Post Wines Fiddlestix Vineyard Pinot Noir, 2005 La Cancion de Jonata Pinot Noir, 2006 and 2007 Paul Lato Sine Cera Fiddlestix Vineyard Pinot Noirs (both barrel samples), 2005 and 2006 RN Estate Fiddlestix Vineyard Pinot Noir, and 2006 Wedell Cellars Sta. Rita Hills Pinot Noir.
There are a number of recent vintage Fiddlestix Vineyard Pinot Noirs from various producers reviewed in past issues of the PinotFile (search wine reviews by Fiddlestix Vineyard). In addition, I tasted several Pinot Noirs sourced from Fiddlestix Vineyard recently and the reviews follow. The wines from this vineyard tend to be very flavorful with bright acidity and structured tannins that give them good age ability. The 2002 Fiddlestix Vineyard Pinot Noirs from Arcadian and Fiddlehead are drinking beautifully now.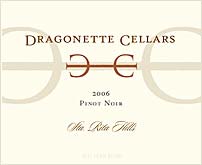 2006 Dragonette Cellars Sta. Rita Hills Pinot Noir
14.6% alc., 144 cases, $45. Sourced from both Fiddlestix and Gaia (Ashley's) vineyards. Clones 113, 114, 115, 777 and Pommard. The grapes were hand-harvested in the cool early morning hours over several days in September, de-stemmed without crushing, meticulously sorted, cold soaked for 4 to 7 days, then each block was fermented separately over a 14 to 30 day period depending on the lot. Aged on the lees for 17 months in 50% new French cooperage before being bottled unfined and unfiltered. · Toasty oak dominated black fruit aromas with scents of Provencal herbs. Oak-spiced black cherry and black raspberry flavors which fan out on the palate nicely. Soft, fruity and pure with admirable finesse, finely ground tannins and a long, scented finish.
Dragonette Cellars is a partnership between brothers John and Steve Dragonette and close friend Brandon Sparks-Gillis. The three spent a number of years learning the wine business through tasting, wine sales and winemaking under the tutelage of respected winemakers. To pursue their dream of making wine in the Santa Ynez Valley, they moved their families (a combined three spouses, three children, three dogs, and a cat) to the Valley, to be close to the land and its bounty. 2005 was the first commercial vintage for Dragonette Cellars which is a hands-on operation. The wines (there is a Rosé and Syrah available as well) are sold through a mailing list at www.dragonettecellars.com with limited retail distribution.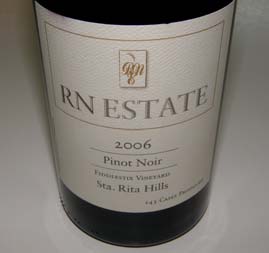 2006 RN Estate Fiddlestix Vineyard Sta. Rita Hills Pinot Noir
14.9% alc., 145 cases, $48. Whole cluster fermentation, aged 14 months in French oak. · The nose is reticent but coaxing reveals pleasant aromas of brambly cherry and strawberry with a sniff of alcohol. Restrained, tasty cherry and berry flavors with echoes of spice and oak. Lighter and elegantly styled with bright acidity. This wine should be a knockout with another year in bottle.
RN Estate is a winery in Paso Robles that specializes in Pinot Noir, red Rhone and Bordeaux varietals. Owner and winemaker, Roger Nicolas, is a Frenchman who grew up on a farm in Brittany, France, and came to the United States at the age of 20. During his years of working at and owning prestigious restaurants, he dreamed of crafting his own wines. The 2005 vintage marked his inaugural releases. I was also quite taken by the 2005 RN Estate Fiddlestix Vineyard Pinot Noir which also shows a French sensibility. The small production is sold primarily through the winery. Contact Roger by e-mailing him at rnicolas@rnestate.com or phoning 805-610-9802. The website is www.rnestate.com. Private tastings are available by appointment. Roger participated in a panel of new Pinot Noir producers at this year's PinotSummit that I moderated. Listen to the recording.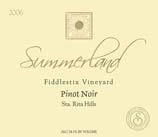 2006 Summerland Winery Fiddlestix Vineyard Sta. Rita Hills Pinot Noir
14.1% alc., 430 cases, $48. From the winery's Single Vineyard Collection. Clones 113, 667, 777, and Pommard. 6-7 day cold soak, fermentation in 1.5 ton open-top fermenters with hand punch downs, Assmanhausen yeast innoculation, 20-25 day maceration, and aging in 1/3 new Francois Freres cooperage for 11 months. · The nose is a killer. Expressive perfume of crushed black cherries, baking spice, subtle oak, and a hint of fecundity that comes and goes. Black cherry and berry fruit is set off by a touch of herbs and loamy earth with reigned in tannins and lively acidity. Drinking beautifully now.
Summerland Winery is a boutique producer that sources grapes from multiple vineyards in the Central Coast from Santa Barbara County north to Monterey County. This negociant winery has burst onto the Central Coast wine landscape since its founding by Nebil "Bilo" Zarif in 2001. Zarif was previously the owner of Barnwood Vineyards which he started in 1994. He initially bought 30 acres of land in the Cuyama Valley in Santa Barbara County and expanded the property to 800 acres of vineyards. He also acquired the Maison Deutz Winery as a silent partner which became Laetitia. In 2001, he sold his interest in both Barnwood and Laetitia and founded Summerland Winery. As a resident of Summerland, a hillside community overlooking the Santa Barbara Channel just south of Santa Barbara, it was natural to name his new venture after his beloved home community. He opened a quaint tasting room in Summerland at 2330 Lillie Ave which is open to the public Tuesday thru Sunday from 11-6. Zarif brought talented winemaker Etienne Terlinden with him from Barnwood and Laetitia. Terlinden acquired an appreciation for wine at an early age, playing hide-and-seek in his grandfather's wine cellar at his home outside of Brussels, Belgium. He also makes wine for his own label, Cordon, a boutique Rhone wine label, and The Santa Maria Winery. All winemaking is done at Central Coast Wine Services in Santa Maria, California. Despite contrasting lifestyles, (Zarif is an avid polo player and Terlinden is a surfer) they have formed a highly successful partnership.
Summerland is an ambitious operation producing 10,000-15,000 cases annually of multiple varieties. The wines are sold on the website and through fine retailers. Both the 2004 and 2005 Summerland Pinot Noir from Fiddlestix Vineyard were very good wines. The website is www.summerlandwine.com and the phone is 805-565-WINE (9463).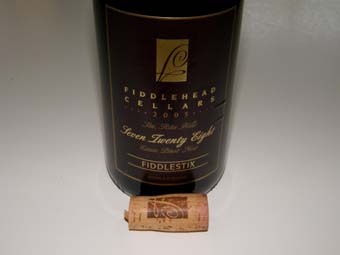 2005 Fiddlehead Cellars Seven Twenty Eight Fiddlestix Vineyard Santa Rita Hills Pinot Noir
14.2% alc.,$38. This is a blend of several clones and aged in barrels from several coopers. It can be drunk at a relatively early age. · This is a darkly colored wine that reminds me of Chunky Monkey ice cream. Delightful chocolate-coated cherries, oak toast, vanillin and herb garden scents lead to similar flavors with black raspberries and black cherries standing out complimented by good acid cut and a note of tangerine peel on the clean finish. The tannins are refined and the whole package is nicely balanced.
Fiddlehead Cellars is a trusted source of Pinot Noir. There has been a Willamette Valley Pinot Noir in the lineup of wines, but I am not sure Kathy will retain her source for this wine. She crafts two higher-end wines, Lollapolloza and Doyle which I have reviewed in previous issues of the PinotFile. Don't forget her Sauvignon Blancs if you are a fan of this varietal as well as her excellent lateharvest wine, Sweetie (Sauvignon Blanc with a hint of Muscat Blanc). Current releases and library wines may be ordered online at www.fiddleheadcellars.com or by phoning 800-251-1225. The tasting room is located in the Lompoc "Wine Ghetto," (call for directions as signage is poor in the warehouse complex) and is open from Thursday through Saturday from 11-4. If you get the opportunity to taste with Kathy, the head Fiddlechick, you are in for a treat. (Photo of Kathy and her husband Tom at this year's Fiddlefest is shown earlier in this feature).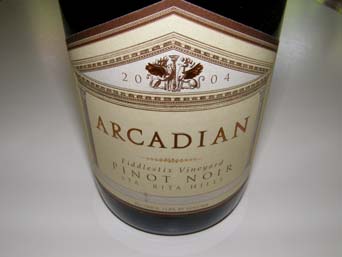 2004 Arcadian Fiddlestix Vineyard Sta. Rita Hills Pinot Noir
15.8% alc., $50. Co-owner and winemaker Davis has been a close friend of Kathy Joseph's and began sourcing fruit from Fiddlestix Vineyard in 2001. · Dark reddish-purple wine showing very ripe, raisiny and oak-infused aromas. Cooked dark fruit flavors with grippy tannins, tangy acidity and a dry, tart finish.
Arcadian Winery winegrower Joe Davis is a believer in Old World (Burgundy) methods of crafting fine Pinot Noir and Chardonnay. A classicist, his wines often need a few years to really offer their charms. As writer Dennis Schaefer has said, "Almost every winemaker who makes Pinot Noir professes to follow the Burgundian model. And, more or less that's true. But with some winemakers, the 'less' part is apparent, and plenty of shortcuts may be employed. With winemaker Joe Davis, everything is always 'more' Burgundian." Founded in 1996, Arcadian owns no vineyards, but Joe spends considerable time in the 60 acres he controls or leases, making him as much a farmer as a winemaker. Production is 8,000 cases annually. The winery is at 4457 Santa Rosa Road, Lompoc. Tasting is by appointment. 805-688-8799. The wines are available on the website at www.arcadianwinery.com and through retail distribution. The 2002 Fiddlestix Vineyard Pinot Noir I have sampled in the past was much better and more typical of Joe's wines than the 2004 vintage reviewed here. Unfortunately, a bottle of the 2001 vintage I sampled was flawed by TCA.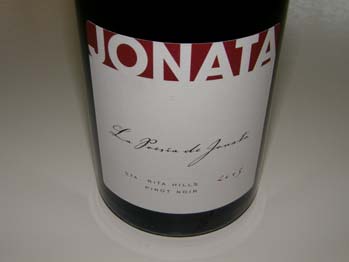 2006 Jonata La Poesia de Jonata Sta. Rita Hills Pinot Noir
15.2% alc., $90. · A rich, big-boned Pinot Noir with alluring scents of ripe black cherry liquor and a hint of oak char. Full-bodied darker fruits enhanced by savory herbs and oak with a grilled fruit and soy accent. Nicely balanced with a lovely smooth velvety texture and enough acidity to bring the fruit into focus. The aromatic finish lingers on and on. An expensive bottle of wine, but one that really delivers the goods.
Jonata ("Ho-notta") may just be the most high-profile new cult producer in Santa Barbara County. The winery is under the joint ownership of Charles Banks, a money manager for athletes, and Stanley Kroenke, a Denver real estate developer, who also jointly own Screaming Eagle (purchased for $90 million). The Jonata estate is in the Buellton Ballard Canyon area of the Santa Ynez Valley appellation and consists of 586 acres with 83 acres planted to warm-weather red varieties and Sauvignon Blanc. Pinot Noir is sourced from Fiddlestix Vineyard with plans to develop an estate vineyard in the Sta. Rita Hills in the future. The young winemaker is Matthew Dees, an East Coast transplant who learned his winemaking at Staglin Family Vineyard and Craggy Range in New Zealand. He joined Jonata in 2004. The consulting enologist is famed Michel Rolland. There was a second Pinot Noir released in 2005, La Cancion de Jonata, which I assume is a reserve that is priced in the $125 range on the secondary market. I tasted it at Fiddlefest and its flavor profile was similar to the La Poesia, but an even richer and more brooding style. Jonata wines are sold bundled through a mailing list at www.jonata.com. with very limited retail distribution. 805-564-8591.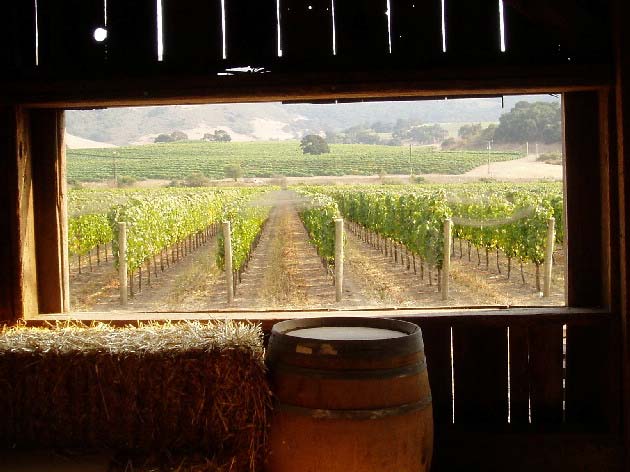 For more information on the Sta. Rita Hills appellation including an extensive map showing vineyard and winery locations, visit the Sta. Rita Hills Winegrowers Alliance website at www.staritahills.com.