Anthill Farms
Founded in 2004, this new producer with the quirky name and unique label has burst on the scene with startling good Pinot Noirs made from purchased grapes. This project is one of many that has ties with the Williams Selyem winery. Three young Pinot amigos, who had worked together as cellar hands at the distinguished winery on Westside Road launched their own winery with three Pinot Noir releases in 2004. Anthony Filiberti grew up in Sonoma County and was lured to wine at an early age. He learned winemaking at Bergstrom Winery in Newberg, Oregon, Hafner Vineyards in the Alexander Valley, and Williams Selyem. David Low grew up in Kansas but got hooked on wine while attending University of California Berkeley. A short stint as a computer programmer was followed by a change of heart and he later worked at both Williams Selyem and Papapietro Perry. Webster Marquez grew up on the East Coast and attended college in Virginia. Here he began working as an assistant winemaker at Jefferson Vineyards. He then moved to Sonoma County where he joined Williams Selyem. Currently he is the assistant winemaker at Belvedere Winery in Healdsburg. The trio's goal is to craft Pinot Noirs which "express the growing site and the characteristics of the vintage, and above all else, taste good." Their emphasis is on the vineyards and have named their winery Anthill Farms to emphasize the many tiny individual vineyards that form "the link between place and product." Their grape sources are North Coast vineyards in Sonoma and Mendocino counties. Anthill Farms Winery is located at 4791 Dry Creek Road, #3-4, Healdsburg, CA 95448. The phone is 707-490-5191. The wines are available on the website at www.anthillfarms.com and through retail channels. As good as these wines are, I was surprised recently to find the 2006 vintage Pinot Noirs still available on the website. I sampled the 2005 and 2006 lineup of Anthill Farms Pinot Noirs and my reviews follow.
2006 Anthill Farms Anderson Valley Pinot Noir
13.7% alc., $32. · Light crimson in color. Cinnamon spice, cherry, cardamom aromas which are nose-filling. With time in the glass there are more confected grape fruit notes with a touch of alcohol peeking out. Light-weighted and elegant, the wine shows off very appealing cherry and raspberry flavors.. Nothing epiphanic but a good drink and perfect for the table.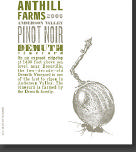 2006 Anthill Farms Demuth Vineyard Anderson Valley Pinot Noir
13.6% alc., $39. · Light crimson robe. Complex nose showing black cherry, truffle, oak and toffee. Charismatic dark stone fruits with an earthy tone. Healthy tannic backbone. Creamy texture and a slightly dry finish. This will only get better with cellaring. I could drink this all night.
Anthill Farms Pinot Noirs have made quite an impression with me. These are food-friendly wines that are elegantly styled with complex aromas and flavors and respectable balance. The Demuth bottlings are clearly the stars of the lineup but you can't go wrong with any of the Pinot Noirs. I would grab some while the getting is good.