Sommelier Winemaker Debuts LIOCO Winery
Sommeliers know wine and understand how the components of wine can act in unison to compliment and enhance the experience of dining. They sense exactly the kind of wine that makes food sing. It is no surprise, then, that sommeliers have begun to launch their own labels, crafting wines that reflect their food sensitivities and their vast background in tasting fine wines. Many have establish close relationships with growers and winemakers through the years, making it comfortable for them to gain access to established expertise in the wine business. Some of the most notable sommeliers who have become winemakers include Rajat Parr of the Michael Mina Restaurant Group, John Lancaster of Boulevard Restaurant in San Francisco, and Kevin O'Connor of Spago Restaurant in Los Angeles.
Kevin O'Connor predates the current surge in sommelier winemakers, having made wine for years under the O'Connor label. Beginning with the 2005 vintage, he teamed with former North Berkeley Imports wine importer Matt Licklider to found the LIOCO label to produce vineyard-designate Pinot Noir along with stainless steel fermented vineyard-designate Chardonnay and a Carignan/Petite Sirah blend. LIOCO is a combination of the partner's last names. O'Connor works closely with University of California Davis trained winemaker Kevin Kelley (Salinia) to produce non manipulated site-driven wines. The two Pinot Noirs reviewed below definitely reflect their unique terroirs. Winemaking features careful sorting in the vineyard and the winery, wild yeast and partial whole cluster fermentations of mixed clones, and aging for 10 months in 1,2 and 3 year-old oak barrels. LIOCO is a "virtual" winery making wines at a facility in Santa Rosa.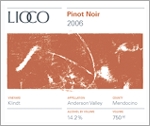 2006 LIOCO Klindt Vineyard Anderson Valley Pinot Noir
14.2% alc., 118 cases, $45. This hillside site is 11miles from the Pacific Ocean. Soils are sandy clay loam and fractured rock. Very cool climate. · This wine speaks of the soil. Aromas of earth, smoke, grilled mushrooms, plum reduction sauce and a faint whiff of alcohol. Very earthy and darkly fruited with delicious black raspberry jam bringing up the finish. Moderate tannins and bright acidity. Rustic but in a good way. Needs full-flavored dishes such as grilled lamb chops.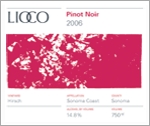 2006 LIOCO Hirsch Vineyard Sonoma Coast Pinot Noir
14.8% alc., 256 cases, $60. The Hirsch Vineyard is the defining Pinot Noir site of the Sonoma Coast. Located 3 miles from the Pacific Ocean at 1,100 to 1,400 feet on several ridge tops, the complex calcareous seabed soils provide a unique expression of Pinot Noir. This wine is from Mt Eden clone. · Oh Boy, put on your seat belts. Fairly modest in color, but delivering a transcendent drinking experience. The nose is brimming with fresh Bing cherry and cinnamon toast perfume. A refined style that is yet vigorous with flavors of dried cherries accented with toasty oak, savory herbs and spices. Elegant and silky, with gossamer tannins and admirable acidity. The balance is spot on. David Hirsch must be proud of this wine.
Lioco Wines are available on the website at www.lioco.com, at select restaurants, and fine retail wine stores. In the 2006 vintage, there is a third Pinot Noir from Michaud Vineyard near Chalone. The winery business office is located at 11151 Missouri Ave, Los Angeles, CA 90025 and the phone is 310-717-1892.