Freestone Vineyards
Growing Pinot Noir along the most western reaches of the Sonoma Coast is a risky undertaking. The region is extremely cool and there is the constant threat of rain during bloom and harvest. Yields can be excruciatingly and unprofitably small, in some vintages totaling a 1/2 ton per acre, and in others, amounting to no commercially viable crop at all. The terrain is rugged and much of the land is inhospitable and unsuitable for vines. Gophers, birds, deer, and wild hogs are in abundance. Despite these obstacles, a dedicated few have accepted the challenge knowing that the fickle grape feels right at home here. Noted wine writer, Matt Kramer, has said, "One thing is already clear: Sonoma Coast West is an extraordinary location for Pinot Noir. Sonoma Coast West has the capacity - although not yet the achievement - of someday creating America's grand cru Pinot Noirs."
The Sonoma Coast appellation (AVA) is the largest of the thirteen AVAs in Sonoma County at 750 square miles. This unwieldy appellation was formed in 1987 and includes an endless number of microclimates all typified by coolness. The Sonoma Coast AVA was primarily created to allow certain wineries to include all of their diverse vineyard holdings within one appellation so they could use the "estate bottled" designation on their wine labels. The Sonoma Coast AVA extends from the Sonoma County border with Napa Carneros to the East, to Marin County to the South, to the Pacific Ocean to the West, and to the Sonoma County border with Mendocino County in the North (see below).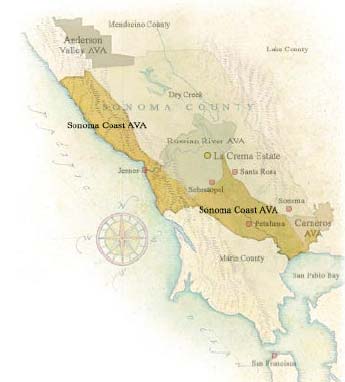 Because of the immensity of the Sonoma Coast AVA, an unofficial subdivision has been created termed the "true" Sonoma Coast (what Matt Kramer calls Sonoma Coast West). This subdivision is roughly from Jenner in the South where the Russian River empties into the Pacific Ocean, to Annapolis in the North, and from the beaches to 5 to 6 miles inland including the first two ridges of the Coastal Range of mountains and the western slope of the third ridge. Besides Annapolis and Jenner, Ft. Ross, Occidental and Freestone are included, although all are south of Jenner. At some point in the future, the true Sonoma Coast will be broken into smaller AVAs.
Freestone Vineyards was not the first to plant Pinot Noir in the true Sonoma Coast. That honor goes to Mike Bohan. In 1973, he developed a vineyard on Bohan Dillon Road which included Zinfandel, Pinot Noir, Chardonnay and Riesling. Many others soon followed, notably David Hirsch (Hirsch Vineyard) and Walt and Joan Flowers (Camp Meeting Ridge), but also Helen Turley and John Wetlaufer (Marcassin), Lee Martinelli (Martinelli), Bill Smith (W.H.Smith), Daniel and Marian Schoenfeld (Wild Hog), Mark Bixler and Steve Kistler (Kistler Vineyards) and Marimar Torres (Marimar Estate). More recently, several prominent Napa wineries have developed vineyards in the true Sonoma Coast, including Caymus (Belle Glos), Pahlmeyer, Peter Michael and Joseph Phelps (Freestone Vineyards). Freestone Vineyards is clearly the most ambitious project and the only Napan producer to establish a winery and guest center in the true Sonoma Coast.
The town of Freestone dates to the Gold Rush era in California, a time when Pinot Noir first arrived in California from cuttings imported by either Frenchman Pierre Pellier, Hungarian Colonel Agoston Haraszthy, or Frenchman Charles Lefranc. Freestone was named in 1853 after a quarry of sandstone in the area. The first white settlers in this area, James McIntosh, James Dawson and James Black, were sent by General Vallejo to settle the land near Freestone in the mid 1800s. The settlement was part of the Mexican government's attempt to extend Mexico's frontier in Sonoma County north toward the Russian settlement at Ft. Ross. By 1872, Freestone had become a terminus for the North Pacific Railroad and a trade center for the area. The photo below shows the North Pacific Coast Railroad's Freestone Station as it looked in the 1900s.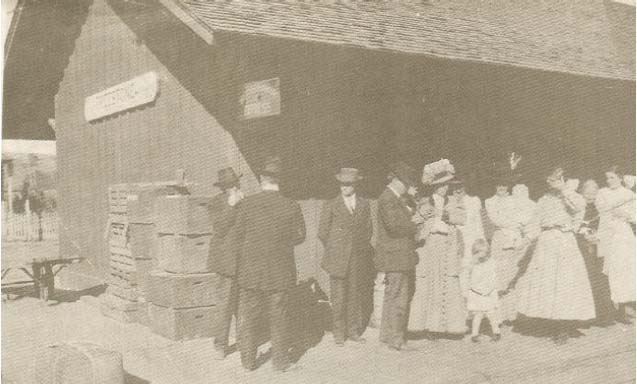 The once-thriving lumber industry eventually dwindled and the railroad was abandoned. This tiny town still has the original 1887 school house and the post office operates in what was originally the town's general store. In 1974, Freestone was declared a historical district by the citizenry of Sonoma County. Freestone has become known mainly for two businesses. The Wild Flour Bakery at the intersection of the Bohemian Highway and Highway 12 bakes breads in a wood-fired brick oven that are among the best in Northern California. The nearby Osmosis is a world-renowned healing sanctuary and spa in a Japanese-style setting on five acres.
Freestone Vineyards has brought new life to this sleepy town and undoubtedly will attract visitors who are curious about this westernmost frontier of Sonoma County Pinot Noir country. The Joseph Phelps organization has built a magnificent 40,000 square foot winery at the end of Freestone Flat Road. Bermed into the hillside and employing gravity-flow by way of its three level construction, it sits in the center of the estate Freestone Vineyard. Unfortunately, environmental concerns prevent tastings and tours at the winery, so Freestone Vineyards has opened an attractive and comfortable guest center at the corner of Bohemian Highway and Highway 12 in the historic Pastorale Building which was formerly a woolens store (see photo below). The inviting space is furnished in country French furniture and offers the visitors an appealing copper-topped bar or a spacious table to sit and linger. The entire project initially met with some resistance from local residents, but Freestone Vineyards has proven to them to be committed to being an attentive caretaker of this historically rich area.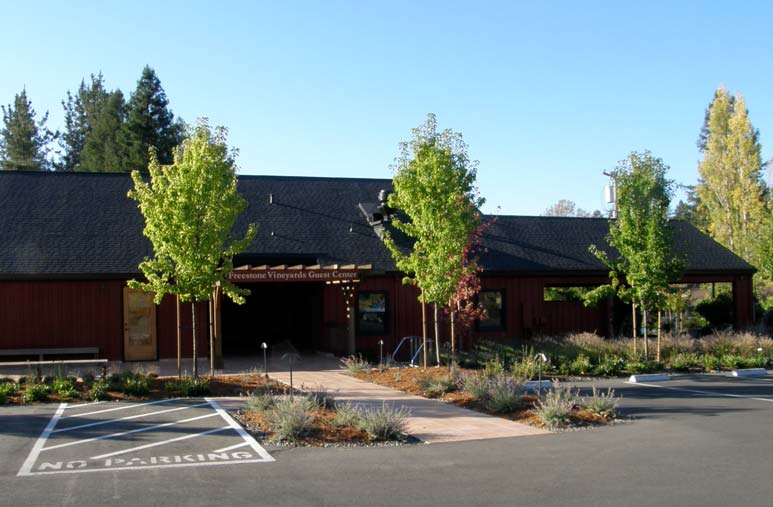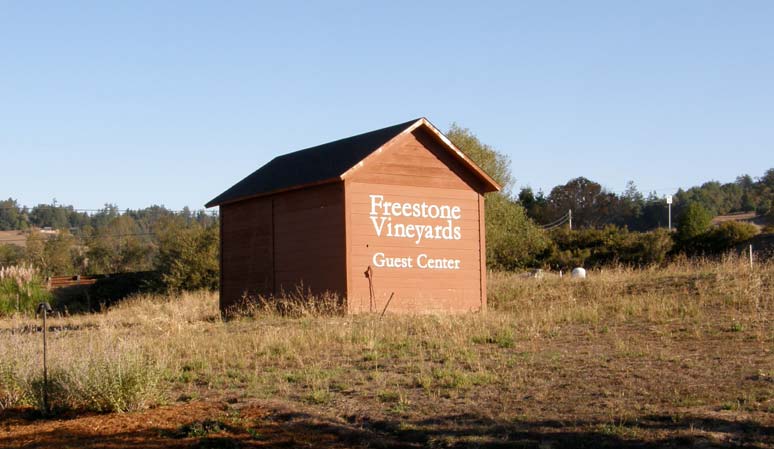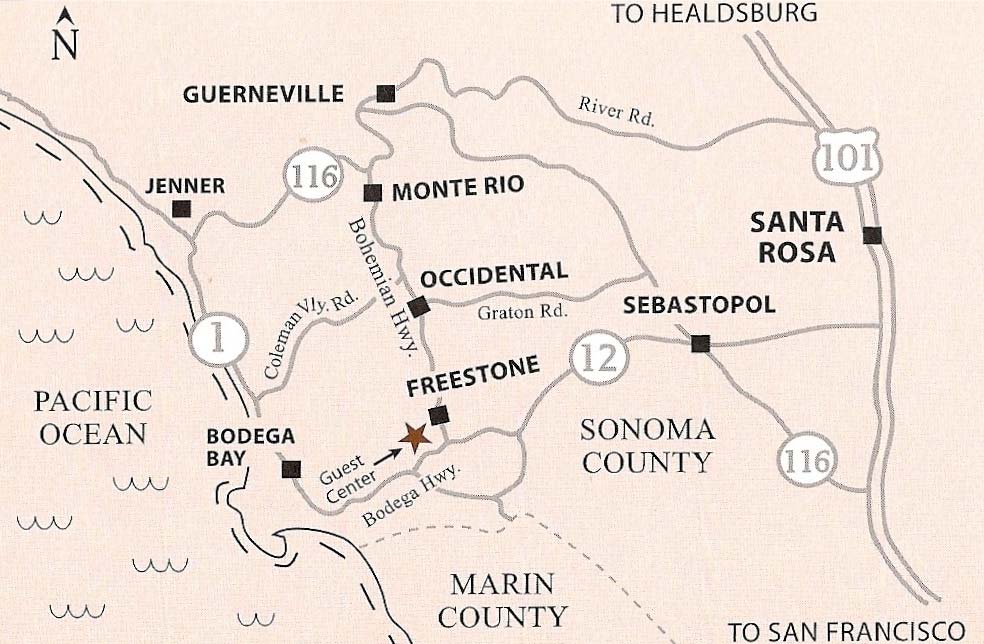 I visited Freestone Vineyards on a brilliantly sunny day in late October. Harvest had concluded but the vines were bursting with vibrant colors of orange and yellow, a striking contrast to the hillsides covered with towering redwood trees. I was met by a warm and enthusiastic staff, eager to show off their beautiful vineyard setting, modern winery, and superb wines. An impressive team has been assembled. Joel Robledo is the Vineyard Surpervisor, a veteran of 13 years in Knights Valley for Beringer and 3 years in Sonoma County for Joseph Phelps Vineyards. Vineyard Operations Manager Greg Cannon has experience working at numerous wineries in California and South Africa and has been at Joseph Phelps Vineyards since 1994. He has prime upstairs office space overlooking Pastorale Vineyard (the portion of Freestone Vineyard next to the winery and business center). The Cellar Master is Justin Ennis, a veteran of Williams Selyem Winery in Healdsburg, Villa Maria Winery in New Zealand and Vinas de Tupangato in Argentina. The winemaking team consists of Director of Winemaking Damian Parker, who has been with Joseph Phelps Vineyards since 1981 and Associate Winemaker Theresa Heredia. Theresa has an impressive educational resume, with a Bachelor's degree in Biochemistry from Cal Poly in San Luis Obispo, and three years of study in the Chemistry and Viticulture/ Enology program at University of California Davis. Her winemaking experience includes time spent at Saintsbury in Napa Carneros and Burgundy. She joined Joseph Phelps Vineyards in 2002. This is a compatible pairing (the two are pictured below at the estate Quarter Moon Vineyard), with Damian providing the steadying and experienced hand and Theresia contributing the innovative enthusiasm of youth. Pascal Marchand, an internationally acclaimed winemaker and former manager of Domaine de la Vougeraie and the estate of Comte Armand, Domaine des Epeneaux, has brought his expertise as a consultant as well.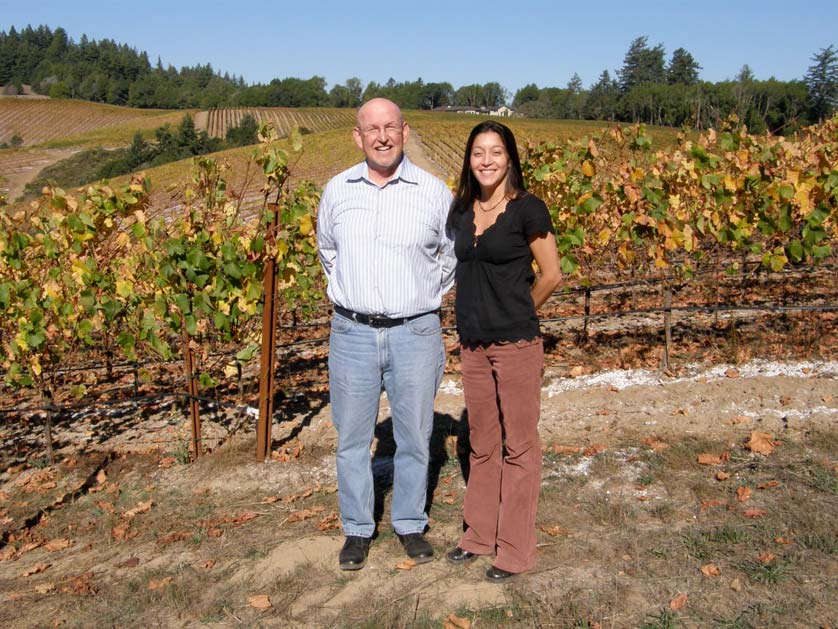 Freestone Vineyards dates to 1999, when Joseph Phelps, his son Bill and the Phelps management team bought 55 acres in Freestone on Freestone Flat Road. Joseph Phelps, who was fond of Chardonnay, had yearned for an appropriate location to establish a new Chardonnay program. His popular Joseph Phelps Ovation Chardonnay was sourced from vineyards in Carneros. The Freestone property, which in the past had been used for logging, dairy farming and even a rest home, was also a perfect locale for Pinot Noir. In 2000, additional nearby land was acquired including Quail Hill Ranch (renamed Quarter Moon Vineyard).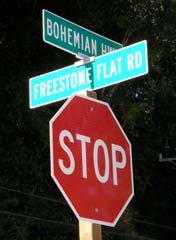 Planting began in 1999, divided among two sites. Freestone Vineyard consists of 60 acres of Pinot Noir and 20 acres of Chardonnay planted at elevations of 200 to 500 feet. This vineyard is divided into a north and south portion with most of the entire vineyard planted to 4' x 4' spacing. There is a diversified mix of rootstocks and clones (Calera and Swan selections, Dijon 115, 667, 777, 828 and the rarely planted 459). Generally, different blocks from this vineyard are vinified separately rather than isolating different clones and selections. Whole cluster fermentation is employed for blocks that are particularly suitable. The Freestone Vineyard and winery are pictured below with the North portion in the foreground and the South portion (recently named Pastorale Vineyard) in the distance surrounding the winery.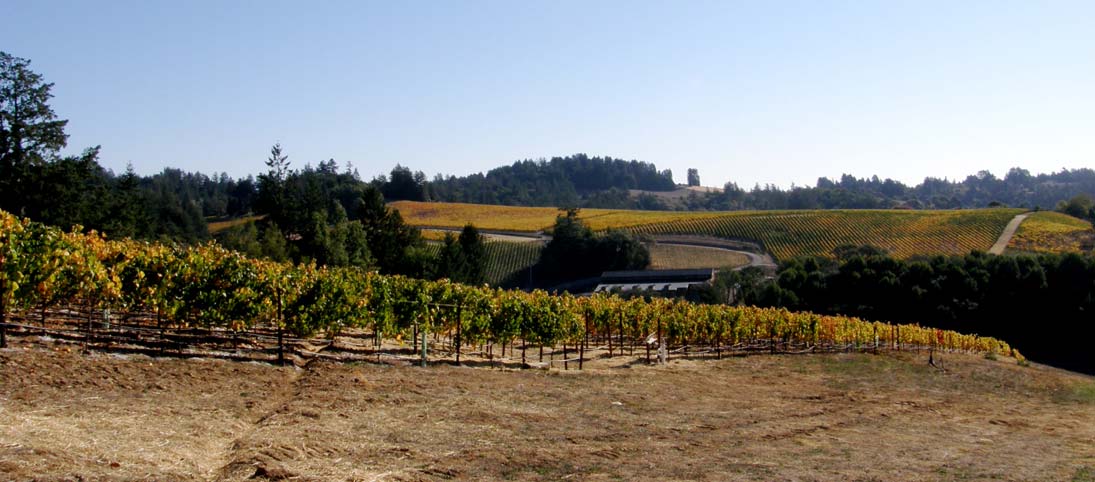 The nearby Quarter Moon Vineyard is located on the western side of Bohemian Highway and is planted to 40 acres of Pinot Noir. At 400 foot elevation at its highest, this vineyard lies above the fog line, facing south, and sits about five miles from the Pacific Ocean. It is in proximity to vineyards owned by Benziger and Kistler and is a magnificent site as you can see in the photo below. The plantings at Quarter Moon Vineyard include heritage selections (primarily Calera) as well as Dijon 115, 777 and 828.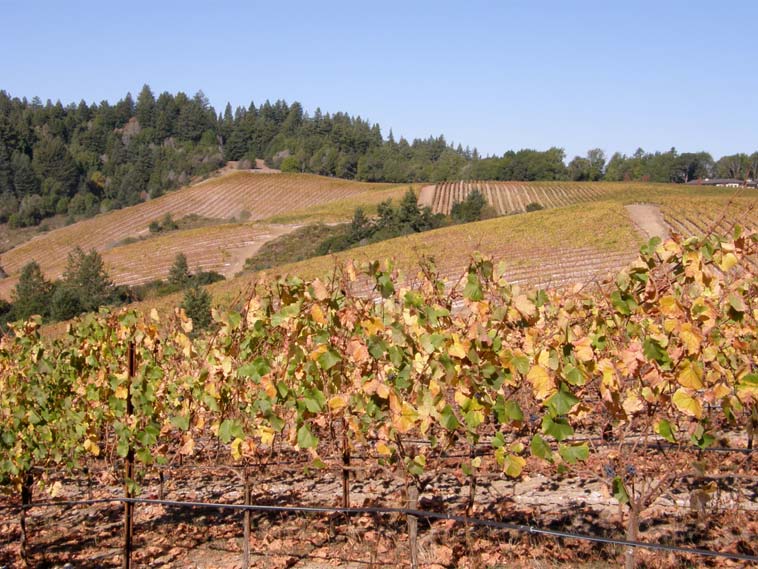 A third vineyard source, the Ferguson Vineyard, consists of six acres of Pinot Noir planted to Dijon clone 115. The fruit is sourced under a 30-year lease from the owners.
All the vineyards are exposed to chilly maritime air with low-lying morning fog giving way to afternoon sunshine. Temperature swings of 45 degrees are not unusual and the cool days of the spring growing season can lead to low berry set. Farming here is not for the faint-of-heart. Soils are Goldridge Series with excellent drainage. Roots grow deeply searching for nutrients, allowing some vineyard blocks to be dry farmed. Ultimately, it is hoped that all Freestone vineyards will be dry farmed and managed biodynamically. Controlling weeds and gophers continues to be an "uphill battle" as Theresia notes, and requires constant vigilance.
The modern winery, completed in time for the 2007 harvest, is a state-of-the-art, gravity-flow facility enabling the winemaking staff to perform at the highest level. Designed by architect Paul Smith, who created the design at Byron Winery in the Central Coast, the winery was built by Hansel Phelps Construction in Colorado. Joseph Phelp's father, Hensel, founded this company in 1937 and Joseph ran it for many years before departing to enter the wine industry in the early 1970s. The winery's hillside location and compatible exterior blends perfectly into the wooded location. Inside, the facility is all concrete, stainless steel and copper, and roomy enough to be highly efficient. An industrial lift provides easy movement of winery equipment and byproducts of winemaking between the three levels. On the upper floor, a refrigerated holding room keeps incoming bins of fruit cold so that bright fruit flavors and acidity are retained before processing. Cold grapes can also be destemmed more readily. The center level houses 35 4 1/2- to 7-ton stainless steel fermenting tanks. Five wood tank fermenters permit more focused winemaking for primarily the vineyard designate bottlings. The lower level features separate temperature-controlled barrel rooms for Chardonnay and Pinot Noir.
Winemaking with Freestone fruit is still evolving. The vines are very young and 2006 is the first large-scale commercial vintage. In 2002 and 2003, a few barrels of wine were produced and in 2004 and 2005, a FogDog Pinot Noir blended from grapes from the three estate-grown vineyards was released. Theresa noted that tannin management has been one of her major focuses since the Freestone grapes typically show sturdy tannin development. Noted winemaker Ted Lemon has characterized true Sonoma Coast Pinot Noir as, "Muscle and sinew, grit, structure, more backbone and tannin than Russian River Valley Pinot Noir." Theresa has adjusted stem inclusion, maceration, the temperature of fermentation, and the pigeage regimen searching for the ideal combination to soften tannins. Currently, she is incorporating more stems, macerating and fermenting at a higher must temperature, extending maceration, and adding two punch overs a day to the punch down program. The oak regimen calls for light to medium toasted French oak barrels and 40-60% new oak, with the highest proportion of new oak reserved for the vineyard-designate Pinot Noirs. Filtration is avoided completely and fining is employed only rarely.
At the winery, I tasted the 2006 Fogdog and 2006 Freestone Pinot Noirs, which are now in release, and two vineyard-designates, the 2007 Quarter Moon Vineyard and 2007 Pastorale Vineyard Pinot Noirs, scheduled for future release. The 2006 Pinot Noirs along with the Chardonnay lineup were re-tasted in my usual setting at home. The Chardonnay program is on equal footing qualitatively with the Pinot Noirs. The true Sonoma Coast has not received the same recognition for Chardonnay as for Pinot Noir but considerable potential has been shown by releases from Hirsch, Marcassin, Sonoma Coast Vineyards and now Freestone Vineyards. Given the impressive wine program at Freestone Vineyards, and the considerable financial backing, I was not surprised to find the entire lineup of wines stellar. However, the wines exceeded my expectations and I believe this new producer is poised for greatness. The wines of Freestone Vineyards are confirmation that Matt Kramer's quote is not just hyperbole.
The 2006 vintage on the Sonoma Coast was characterized by rain and plenty of it (more than 9 feet). The result was an extended growing season with late but adequate ripening.
Freestone Vineyards Guest Center is located at the intersection of Bodega Highway (Highway 12) and Bohemian Highway at 12747 El Camino Bodega in Freestone. It is currently open from 11:00 to 5:00 Friday through Sunday. Pick up some cheese in Santa Rosa, only thirty minutes away, grab some bread at nearby Whole Flour Bakery, and relax at the Guest Center over some welcoming wines. Both indoor and outdoor tables are available. Children and dogs are welcome. Special private events may be held at the facility. The Freestone Vineyards Private Collection allows members access to new releases of Chardonnay and Pinot Noir as well as limited production wines which are available to members only. Members receive preferred pricing and invitations to private, members-only events. Visit the website at www.jpvfreestone.com or phone 707-874-1010. The Fogdog wines and Ovation Chardonnay are distributed through retail channels, and the more limited Freestone Vineyard wines are sold primarily through a mailing list, to Freestone Vineyards Private Collection members and directly to visitors at the Guest Center.