Littorai Now Receives Visitors
Regular readers of the PinotFile realize that I have the upmost respect and admiration for Ted Lemon, proprietor and winemaker at Littorai. For many years, Ted has made the long trek from his home in Sebastopol to Angwin in Napa County, where he has crafted his wines. Ted has always been receptive to visitors, but few made the attempt to see him in the mountainous outpost of Angwin and as a result, his notoriety has primarily been shared by those in the know in the wine business. A new winery facility has been a goal of Littorai Wines since inception in 1993 when 12 barrels were crafted in the back of Robert Pecota Winery.
Ted has now completed construction of an innovative, environmentally sensitive winery on his personal estate in the western hills of Sebastopol. Located on 30 acres of rolling hills on a ridge top in the Sonoma Coast AVA, Littorai's new winery incorporates straw bale construction and incorporates gravity flow on its two levels. The lower level is bermed into the hillside. The straw bale walls insulate the winery so that a cooling temperature is maintained naturally in all but the barrel storage area. When I visited recently on a warm afternoon, the winery temperature inside was 65°F. In the future, caves will be built connecting to the winery, allowing for all natural cooling throughout the facility. All the process waste from winemaking is recycled through a constructed wetlands system and recycled for vineyard and property irrigation. Natural lighting is employed with strategically placed windows reducing the need for electricity. The estate Pinot Noir vineyard on the property is farmed biodynamically using only organically certified materials and the farm is integrated, diversified and selfsustaining. Photos of the new winery and estate vineyard are included below. The recovery pond (still under construction) and large compost pile in the distance are visible in the lower right photo.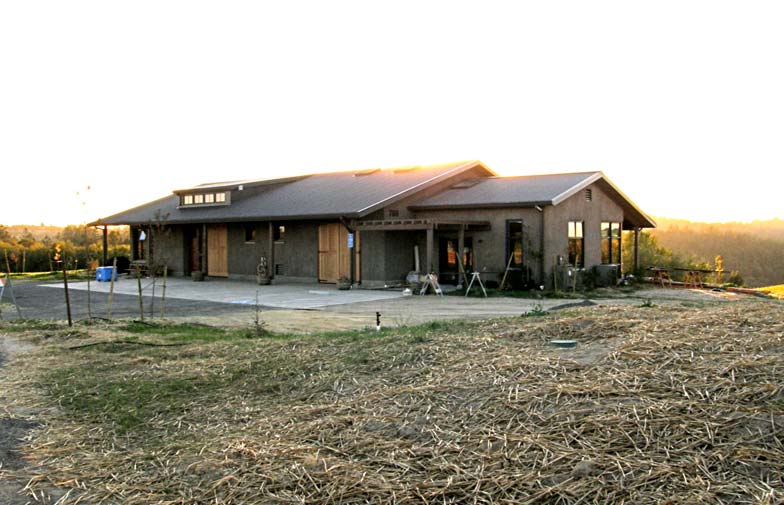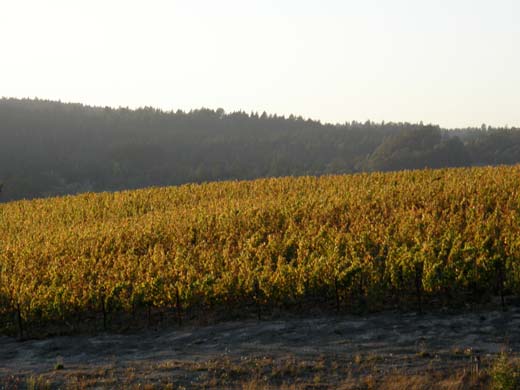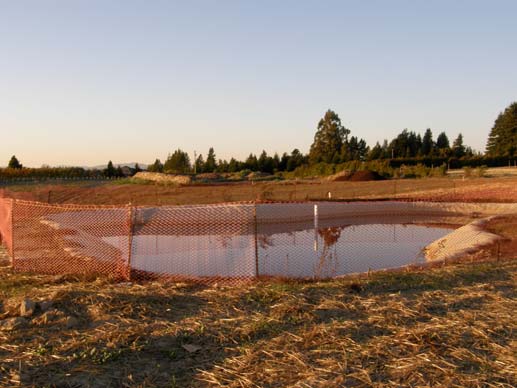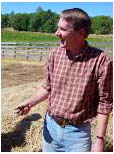 Ted and I chatted about the challenging 2008 harvest. Heat forced Ted to pick grapes in some sites earlier than he would have preferred, forcing him to discard 4% of the crop on the sorting table. In some locations, an additional two weeks of hang time was possible and that made all the difference with those grapes coming in more uniformly ripe. His early consensus about the vintage was that the wines have plenty of color and concentration, yet are not particularly tannic.
Ted has been farming many of his leased vineyards biodynamically since 2001. Beginning with the 2008 vintage, 90% of Littorai's vineyard sources will be farmed using only organically certified materials. 54% will be farmed biodynamically and 39% of the wines will be estate production. Ted feels strongly that "wine from a well managed biodynamic vineyard expresses terroir like no other." In addition, Ted has found dry farming to be preferable although not possible at all sites. Thieriot Vineyard and the older vines at Summa Vineyard are now dry-farmed and Hirsch is close. The Haven is in a cooler region and can be dry farmed as the vines age. Cerise Vineyard in the Anderson Valley is very dry and rocky and must be irrigated. Dry farming is not an absolute for most vineyards since some dry vintages such as 2006 (see next paragraph) require some irrigation.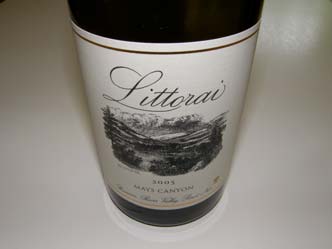 I tasted through several of the 2006 vintage wines that were open. Ted summarized the vintage for me. 2006 was dry with no rain after April 15th, requiring irrigation in all vineyards. Botrytis was prevalent at most Chardonnay vineyards and even at some Pinot Noir vineyards caused by the dense fog in late summer. Because of generally cool weather, seed maturity and lignification were both excellent before harvest (always a positive sign for wine quality). The 2006 Littorai Pinot Noirs are aromatically fruit and flower wines with low tannins and are very approachable young. They are generally more charming than their more woodsy 2005 brethren. The Chardonnays required vigorous sorting to discard botryitized fruit. They are fresh and lively wines, more feminine and elegant than the 2005 vintage with a higher acidity impression. The 2006 Cerise Vineyard Anderson Valley Pinot Noir had been open for two days and was spectacular showing plenty of lush fruit with supple tannins. This wine can be quite masculine, sinewy and earthy, but the additional air time softened the hard edges. The 2006 Hirsch Vineyard Sonoma Coast Pinot Noir had been open for two days as well and it is starting to come around sporting juicy berry flavors and lively acidity. The 2006 The Haven Sonoma Coast Pinot Noir had only been open a few hours, yet was very appealing with charming dark fruit flavors and a velvety texture. The 2006 Savoy Anderson Valley Pinot Noir had been open for a day but it is clearly not ready. It was very reserved and angular with plenty of acidity to the forefront. Ted's Chardonnays are perfectly weighted with precise flavors and impeccable balance. You never think oak or alcohol when drinking Ted's wines. The 2006 Heintz Vineyard Chardonnay showed juicy pear and citrus flavors with plenty of grip. The 2006 Theiriot Vineyard Sonoma Coast Chardonnay was really a charmer, attractively layered and textured, with a perfect balance between white stone fruits and acidity. Surprisingly, all the above Littorai wines are still available for purchase from the winery.
Tours and tasting at Littorai are available by appointment by contacting Ted's assistant, Tami, at tami@littoraiwine.com or phoning 707-823-9506. Customers can now pick up their wine at the winery instead of having it shipped. For those reading this issue in time, an Open House will be held November 8th including tasting of current releases and library wines from the cellar (reservations required).
Listen to my interview in 2007 with Ted Lemon that has been posted on Grape Radio: www.graperadio.com/ archives/2007/07/30/ted-lemon-and-the-wines-of-littorai.