Davis Bynum Leaves Russian River Valley Legacy to New Generation
Davis Bynum sold his eponymously named winery last year but his legacy will live on in the memory of pinotphiles. Davis Bynum Winery was the first winery on Westside Road, now the Rodeo Drive of Pinot Noir, and the first winery to produce a single vineyard Pinot Noir from the Russian River Valley - the 1973 Davis Bynum Winery Rochioli Vineyard Russian River Sonoma County Pinot Noir. Bynum wanted to duplicate the French appellation system and bring attention to the source of the grapes in his wines. Wine labels displaying the appellation origin have become the standard in the United States and is now required by law for all grape wine labeled with a grape varietal designation. A young self-taught winemaker, Gary Farrell, was a friend of Davis' son, Hampton, and made his first Pinot Noir for Davis Bynum as an assistant to Davis Bynum in 1978. He stayed on as winemaker for 20+ years and continued to consult when he started his own eponymous winery on Westside Road. Throughout his winemaking career, Davis Bynum always sought to emphasize varietal character and food friendliness in his wines, undoubtedly influenced by his father who was a wine writer and wine judge and his involvement in the food and wine scene in the San Francisco Bay Area before founding Davis Bynum Winery.
Lindley Davis Bynum Jr. (he dropped the Lindley as a teenager) was born and raised in Southern California. He was a bright youngster who entered Stanford University after high school, only to drop out to enter the Army. After his stint in the service, he became interested in wine, fueled by his father's passion for wine and the frequent father and son trips they shared to wineries. Bynum subsequently graduated from University of California Berkeley and began making wine at home in 1951. The story goes that he bought some Petite Sirah grapes from Robert Mondavi to make his first wine. While working as a reporter and editor at the San Francisco Chronicle, he became immersed in the local wine culture and in 1965, converted a warehouse in Albany into a small garagiste winery. He learned his winemaking primarily through information that was available at the University of California Berkeley library. He was able to obtain grapes and bulk wine for several years from Louis Martini and August Sebastiani, among others, and made his first Pinot Noir in 1969.
The wines produced in Albany were released under the name Barefoot Bynum. There are two stories circulating regarding the origin of the name. It has been written that when Davis' father retired and bought a vineyard in the Napa Valley, his friends kidded him that he would be producing "Barefoot Bynum Burgundy." The other story, on the current Barefoot Wine website, says that Davis' father needed a name for the wines he would possibly make from his vineyards and he came up with name Barefoot Bynum referring to the historic method of making wine by crushing grapes barefoot. Either way, Davis used the name when his father relented and the Barefoot brand of jug wines became hugely popular. Davis always resented the Barefoot Bynum label for it outsold his high-end Davis Bynum label and he finally phased the brand out when he closed his Albany facility in 1973. The Barefoot label is now part of the E.&J. Gallo Winery portfolio.
By 1971, it had become increasingly difficult for Davis to acquire suitable grapes and he was outgrowing his limited facilities. His drive to own a winery led him to acquire a 26-acre vineyard in the Napa Valley. Local zoning regulations at the time prevented him from refurbishing the winery on the St. Helena property, so he turned his attention to the Russian River Valley which was more receptive to newcomers. He bought the 84- acre River Bend Ranch at 8075 Westside Road in 1972 for a reported $115,000. Until the 1950s, the Russian River Valley was a prime growing region for hops, and several properties, including the River Bend Ranch, had hop kilns where the hops were dried. Bynum converted the hops processing room next to the kiln to a winery and Davis Bynum Winery was born. Bynum developed a number of handshake agreements with local growers such as Joe Rochioli, Jr., Howard Allen, and Rick Moshin, many of which persisted until he sold the winery last year. He started with Rochioli Vineyard Pinot Noir grapes in 1973 and for years he was the only winery that Rochioli sold to. In 1990, Davis planted 9 acres of Pinot Noir on a hill above the winery and named it Lindley's Knoll. The Davis Bynum Winery tasting room retained a rustic appeal through the years and was a popular spot for visitors to the Russian River Valley wine country. Production at Davis Bynum was about 8,000 cases annually of several varieties, but Pinot Noir was always associated with the Davis Bynum label.
Davis, now in his 80s, sold the Davis Bynum brand and inventory of wine to Tom Klein and the Klein family, owners of Rodney Strong Vineyards in the Russian River Valley in August of 2007. Rodney Strong Vineyards will bottle a Pinot Noir and Chardonnay under the Davis Bynum name. Reportedly, Davis Bynum will remain as a consultant for Rodney Strong for three years.
The former Davis Bynum Winery and estate vineyards were acquired by the Baker family of Toronto, Canada who had longed to enter the wine business. I visited the property recently and met up with Jeremy Baker who was directing the renovation and refurbishing of the winery, tasting room and vineyards. Jeremy Baker was involved in the restaurant wine importing business in Toronto before taking the reigns as President of the new winery, named Thomas George Estates.
I was impressed by the ambitious improvements being instituted on the property. The exterior and interior of the old winery have been updated and new winemaking equipment, including a basket press and stainless steel fermenters, have been installed for the 2008 vintage. The winery is being expanded to allow all grape processing and winemaking to be under roof. Initially production will be about 5,000 cases annually, increasing in a few years to 16,000 cases per year.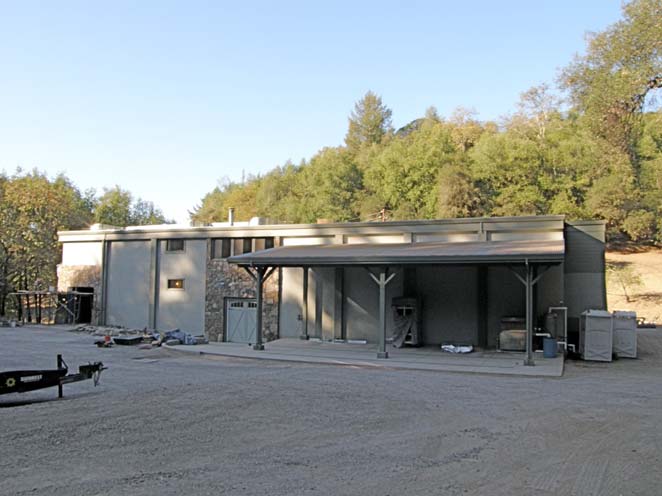 The tasting room is being completely upgraded, yet still retaining its original location and some of its country charm. The 20-acre Lindley's Knoll Vineyard is undergoing revitalization with replanting of 10 acres under the direction of noted viticulturalist Ulyses Valdez. Eventually the estate vineyard will consist of 24 acres of Pinot Noir and 4 acres of Chardonnay. A small Viognier vineyard is being planted along the entrance road to the winery. New landscaping is creating attractive outdoor picnic areas. The Bakers have purchased the 26-acre Starr Ridge Vineyard on Windsor Road and the 14-acre Cresta Ridge Vineyard in the Green Valley appellation, both premium sources of Pinot Noir. Contracts with several growers such as Windsor Oaks Vineyard will supply further grapes.
Gary Farrell and Guy Davis (Davis Family Vineyards) have been on site to consult. The new winemaker, Chris Rossi, is a University of California Davis graduate who recently left an eight year stint as winemaker at Christopher Creek. He has a background in vineyard management as well as winemaking. Like the Bakers, he also is young and enthusiastic and I like what he has accomplished in his short time (one vintage) here. I tasted several 2008 Pinot Noirs from barrel and they were impressive. Some wine was made in 2007 by a different winemaker and plans are to release it when the winery officially opens in January, 2009.
There is clearly enough financial backing to insure this new venture is a success and it is reassuring to see that the Davis Bynum legacy is in the good hands of the current generation. Thomas George Estates will be a significant new addition to the lineup of prestigious wineries dotted along Westside Road, the Rodeo Drive of Pinot Noir.
References for the Davis Bynum profile: Wine & Viticulture History of Region Known as the Russian River Valley Appellation, William F. Heintz, 1999; Great Winemakers of California: Conversations with Robert Benson, 1977; Davis Bynum. A Creative Wine Pioneer. An Oral History. Interviewed by Carole Hicke, 2001-2003.