Fog Makes Pinot in the Russian River Valley
It is only a three letter word, but fog is the defining characteristic of the Russian River Valley appellation. Many cool winegrowing regions of California now emphasize the important role fog plays in proper development of grape flavors, but it was the Russian River Valley appellation that first used fog intrusion as its most differentiating feature. The regular ebb and flow of fog originates from the Pacific Ocean a few miles to the West and enters the Valley primarily through the Petaluma Wind Gap and secondarily along the channel created by the Russian River that empties into the Pacific Ocean at Jenner. The fog arrives in the evening, frequently dropping the temperature 40 degrees from its daytime high and then retreats the following morning. This maritime air conditioner extends the growing season and allows grapes to reach full flavor maturity while retaining natural acidity.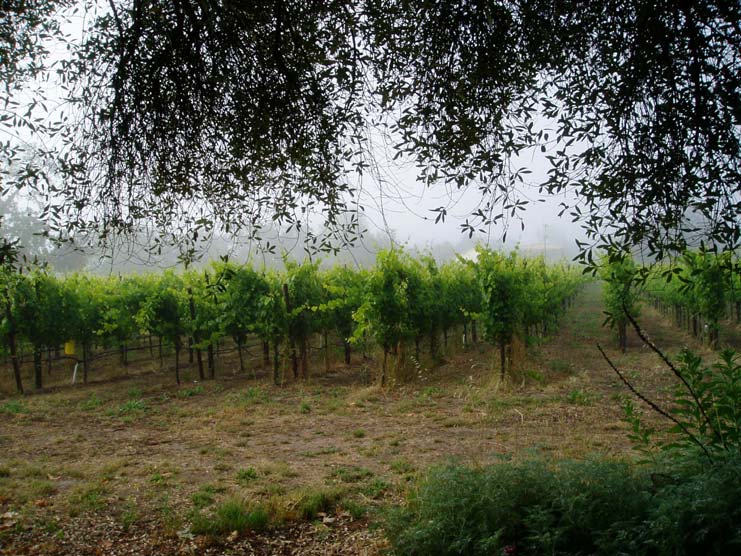 The Russian River Valley American Viticultural Area (AVA) was approved in 1983. The original boundary lines were subsequently amended to include additional areas influenced by coastal fog. Currently, the Russian River Valley AVA consists of 198 square miles and includes 15,710 total acres of vineyards. It is one of 13 AVAs contained in Sonoma County. The AVA includes more than 200 growers and nearly 100 wineries. For an accurate map of the boundaries of the Russian River Valley AVA, consult the map located on the Russian River Valley Winegrowers website at www.rrvw.org or the Map Store website at www.themapstore.com. The Russian River Valley AVA is depicted in turquoise in the map below (the brown area is the Green Valley subappellation).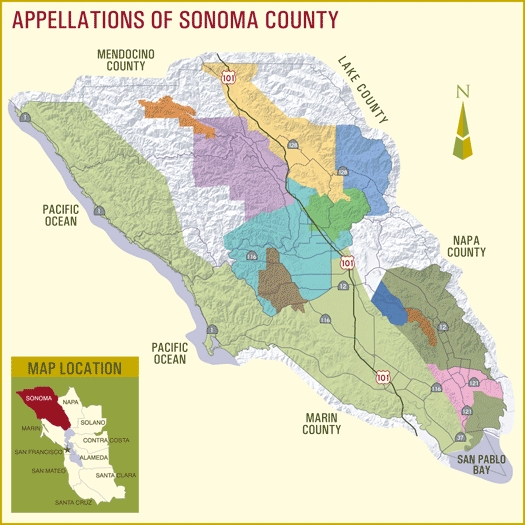 In the following pages, I offer reviews of several Russian River Valley Pinot Noirs that I have tasting recently. Most of them are current releases available from the wineries or the marketplace. The words "Russian River Valley" on a bottle of Pinot Noir pretty much guarantees you are going to drink well. All the wines so labelled must of course have a minimum of 85% of the grapes within the bottle originating from the Russian River Valley AVA. In most Russian River Valley bottlings, 100% of the grapes qualify. Why source from anywhere else?
Inman Family Wines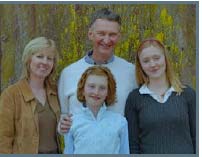 The Brits have always flashed a fondness for Burgundy, so it is no surprise that Kathleen and her British husband, Simon Inman, left their comfortable life in England to pursue their passion of producing a premium Pinot Noir in California. Simon's love for Pinot Noir was sparked by time spent in Nuits-St.-George and the surrounding villages of Burgundy. Kathleen had been working a summer job at Napa Creek Winery and met vacationing Simon in the tasting room. They carried on a longdistance romance and two years later were married. During the fifteen years they lived in England, they both developed a taste for good Pinot Noir. In 1998 they pulled up stakes and moved, settling in California with the goal of making wine. A year later, they discovered a family farm for sale on Olivet Road in the Russian River Valley. The Inmans bought the property and dubbed it Olivet Grange Vineyard, a name combining the farm's location on Olivet Road and their English country home named The Grange at Elvington. In 2000, the Inmans planted a vineyard on their 10-acre property combining 7.2 acres of Pinot Noir (Dijon clones 114, 115, 667 and 777) and Pinot Gris (clone 146). The property's farmhouse was lovingly restored and converted into a vacation rental. The agricultural heritage of the property has been retained with the preservation of orchards and a kitchen garden. Sustainable farming is practiced, and although not certified as organic, all fungicides and weed control products used are organically certified.
Small amounts of Pinot Noir from the estate Olivet Grange Vineyard and purchased grapes from Thorn Road Ranch are produced along with Pinot Gris from the estate vineyard. Early on, Kevin Hamel consulted on the winemaking, but gradually Kathleen Inman has taken full control of the winemaking duties and the wines continue to improve with each vintage. Next year, the Inmans hope to build a modern winery on their property.
2006 Inman Family Wines Russian River Valley Pinot Noir
14.1% alc., $45, screw cap. A carefully selected cuvee from both the Olivet Grange Vineyard (52%) and Thorn Road Ranch Vineyard (48%) intended to display the essence of the Russian River Valley flavor profile. · Aromas of toasty Bing cherry lead to flavors of strawberries, cranberries and cherries with a touch of herbs. A straightforward Pinot Noir that is light and pleasant, lacking some mid palate length and ending with noticeable acidity that overshadows the fruit.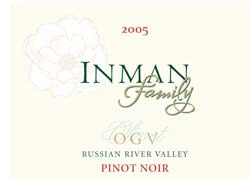 2006 Inman Family Wines OGV Russian River Valley Pinot Noir
13.9% alc., $52, screw cap. · Deep and alluring aromas of wild raspberry and cherry with a touch of flower petals and oak spice. A really lovely nose. Plenty of cherry and berry fruit flavor with complimentary earth, spice and wood notes. Very smooth and silky, bright and elegant. Still delicious and smooth the next day from a re-corked previously opened bottle.
2006 Inman Family Wines Thorn Road Ranch Russian River Valley Pinot Noir
13.7% alc., $52. The first release from will vineyard located on a Sebastopol hillside farmed by the Klopp family. A field blend of Pommard, Swan, 667 and 777 clones. · Dreamy perfume of Bing cherries, sandalwood and ripe plum. Rich and full-bodied darker fruits. A little brooding but still retaining respectable elegance with silky tannins and a velvety mouth feel. A well-crafted wine that seduces with its aromatics.
Inman Family Wines Pinot Noirs are sold primarily through a mailing list which is now allocated. Tasting is available by appointment at 5793 Skylane Blvd., Suite C., in Windsor. 707-395-0689. This is a top producer of Russian River Valley Pinot Noir that reflects a woman's touch in the cellar.
george wine company
Born and raised in California, George Levkoff spent several years hawking bonds to institutional customers from his Southern California office. His wine epiphany came from a Williams Selyem Pinot Noir and it didn't take him long to quit his job and head to the Russian River Valley, hiring on at Williams Selyem from 1999 to 2002. He crafted one barrel of Pinot Noir from Hirsch Vineyard in 2001 and 2002, before embarking on his commercial venture. He released his first george Pinot Noir from the 2003 vintage. His first two vintages consisted of 150 cases of Pinot Noir sourced from Hirsch Vineyard in the Sonoma Coast. George has a thing for lower case and his winery name and communications reflect this quirkiness. He also is a bit of an enigma in that he labels his wines Vintage I, Vintage II etc as if he was a Roman dude and hand numbers every bottle with a red Sharpie before selling them to an enthusiastic restaurant and pinotphile clientele. George seems laid back when you first meet him, but after time you realize his dedication and passion. Reflecting his commitment, he says, "I want to give people pleasure and enrich their lives."
George's wines are the closest thing to the early Williams Selyem Pinot Noirs that I have yet to come across in WS BC (before 1997 Williams Selyem). There is no funny business in his winemaking regimen - no enzymes, coloring agents, additives, or pumping up with Petite Sirah. The emphasis is on aromas and mouth feel, not color and intensity. He has met with Pinot discrimination by many who take one look at his paler wines and can't believe they will offer a pleasurable drinking experience. All the george wines are characterized by restraint and silky textures and none of them will ever be mistaken for California Rhongundy. George picks earlier than most wineries and he has had to fight growers to get his way, but his wines are proof that he knows what he is doing. You will never get any green or stemmy flavors in a george Pinot Noir.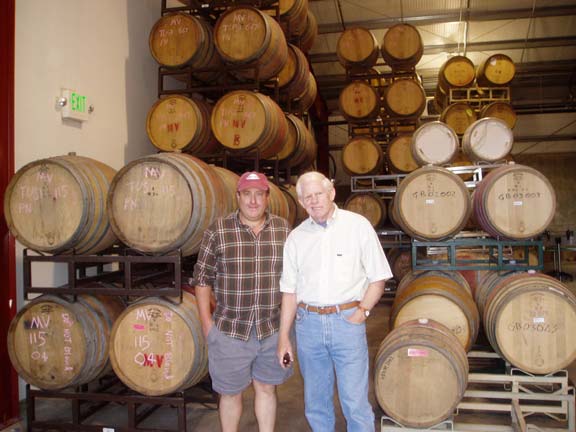 George is a principled and uncompromising winemaker. Grapes are 100% de-stemmed and george himself carefully sorts every cluster, sending anything that is not up to standards to the trash can. He uses only free run (single-vineyard wines) and lightly pressed juice in his wines. All of his Pinot Noirs are aged 11 months in 100% (not a misprint) Francois Freres French oak barrels. Fermentations are fueled by the same Williams Selyem yeast that Burt Williams employed back in the 1980s. All wines are bottled from tanks in which the individual barrels have been blended to insure bottle uniformity. The wines are vinified at Moshin Cellars on Westside Road.
About 50% of george Pinot Noirs are sold through a mailing list with the other 50% going to wine retailers and high-end restaurants. George wines are prominent on notable restaurant lists in New York such as Aureole, Bar American, BLT Steak, craft, Jean Georges, Le Cirque and Per Se, and in Las Vegas such as Bouchon, Charlie Palmer Steak, Emeril's New Orlean's Fish House, Picasso, Spago, and Valentino. George tells me a famous actress comes into Wolfgang Puck's Restaurant in Beverly Hills and will drink nothing but george Pinot Noir. Among his mailing list customers are professors, doctors, financial professionals and quite a few women.
I recently met up with George in Southern California where he was offering his 2007 wines to the new Charlie Palmer Restaurant at South Coast Plaza in Costa Mesa. This is an extremely high end restaurant with an extensive wine cellar overseen by young sommelier Chris Coons. Undaunted by the bling of the restaurant, George showed up in shorts, a baseball cap and thongs (his usual attire as you can see from the photo above) and proceeded to charm the staff with his wit and his wines. I sat in while we tasted through his 2007 offerings. I have been buying george Pinot Noirs since the first vintage in 2003, but I have been unable to taste the wines in advance of their release due to his very small production (800 cases in 2007) and the fact that he does not submit his wines for judging or scoring to anyone.
The 2007 vintage consists of five single-vineyard bottlings and a Sonoma Coma blend. All the vineyard sources are within one to two miles of each other, between Fulton Road and Olivet Road in the heart of the Russian River Valley. The vineyards are farmed by experienced people who employ different canopy management, trellising, irrigation schedules and fertilization regimens. The clones are diverse. All the wines are vinified in the same manner except that the Sonoma Coma bottling comes from lightly pressed juice and is aged in 1-year-old French oak barrels. The 2007 Pinot Noirs were bottled August 7, 2008, and are now released. The wines are sold out at the winery but are still available from a limited number of retailers include K&L Wines (www.klwines.com) and Wally's Wines (www.wallywine.com).
George told me his experience with the 2008 vintage was similar to many other local vintners, with fruit ripening quickly due to heat at harvest. The resultant grapes were picked at higher Brix (24 to 26) and are darker in color and more concentrated than the 2007 vintage wines. These wines will be offered in the first part of next year. Visit the website at www.georgewine.com to sign up for the mailing list. 707-495-7783. If you are visiting in Healdsburg and happen to go to Charlie Palmer's to eat, don't be surprised to see george in his baseball cap and shorts holding court at the bar and drinking some good Pinot.
Hook & Ladder Vineyards & Winery
Cecil De Loach was a San Francisco firefighter when he and his wife Christine bought the Barbieri Ranch Vineyard in 1970. Located in the heart of the Russian River Valley on Olivet Lane, this 24-acre vineyard had been planted to Zinfandel in 1905. Shortly thereafter, they added another 27-acre vineyard close by where the De Loach Vineyards winery was built. By 1975, Cecil took an early retirement and devoted himself to winemaking. Over the years, De Loach acquired 900 acres in Sonoma County and was producing 250,000 cases of wine a year. The vineyard-designate Zinfandels were quite popular as was the White Zinfandel and Chardonnay wines. Pinot Noir was also a major part of production and De Loach even had a specific winery designed to produce Pinot Noir.
In 2003, the label was sold to Boisset and Cecil and Christine started over in 2004 with a small family winery named Hook & Ladder located several miles away from De Loach on Olivet Road. Over 375 acres of vineyards were retained. Grandson Jason De Loach, who trained under Dan Cedarquist at Balletto Vineyards, became the winemaker in 2006. Several other family members are also involved in the small and unpretentious operation. There has been a renewed devotion to Pinot Noir and the most recent vintage wines have been very impressive. At the recent Sonoma County Harvest Fair, the 2006 Hook & Ladder Winery Estate Bottled Russian River Valley Pinot Noir won a Gold Medal in the $25 to $34.99 class and the 2006 Hook & Ladder Winery Estate Bottled Reserve won Best of Class in the $35 and over category.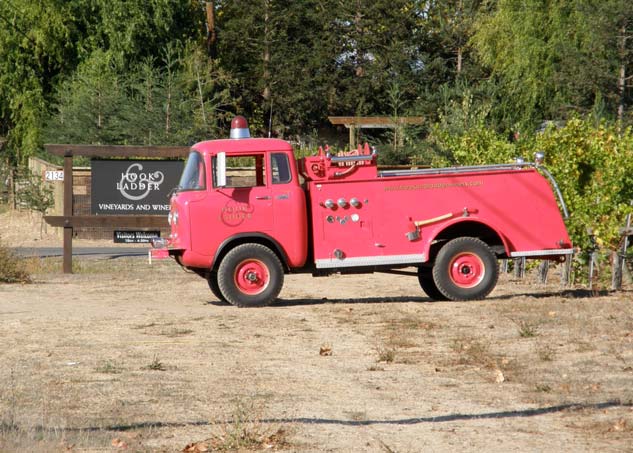 2006 Hook & Ladder Vineyards & Winery Estate Bottled Russian River Valley Pinot Noir
14.2% alc., 4,519 cases, $25. Made in small batches using open-top fermenters, native yeasts, 11 months in French oak barrels. · Moderately light crimson color. Pleasant scents of red fruit, oak and herbs, particularly sage, all of which are echoed in the flavors. The vein of savory herbs is particularly prominent. Light in weight and easy drinking, this wine is a perfect match for grilled salmon with thyme.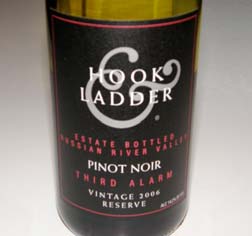 2006 Hook & Ladder Vineyards & Winery Estate Bottled "Third Alarm" Reserve Russian River Valley Pinot Noir
14.2% alc., 168 cases, $35. Whole berries and whole clusters, native yeasts, hand pigeage 3-4 times a day for 3 weeks, aged for 11 months in new and seasoned French oak barrels. · Deep and persistent scents of dark red fruits accented nicely with oak toast. Flavors of deep red to black Pinot fruits, cola and cedary oak fan out nicely on the palate. A seamless wine with a mild grip of tannin and a soft landing at the end. A seductive wine that is quite stylish.
Hook & Ladder Vineyards and Winery wines are sold on the website at www.hookandladderwinery.com. The tasting room is located at the Barbieri Ranch at 2134 Olivet Lane and is open daily from 10:00 to 4:30. 707-536-2255.
Balletto Vineyards
John Balletto started farming in Sonoma County at the age of 17 in 1977. Today he owns 280 acres in western Sebastopol devoted to wine grapes. 60 acres are planted to multiple clones of Pinot Noir. The western edges of his property are shared with the Laguna de Santa Rosa wetland habitat and are preserved lands. Balletto is a relative newcomer to wine production, launching the Balletto Vineyards label in 2001. At the recent Sonoma County Harvest Fair, Balletto Vineyards Pinot Noirs captured three Gold Medals. The winemaker is Dan Cedarquist, who was the winemaker at De Loach for 11 years before being replaced by Greg La Follette when Boisset bought the De Loach Winery in 2003.
Balletto Vineyards is located at 5700 Occidental Road, Santa Rosa. The tasting room is open daily from 10:00 to 4:00. The tasting room is shared with Dutton-Goldfield wines which are made at the Balletto winery. The phone is 707-568-2455. The wines are sold on the website. The Balletto Vineyards Pinot Noirs are very sensibly priced.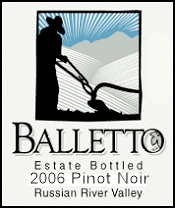 2007 Balletto Vineyards Russian River Valley Estate Bottled Pinot Noir
13.9% alc., $25. · An easy drinker featuring dark red Bing cherries, smoke and forest floor presented in a lighter style with soft tannins, a silky texture and a refreshing finish. Commendable balance.

2007 Balletto Vineyards Russian River Valley Estate Bottled Winery Block Pinot Noir
13.9% alc., $28. · Sensual aromas of confected berries, cherries and baking spices. Rich cherry liquor on the palate, nicely spiced, beautifully balanced, with gossamer tannins and a clean finish. Holds up in the glass nicely over time.
Balletto Vineyards wines are sold on the website at www.ballettovineyards.com. Balletto Vineyards is located at 5700 Occidental Road, Santa Rosa. The tasting room is open daily from 10:00 to 4:00 and is shared with Dutton-Goldfield wines. The phone is 707-568-2455. The Balletto Vineyards Pinot Noirs are very sensibly priced considering the quality.
J Vineyards & Winery
I recently wrote an extensive feature in the PinotFile (Volume 6, Issue 63) on J Vineyards & Winery and their renewed commitment to their still Pinot Noir program. J Vineyards & Winery has considerably downsized sparkling wine production while retaining the excellence of these wines, and devoted more energies to Pinot Noir. New Pinot Noir vineyards have been acquired totaling 60 acres scattered throughout the Russian River Valley, estate vineyards have been at least partly redirected to still Pinot Noir production, and noted winemaker, George Bursick, formerly of Ferrano-Carano, has brought his 30 years of winemaking experience to J beginning with the 2006 vintage. During my recent trip to the Russian River Valley, I stopped in at J and spent a wonderful afternoon with George and the staff of J tasting through every Pinot Noir from the 2006 and 2007 vintages side by side.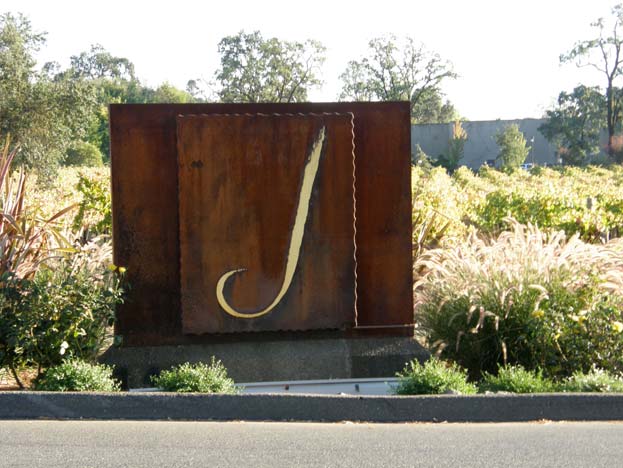 George is clearly enjoying the time of his life, having been given free reign to bring innovation to the winemaking program. Both the 2006 and 2007 vintages were vinified in the same manner. Both sides of the vines are striped two weeks before harvest to assure full ripening of phenolics in the grapes. Seeds are removed to minimize undesirable tannins. Burgundian yeasts dating to 1940-1945 are used (George is the only winemaker in California using these yeasts) and fermentations are unhurried. Secondary fermentations in barrel are long and slow lasting through the spring of each year. Extended post-fermentation macerations bring out color, flavor and desirable skin tannins. Normally, 30% to 35% new French oak barrels from five different coopers are used for aging. Target alcohol levels are 14.2% to 14.4%. The entire winemaking regimen is intended to be leisurely and natural. That old winemaker saw is very true at J: "Let the fruit speak."
George is a believer in diversity in the vineyard and in his wines. With 20 different vineyard sources and 84 different resultant wines to work with, he has the unique opportunity to craft Pinot Noirs of uncommon complexity. The workhorse of the J Pinot Noirs, the Russian River Valley blend, contains grapes from all reaches of the Russian River Valley, from Westside Road, to Forestville, to near Cotati. J is one of the few wineries in the Russian River Valley to have planted the newest Dijon clone, 943.
Among the 2006 vintage releases, the Russian River Valley, Robert Thomas Vineyard and Nicole's Vineyard are still available. The 2007 wines will be released next year beginning in June and continuing through late August. My brief impressions are below. Obviously, the 2007 Pinot Noirs are still evolving, yet it is clear the vintage is stellar. The 2006 wines are more classic, while the 2007 wines are more showy. The one word that stuck in my mind at the end of the tasting was consistency. Each wine was beautifully crafted and although different in aromatic and flavor nuances, all of them brought a smile to my face. The wines have delicate color and will never be mistaken for many of the Burgeaux wines that are so prevalent in the California marketplace.
J Russian River Valley Pinot Noir This is the winery's workhouse bottling with about 14,000 cases produced annually. It is widely available in the retail marketplace. The 2006 Pinot Noir is light in body featuring primarily red fruits accented by herbs, barnyard, and a touch of oak spice. The 2007 is spectacular in comparison, with bright cherry and berry fruit, savory herbs, baking spice, and a trace of oak all brought together with great verve on the finish.
J Nonny's Vineyard Russian River Valley Pinot Noir This 70-acre vineyard is named for J owner Judy Jordan's grandmother. It is located a half mile from J. Swan Winery and adjacent to River Road. It is planted to clones 2A, 667, 777, and 828 and is a challenging site to farm. Both vintages display striking Bing cherry aromas and flavors with the 2007 vintage showing off more fullness and softness and a pleasing velvety mouthfeel.
J Barrel 16 Russian River Valley Pinot Noir 16 barrels out of 500 are chosen for this special bottling. The 2006 vintage has an appealing red cherry scent with a sidecar of herbs and new mown hay. Very soft and elegantly styled. The 2007 vintage has a bit deeper and darker cherry fruit with great purity and vibrancy.
J Robert Thomas Vineyard Russian River Valley Pinot Noir This vineyard is located on Westside Road across the street from Moshin Winery. The site is very cool and is planted to a Rochioli selection as well as Dijon clones 667 and 777. The 2006 wine is an earthy Pinot showing slightly raisined and herbed fruit with a subtle vegetal note in the background. George used more barrel toasting in 2007 to reign in the vegetal note. The 2007 wine shows purer cranberry and dried cherry fruit with more power and persistence.
J Sonoma Coast Pinot Noir Clones 667, 777, 828. This bottling is clearly distinct from the other wines in the J lineup offering more low tone deeper colored fruit such as plum and more sinew and briar notes. The 2006 is a substantial wine but retains an appealing silkiness. It is a killer on the palate, saucy and lush, with many flavors chiming in such as black tea and mocha. The 2007 vintage is similar but adds more savory herbs to the mix and has a little more frisky acidity.
J Nicole's Vineyard Russian River Valley Pinot Noir This vineyard looks across the Russian River at Rochioli Vineyard. It is planted in uplifted river bottom and is usually the first vineyard picked. Clones 2A, 115 and 667. This is the sexiest and most sensual wine of the lineup. Darkly colored, particularly the 2007 vintage. The palate is soft, plush, long and tasty. Vibrant with flavor and character, I could not choose between the two vintages. If I had to romance only one wine in the J lineup, this would be it.
J Vineyards & Winery is located at 11447 Old Redwood Highway in Healdsburg. The winery also produces excellent Chardonnay, Pinot Gris and Brut, Brut Rosé, and Late-Disgorged Brut sparkling wines. Several tasting programs are offered, some with food pairings in the luxurious Bubble Room or alfresco on the J Terrace. 1-888-JWINECO. The wines are sold on the website, but the best way to obtain limited Pinot Noir bottlings is through one of three Club J wine clubs.
Still More Russian River Pinot Noirs