Recently Published Wine Books of Interest
Pacific Pinot Noir
A Comprehensive Winery Guide for Consumers and Connoisseurs
John Winthrop Haeger has published a companion to North American Pinot Noir published in 2004. North American Pinot Noir is the bible of Pinot Noir and won the 2005 Louis Roederer International Wine Book of the Year Award. Pacific Pinot Noir is not a sequel, but a completely different book. While North American Pinot Noir focused on the European origins and history of Pinot Noir in the New World, growing Pinot Noir, definitive explanations of Pinot Noir clones and comparisons of New World Pinot Noir to Burgundy, Pacific Pinot Noir is devoted to extensive vignettes of Oregon and California Pinot Noir producers. The first publication contained 72 winery profiles, but Pacific Pinot Noir updates those profiles and adds many others totaling 216 prominent Pinot Noir producers. Obviously, not every notable producer could be included and some were omitted for reasons of unavailability of winery principals or their non-responsiveness.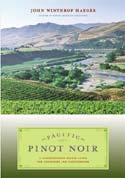 The wineries chosen for this comprehensive book all come from what Haeger terms the "Pacific Pinot Zone," that region where Pinot Noir thrives from the mouth of the Columbia River in the North to the Santa Barbara Channel in the South, extending inland no more than approximately 25 miles from the Pacific Coast. The wineries were chosen based on their reputation, their frequent occurrence on Pinot-friendly restaurant wine lists, and their appearance on retail shelves where wines are carefully evaluated and chosen by a well-informed staff.
After an initial introduction that delves into the current state of North American Pinot Noir, Haeger details each winery including its history, the story of its principals, a summary of vineyards owned or sourced and the wines produced, annual case production, winegrowing and winemaking protocols, wine style and extensive tasting notes. New producers, those of historic interest and the author's personal favorites are identified. There are helpful black and white maps of AVAs, extensive contact information, and summaries of distribution. Year by year profile of vintages and a glossary of pinot terminology are also included.
This is a valuable and well researched reference that belongs on every pinotphile's desk. There is considerably more information on wineries than one will discover from researching winery websites. The book is compact enough to easily accompany the traveler on wine region explorations.
University of California Press, Berkeley, paperback, 454 pages, 2008, $21.95.
WineWise
Your Complete Guide to Understanding, Selecting and Enjoying Wine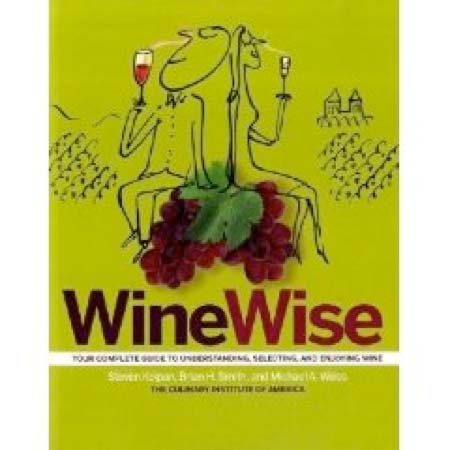 The three authors, Steven Kolpan, Brian H. Smith, and Michael A. Weiss, are very knowledgeable Professors of Wine Studies at the Culinary Institute of America. This is a general book on wine that is primarily directed at novices who will value it as a reference and a learning tool. It is a large, hard bound book that would look handsome in a library or on a family room table.
Chapters cover an introduction to the various wine varietals and winemaking, wine and food matching, wine lists, bottle closures, and hosting at-home wine tastings. All the major wine producing regions of the world are discussed. Emphasis is placed on finding good wine values using a conscientious search and great inexpensive wines of the world are listed in a chapter titled, "Bargain Choices." The authors also include their favorite wines. There are detailed color maps and numerous color labels with instructions on interpretation.
The book is not completely current in all matters (Emeritus Pinot Noir in the Russian River Valley is named Goldridge - their outdated original name), and there is little coverage of boutique and newest producers. The bargain list of wines that is included could be a helpful guide for shoppers, but it is difficult to carry this heavy volume to a wine retail store. The book really breaks no new ground that hasn't been covered in many other general wine books currently in print, but WineWise would make a welcome gift at Christmas for newcomers to wine.
John Wiley & Sons, Hoboken, New Jersey, hardcover, 350 pages, $29.95.
Angels, Thieves, and Winemakers
This unique and entertaining work collects over fifty poems about wine from Joseph Mills, co-author of A Guide to North Carolina's Wineries. Mills is a highly educated teacher of writing and Humanities courses in the Undergraduate Academic program at the North Carolina School of Arts. A number of the poems have previously appeared in literary and wine journals.
The poems reflect the personal experiences of the author while traveling through North Carolina, talking to winemakers and winery owners. Often slyly humorous and at times ribald, Mills creates poems that make light of the nonsensical pomp and circumstance of wine. These titles of the poems give you a taste: "A Corkscrew is an Instrument of Optimism," "Why You Should Have Your Date Open the Bottle," and "Some Hypotheses about Why the Second Glass May Taste Better."
Angel's share of course is the wine in oak barriques that gradually disappears due to evaporation. Mills writes in his poem, "Some Questions about the Drinking Habits of Angels":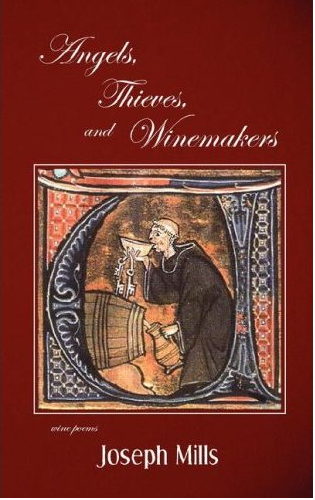 How do the angels
get their shares?
Do they sip them
straight from the casks
pressing celestial lips
against the bungs
or do they siphon off
into heavenly hip flasks
and mason jars?
Is it first come
first serve,
or are lesser angels
relegated to the table wines
while the seraphim
hover over the reserves?

Grab a glass of good Pinot, start with the poem, "No More Merlot," and progress through the pages, savoring every verse. Reading about wine can be interminably boring, but reading this wine poetry will leaving you smiling.
Press 53, Winston-Salem, North Carolina, paperback, 87 pages, 2008, $12.00. Read more about the author and his work at www.josephrobertmills.com.

These three books are available from the publishers, book retailers and amazon.com.