¡Salud! Oregon Toasts the 2007 Vintage
Each November for 17 years, Oregon's finest producers of Pinot Noir have held a celebratory auction to herald the previous year's vintage and raise funds to provide access to healthcare for Oregon's seasonal vineyard workers and their families. The event is appropriately called ¡Salud!, which is the traditional Spanish toast, "To Your Health."

¡Salud! is a cooperative effort between Oregon winery owners and Tuality Healthcare physicians and is unique to Oregon. No other state in the country has such a far reaching program to provide healthcare for the seasonal worker population. Dedicated bilingual/bicultural nurses and medical professionals staff community-based clinics providing guidance in navigating the services offered by the Oregon Health Plan or offering financial assistance when necessary. Dental care, wellness clinics, mobile clinics, occupational health programs and community outreach with other healthcare agencies all combine to provide quality and compassionate care for field workers and their families.
The event consists of two tastings and auctions. On Friday, November 7, Domaine Drouhin Oregon hosted a tasting of special 2007 ¡Salud! Pinot Noir cuvees from 42 of Oregon's most celebrated wineries. A Big Board Auction offered the 500 attendees a chance to bid on single-case lots of the special wines. The Pinot Noirs, which are not sold on the retail market, represent the finest expressions of the vintage. This tasting provided a unique opportunity to preview the 2007 Oregon Pinot Noir vintage (more about that later). On the following day. Saturday, November 8, winery principals and consumers donned their formal attire to attend the dinner and auction at the historic Governor Hotel in Portland. The silent and live auction featured rare packages and wines from Oregon and beyond. Popular lots included several packages that offered a combination of one case each of three ¡Salud! cuvees coupled with dinner for six with the winemakers of the cuvees on the Thursday preceding next year's ¡Salud!. The Saturday dinner was prepared by guest chef Bill King, McCormick & Schmick's Seafood Restaurants' Vice President of Training & Culinary Development.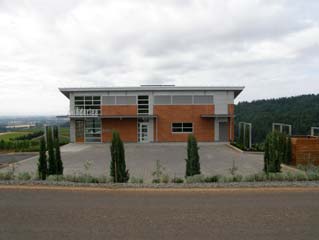 A preliminary tally indicated this year's ¡Salud! raised $733.812. The Los Heroes de ¡Salud! award, given in recognition of an outstanding business or individual who offers innovative contributions to the ¡Salud! program, went to Bill Sweat and Donna Morris of Winderlea Vineyard & Winery in the Dundee Hills. Bill Sweat and Donna Morris are relative newcomers to the Oregon wine scene, having purchased the Goldschmidt Vineyard, renaming it Winderlea Vineyard, and founding their winery in 2005. In 2008, the Winderlea tasting room was opened on Worden Hill Road and the new owners made the generous decision to donate all tasting room fees to ¡Salud! as a way to demonstrate their commitment to the mission.
This year's ¡Salud! chairs were Vincent Reyes, M.D., and Amy Wesselman (Westrey Wine Company). Besides chairing ¡Salud!, Amy is the mother of twins, a winemaker, and a past director of the International Pinot Noir Celebration. I interviewed Amy as well as Nancy Ponzi (Ponzi Vineyards) about the ¡Salud! Event. Nancy Ponzi was one of the original organizers and founders of ¡Salud!, and, in addition, played a major role in establishing Oregon's Pinot Camp and International Pinot Noir Celebration. Listen at : "Salud 2008"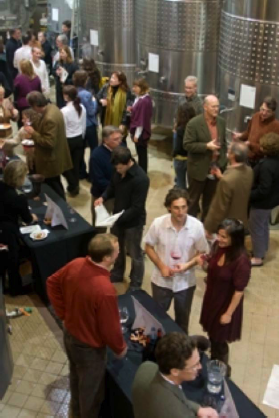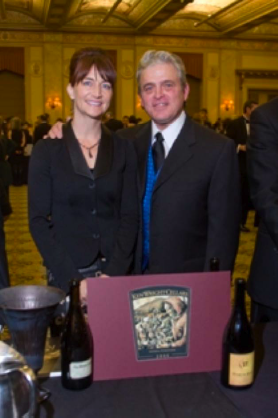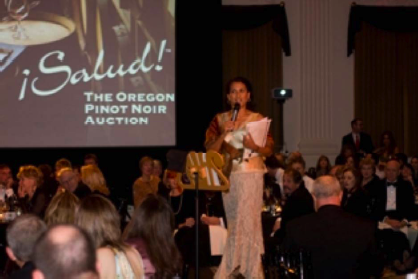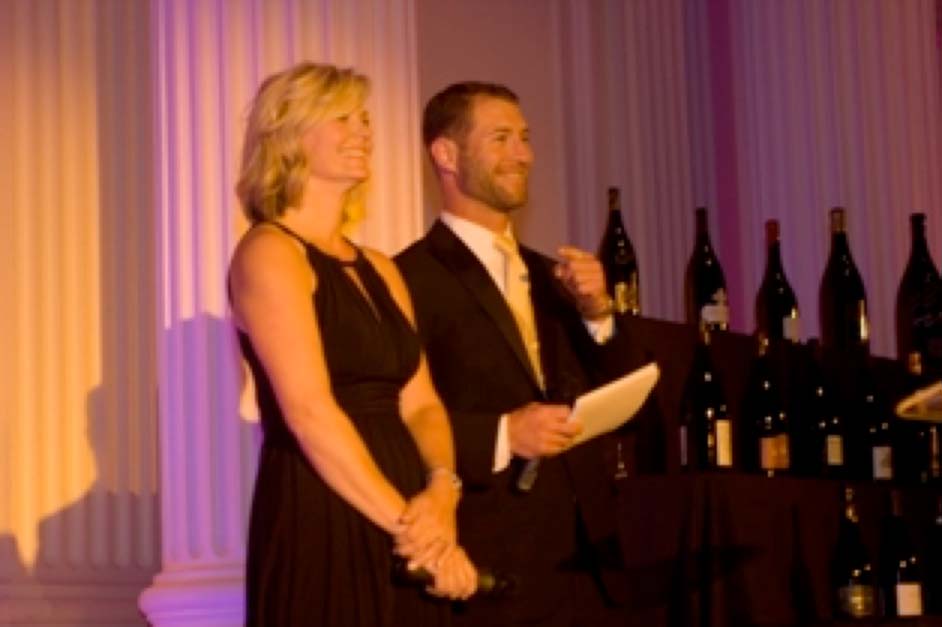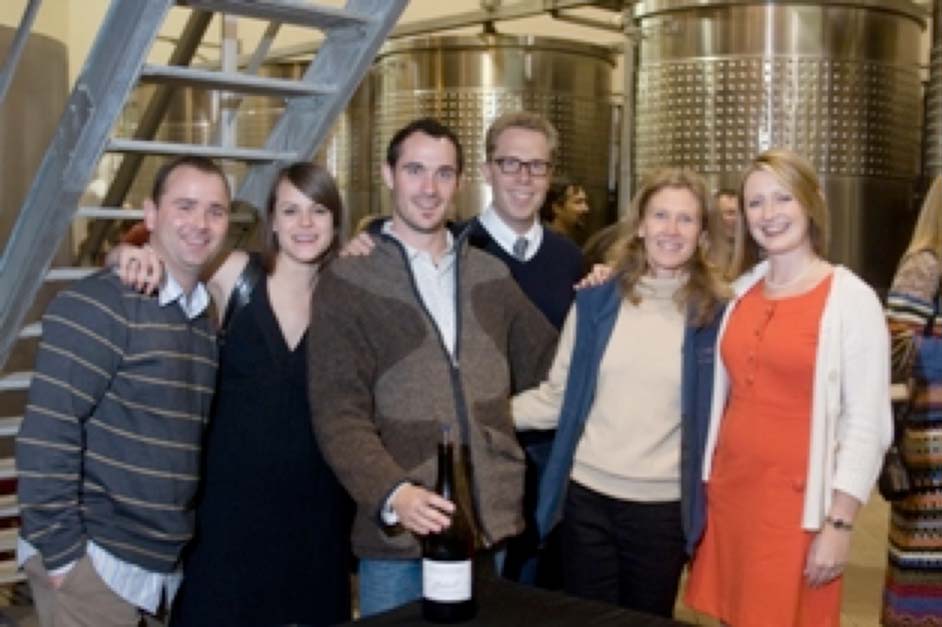 Key: L to R clockwise: Big Board Auction and Tasting at Domaine Drouhin; Domaine Drouhin team; Leda Garside, RN: Co- Auctioneers Maria Ponzi and Jesse Lange; Ken and Karen Wright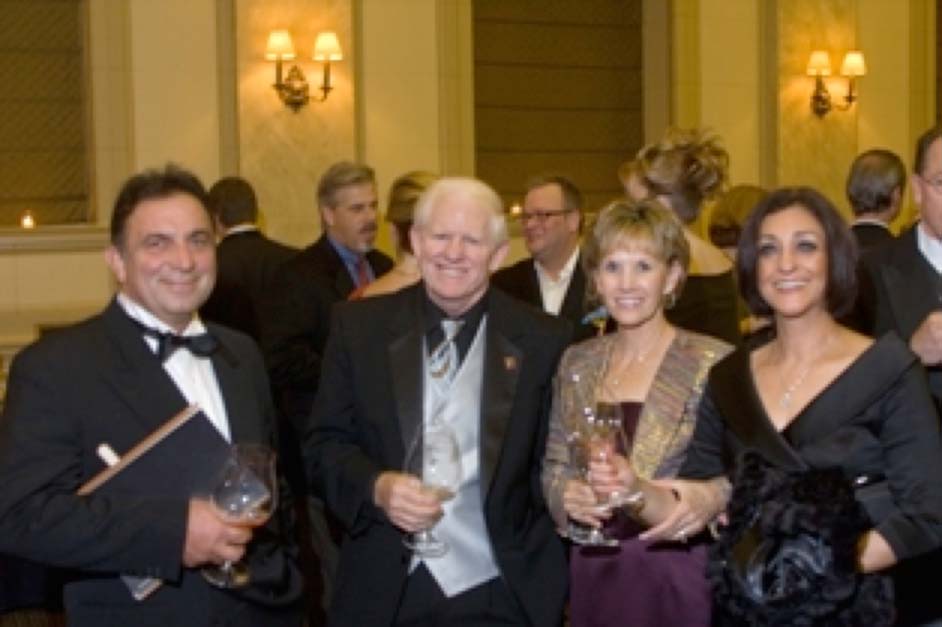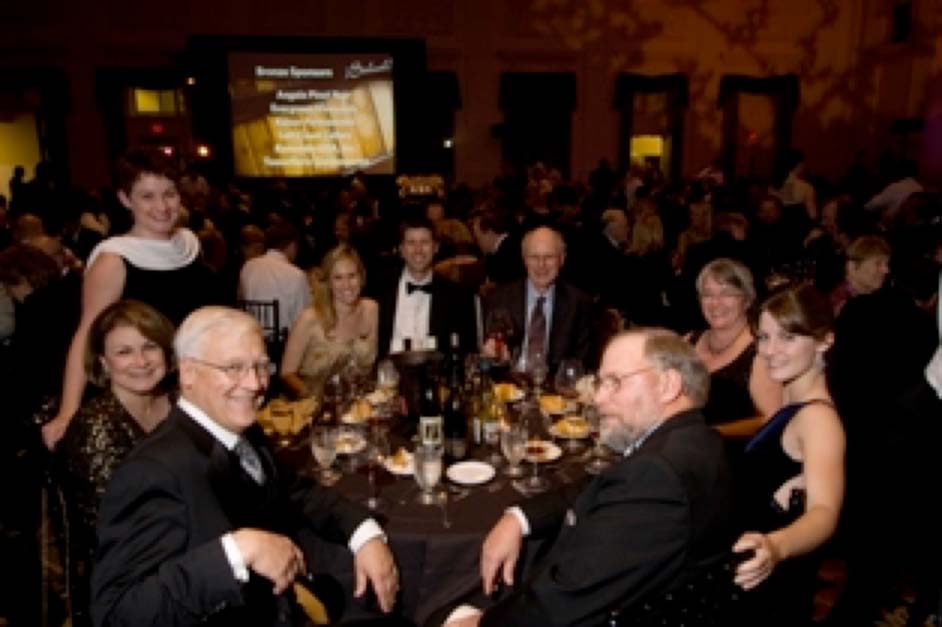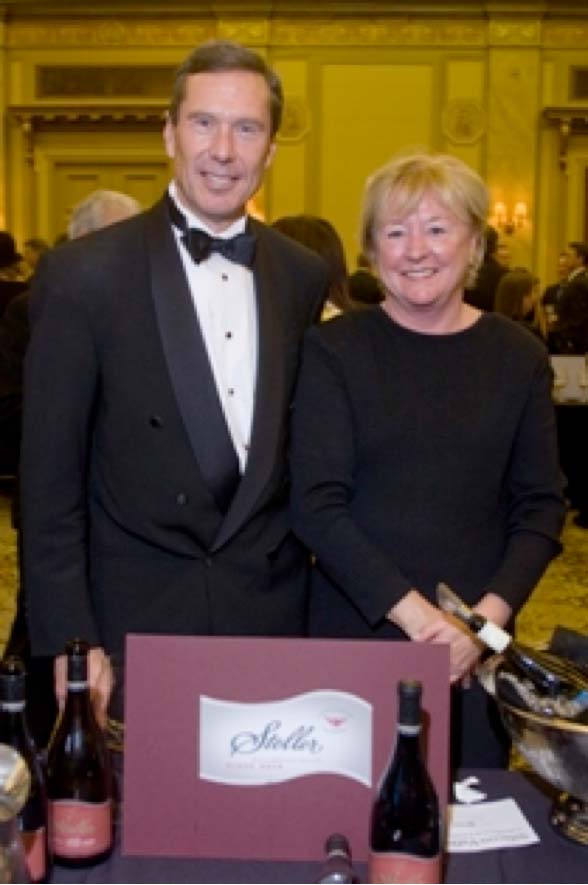 Key: Top to bottom: Moe and Flora Momtazi, Rusty and Patti Gaffney; Four Graces Table; Bill and Cathy Stoller
The participating wineries at ¡Salud! (Vintner's Circle) represent the core of Oregon's Pinot Noir industry.

Adelsheim Vineyard A pioneering Oregon winery that first planted 15 acres of vines in the Chehalem Mountains in 1972. Founders David and Ginny Adelsheim produced their first wine in 1978 and their initial Pinot Noir from their own grapes in the 1979 vintage. Today they farm 200 acres primarily on the south side of the Chehalem Mountains and produce several blended and vineyard-designated Pinot Noirs.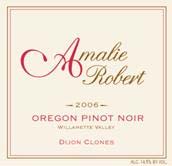 Amelie Robert Estate Amalie Robert is a combination of founders 'Dena Drews' middle name, Amelie' (pronounced AIM-a-lee) and Ernie Pink's middle name, 'Robert.' The owners acquired a 60-acre property planted to cherries in Dallas, Oregon in 1999 and planted a 30- acre vineyard. The inaugural Estate crush was in 2006. Ernie was formerly employed at Microsoft, and uses his computer knowhow to smoothly direct the logistics of the Big Board Auction for ¡Salud!.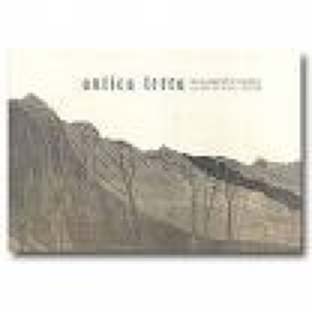 Antica Terra The Antica Terra Vineyard is a 28-acre parcel in the Amity-Eola Hills, first established in 1989. Today there are 6 acres of densely planted Pinot Noir vines. New owners acquired the property in 2005. Maggie Harrison, formerly assistant winemaker at Sine Qua Non is the a partner and the new winemaker. This is an exceptional vineyard.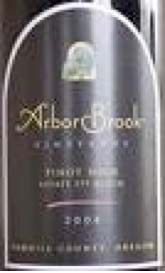 ArborBrook Vineyards A family owned winery established in 2001 producing estate grown Pinot Noir from vineyards located on the southern flank of the Chehalem Mountain range near Newberg. The vineyard is dry-farmed and planted to Dijon clones 115, 667 and 777 and Pommard clone.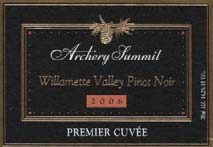 Archery Summit A well-established and much-respected winery in Dayton, Oregon. Founded in1993, the winery is housed in a modern gravity-flow facility and aging is carried out in the estate's caves. The winery farms 115 acres of vineyards in the Dundee Hills that are densely planted and sustainably farmed. Vineyards include Archery Summit Estate, Arcus Estate, Red Hills Estate, Renegade Ridge Estate and Looney.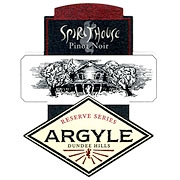 Argyle Argyle farms 500 acres of Willamette Valley vineyards. Winemaker Rollin Soles has been at the helm for 22 vintages. Argyle was at the forefront in the late 1980s in introducing high-density vineyard planting and Dijon clones to Oregon. The sparkling wine program is among the best in Oregon. Argyle's Victorian farmhouse tasting room is a landmark in the heart of Dundee. The winery is housed in a former hazelnut processing plant located just behind the tasting room.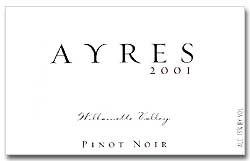 Ayres Vineyard Located in the Ribbon Ridge AVA. Ayres Vineyard is home to 18 acres of Pinot Noir. Three generations live among the vines. The winery is located 12 feet underground enabling the earth's natural insulation to produce stable and predictable cellar temperatures.


Beaux Frères Established in 1988, this winery is a partnership between Robert Parker, winemaker Michael Etzel and Robert Roy. The focus is on estate-grown Pinot Noirs from vineyards that are planted to tightly spaced vines where crop yields are kept to about two tons per acre.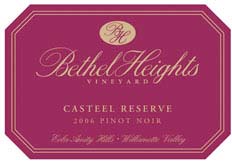 Bergström Wines A family owned and operated winery which began in 1999 with three tons of purchased fruit from the Dundee Hills. Currently there are 35 acres of biodynamically certified Pinot Noir estate acres in the Dundee Hills and Chehalem Mountains with 8,000 cases of wine, primarily Pinot Noir, produced annually.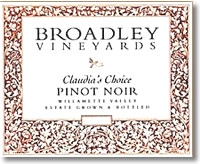 Bethel Heights Vineyard Twin brothers Ted and Terry Casteel left other careers to enter the wine business.The two Casteel families bought 75 acres in the Eola Hills west of Salem in 1978 and for the first few years grew grapes to sell to others. Ted has been responsible for the vineyards and Terry has made the wines. Their spouses, Pat and Marilyn, have shared the responsibility for marketing and business. The next generation is now gradually taking over the vineyard management and winemaking duties.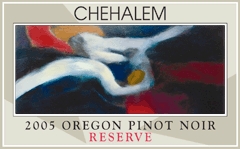 Broadley Vineyards This winery was established in 1982 in the hills west of the town of Monroe in Oregon. The family owned estate vineyard of 33 acres contains some of the original plantings of Pommard and Wädenswil established in 1982. Broadley's signature winemaking style is its use of a high percentage of whole cluster fermentation. Both estate and sourced fruit are used in the wines.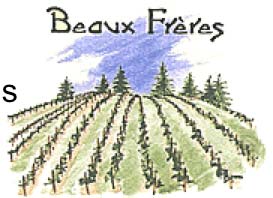 Chehalem Harry Peterson-Nedry and Bill and Cathy Stoller established this much-loved Oregon winery in 1990. The Pinot Noirs are stellar, but the whites including Chardonnay, Pinot Gris, Pinot Blanc, and Riesling are equally adored. All the 22,000 case production is made in small lots. Almost all the grape sources are directly farmed by the winery owners.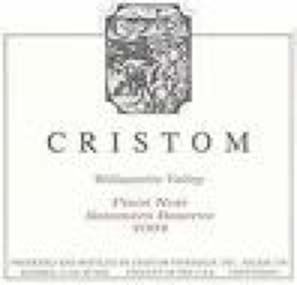 Cristom Vineyards Eileen and Paul Gerrie joined winemaker Steve Doerner in founding this winery which released its first wine in 1992. Over 60 acres are now planted in grapes. The principal wine produced is Pinot Noir, but several other varieties are in the lineup. The name Cristom honors the Gerrie's children, Christine and Tom. This is one of my favorite Oregon wineries. In a weak moment, I bid on and won two cases of Cristom's special 2007 ¡Salud! cuvee at the Big Board Auction. This wine was sourced from Michael Etzel at Beaux Frères. The fruit was from 'Jackie's Block' at Beaux Frères Vineyard which is all Wädenswil clone that is own rooted. The vineyard was planted from cuttings from the original Jim Maresh Vineyard in the Dundee Hills. It is a 1.4-acre site planted in 1991. Steve vinified the wine in a separate wooden barrel and then aged it in a Francois Frères half-barrel. He used a large percentage of whole clusters and all native yeast in the style of all Cristom Pinot Noirs. I thought this was the most outstanding wine I tasted at the ¡Salud! Big Board Auction at Domaine Drouhin on Friday.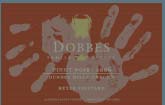 Dobbes Family Estate Joe Dobbes has been making wine for 23 years and his Dobbes Family Estate is the result of a long-standing dream of creating a family wine business. He trained both in Germany and Alsace as well as Domaine G. Roumier and Domine des Comtes Lafon in Burgundy. In 2001, he created Wine By Joe, LLC, a custom winemaking company where he crafts wine for over 22 clients within his two facilities in Dundee. He also owns and produces three of his own labels: Wine By Joe, Jovino Pinot Noir (a restaurant brand), and Dobbes Family Estate.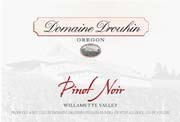 Domaine Drouhin Oregon Established in 1987 by the Drouhin winemaking family of France, DDO represents the first serious Burgundian investment in Oregon. The eight story gravity flow winery built into the slopes high in the Red Hills of Dundee serves as the host site for the ¡Salud! Big Board Auction. DDO's estate is composed of 225 acres, of which 90 acres are currently under vine. The vineyards are planted on a highdensity Burgundian template, which encourages greater plant competition resulting in less fruit per vine. Production is about 12,000 cases per year of Pinot Noir and 2,000 cases of Chardonnay.


Elk Cove Vineyards Founded in 1974 by Pat and Joe Campbell, Elk Cove Vineyards is one of Oregon'soldest and most respected wine producers. Estate vineyards now total over 180 acres on four separate sites in the northern Willamette Valley. In 1995, Adam Godlee Campbell joined his parents to become winemaker and general manager and the wines have continued on a path of excellence.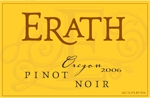 Erath Vineyards Dick Erath grew up in the East Bay area of Northern California. While living in Walnut Creek, and working as an electrical engineer, he grew some Zinfandel and bought grapes from other vineyards to make wine. His enrollment in classes at University of California Davis in 1967 changed his life and Oregon's wine future forever. Erath met Andre Tchelistcheff and Louis Martini, but it was the people heading north to Oregon that caught most of his attention. In one of his classes was Richard Sommer, who became Oregon's modern pioneering winemaker. He established Hillcrest Vineyard in the Umpqua Valley, but many of his colleagues, including Dick Erath, headed more north to the Willamette Valley. Within a year of finishing classes at University of California Davis, Erath moved to Oregon, and planted 4 acres of Pinot Noir (the first Pommard clone planted in Oregon), Riesling and Gewürztraminer in the Chehalm Mountains. He had his first crush and wine with the Erath name on it in 1972, all 216 cases of it. He would form a partnership with Cal Knudsen to establish Knudsen-Erath Winery in 1975. Knudsen eventually left to partner with Australian Brian Croser to found Argyle Winery and Erath trooped on alone. In 1994, Erath hired winemaker Rob Stuart and the winery continued to prosper. In 2006, Erath was sold to St. Michelle Wine Estates.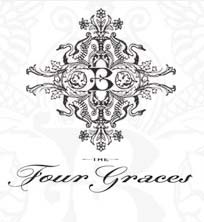 The Four Graces This is a family owned business started by Steve and Paula Black who named their winery in honor of their four daughters. The vineyards are sustainably farmed with a dedication to both organic and biodynamic practices. The winery and Black Family Estate vineyard are located on Hwy 99 in Dundee and offer a welcome respite for visitors to the Willamette Valley. Established in 2003, the wines have been stellar under the graceful hand of winemaker Laurent Montalieu.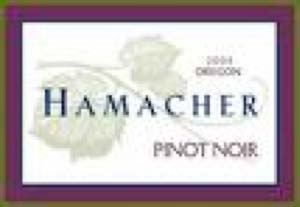 Hamacher Wines Hamacher leases several vineyard parcels throughout the Willamette Valley. Vines range in age from 5 to 32 years. Each block of grapes from each vineyard is vinified separately. Aging is carried out for 18 months before blending. Owner and winemaker Eric Hamacher is one of a small group of independent producers who call The Carlton Winemakers Studio home. This sustainably constructed winemaking facility was the first of its kind and offers modern winemaking equipment scaled down for boutique sized productions.


Ken Wright Cellars Ken Wright is an iconic force in the Oregon Pinot Noir industry. He established Panther Creek Cellars, Domaine Serene and his own Ken Wright Cellars in addition to Tyrus Edna (a producer of non-Pinot Noir varieties). Wright originally developed his winemaking acumen in California's Central Coast before moving to Oregon and starting Panther Creek Cellars in 1986. He was one of the early champions of single-vineyard Pinot Noirs in Oregon. Wright works closely with growers and all of his leased vineyards are organically farmed. His wines are respected for their interpretation of Oregon's diverse terroirs.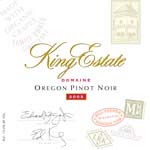 King Estate Winery The 1,000 acre Estate, located southeast of Eugene, is Oregon's largest, encompassing 470 acres of certified organic vineyards, a grapevine grafting facility, nursery, vegetable and flower gardens and orchards with a state-of-the-art winery. Winemaking has been certified organic by Oregon Tilth since 2002. King Estate is perhaps best known for its Pinot Gris, ranking as Oregon's finest.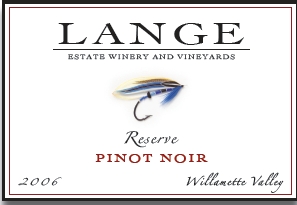 Lange Estate Winery & Vineyards Established in 1987, this winery has grown to an annual production of 18,000 cases. The Estate has expanded from the original 29-acre property to a total of 55 acres, all within the Dundee Hills AVA. The wines are known for their impressive age-worthiness. Second generation winemaker Jesse Lange is in charge.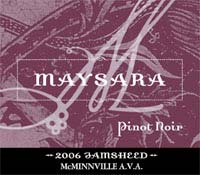 Maysara Winery The Momtazi Vineyard, established in 2001 by Moe and Flora Momtazi, consists of over 225 acres and is Oregon's largest Demeter Certified Biodynamic vineyard. Demeter Certified Biodynamic winemaking practices are carried out in the winery as well under the direction of Tahmiene Momtazi. This is an impressive family owned and operated estate that is producing unique wines as well as supplying grapes to over 30 producers in Oregon.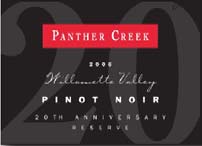 Panther Creek Cellars This venerable producer is located in historic downtown McMinnville and has been producing hand-crafted Pinot Noirs since 1986. The winery, founded by Ken Wright, was subsequently owned by the Kaplan family for many years. Their story is detailed in the book written by Linda Kaplan, My First Crush. Mark Vlossak of St. Innocent Winery was the consulting winemaker for the Kaplans for many years. The current owner is Chambers McMinnville LLC (also owner of Silvan Ridge Winery near Eugene) and the winemaker since 1999 is Michael Stevenson who replaced Vlossak. The Kaplans remain actively involved in the winery operations. The winery recently released its 20th Anniversary Pinot Noir.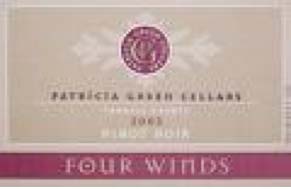 Patricia Green Cellars Patty Green and Jim Anderson own and operate this 52-acre estate which is located on North Valley Road in northwestern Newberg in the Ribbon Ridge AVA of Yamhill County. The Pinot Noirs are sourced from both an Estate Vineyard and several premium vineyards in the Dundee Hills and Eola-Amity Hills appellations. The emphasis is on single-vineyard bottlings and up to 20 different Pinot Noir wines have been produced. Total production exceeds 10,000 cases including the largest production of Sauvignon Blanc in Oregon as well as some Chardonnay (but as Patty says, they are not sure how that happens).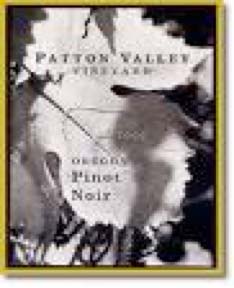 Patton Valley Vineyard This winery was founded in 1995 by two former business school classmates, Monte Pitt and Dave Chen. Located on a 72-acre parcel in the northern reaches of the Willamette Valley, the vineyard consists of 24 acres planted to a diverse selection of Pinot Noir clones. The vineyard is LIVE certified (2006). Production is currently about 3,000 cases of estate grown Pinot Noir.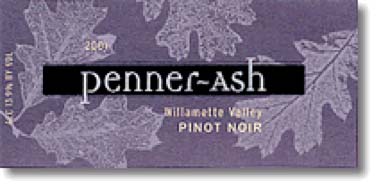 Penner-Ash Wine Cellars Lynn and Ron Penner-Ash started their own label in 1998, sourcing fruit from established vineyards in Oregon and crafting their wines at Carlton Winemakers Studio. Today, the wines are produced on the estate property in the Yamhill-Carlton appellation in a new sustainable, gravity-flow winery situated within Dussin Vineyard. The emphasis is on Pinot Noir and both a reserve quality Willamette Valley Pinot Noir and vineyard-designated Pinot Noirs are produced.


Ponzi Vineyards Ponzi has been one of the most visible faces of Oregon Pinot Noir for nearly four decades. Second generation winemaker Luisa Ponzi, together with her brother and sister management team, maintain an unwavering commitment to winemaking excellence. Dick and Nancy Ponzi came to Oregon from Los Gatos, California, and founded their family owned and operated winery in 1970. Dick Ponzi was not educated at the University of California Davis like many of his pioneering compatriots in Oregon, but he was heavily influenced by his father who made wine at home. He was initially driven to return to the earth for sustenance, much like many of the hippie-influenced farmers of his generation. The family now owns and farms more than 120 acres of LIVE Certified Sustainable vineyards in the Chehalem Mountains AVA. A new, expansive and modern winery was finished in time for the 2008 vintage.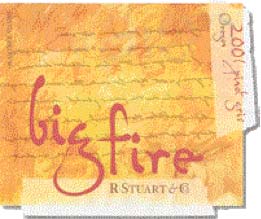 R. Stuart & Co. The winery is housed in a converted granary in the McMinnville neighborhood affectionately known as the "Pinot Quarter." Grapes are sourced from notable vineyards including Temperance Hill, Melrose, Ana, Winderlea and Weber. The entry level wines intended for everyday drinking are bottled under the Big Fire label. The premium Pinot Noirs and sparkling Rosè d'Or bear the more traditional R. Stuart & Co. label. In 2007, six vineyard-designated and one blended Pinot Noir were produced.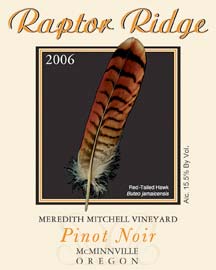 Raptor Ridge Winery Located in the Chehalem Mountains, the name comes from the owls and hawks that fly over Raptor Ridge where Scott Schull hand crafts small quantities of Pinot Gris and Pinot Noir. The winery was founded in 1995 and now produces over 4,500 cases of wine annually. Scott has planted an 18-acre vineyard in the Chahalem Mountains which will eventually supply about one-third of his fruit. Scott works with several area vineyards to craft both blended and single-vineyard Pinot Noirs. Both Scott and his wife Annie are active in the Oregon wine industry and this year contributed a significant amount of their profits to the ¡Salud! Auction.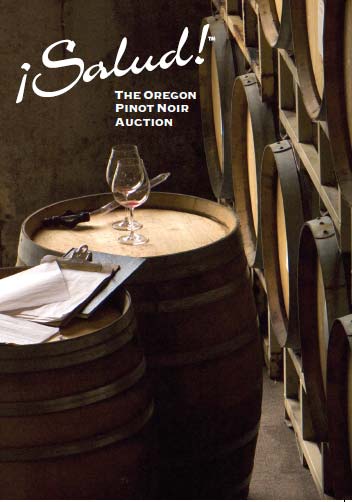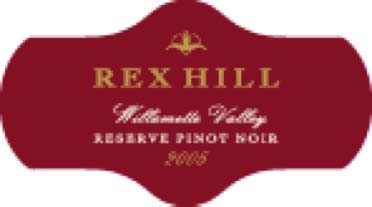 Rex Hill Vineyards Rex Hill has been one of Oregon's premier wineries for 25 years. In 2006, the winery was acquired by A to Z Wineworks which is owned by Bill and Deb Hatcher, Sam Tannahill and Cheryl Frances and winemaker Michael Davies. Rex Hill partners with Salmon Safe and LIVE and farms biodynamically large portions of the Estate and Jacob Hart Vineyards with a goal toward biodynamic certification.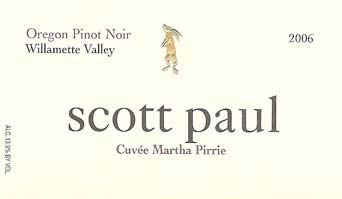 Scott Paul Wines The mantra here is low yields (less than 1.7 tons per acre over the last nine years) and sustainable viticulture. All wild yeast fermentations, no inoculations, no enzymes, and no additives. New oak is limited to no more than 20%. The wines are not manipulated in any way, fined, or filtered. Scott Paul sources grapes from many of Oregon's finest vineyards including Maresh, Ribbon Ridge, and Momtazi. Two circa-1915 granary buildings in the village of Carlton were recently renovated and converted into a tasting room, winery and business offices.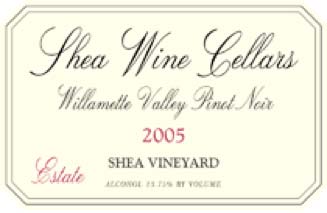 Shea Wine Cellars Dick Shea originally planted his namesake vineyard in 1989, one of the first plantings in Yamhill-Carlton District. Over time the vineyard has been expanded and partially replanted, and now consists of 180 acres of vines. Grapes from this vineyard have been highly sought-after by Oregon winemakers (and a few California winemakers as well). In 1996, Dick Shea started his own label, Shea Wine Cellars, beginning with a very modest 25 cases of Pinot Noir. By 2006, production reached 3,700 cases of Pinot Noir and 425 cases of Chardonnay all from estate grown fruit. A new winery was built on the property in 2007.


Soléna Cellars In 2000, Laurent Montalieu and Danielle Andrus Montalieu bought an 80-acre estate as their wedding gift to each other. The property is aptly named Domaine Danielle Laurent. Planting started with six different clonal selections of Pinot Noir. Winery production now is over 5,000 cases of Pinot Noir, Pinot Gris, Cabernet Sauvignon, Merlot, Zinfandel and Syrah (grapes for warm varietals are sourced from eastern Washington). Soléna wines have been produced at NW Wine Company in McMinnville, a custom winemaking facility conceived by the Montalieus in partnership with John Niemeyer of Oregon Wine Services. NW Wine Company is home to over 30 different labels. The Montalieus are building a winery on their estate property which will also be home to Grand Cru Estates, a 'members only' winery that allows members to produce their very own barrel of wine tailored to their palate. Laurent Montalieu and Tony Rynders will guide the members in their winemaking process.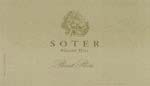 Soter Vineyards World-renowned winemaker Tony Soter has left California behind permanently to settle in his home state of Oregon. His base is a 245-acre ranch called Mineral Springs outside of Carlton where he farms 32 acres of Pinot Noir. The first harvest from Mineral Springs Vineyard, which is certified sustainable, was in 2005. Soter's sparkling wines are a superb compliment to his Pinot Noir lineup.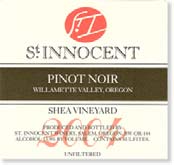 St. Innocent Winery Established in 1988, winemaker Mark Vlossak produces vineyarddesignated Pinot from vineyards in the northern Willamette Valley. Vlossak's emphasis is on crafting wines that are enjoyable with a meal and age worthy. Many of the vineyarddesignated Pinot Noirs reach their peak after 10 to 15 years of bottle age. St. Innocent also produces Chardonnay, Pinot Gris and Pinot Blanc with small lots of sparkling wine. In 2006, St. Innocent entered into a partnership with Zenith Vineyard (formerly O'Connor Vineyard) and is now producing its first estate wines. Zenith is located in the Eola-Amity Hills northwest of Salem. A new winery at Zenith was finished in time for the 2007 harvest. The winery features a multi level gravity-flow design with two large underground barrel rooms. St. Innocent wines have received considerable critical praise from wine critics and the wine press.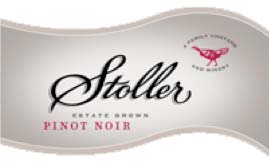 Stoller Bill and Kathy Stoller have built a magnificent wine estate on a 373-acre parcel on the southern slopes of the Dundee Hills. The property was originally owned by Bill's father and uncle and operated as a turkey and grain farm since the 1940s. Bill and Cathy Stoller acquired the property in 1993 and began planting the vineyard in 1995. Today there are 170 acres of vines, primarily Pinot Noir and Chardonnay. Stoller winery is Oregon's first gold level LEED-certified winery, integrating gravity flow winemaking techniques, energy efficient heating and cooling, and waste water reclamation to reduce negative environmental impact.

Torii Mor Winery Torii Mor was founded in 1993 by Donald Olson, M.D., who remains the owner today with his wife Margie. The name Torii Mor was chosen by Dr. Olson as he felt it conjured a feeling of unique elegance. Borrowing from the Japanese, the word "Torii" refers to the ornate gates most often seen at the entrances to Japanese gardens. "Mor" is an ancient Scandinavian word that means "earth." By integrating these two distinct languages, the romantic image of a gate to the earth space or passageway to beautiful things is formed. The Olson Estate Vineyard (formerly McDaniel Vineyard) is located in the Dundee Hills and is one of the oldest vineyards in Yamhill County with initial plantings dating to 1972. Current production is about 14,000 cases of primarily Pinot Noir along with Pinot Gris, Pinot Blanc and Port. Winemaker Jacques Tardy crafts vineyard-designated and blended Pinot Noirs in the classic "Burgundian" manner. A new solar array, gravity-flow winery is seeking LEED certification.


Westrey Wine Company Founded in 1993, Westrey is a collaborative winemaking effort of spouses Amy Wesselman and David Autrey. The inaugural vintage in 1993 produced just 400 cases. Westrey has grown but is committed to limiting production to 4,000 to 6,000 cases annually to allow each lot to receive the attention it deserves. Both reserve and single vineyard bottlings of Pinot Noir emphasize balanced texture, acidity and alcohol, with new oak playing a minor role (usually 20%). Equal care is given to Pinot Gris and Chardonnay which possess the structure and balance to age well. I successfully bid on a case of 2007 Westrey ¡Salud! Pinot Noir cuvee made from Oracle Vineyard fruit, the site Amy and David own and farm in the Dundee Hills. The vineyard combines vines planted in 1977 as well as 2001.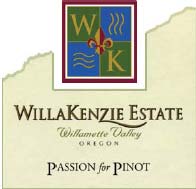 WillaKenzie Estate This estate is a producer of small lots of premium Pinot Noir, Gamay Noir, Pinot Meunier Pinot Gris and Pinot Blanc. It is named after the soil on which the vineyards are planted. The winery's motto is "Passion for Pinot." At least 13 different Pinot Noirs are produced including single clone Pinot Noirs offered only to Cellar Club members. Sustainable farming is emphasized. The modern gravity-flow winery was completed in 1995 and is tucked into the hillside of the property providing natural cooling on the fermentation and barrel cellar levels. The winemaking team is French combining age-old Burgundian methods with the latest advanced techniques. The tasting room was one of the first in the Willamette Valley.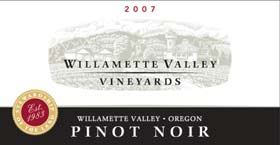 Willamette Valley Vineyards Oregon native Jim Bernau founded Willamette Valley Vineyards in 1983 in Turner, Oregon. Pinot Noir, Pinot Gris and Chardonnay are produced. The winery's three main fruit sources are the Estate Vineyard, Tualatin Vineyard and Elton Vineyard, all of which are certified sustainable (LIVE and Salmon Safe). The Estate Vineyard Pinot Noir block is certified organic. The sites have diverse clonal plantings, varied trellising systems, and microclimates allowing winemakers Forrest Klaffke and Don Crank to create complex wines.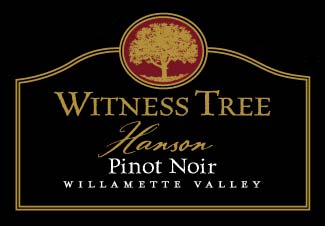 Witness Tree Vineyard Named for an ancient oak tree that towers over this 100-acre estate, Witness Tree only produces wines from grapes grown on the 52-acre estate vineyard. The vineyard is farmed sustainably and is certified LIVE. Yields are kept low. Pinot Noir is the focus, but small quantities of Chardonnay, Pinot Blanc, Viognier and Dolcetto are also grown.

Some comments on recent Oregon vintages, particularly the 2007 vintage, are in order. Rain is synonymous with Oregon, but unfairly so, for in the Willamette Valley, there is no more rain than other cool climate growing regions of the world. From April to September, the Willamette Valley is often dry, although rain in the spring can wreak havoc on bloom and rain in late summer can complicate harvest. From 1998 to 2003, Oregon enjoyed a string of hot, dry vintages without significant rain pressure. However, from 2004 to 2007, rain was a significant influence on each vintage. In 2004, rains in September receded before final ripening and the vintage turned out to have low yields with superbly balanced flavors, acidity and tannins. 2005 was shouldered with rain and cool weather in the spring and at harvest. It was a challenging vintage with irregular flowering. Harvest was extended, lasting into November for several vineyards. Despite the weather challenges, the wines of 2005 are of high quality, nicely balanced and possess excellent acidity for aging. In 2006, there was higher than normal rainfall in the winter and a dry, warm summer leading to record high yields (an increase of 38% over the previous year.) Considered a ripe, California-type vintage with higher alcohols, the wines are quite fruit-forward, showy and hedonistic and many should be consumed within five years. In 2007, winemakers had "roller coaster" weather in the spring and had to dodge rain at harvest. Early reports from the wine press were gloomy. The truth is, advances in viticulture in Oregon have enabled the winegrowers to craft quality Pinot Noir despite challenging weather during the growing season. The 2007 vintage has turned out fine. I tasted more than half of the 2007 ¡Salud! Cuvee Pinot Noirs at the Big Board Auction and the wines were marvelous, with moderate alcohols, lively acidity, charming aromatics, soft tannins and memorable layers of flavor.
The 2008 growing year was a classic in Oregon. A long dry and moderate summer was followed by cold weather allowing slow ripening and a late harvest. Light rain in October created no significant problems and the cold deterred rot. Everywhere I went after harvest in the Willamette Valley, winemakers were smiling, touting the quality of grapes as superb with bright acidities and low alcohols. Early barrel samples I tasted confirmed the winemaker's enthusiasm.
In speaking with winemakers about the current vintages in the marketplace (2005, 2006 and 2007), they recommended drinking the 2006 wines now, dipping into some of the 2007 wines (no hurry though as they will age well), and holding back the 2005 wines for a few years. If you prefer fruit-driven wines with plenty of ripeness, go for the 2006 vintage. If you delight in more classic, restrained Pinot Noir. look to the 2007 vintage wines. This was never more clear to me than when I spent a few hours with Mimi Casteel at Bethel Heights and tasted through the winery's lineup of 2006 and 2007 Pinot Noirs (look for a full report in an upcoming issue). The 2006 wines were darkly colored, generous in alcohol, stacked and packed with fruit and very sexy. Think actress Julianne Moore in leopard print flaunting her hair and cheek bones. The 2007 wines (several of which were just bottled) were more restrained and nuanced, and showed more pinotosity. More jene sais quoi of French style like Juliette Binoche.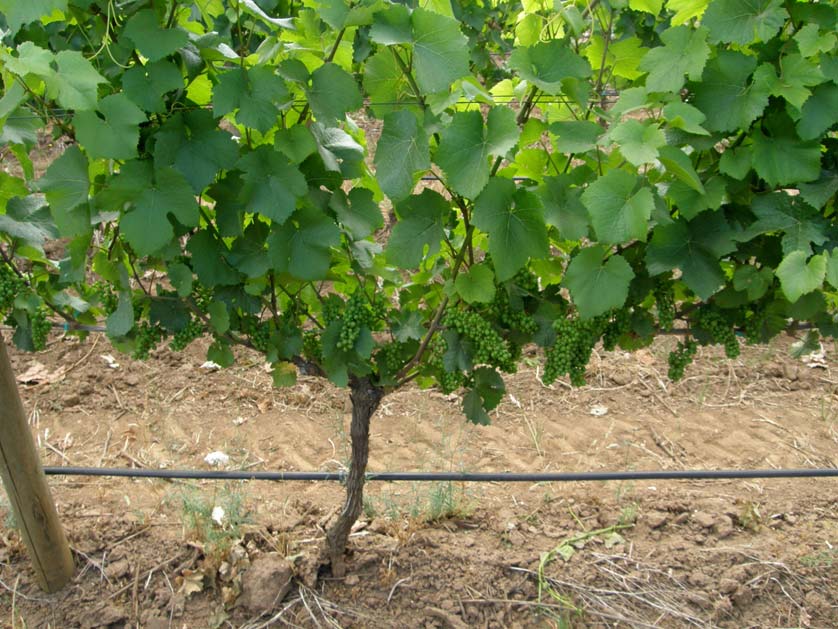 Pinot Noir at Anam Cara Estate Vineyard in the Chehalem Mountains, July 2008.