Emtu Estate Wines: Pinot Noir From Dedicated Humanitarians
Christmas is a time of year that our thoughts drift to comforting and assisting the less fortunate. John and Chris Mason are two extraordinary people who have taken their dedication to humanitarian causes quite seriously. Together, they craft a single estate Pinot Noir from a dry-farmed, 2-acre certified organic vineyard located in Forestville at the juncture of the Russian River Valley and the Green Valley appellations of Sonoma County. The live on their property, farm their adjacent estate Labyrinth Vineyard, and control all the winemaking. That in itself is quite an accomplishment, but the Masons have looked beyond their farm for self-fulfillment.
The Masons (both of them had the sir name Mason before marriage, but were unrelated, and thus the derivation of the name Emtu, a phonetic spelling of M2) have been international relief workers since 1999 when they traveled to Kosovo to build homes and shelters in remote villages as part of the relief efforts for homeless families. John is a retired paramedic and Chris is a retired worker in the health care field with a master's degree in dietary science. Every winter they close up the farm as the vines lay dormant and the wine rests in barrels and travel to a foreign county where their skills are most needed. They have been in Gujarat, India helping in the aftermath of a disastrous earthquake, in Bmenda Highlands of Cameroon assisting AIDS educators, and in Chaman, Pakistan where they established medical clinics in two border refugee camps and provided medical aid to over 30,000 refugees. In January 2009, they leave for a few weeks to work in Peru. In 2005, the Masons founded the Labyrinth Foundation for Disaster Relief to allow them to operate independently or in cooperation with other aid organizations. All the profit from the sale of Emtu wines goes to their charitable foundation.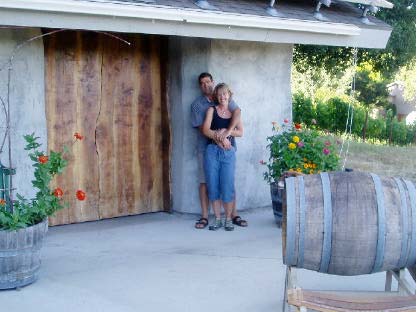 The Labyrinth Vineyard was planted to clones 115 and Pommard 4 and 5 in 1999 and 2003. The vines are rooted in deep Goldridge soils and grafted onto 101-14 rootstock. Each vine is cane pruned individually and every year each vine is carefully assessed to determine the appropriate number of buds to be left as fruiting wood. This balances the vine and permits adjustments in fruit load from year to year. Early passes through the vineyard for shoot thinning and positioning ensure optimal canopy density, with the aim of achieving an even and dappled exposure to sunlight on each cluster of grapes. As the season progresses, additional passes are made to evaluate and adjust vine growth and fruit. If during the growing season the vine seems out of balance, both shoots and fruit are removed to allow the vine to fully ripen the grapes.
A small labyrinth pattern of vines was planted in one corner of the vineyard leaving a small central space unplanted that serves as a place of contemplation and serenity among the vines. The name, Labyrinth Vineyard, is a nod to this unusual planting.
The Masons work to avoid producing a homogenized product, preferring to craft a consistently excellent wine that fully expresses the nuances of the site from which it originates and the conditions under which it matures. They honed their winemaking skills and refined their style over ten years, producing "garagiste" wine initially at their home. The first commercial release of estate Pinot Noir was 2004. The eventual goal is to produce 500 cases of Pinot Noir annually.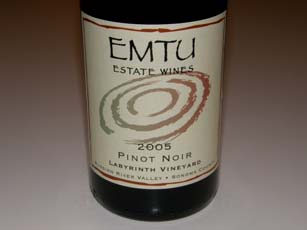 2005 Emtu Estate Wines Labyrinth Vineyard Russian River Valley Pinot Noir
14.0% alc., 144 cases, $36 Grapes were hand picked in the early morning, cold soaked for 3 days, fermented by inoculation of Assmanshaussen yeast, punched down by hand, and basked pressed into French oak barrels without settling. Aged in barrel a total of 18 months and bottled unfined and unfiltered. · Complex array of aromas and flavors including cherries, berries, brown sugar, mushroom and cardamon spice. There is a vein of oak running through. Light and ephemeral with commendable balance.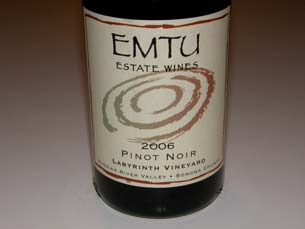 2006 Emtu Estate Wines Labyrinth Vineyard Russian River Valley Pinot Noir
14.0% alc., 300 cases, $40. Picked at 23.9° brix, 3 day cold soak, inoculated fermentation. Racked every 6 months and bottled after 18 months in barrel. · The wine sports a primarily light reddish hue with a hint of violet. Prototypical Russian River Valley nose featuring Bing cherries, strawberries and cola. A very comforting and elegant wine offering a panoply of red fruits, a touch of oak spice and a smooth and clean finish. Beautifully balanced and stellar in every way.
Emtu Estate Wines welcomes visitors for a private tour and tasting (707-887-1239). Be sure to ask to see their barn owls and red shouldered hawks they receive from the Bird Recovery Agency in Sonoma County. They raise the birds until they are able to function on their own and then release them into the local environment. The wines (they also produce a small amount of rosé from a tiny block of Merlot on the property) are available by phone or e-mailing john at jrm1023@hotmail.com. The website is www.emtuwines.com. Remember that when you buy Emtu wines, you not only get to enjoy a good bottle of Pinot, but you are supporting the Mason's humanitarian efforts in third world countries.