Skewis Wines
Hank Skewis is a veteran of over 25 vintages who honed his winemaking skills at Lambert Bridge in the Dry Creek region of Sonoma County before starting his namesake label with his wife Maggie in 1994. That year, grower Fred Peterson of the Floodgate Vineyard in Anderson Valley (now owned by Goldeneye and renamed) offered Hank three barrels of grapes and Hank released 70 cases for sale. Today, Hank crafts less than 1,000 cases annually of premium Pinot Noir from vineyards in Sonoma's Russian River Valley and Coastal appellations. He works out of a shared crush facility, attempting to keep overhead low to match projected income.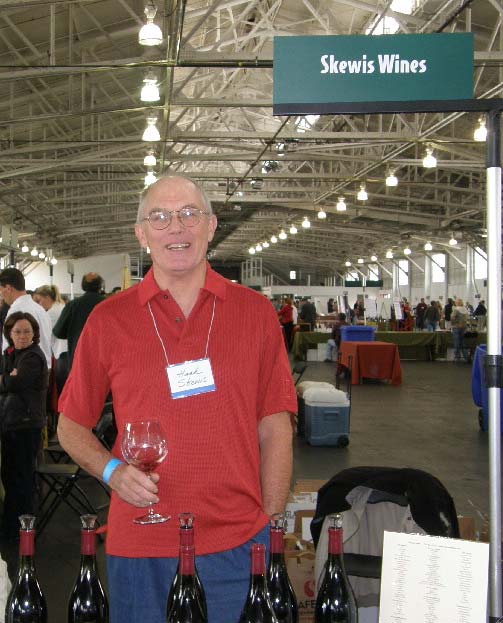 Hank works with growers to restrict yields by winter pruning, spring shoot thinning and summer cluster thinning before veraison. He prefers to limit crop yields to 2 to 2.5 tons per acre. Winemaking is traditional with minimal intervention. Grapes are gently crushed into small bins, fermented warm, pressed into French oak barrels where primary and secondary fermentations are completed. The wines are typically aged in barrel for 18 months, racked for blending, and then racked a second time in preparation for bottling. They are then aged an additional 4 to 6 months in bottle before release.
Hank's vineyard sources have varied but they have always been superb. One of the greatest challenges of tiny producers is maintaining consistent vineyard sources. Three vineyards compose the 2006 lineup of Skewis Pinot Noirs. Lingenfelder Vineyard, located in the Russian River Valley, is a three-acre site west of the town of Fulton. Planted in 1996 and grafted to UCD 13 (Martini clone), the vineyard is meticulously managed. The soil is Huichica loam typical of this area. The Bush Vineyard is also situated in the Russian River Valley. This 2.25-acre vineyard is just northwest of Santa Rosa. The area is characterized by cooling summer fog which frequently lingers until late in the morning. The soils is Huachita loam, a well-drained mixture of sand, loam and rock. The vines are Dijon clone 115 planted in 1998-1999. The Peters Vineyard is located in the rolling hills southwest of Sebastopol. This 14-acre vineyard is in the Sonoma Coast appellation in an area frequented by fog and maritime breezes. The soil is well drained Goldridge sandy loam, covering a thick layer of clay. The vineyard was planted between 1994 and 2000 with four clones. Skewis sources Pommard and Dijon 777 blocks.
All the 2006 Skewis Pinot Noirs sampled and reviewed here show an appealing earthiness and ripe tannins indicating a long life ahead for the wines. I can vouch for the age ability of Skewis Pinot Noirs for I have sampled older vintages on a number of occasions and they have always been superb. All three 2006 wines were very well crafted and quite similar in style.
2006 Skewis Lingenfelder Vineyard Russian River Valley Pinot Noir
14.3% alc., 120 cases, $45. · Attractive aromas of black cherries, citrus and roses. Medium weighted and nicely balanced, the earth-dusted cherry flavors are bright due to lively acidity. Some beet root, plum and oak adds interest. The tannins are fine grained and dry and the finish is uplifting.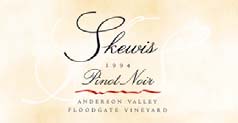 2006 Skewis Peters Vineyard Sonoma Coast Pinot Noir
14.5% alc., 200 cases, $48. · Well-fruited nose smelling of fresh berries with a little grassy note. Red, blue and black berries also lead the flavor parade with some ripe cherries playing a minor role. Very elegant and soft in the mouth with a tangy persistence on the finish. The balance is spot on and this is my favorite of the three 2006 Pinot Noirs.
2006 Skewis Bush Vineyard Russian River Valley Pinot Noir
14.6% alc., 190 cases, $50. · A cherry-driven wine with a kiss of oak, spice, mint and musk. Dark in color and darkly fruited with notable dry tannins and a good acid lift on the finish. Perfectly fine to drink now, but aging will meld the tannins and soften the wine.
Skewis wines are available on the website, through a mailing list, fine wine retail stores and restaurants. The website, www.skewis.com, has a valuable section about matching Skewis Pinot Noirs with food and cheese.