Wrotham Clone of Pinot Noir
The Wrotham clone was discovered by accident as a wild grapevine growing on a stone wall near the village of Wrotham in southeast England. The softly furred leaves were unlike the Pinot Noir of France, but the fruit clusters were similar. The wild vine displayed a resistance to powdery mildew. DNA studies showed it was identical to Pinot Noir. It has been speculated that the Romans brought cuttings of this vine to England 2,000 years ago. Dr. Richard Grant Peterson brought cuttings to the Napa Valley in 1980 and planted a two-acre vineyard propagated from this single wild vine. To this day, this is the only Wrotham Pinot Noir vineyard in America.
The earliest vintages (2000 through 2005) produced only a Blanc de Noir style sparkling wine. Still Pinot Noir appeared in 2006 and 2007. Dr. Peterson has now decided to produce Richard Grant Wrotham Pinot Sparkling Wine and Richard Grant Wrotham Clone of Pinot Noir in alternate years because of the small number of vines available.
Richard Peterson, now 76, is a well-respected senior winemaker whose accomplishments date back to the early days of E. & J. Gallo Winery when he directed the transition from an emphasis on sweet wines to dry table wines and taught the Gallos how to craft sparkling wines. In 1968, he replaced legendary winemaker Andre Tchelistcheff as winemaker at Beaulieu Vineyard in the Napa Valley and fashioned a number of notable wines including Pinot Noirs. His most notable achievement was designing the steel barrel racking system that allows wineries to safely stack barrels using a forklift. Today he is a viticulture and enology consultant for several high quality wineries in California.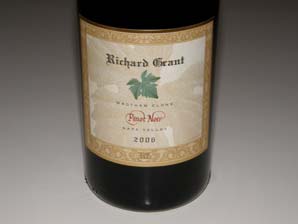 2006 Richard Grant Wrotham Clone Napa Valley Pinot Noir
14.2% alc., 516 cases, $40. · Reddish-violet robe. Complex and fascinating aroma profile featuring berries, pomegranate, prune, dried herbs, wildflowers, wet leaf, and vanilla. The wine is medium-bodied with juicy raspberry flavor very prominent. A hint of raisin and spice adds interest. Moderate tannins and lively acidity with a refreshing tang on the finish. A unique wine of great interest.
Richard Grant wines are sold on the website at www.richardgrantwine.com. Both the 2000 ($75) and 2001 ($50) sparkling wines are available. The full Wrotham Pinot story and Peterson's numerous accomplishments in the wine industry are detailed on the website.