A Long Tradition at Foxen Winery
Bill Wathen and Dick Dore have been making wine together since 1985, when they founded Foxen Winery at the historic Rancho Tinaquaic in northern Santa Barbara County. Known as the Foxen Boys, they released their first Pinot Noir in 1989.
Dick Doré's great-great-grandfather, William Benjamin Foxen was an English sea captain who came to Santa Barbara County in the early 1800s and bought the Rancho Tinaquaic that once totaled 9,000 acres and comprised most of what is now known as Foxen Canyon. (Note: I have also read that the Rancho Tinaquaic was a Mexican land grant given to William Benjamin Foxen after he married the Spanish daughter of a California governor.) He chose to use an anchor for his cattle brand and this became the Foxen Winery logo that is displayed on each bottle's label. The 2,000-acre Rancho Tinaquaic remains in family hands and is the home of Foxen Winery. The Foxen Winery tasting room is located on Foxen Canyon Road. It was an old blacksmith's shop that was adjacent a stagecoach stop on the site 150 years ago.
Wathen, a winemaker, and Doré an ex-banker who had travelled Europe and ended up working at Tepusquet Mesa Vineyard, met at the vineyard and developed a friendship. Wathen was trained in vineyard management and while employed as vineyard manager at Chalone, he learned winemaking from Dick Graff. The partners t create very small production and primarily vineyard-designate wines that have received considerable notoriety since the winery was featured in the book and movie 'Sideways.'
Several varieties of wine are produced, but the four vineyard-designate Pinot Noirs come from Bien Nacido Vineyard, Sea Smoke Vineyard (which Wathen helped develop), Sanford and Benedict Vineyard and Julia's Vineyard. The wines are richly concentrated in style and offer considerable depth and interest. They are dark in color, nicely textured, bursting with fruit on the finish and very nicely crafted. The wines need time to open and benefit from decanting.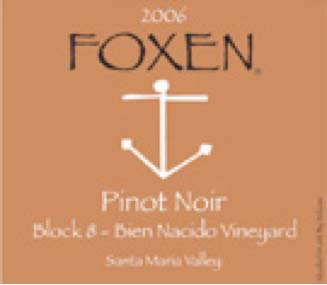 2006 Foxen Winery Block 8 Bien Nacido Vineyard Santa Maria Valley Pinot Noir
14.6% alc., 480 cases, $54. Primarily Wädenswil with some Dijon 115 and Pommard. 100% whole berry de-stemmed, 4-5 day cold soak, 10-14 day active fermentation with punch down twice daily, partial lots undergo extended maceration for 30 days. Aged 16 months in 60% new French oak barrels. Bottled without fining or filtration. · The flavors trump the nose at this time. Rather subdued aromas of dark fruits, tobacco and fresh veggies. Intense and ripe dark raspberry flavor. Very smooth in the mouth with supple tannins and a mildly tart citric finish. This wine almost seems like a Pinot Noir in Rhone clothing. I like it for its individuality. The wine improved from the opened bottle later in the day indicating a long life ahead.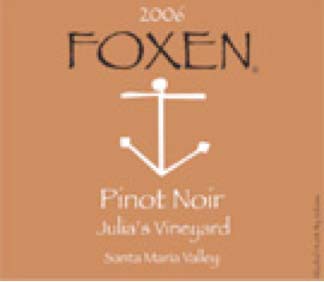 2006 Foxen Winery Julia's Vineyard Santa Maria Valley Pinot Noir
14.6% alc., 450 cases, $54. Pommard clone. 100% whole berry de-stemmed. 5 day cold soak, 10 day fermentation with punchdowns twice daily. Aged 16 months in 65% new French oak barrels. · Vigorous with flavor and character featuring herbinfused dark stone fruit with char and cola highlights. Packed and stacked with flavor but smooth and polished. The deep berry flavors leave a memorable impression on the lengthy finish. A delicious wine.
Foxen Winery Pinot Noirs are sold through a mailing list, on the website and at the tasting room. The 2006 Julia's Vineyard Pinot Noir is still available. The tasting room at 7200 Foxen Canyon Road is open from 11:00 to 4:00 daily and has a picnic area. The website is www.foxenvineyard.com and the phone is 805-937-4251.
"We are doing the wine tour," Jack said, loud enough to be heard in Solvang. "And my wine snob friend, Miles" - Jack hooked an arm affectionately around my neck - "claims Foxen makes one hell of a Pinot." From the book Sideways by Rex Pickett.