Reidel Oregon Pinot Noir Glass Now Available
The Riedel Oregon Pinot Noir glass was introduced at this year's International Pinot Noir Celebration in McMinnville, Oregon. The glass is an innovative design that combines the best features of the Vinum series Burgundy glass and the Sommelier series Grand Cru Burgundy glass. The glass is most similar to the Grand Cru Burgundy glass but has a slightly wider mid-bowl and tapers more at the top. I really like this glass and have begun to use it routinely for all my Pinot Noir tastings (not just Oregon). The glass enhances delicate aromatics, delivers the flavors, and accentuates the texture. It is perfect for vigorous swirling and the flared rim sits beautifully on my lower lip, allowing the juice to flow gently into my mouth without dribbling on my chin. The glasses are 9½ " tall and hold 28¼ oz.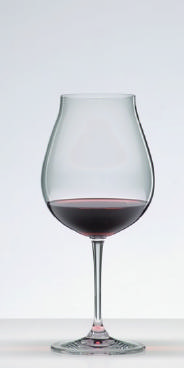 Initially George Reidel only made the glass available to restaurants and winery tasting rooms in Oregon. I now have seen two retail sources. Storytellerwine. com (see page 7) is offering them for $15, which is a steal. The Wine Enthusiast- affiliated International Wine Accessories latest catalog has an exclusive offering priced at $49.95 for a set of two. The website is
www.iwawine.com
.