White Christmas in the Willamette Valley
At the end of December, Oregonians finally crawled out from under the fiercest winter storm in a generation. The significant snowfall left many in the Willamette Valley house bound for two weeks. Snowplows are a rarity in the Valley since snow is uncommon. Sheila Nicholas sent me these photos of her Anam Cara Estate Vineyard in the Chehalem Mountains. Contrast the photo of her vineyard on the left during the summer with the one on the right taken during the snowfall showing starving birds feeding on grain that Sheila provided.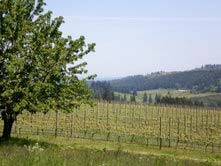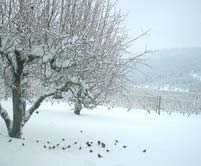 Do not be deterred from buying the 2007 Pinot Noirs from Oregon by the gloomy evaluation in the latest edition of the Wine Spectator. The 2007 vintage was rated 84-87, and summarized as follows: "Rain produced light, delicate wines at best; others weak. After spending some time in the Willamette Valley in November and tasting numerous 2007 Pinot Noirs, I can assure you that wines from top producers are classic Pinot Noirs with lovely aromatics, low alcohols and higher acidities perfectly adapted to the dinner table.