Bourgogne: Good Bottom Feeding
If you have looked at the prices for 2005 Burgundies at the Premier Cru or Grand Cru level, I am sure your first reaction was Huh? The 2005 vintage for red Burgundy is certainly stellar, maybe the best at every level in recent memory, but the weak dollar, tiny production and the hype have sent prices to levels that have made many Burgophiles gasping for air. Burgundy has never been more expensive.
Fortunately, there is some beacon of hope in the still affordable lowest classification of Burgundy wine - Bourgogne (pronounced burr-gôn'yE). Bourgogne is one of France's 26 wine regions and the regional Bourgogne appellation (Appellation Bourgogne Controlée) consists of four départements, Côte-d'Or, Saône-et-Loire, Yonne and Rhône (northern part). The Bourgogne appellation is the broadest of the 21 appellations in Burgundy, encompassing the entire Burgundy region, a total of 385 villages and 7,400 acres of vines. Grapes for red (Bourgogne Rouge), white (Bourgogne Blanc), and rosé (Bourgogne Cloiret), may come from anywhere within Burgundy (the terms 'Bourgogne' and 'Burgundy' are often used interchangeably), A map of Burgundy is on page 2.
The grapes in Bourgogne wines are almost always 100% Pinot Noir. Cesar and Tressat grapes and Gamay, if grown in a Beaujolais cru vineyard, can be included. Gamay is always included in Bourgogne Passetoutgrains. The rock-bottom, poorest examples of Bourgogne are Bourgogne Ordinaire, and are not suitable for discussion here.
Navigating your way through Burgundy can be daunting and you may be scratching your head already. Per-Henrik Mansson has said, "Burgundy is like any difficult subject, be it opera or modern art: The more you know about it, the more you realize how little you know." The most important factors to keep in mind in choosing a Bourgogne wine, (or any level of Burgundy above Bourgogne, including Villages, Premier Cru and Grands Cru), is the vintage and the producer. Recent vintages 2002 and 2005 are great, 2003 and 2004 are good. In great vintages, like 2005, Burgundy is consistently excellent throughout the heirarchy from generic Bourgogne appellation wines to Grands Crus. The wines that are reviewed in the following pages include many prominent individual producers (who own their own vineyards) and négociants (merchants who buy grapes or wine and may or may not own vineyards).
The North American equivalent of Bourgogne Rouge would be the broad appellation Pinot Noirs of California (for example, Santa Barbara County) and Oregon (for example Willamette Valley). Some of the French Bourgogne wines have become "Americanized" and more consumer friendly to the United States market. The words "Pinot Noir" are displayed prominently on the label rather the traditional word "Bourgogne." The labels of 2005 Frederic Magnien Pinot Noir and 2005 Domaine Denis Mortet Bourgogne are pictured below for comparison.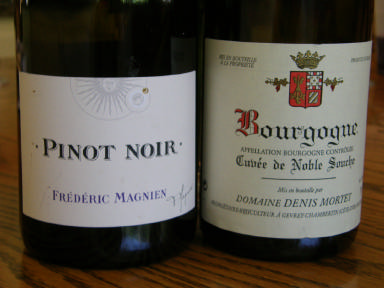 I sampled 25 Bourgogne Rouges from primarily the 2004 and 2005 vintages. A few older vintages, dating back to 1999 were included and revealed that, although Bourgogne is ready to drink upon release, it may be cellared as well, developing a secondary bouquet and flavors that can be interesting. Prices ranged from $14 to $45, with several less than $20. The wines were a mixed bag, with a few quite good for what they are, and several others disappointing, even from the 2005 vintage. Not surprisingly, there were no wines that brought me to my knees, but considering the cost, many supplied a perfectly fine drinking experience. The wines are rather thin on the backend and shy on the attack, emphasizing finesse over power. They do not supply the rich fruitiness that many pinotphiles are used to from California Pinot Noirs. In addition, they are more tannic than many stateside Pinot Noirs and the aromatics can veer toward the excremental and funky. That said, with brisk acidity, low alcohol, and elegance, they can be superb food wines.
By sampling Bourgogne from multiple vignerons, one can develop a preference for the style of favorite producers and this can used be a guide for purchasing wines higher up the Burgundy hierarchy.
Unlike many of the cherished Cru Burgundies, Bourgogne Rouge is readily available in the retail marketplace. Because of the popularity of the 2005 vintage, however, the wines are disappearing quickly.
I have listed the wines by vintage, from the more recent, 2005, to the oldest, 1999.
It doesn't take a genius to read into these notes that the producers to seek out are Camille Giroud, Fougeray de Beauclair, Heresztyn, and Anne Gros. You won't be disappointed with these quality Burgundy wineries. All of these producers' wines are readily available in the United States.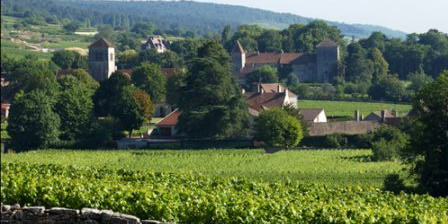 Village of Vosne-Romanee
Want to learn more about Burgundy? How about a first-hand look with a guided tour. See next page.