Carneros Renaissance on Track
California was still under Mexican jurisdiction in the early 1880s when Mariano Guadalupe Vallejo awarded large land grants to allow settlement of the Northern Frontier of California north of San Francisco. The Carneros region was located within the original boundaries of four of the land grants: Rincon de los Carneros, Entre Napa, Nuichica and Petaluma. The land grants were subsequently subdivided and by the 1840s there was an influx of settlers of American, German, French and Irish heritage drawn by the mild climate and the fertile lands. Sheep and cattle ranches thrived alongside fields of wine grapes, pears, plums, cherries and apples. Steve Sangiacomo of Sangiacomo Family Vineyards recalls, "My grandparents grew pears, apples and cherries when they farmed this land; my parents, uncles and aunt were among the earliest grape growers in Carneros." The region became known as Los Carneros (Spanish for "The Ram").
Wine historian William Heintz of Sonoma has stated that Carneros may be the second oldest vineyard region in Northern California, with plantings dating to the late 1830s. One of the largest early Carneros vineyards, comprising more than 300 acres, was John Stanly's Riverdale Ranch located south of Napa. Phylloxera had devastated all the vineyards in Carneros by the 1920s but Stanly Ranch had been planted on Vitis riparia rootstock which was resistant to phylloxera and some vines survived. Andre Tschelistcheff and Louis M. Martini both bought grapes including Pinot Noir from the Stanly Ranch in the 1930s. Charles L. Sullivan, writing in A Companion to California Wine, noted that Tschelistcheff had first appreciated the potential of Carneros for producing Burgundian-style wines after he tasted a 1918 Stanly Ranch Pinot Noir. Martini eventually owned 200 acres of the Stanly Ranch and along with Harold Olmo, did extensive Pinot Noir and Chardonnay clonal experimentation in Carneros, leading to the development of Chardonnay clone 108 and UCD clones 13 and 15 of Pinot Noir. These clones were widely planted in California from the 1970s to the early 1990s.
Carneros received appellation status in 1983 and is the only AVA in California that overlaps two others in different counties (Napa and Sonoma). It was the first AVA based on climate rather than political boundaries. In 1983, there were few wineries in Carneros: Acacia, Bouchaine, Buena Vista, Carneros Creek, and Saintsbury. Saintsbury became the most popular Pinot Noir choice on restaurant lists throughout the country, but Carneros struggled for recognition against its more well-known neighbors, Napa and Sonoma. Many Napa and Sonoma wineries invested in vast acres of vineyard land in Carneros including Beaulieu Vineyards, Clos du Val, Clos Pegase, Robert Mondavi, St. Clement and William Hill. By the 1990s, the region became little more than a silent supplier for these well-known wineries which were located in the more high-profile Napa and Sonoma appellations. Pinot Noirs from the Russian River Valley, Sonoma Coast, Santa Lucia Highlands and Santa Barbara County overshadowed those from Carneros in quality.
In recent years, mergers and consolidations have created very large corporate ownership in Carneros. These corporate owners and many smaller boutique operations have today led a renaissance in Carneros, dedicating themselves to producing ultra-premium wines. The emphasis has been away from mass production of grapes to more focused viticulture and the production of distinctive wines from estate grown fruit. The words, "Estate Grown" now adorn many Carneros Pinot Noir labels. The "old" Carneros Pinot Noir style has evolved with changes in how the grapes are grown and new winemakers' philosophies. The result is that Carneros Pinot Noirs can now compete with the best from the more visible and touted appellations of California.
Established labels such as Etude Winery, Beaulieu Vineyard, Buena Vista (acquired by private investors from Constellation Brands in 2008) and Cuvaison have undergone revitalization, while other long time favorites such as Acacia, Ancien, Artesa, Bouchaine Vineyards, Castle Vineyards and Winery, Domaine Carneros, Gloria Ferrer, MacRostie Winery and Vineyards, Robert Stemmler, Saintsbury, Schug Carneros Estate and Truchard Vineyards are releasing exceptional Pinot Noirs. Many new faces have fueled the renaissance as well, including Adastra, Ardiri Estate, Ceja Vineyards, Madonna Estate, Mahoney Vineyards, Mayro-Murdick Wines, Molnar Family Kazmar & Blaise, Renteria, Robledo Family Winery, Talisman Wines and The Donum Estate. A number of prominent wineries located outside the region are sourcing grapes from Carneros including Abiouness, Ambullneo, B. Kosuge Wines, Carneros Della Notte, Enkidu Wines, La Crema, Lost Canyon, Lutea, Patz & Hall, Paul Hobbs, Robert Sinskey, Steele, Whitehall Lane Winery and ZD Wines.
Carneros straddles the southernmost reaches of both Napa and Sonoma. The boundary between Napa and Sonoma is marked by a white line on Ramal Road. The large (37,000 acres, over 9,000 acres planted) appellation extends from the Sonoma Mountains in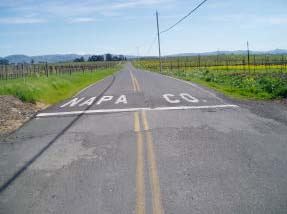 the West to the Napa River in the East and from the Mayacamas Mountains in the North to the Southern Pacific Railroad line in the South. The most distinguishing climatic feature of the appellation is its strong maritime climatic influence. Carneros is an unshielded land open to the nearby Pacific Ocean and adjacent San Pablo Bay (the northernmost reaches of the San Francisco Bay). The resulting moderate climate features sufficient sunshine, low rainfall and plenty of fog and cooling breezes. I have never been in Carneros when the wind wasn't blowing at least to some degree. Water needs are often met by short frequent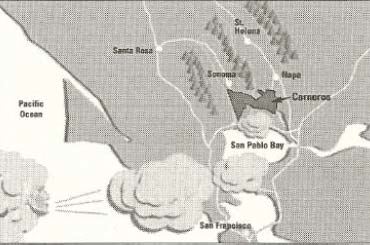 irrigation during the growing season, especially in August and September. The soils are dense, shallow (averaging 3 feet), with high clay content and low to moderate fertility. The soils and climate cause the vines to struggle and yields are low. The climate creates a long growing season, a scenario that suits Chardonnay and Pinot Noir just fine. The eastern and northern parts of Carneros are significantly warmer and here warm weather varietals such as Merlot and Syrah prosper.
Sustainable and green agriculture practices are widespread in Carneros. Many of the vineyards are either certified organic or certified by the California Land Stewardship Institute as adhering to sustainable practices to create a balanced farm environment relative to land and water use and preservation of the region's ecological habitat. The Carneros Land Stewardship Foundation was established to promote the education, conservation, preservation and restoration of the land, wetlands creek beds and ecological habit in the Carneros region. Some of the most prominent Carneros growers include Durell Vineyards, Hudson Vineyards, Hyde Vineyards, Lee Vineyards, Molnar Family/Poseidon's Vineyard, Sangiacomo Vineyards, Stanly Ranch Vineyards, Toyon Farm and Wildcat Mountain Vineyard.
Carneros has the unenviable reputation of being the area one drives through to get to Napa or Sonoma. At first glance, the landscape is somewhat barren, with only a few towering eucalyptus trees planted to stem the winds from the Bay. Most wineries are not visible from the main highways that traverse the region (Highways 12, 121 and 29). However, if one takes the time to explore the back roads, the beautiful vistas of this area can truly be remarkable. Most of the sheep and cattle have disappeared long ago, but the majestic vineyards planted on undulating hillsides are a welcome sight to wine lovers (Pinot Noir vines in December at Artesa below).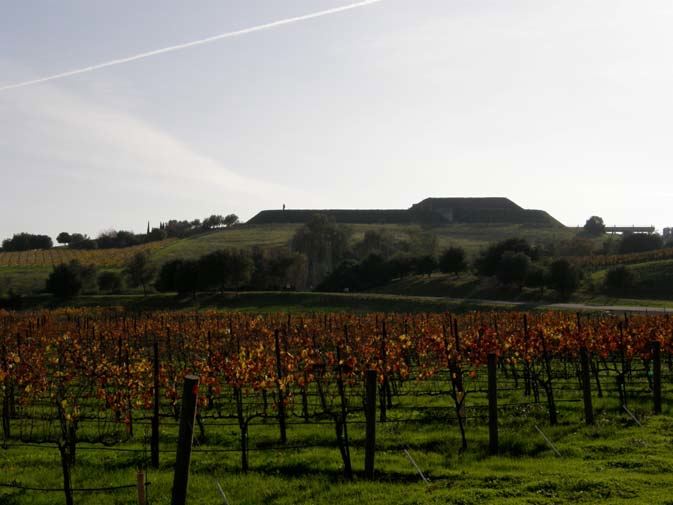 Gradually, Carneros is undergoing gentrification. The Carneros Inn, a Plumpjack Resort, was opened in 2003, located on 27 acres surrounded by vineyards and farmland. There are 86 individual cottages that are country modern in design. A spa and three restaurants on the property are first-rate. This is a perfect spot to launch your exploration of the region (www.thecarnerosinn.com). Multiple other accommodations and restaurants are only minutes away in the towns of Napa and Sonoma.
Most of the wineries of Carneros have tasting rooms and their hours and locations are available on The Carneros Wine Alliance website at www.carneros.com. (The former Carneros Quality Alliance, formed in 1983, was renamed The Carneros Wine Alliance in 2005 and Phyllis Gillis was hired as Executive Director to direct more attention to Carneros) Some wineries require appointments for tours and tasting. An excellent Carneros Appellation Brochure including a useful map is available from the Alliance ( a small copy is shown below).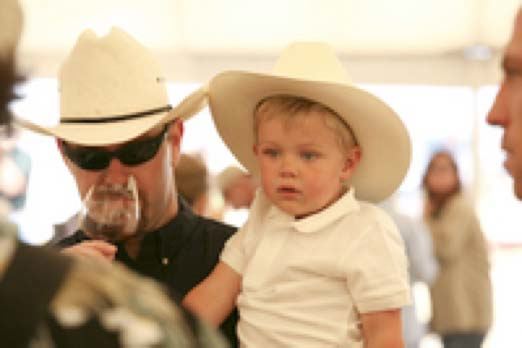 The Carneros region's major annual event is the Carneros Heritage Fest hosted by the Carneros Wine Alliance. The 4th annual Fest will be held May 29 and 30, 2009 at The Donum Estate and co-hosted by Buena Vista Carneros. This is a unique family friendly wine and food festival with proceeds benefiting the Carneros Land Stewardship Foundation. This year's event will include winemaker dinners, walk-around tasting of Carneros wines, a lamb barbecue and picnic in the pasture, vineyard and grape growing demonstrations, ecological tours of nearby marshes, wetlands and habitat, a young chef competition, artisan foods, sheep herding, falconry, music and entertainment. Tickets will be available April 1 at www.carnerosheritagefest.com.
On April 18 and 19, 2009, the 22nd Annual April in Carneros Open House will be held. Carneros wineries will be open to the public with both current releases and special library wines for tasting, artisan food and individual winery celebrations. A list of participating wineries will be available March 1. The event is sponsored by Hospitality de Los Carneros at www.carneroswines.org.