Etude Wines: Pinot Noir is the Soul
"Pinot Noir is the soul of Etude Wines. To consistently make great Pinot Noir is considered the ultimate winegrowing challenge. What better teacher than Pinot Noir, both transparent and unforgiving, to magnify every decision of the winegrower on the path to understanding and mastering the process. Our goal is to produce a distinctly styled Pinot Noir of the highest quality, a wine that can satisfy your Burgundian urge and yet be proud of its California roots."
Tony Soter, GangofPour.com, October 16, 2005
It was an encounter in Tony Soter's cellar with Madam Lalou Bize-Leroy in 1980 that led to Soter's decision to name his new wine company Etude. Lalou was assessing Tony's first Pinot Noir and her comments were intended to imply that Tony needed to improve his winemaking approach. Etude is derived from the French word, étude, which means study and in music refers to a composition designed to improve the technique of the player. Tony remarked in Wine & Spirits (Fall 2004), "Pinot Noir is the best and most transparent wine vehicle with which to 'study' the craft and this has been a life long and humbling pursuit...I like to say I was in pursuit of the wisdom of ancestors I never had."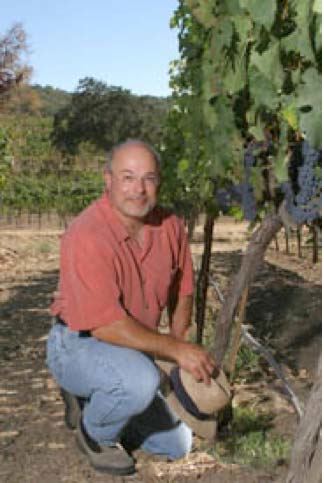 Tony Soter is one of California's most distinguished wine pioneers. He began in the cellar at Stag's Leap Wine Cellars in 1975 after graduating from Pomona College. This led to studies at University California Davis and his first winemaker position at Chappellet in 1977. By 1980 he had become a noted consultant and subsequently became one of the first winemaker consultants to work to express terroir from individual vineyard sites owned by Araujo Estate, Dalle Valle, Moraga, Niebaum-Coppola, Shafer, Spottswoode and Viader. He was also one of the first consultants in Napa to buy grapes by the acre in contrast to the common practice of the time of buying grapes by the ton. This arrangement pushed growers to lower yields and produced better quality fruit.
Tony launched Etude Wines in 1980 with the release of a Napa Valley Cabernet Sauvignon, but quickly moved into Carneros Pinot Noir (first release in 1982), Napa Valley Pinot Blanc, Napa Valley Merlot, Carneros Pinot Gris, Brut Rosé sparkling wine and Vin Gris of Pinot Noir (one of the first and still one of the best in California). The winery was initially an underfunded side project that he indulged in while he worked his day job as a consulting winemaker to other wineries. Etude Pinot Noir was a proprietary label as Tony owned no vineyards. He developed contracts with growers which allowed him to farm his blocks to his own strict specifications. His wines quickly attracted considerable attention from the wine press and Pinot Noir aficionados. By 1999, Tony was able to end his consulting career to concentrate full time on Etude and develop his own Pinot Noir vineyard in the Willamette Valley of Oregon.
Etude Pinot Noir until 2004 was sourced from selected Carneros sites. The wines are now composed exclusively of fruit from estate vineyards located in the northwestern corner of the Carneros appellation. Tony has been fanatical about quality and typically more than 20% of the wines produced each year were identified as unworthy of the Etude label and were sold off in bulk anonymously. The wines were generally aged 14 months in the finest French oak barrels, of which at least 50% were new. In exceptional cellars, Etude Pinot Noirs were known to mature harmoniously for many years. On October 25, 2005, I conducted a vertical tasting of Etude Carneros Pinot Noirs from 1992 to 2003 and the results were published in the PinotFile, Volume 5, Issue 10. Remarkably, the 1992 Etude Carneros Pinot Noir, 15 years old at the time of the tasting, proved to be one of the best wines of the night. In the pages to follow I recently tasted the 2003 to 2006 vintages of Etude Carneros Pinot Noir, completing a 15 year vertical. Vertical tastings are valuable for they allow the taster to examine a winemaker's large body of work. With this experience comes a true appreciation of the talent and devotion that winemakers of skill offer to the wine enthusiast.
Tony notes that, "The Etude Carneros Pinot Noirs draw their character from the clay-heavy soils of the appellation creating Pinot Noir that is high in extract and structure." My drinking experiences with Etude Carneros Pinot Noirs have revealed wines of brightness, freshness and consistency of style despite vintage differences. Tannins are well integrated and polished and the wines possess an uplifting acidity that is refreshing. Of the 19 Etude Pinot Noirs rated by Stephen Tanzer in the International Wine Cellar, 17 have received a score of 90 points or more.
Today, the Etude Estate vineyards are planted to nearly 20 different clones of Pinot Noir. Although most of the soils in Carneros are clay-based, the Etude Estate vineyards are planted to rocky volcanic soils that are extremely well-drained. Above ground, of course, the vines are exposed to the cool and windy weather that Carneros is known for. Spacing is dense ensuring low per vine yields. The map below shows the location of the Etude Winery and Etude's Estate Vineyard in Carneros. The winery is in Napa Carneros and the Estate Vineyard is in Sonoma Carneros.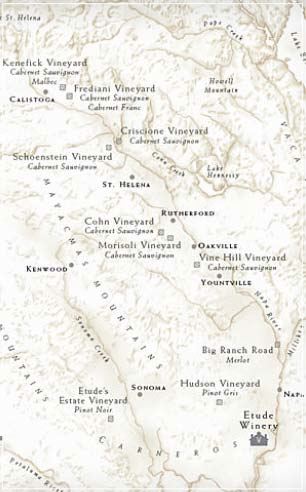 Tony made his last Etude Pinot Noir as the head winemaker in 2002 but has remained a consultant for the winery. In 2001 Etude was sold to Beringer Blass (Foster's) which provided the capital to build a new winery, refurbish vineyards and expand production. The current winemaker is Jon Priest who came to Etude in early 2005. His winemaking background includes stints at Wild Horse Winery, Adelaida Cellars, and TAZ Vineyards. My tasting of recent vintages of Etude Pinot Noir indicate that Priest is extremely capable and the 2006 vintage Etude wines knocked my socks off.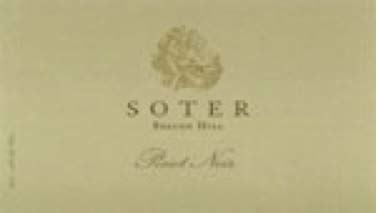 In 1997 Tony bought the Beacon Hill Vineyard, a 20-acre hillside planting on the North fork of the Chehalem Mountains, located above Willakenzie in the Yamhill- Carlton District. The site is named for a lighthouse-like structure at the top of the hill. Both Tony and his wife Michelle are Oregon natives and Tony was drawn back both by his roots and his admiration for the high quality of Oregon Pinot Noir. The Pommard and Wädenswil clones at Beacon Hill were initially planted in 1988 on their own rootstock. Additional plantings were undertaken in 1998, 1999 and 2004 including some heirloom clones Tony is famous for. An estate Beacon Hill Pinot Noir, a sparkling Brut Rosé and a Rosé of Pinot Noir were produced beginning in 1997 (Brut Rosé) and 1998 (Pinot Noir). In 2005, Tony sold the Beacon Hill Vineyard to focus on his Mineral Springs Ranch located east of the town of Carlton. Here there are a total of 32 acres of Pinot Noir planted from 2002 to 2006. Mineral Springs is the new home of Soter's estate vineyards, winery and tasting room. A Beacon Hill Pinot Noir was produced through the 2006 vintage.
One of Tony's pet projects has been the resurrection of what he calls "heirloom clones" of Pinot Noir. A rich heritage of plant variation exists in vines, particularly with the Pinot Noir variety. The "heirloom clones" are rare "suitcase" Pinot Noir clones that he planted in small vineyard test blocks. Tony says about the suitcase clones, "Among men and women who consider themselves Grail-seekers of Pinot Noir, it is understood that smuggling is part of the tradition." Many early California wine growing pioneers such as martin Ray, André Tchelistcheff, Dick Graff and Joe Swan hand carried select Pinot Noir cuttings from Burgundy's top estates into the United States. Tony shares his past and present colleagues' interest in the unique heirloom varieties of Pinot Noir and has compiled a library of rare plant material from growers' vineyards and experimental plots. Because these clones do not produce consistently large crops and the bunches are small and irregularly shaped, they are not economically viable and are often ignored by growers. Many of the interesting clonal selections are near extinction because disease-free, consistent and reliably yielding vines are most suitable to commercial wine production.
The first vintage of Heirloom Pinot Noir, 1995, consisted of only 95 cases and was the first unfiltered wine produced at Etude. The idea was to see if it was possible to bottle an unfiltered wine with extended aging from 100% new oak. There were three separate wines of two bottles each: Hudson Vineyard, Hyde Vineyard and Domaine Chandon Vineyard. The Hudson fruit came from a block planted to Dijon 115, 777 and Pommard. The Hyde block was planted to Calera selection. The Domaine Chandon bottling was sourced from their vineyard along Carneros Highway and came from a "suitcase" block planted with materials allegedly from DRC, Musigny and Romanee St. Vivant. From 1996 on, the Heirloom Pinot Noir was a blend of wines from several vineyard sources. Most of the Etude Pinot Noir in the early years was bottled after 9 months of barrel aging and was aged in about 60% new oak. The best barrels were selected and held for aging of up to 18 months for the Heirloom blend. Barrels were chosen that could hold up to 100% new Nadalie oak without becoming too oaky. The idea of Heirloom Pinot Noir was partly a case of marketing trumping reality for the wines were not always composed entirely of "heirloom" clones, but the quality of the wines were always superior. The Heirloom blend was always unfined and unfiltered. The fruit sources varied each year, but the most consistent contribution came from Adastra.
In 2005, Etude dedicated a 7-acre block of estate vineyard to 10 different selections of heirloom Pinot Noir to serve as a library as well as a source for Heirloom Pinot Noir eventually insuring that all of the fruit is estate grown. The current 2006 vintage releases consists of 1,000 cases priced at $90. A small price to pay considering the unusual pedigree of the wine.
Etude Heirloom Pinot Noirs are an unusual expression of Pinot Noir; darkly colored, concentrated and powerful, yet possessing a unique and highly nuanced flavor profile unlike any other Pinot Noir made in California. The wines possess lively acidity making them perfect accompaniments for the dinner table.
In the following pages are my tasting notes on four recent vintages of Etude Carneros Pinot Noir (2003-2006) and nine vintages of Etude Heirloom Pinot Noir (1996-2005 - no 1999). Also included are recent vintages of the limited release Etude Deer Camp and Etude Temblor Pinot Noirs. I believe that Etude Pinot Noir is a benchmark for the Carneros appellation and the wines belong in every distinguished Pinot Noir cellar. The Etude Pinot Noirs are available on the website at www.etudewines.com. The Etude Carneros Pinot Noir is in widespread retail distribution. The best way to acquire Heirloom Pinot Noir and the limited release wines is through the mailing list. The winery is located at 1250 Cuttings Wharf Road, just off Highway 121. Tasting is available Monday through Saturday from 10:00 AM to 4:00 PM with scheduled tastings of limited release wines available Monday through Friday at 10:00 AM, 1:00 PM and 3:00 PM.