Talley Vineyards: Classic & Dependable
The Talley family has been farming in the Arroyo Grande Valley since 1948 when Oliver Talley established Talley Farms. Originally vegetable farmers, Oliver's son, Don, began planting grapes in the 1970s on the farm's steep hillsides that had been devoted to avocado trees. The first Talley Vineyards Pinot Noir was produced in 1986 from early Rincon Vineyard plantings after winemaker Steve Rasmussen was lured away from Corbett Canyon. In 1991, a modern 8,500 square foot winery was completed at the foot of the Rincon Vineyard. Brian Talley, the third generation of Talleys to graduate from University California Berkeley, assumed control of winery operations when the winery opened. Initially he worked with Rasmussen in developing the Talley style, but would eventually concentrate on the viticulture side of the family business. A barrel storage facility and tasting room was added to the property by 2002. After 20 years at the winery, an unusually long tenure among today's often itinerant winemakers, Rasmussen was replaced by Leslie Mead who came from Bonny Doon.
Talley Vineyards now farms 190 acres of vineyards in the Edna and Arroyo Grande Valleys. There are three vineyards producing Pinot Noir: Rincon (95 total acres, 38 acres of Pinot Noir), Rosemary's (28 total acres, 17 acres of Pinot Noir) and Stone Corral (27 acres all Pinot Noir). Rincon Vineyard was originally planted in 1982 but modern additions date most recently to 2001. Rincon is planted to clones 2A and Dijon 115, 667 and 777. Older vines are on their own roots, while more recent plantings are on resistant rootstock. Soils are shallow loam and calcareous clay similar to that found in the Cote de Nuits. Rosemary's Vineyard is located 1 mile west of Rincon Vineyard in a somewhat cooler site closer to the Pacific Ocean. Planting was started in 1987 with additions through the 1990s and the clones are the same as Rincon with multiple rootstock selections. Soils are rocky sandstone and loam with some clay in the subsoil. Stone Corral is a new vineyard in the Edna Valley planted in 2001 to Dijon 115, 667 and 777 and 2A field selection from Rosemary's Vineyard. The first Talley Vineyard Stone Corral Pinot Noir was released in 2004. Soils are diverse in type ranging from sandy clay loam to finely textured sand. Grapes from the Stone Corral Vineyard are split among Talley Vineyards, Kynsi Winery and Stephen Ross Wine Cellars. Brian Talley and Kevin Wilkinson manage the Stone Corral vineyard. Maps of all the Talley family vineyards are available on the website at www.talleyvineyards.com. Long-term sustainability is the principle in farming these vineyards. Pesticides are avoided, cover crops and compost are used to improve the soil's condition, drip irrigation is used sparingly, and leaf pulling and lateral shoot removal are employed throughout the vineyards to expose the grapes to more air and sunlight.
Pinot Noir winemaking at Talley Vineyards is traditional with some whole cluster inclusion depending on stem lignification. All fermentations are native and aging is carried out in medium-toasted 30-40% new French oak barrels for 15 to 18 months before bottling. The Pinot Noirs are rich, concentrated and full-bodied but never overwrought and beautifully crafted.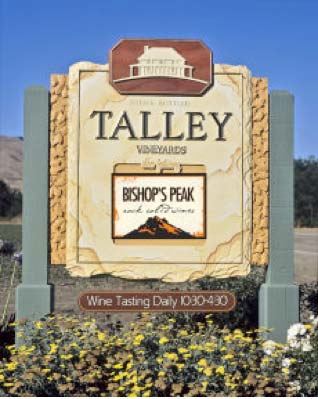 Currently the vineyard produces about 18,000 cases annually. All wines released under the Talley Vineyards label are grown, produced and bottled by the Talley Family. Estate vineyard-designated Pinot Noir and Chardonnay are the flagship of Talley Vineyards but the broader estate and appellation releases and a second, value priced label, Bishop Peak, are also commendable wines. There is also a 2005 Mano Tinta Pinot Noir from East Rincon Vineyard currently available in magnums with the sales benefiting The Fund for Vineyard and Farm Workers. The vineyard-designated Pinot Noirs age extremely well and are usually best consumed several years after their release. The Talley Vineyard Rincon and Rosemary Pinot Noirs are highly sought after and are sold primarily through a mailing list. The 2006 wines reviewed below are currently available on the winery's website. The Chardonnays have many fans as well. The Talley Vineyards tasting room, open daily, is located just ten minutes from Highway 101 in Arroyo Grande. The picnic areas offer a welcome respite. Directions are available on the website at www.talleyvineyards.com. 805-489-0446.
A few years ago I asked noted California winemaker, Ted Lemon, to name other California producers of Pinot Noir that he admired. He mentioned two, Rochioli and Talley Vineyards. Enough said.