Alma Rosa: The Newest from Richard Sanford
Richard Sanford is a revered icon in the annals of California Pinot Noir, having been largely responsible for putting the Santa Rita Hills on the wine map. He planted the famous Sanford & Benedict Vineyard in 1970 with partner Michael Benedict. At the time, Richard was a student of geography and he had a hunch that led him to plant 110 acres to Pinot Noir and Chardonnay 9 miles west of Buellton at the western end of the Santa Ynez Valley on Santa Rosa Road. Victor Geraci notes in his book, Salud! The Rise of Santa Barbara's Wine Industry, "He traveled through the Burgundian region of France and began to dream of a life in agriculture. He had no agricultural experience and thus went through the agonizing decision of whether to go to UC Davis for a master's degree in enology or to plant a vineyard and learn through trial and error....Being a little crazy, Sanford decided in that year (1970) to go directly into business." In 1980, he ended his partnership with Michael Benedict and lost the vineyard. Benedict subsequently sold his share to a British businessperson, Robert Atkin. Atkin then invested in Sanford's winery which was founded in 1981 and hired Sanford to manage the Sanford & Benedict Vineyard. Sanford was a strong advocate of organic farming from the beginning.
Winemaker Bruno d'Alphonso joined Sanford Winery in 1983 and Sanford wines became quite popular. By 1993, the winery was producing 30,000 cases a year. In 1997, Sanford planted a second vineyard, the 130-acre Rancho La Rinconada adjacent Sanford & Benedict Vineyard and in 2001 he completed his dream winery on the property. Although the winery is an architectural marvel and a landmark for the region, Sanford's original modest tasting room has gained more notoriety for its cameo in the book and movie, 'Sideways.' In the book, Jack buys a bottle of 1999 Sanford La Rinconada Pinot Noir and exclaims, "Lovely, big and gamy, almost irreverent for a Pinot. I like it. A perfect beginning to this week long adventure."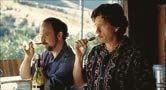 Beginning in 2002, a number of events played out that eventually led Sanford loosing his namesake winery. The details are unclear but Terlato Wine Group, owners of Paterno Distributing, were brought in as an investor in the Sanford Winery due to slow sales. Disagreements regarding vineyard management and winery production followed and by 2005, Richard and Thekla Sanford had left to begin a new venture, Alma Rosa Winery and Vineyards. Alma means "soul" in Spanish reflecting the Sanford's view that their wines reflect the soul of the Rancho Santa Rosa, the original Mexican land grant on which their vineyards are planted. The first Alma Rosa wines were released in 2004. D'Alphonso left Sanford as well, started his own label, Badge, and became the first winemaker for Richard Sanford at Alma Rosa. The current winemaker is Christian Roguenant who also crafts wine at Orcutt Cellars and Baileyana.
Alma Rosa produces wines from the Sanfords' 7-acre El Jabali Vineyard (planted in 1983 and consisting of 3.5 acres each of Pinot Noir and Chardonnay) and the 100-acre vineyard they lease west of La Rinconada called La Encantada (planted in 2000 and consisting of 96 acres of Pinot Noir). Both vineyards are certified organic (the first to be so certified in Santa Barbara County).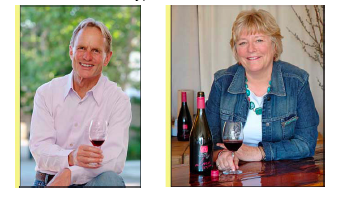 What I most remember and admire about Richard Sanford is that he tirelessly poured his wines at many events over the years, patiently answering all questions with polite aplomb and enthusiasm. When I first became seriously interested in wine in the 1980s, Richard was participating in even small wine charity events and it was through encounters with him at these tastings that I became impressed by the man and his stellar wines. Even today, he and his wife eagerly participate in major Pinot Noir events, not at all content to rest on their laurels.
All the Alma Rosa Pinot Noirs are darkly colored, highly structured, fruit-driven and noticeably tannic. At this stage they are not evolved and the aromas are reticent although the pedigree of the well-endowed fruit shows through. They will be more enjoyable in 1 to 3 years when the tannins meld but they will always be big, bold, darkly fruited and powerful Pinot Noirs. If you drink now, decant.
Alma Rosa Winery and Vineyards tasting room 7250 Santa Rosa Road is open daily. The single clone wines are only available here. Visit the website at www.almarosawinery.com. 850-688.9090.