Santa Cruz Pinot Noirz
Although one of the cradles of Pinot Noir in California, the Santa Cruz Mountains has been known more for its eccentric and Bohemian residents than its viticultural heritage. The reasons for this are evident when you drive through the hilly landscape. Unlike every other major winegrowing region in California, wineries and vineyards are not visible from the major thoroughfares. Vineyard sites are rugged and remote, often tucked into a nook or cranny among heavily forested woods or perched on a hilltop accessible only by a lengthy and precarious narrow road. Signage directing visitors to wineries is nonexistent and locals quickly remove even the smallest roadside placard. The maps of the area often show the roads as straight lines when they are more likely to zigzag like crazy. Speaking of zigzag, the low-key residents of the Santa Cruz Mountains often have more interest in the crop you can smoke than the one you can drink.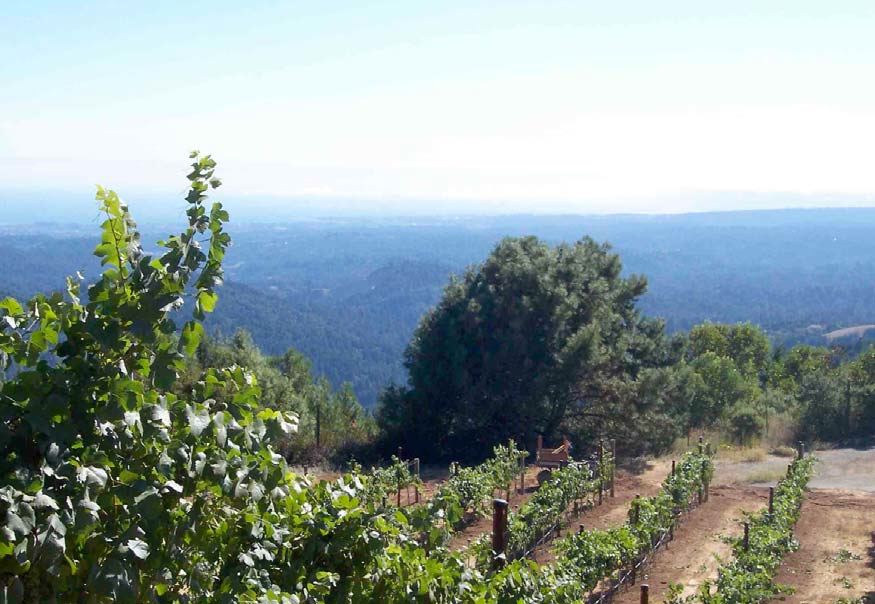 The history of winegrowing in the Santa Cruz Mountains goes back to at least the early 1860s. Loggers and timber men had come to the Santa Cruz Mountains after the Gold Rush, clearing the land and making it suitable for planting a variety of crops. Tree fruits and grapes were found to thrive on the mountain slopes. George and John Jarvis bought 160 acres at $4.69 per acre in the Vine Hill region of Santa Cruz County in 1863 and planted grapes. The Jarvis Brothers Vineyard consisted of 2,000 acres by 1867. The name Vine Hill, as reported in the Santa Cruz Sentinel in 1867, came from the locality that included 2,000 acres of land, situated on the headwaters of Branciforte Creek, and owned by a dozen persons, most of whom all had vineyards. By the 1870s, the Jarvis brothers were making 33,000 gallons of wine and nine of the county's sixteen winemakers were located at Vine Hill. Early plantings were primarily Mission variety and wine made from these grapes were sold in bulk to San Francisco merchants. By 1878, John Jarvis and others began planting Zinfandel, Semillon, Sauvignon Blanc and Muscadelle. Some of the vine cuttings reportedly came from Chateau Y'quem.
Santa Cruz County vineyards quickly assumed a reputation for producing premium quality wines and the region was held in high regard throughout California. Vineyard acreage in the Santa Cruz Mountains increased markedly during the 1880s and by the end of the decade, there were 38, mostly small wineries. The largest winery was William Coope's Ben Lomond Wine Company, on Highway 9, north of Felton, which produced 40,000 gallons annually. The wines of the Ben Lomond Wine Company were declared to be the equal of any made in Europe by the Royal German Viticultural Commission. The region's isolated location largely shielded it from phylloxera, but a devastating fire in 1899 destroyed many vineyards and wineries. By 1905, there were 1,600 planted acres, with vineyards concentrated in the Felton, Bonny Doon, Vine Hill, Ben Lomond and Boulder Creek areas on the western side of the Santa Cruz Mountains. After the repeal of Prohibition, many Italians opened wineries and one, Bargetto, is still in production and is Santa Cruz's oldest.
In Santa Clara County on the eastern side of the Santa Cruz Mountains, altar wine was being made by about 1800. By 1852 the first vines had been planted by Charles LeFranc in what became known as the Almadén Vineyard (the name Almadén came from a famous quicksilver mine nearby). He imported several grape varieties and was the first in the area to grow vines grafted onto phylloxera-resistant rootstock. By 1860 there were at least another six producers including Pierre Sansevaine, Antoine Delmas and Louis Pellier. They shipped wine by wagon to the former port of Alviso and from there to San Francisco by boat. At the time Santa Clara County shared the spotlight with Sonoma County as being the best source for San Francisco's wines. Leland Stanford was a noted winegrower as well, with 350 acres near Mission San Jose and subsequently 158 acres in the Menlo Park area of San Mateo County. Agoston Haraszthy planted vineyards between 1853 and 1856 at Crystal Springs Reservoir in San Mateo County but the chilly climate eventually drove him to Sonoma County. In 1878, Paul Masson, the son-in-law of Charles LeFranc, arrived in San Jose from Burgundy, developed a vineyard with cuttings from Louis Latour, and started the Paul Masson Champagne Company winery adjacent Mount Eden. Martin Ray, whose nickname was "Rusty," grew up in the foothills below Mount Eden and became a protege of Paul Masson. Masson was able to survive during Prohibition by obtaining a license for the production of "medicinal champagne."
After Prohibition ended, Martin Ray purchased the Paul Masson Champagne Company from Masson and began his career as a winemaker. In 1943, he sold the Paul Masson La Cresta Vineyard to the Seagrams Company and shortly thereafter, moved up the hill and planted his first vineyard at Mount Eden to Pinot Noir and Chardonnay using cuttings from the La Cresta Vineyard. Cabernet Sauvignon was later added in the 1950s. He called his estate "Martin Ray" and it was the first boutique winery model and the first to produce a 100% Pinot Noir varietal table wine in California. Ray made Pinot Noir throughout the 1950s and 1960s. Martin Ray's years on Mount Eden are recorded in a book penned by his widow, Eleanor Ray, titled Vineyards in the Sky. A memorable quote from Ray is noted in the book, "A mountain vineyard is the most beautiful sight on earth." Ray eventually lost ownership of his property to his partners and 1970 was the last vintage he made from the Martin Ray vineyards. The new partners renamed the mountain estate "Mount Eden Vineyards," and produced the first vintage of Mount Eden Vineyards Pinot Noir in 1972 from 29 year-old vines. Over the years, there were a succession of capable winemakers at Mount Eden Vineyards including Richard Graff, Peter Graff, Merry Edwards, Bill Anderson and Fred Peterson. The current owner and winemaker is Jeffrey Patterson.
Pictured below is a bottle of Martin Ray Pinot Noir in my collection which is unopened. It is not vintage dated. I drank a couple other bottles of undated Martin Ray Pinot Noir including one packaged in a champagne bottle 15 years ago and remember them as quite drinkable but not particularly impressive.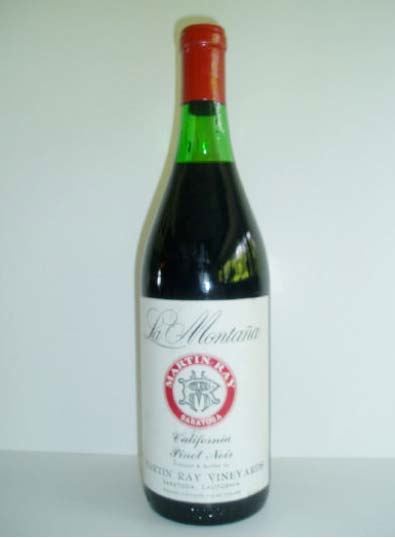 Martin Ray inspired Dr. David Bruce to take winemaking seriously. Although he was raised in a teetotaler family, Bruce developed a serious interest in wine while a medical student. After completing his residency in dermatology, he bought 40 acres of land above the fog line in the Santa Cruz Mountains and planted a vineyard by hand. By 1964, Bruce had bonded his David Bruce Winery in the Santa Cruz Mountains and made his first commercial Pinot Noir in 1966. His initial efforts were fraught with hits and misses, but his combination of passion and scientific curiosity prevailed and he eventually crafted remarkable Pinot Noirs from the Santa Cruz Mountains.
The Santa Cruz Mountains AVA was federally approved in 1981 and was one of the first American viticultural areas to be defined by geophysical, altitudinal and climatic factors. The appellation runs the length of the rugged Santa Cruz Mountain range from Half Moon Bay in the north to Mount Madonna north of Gilroy in the south and is sandwiched between two major bodies of water that produce fog events and affect the growing climate. Monterey Bay and the Pacific Ocean lie to the west and San Francisco Bay is to the east. The eastern and western boundaries are defined by elevation, including mountainous land above 400 feet on the western side and 800 feet on the eastern side. The squiggly outline of the AVA reflects the fog line that surrounds the mountains (refer to the Santa Cruz Mountains Winegrower's Association map on page 5). The Santa Cruz Mountains AVA is not officially part of the Central Coast AVA.
This large appellation has approximately 480,000 acres (60 miles as the crow flies) incorporating parts of three counties: Santa Cruz County to the west, Santa Clara County to the east and San Mateo County to the north. Only about 1,500 acres of the appellation are planted to less than 200 vineyards, most of which are less than 5 acres in size and located on moderately steep hillsides above the fog line. The largest commercial vineyards are between 40 and 60 acres. Of the vineyard plantings, 600+ acres are now planted to Pinot Noir with the remainder to Chardonnay, Cabernet Sauvignon (on the warmer eastern slopes) and smaller amounts of various other varieties. Of the 75 Pinot Noir vineyards, most are located on ridge tops along Skyline Road and south above Summit Road, as well as on the western coastal side of the mountain range facing Monterey Bay and even further south into Corralitos. Most of these areas are in the cool Region I climatic zone ideal for growing Pinot Noir. There are 70+ wineries in the Santa Cruz Mountains appellation, at least two-thirds of which produce Pinot Noir from grapes grown within the appellation or from grapes sourced from outside the appellation. It is the Santa Cruz Mountain fruit that produces the distinctive and most prized mountain-grown Pinot Noir.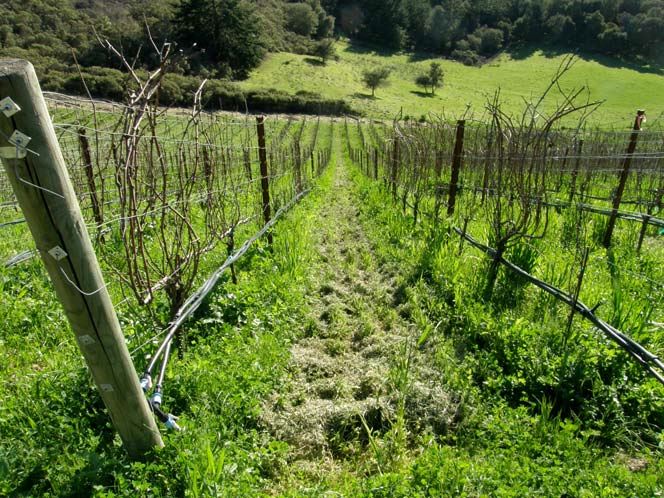 The quality of Pinot Noir grapes grown in the Santa Cruz Mountains is unquestioned, but the challenges of growing grapes in this mountainous terrain with its harsh climate are numerous. The vineyard sites are remote, steep and rugged, land is expensive, irrigation water is limited or nonexistent, and pests such as birds, deer and gophers are ever present. Skilled vineyard labor is hard to find, top soil is poor and limited in many sites and yields are typically less than two tons-per-acre, making Pinot Noir production economically a challenge. On top of all of this, the antagonistic and bureaucratic populace make things difficult for the wineries. Despite these obstacles, a hardy brotherhood of dedicated and passionate winegrowers empowered with mountain spirit have persisted.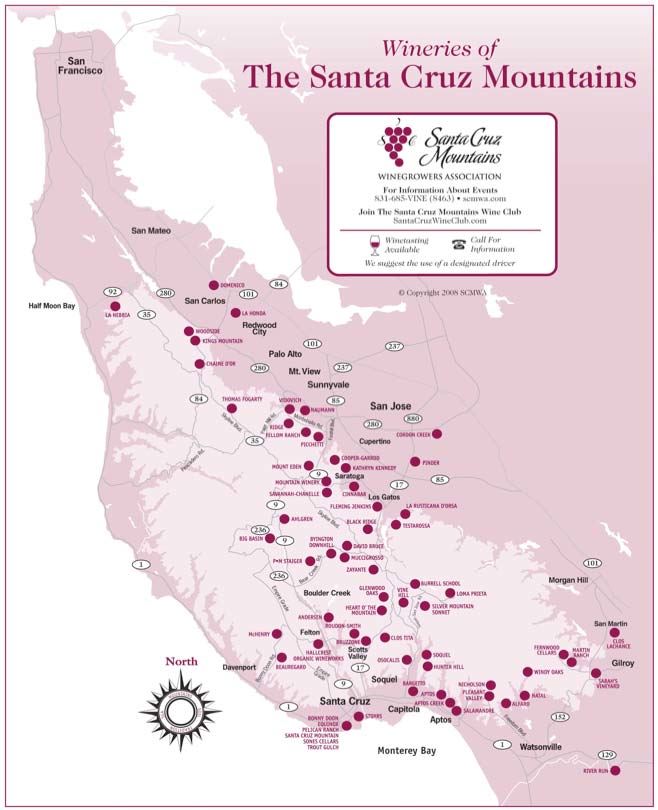 The Santa Cruz Mountains is a marriage of fog and sun. The grapes ripen in cool temperatures as the daily fog rolls in, with the sun burning the fog off as the day progresses. The growing season is extended, creating grapes with complex and intense flavors and lively acidity. Santa Cruz Mountains wines are characterized by an earthy, mineral quality and a complexity and balanced acidity that helps them age well. The Pinot Noirs are pure in expression with lovely aromatics, luscious fruit flavors, soft tannins, all packaged in a light to medium bodied wine so juicy you can 'nibble' at it. In the 1980s, the Pinot Noirs had a reputation as rustic, chunky and tannic. Today, the Pinot Noirs are modern in style with very commendable value-to-price ratios. I am an advocate of the appeal of the Pinot Noirs from these mountains and firmly believe the wines are worth the serious interest of every pinotphile.
In recent years, much of the advancements in the quality of Santa Cruz Mountains Pinot Noir has come from the widespread use of modern viticultural knowhow. A number of experienced vineyard consultants, including Prudy Foxx and Greg Stokes, are actively assisting clients in choosing appropriate sites, planting the proper clones matched to the sites, and overseeing proper trellising, canopy management, and sustainable vineyard practices. As a result, the quality is almost universally excellent and improving every year. The Santa Cruz Mountains Pinot Noirs are perfectly summarized in this quote from the book, Sideways, "Its a hard grape to grow... it's thin-skinned, temperamental, ripens early... it's not a survivor like Cabernet, which can grow anywhere and thrive even when it's neglected. No, Pinot needs constant care and attention... it can only grow in these really specific, little, tucked-away corners of the world. Only the most patient and nurturing of growers can do it, really. Only somebody who really takes the time to understand Pinot's potential can then coax it into its fullest expression."
Recently, six subregions have been identified in the Santa Cruz Mountains all defined by their unique microclimates. In an attempt to understand the diverse Santa Cruz Mountains appellation, a group of viticultural and wine experts in association with the online web portal Appellation America (www.appellationamerica.com) gathered to taste 55 Pinot Noirs from the Santa Cruz Mountains appellation in late 2008. In submitting the Pinot Noirs for tasting, the wines were organized into five different subregions and the tasters were able to confirm distinct general characteristics in the wines grown in each of the five subregions. A sixth subregion of the Santa Cruz Mountains, Ben Lomond, which is its own AVA, was not included in the tastings. The subregions are: Skyline, Saratoga/Los Gatos, Summit Road, Los Ranchos/the Coastal Hills and Corralitos/Pleasant Valley. Despite differences in viticulture, clones, and winemaking styles, there is a strong suggestion that rather distinct subregional characteristics can be identified.
I asked Mary Lindsay, the President of the Viticultural Association of the Santa Cruz Mountains (VASCM), to roughly outline the five subregions. Keep in mind, the exact boundaries of these subregions have not been strictly identified and the map below is intended at this time to be a general guide. Only the most dedicated Pinot geek will be able to get a handle on the emerging subregion concept, but I believe this idea will evolve in time with increasing clarity and create very useful information that Pinot lovers can use to navigate and understand this vast region. It is prudent to remember that a number of wineries access fruit from subregions outside the subregion where the winery is located.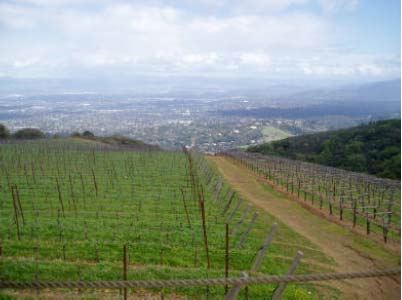 Skyline This is the northernmost end of the appellation in the Woodside area along Highway 35. The subregion includes vineyards along the ridge at about 2,100 feet, as well as vineyards downslope closer to San Francisco Bay. This is the coolest part of the AVA. These vineyards can experience dramatic temperature swings with an almost daily evening maritime fog during the summer that brings chilly coastal air inland to cool the warm afternoons. Flavor profile of Pinot Noir: Pronounced acidity and minerality and bright, lively fruit particularly red berries, cranberry and guava with cocoa, allspice and tobacco. Pinot Wineries: Clos de La Tech, Kings Mountain Winery, Rhys Vineyards, Thomas Fogarty Winery & Vineyards, Varner Wines (and Neely), Woodside Vineyards.

Saratoga/Los Gatos The vineyards are located on hilltops above Saratoga and near the Lexington Reservoir in Los Gatos whose mists cool the vineyards. Most of these vineyards are on the eastern side of the mountains and enjoy a long cool growing season with moderate temperatures. This subregion is warmer with less fog than Skyline. Growing days are long and even. Flavor profile of Pinot Noir: Graceful wines of great depth. Rounder, softer and less angular than wines from Skyline. Powerful and complex with dark cherry and raspberry aromas and flavors laced with balsam, sage, juniper, wet stone and 'mountain spice.' Packed with mineral energy and distinct acidity. Pinot Wineries: Ahlgren, Black Ridge Vineyards, Cinnabar, Mount Eden Vineyards, Mountain Winery, Savannah-Chanelle Vineyards.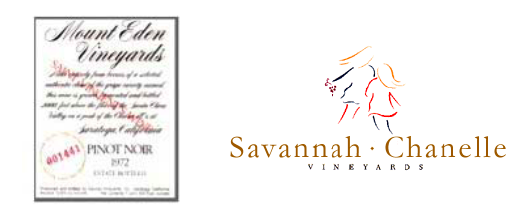 Summit Road This subregion extends along the ridge tops south of Highway 17 above Soquel that follow Summit Road high above Monterey Bay and includes the highest Pinot Noir vineyards in the appellation (up to 2,600 feet above sea level). Many of the vineyards have all day sun and are surrounded by scrub oak, pines and high chaparral. During the growing season, the vineyards are cooled by the soft breezes that flow up the mountains from the coastal fog that blankets Monterey Bay. Irrigation and canopy management is important to protect the fruit from the intense sunshine. Some vineyards are certified organic. Flavor profile of Pinot Noir: The region's most uncompromising, mineral-intense wines. Very bold, rich and full-bodied, with generous tannins, and fruit characterized by cherry, raspberry and pomegranate. They can be floral, smoky and show dark chocolate highlights. Pinot Wineries: Burrell School Vineyards, David Bruce Winery, Loma Prieta Winery, Muns Vineyard, Silver Mountain Vineyards, Sonnet Wine Cellars.

Los Ranchos/Coastal Hills This area cascades along the Highway 17 corridor, below the Summit area, moving toward Santa Cruz and the coast and encompasses Rancho San Augustine on the west (Scotts Valley) and Rancho Shoquel Augmentation on the east (from Santa Clara County to Soquel). Originally planted extensively to vines in the mid-1800s, much of this area was designated as Vine Hill in 1867. The mountaintop vineyards range in elevation from 800 to 1,300 feet with southern exposure and are cooled by their proximity to Monterey Bay. The topsoils are well draining and range from one inch to three feet of sand, sandy loam, loam and clay loam on top of weathered bedrock. The vineyards are surrounded on the lower elevations by chaparral including madrone, manzanita and oaks. Flavor profile of Pinot Noir: Less acidity than Skyline and Saratoga groups. Big, complex and multilayered with aromas and flavors of olallieberries, cranberries, chocolate, caramel and coriander. Tannins are firm, acids are balanced and minerality is prominent. Bold wines that are generally fruit forward and sweeter. Pinot Wineries: Bargetto Winery. Clos Tita, Hallcrest Vineyards, Heart O' the Mountain, Hunter Hill Vineyard & Winery, Muccogrosso Vineyards, Roudon-Smith Winery, Soquel Vineyards, Wines of Vine Hill

Corralitos/Pleasant Valley This is the southernmost subregion near Watsonville. These vineyards are at lower elevations (about 400 to 800 feet) along the coast. Early morning fog may blanket these vineyards during the summer. Afternoons are typically warm with cool nights. The diurnal temperature variation is rather dramatic creating intense, concentrated flavors. Ripening is slowed and this area has one of the longest growing seasons in California. Soils are sedimentary (sand, clay, silt and loam). Flavor profile of Pinot Noir: Brilliant color with aromas and flavors of hibiscus, bay, baking spice, strawberry, cranberry, blueberry, nectarine and root beer. The acidity is pronounced but inviting and there is well-integrated minerality. The wines are graceful and aristocratic. Pinot Wineries: Alfaro Family Vineyards, Aptos Creek, Nicholson Vineyards, Pleasant Valley Vineyards, Sarah's Vineyard, Salamandre Cellars, Storrs Winery, Windy Oaks Estate Vineyard & Winery.

Ben Lomond This is the only sub-appellation in the Santa Cruz Mountains. Ben Lomond Mountain is about 10 miles northwest of Santa Cruz on a ridge overlooking the Pacific Ocean. The vineyards are at 1,300 to 1,800 feet elevation. Most of the roughly 90 acres of vineyards here are owned and farmed by Beauregard Vineyards with about 40 acres planted to Pinot Noir. A few acres belong to McHenry. Soil composition is mostly sand and sandy loam. The vineyards are adjacent redwood forests and mixed chaparral. Fog greets the mornings all summer long. Average rainfall is over 30 inches. Flavor profile of Pinot Noir: Complex strawberry and rhubarb aromas laced with clove, juniper, mustard and truffle. Spicy flavors of plum and berries. Moderate but masculine tannins and packed with mineral energy. Generally powerful and complex. Pinot Wineries: Beauregard Vineyards. McHenry Vineyard.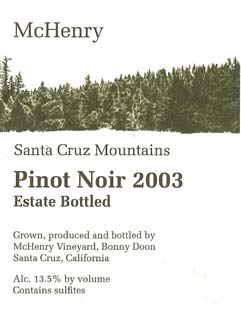 Wineries in Santa Cruz: Bonny Doon, Equinox, Pelican Ranch Winery, Santa Cruz Mountain, Trout Gulch Vineyards. In November 2008, Bonny Doon Winery moved its tasting room to the Surf City Vintners area in Santa Cruz and Beauregard Vineyards moved into the old Bonny Doon tasting room and property at 10 Pine Flat Road in Bonny Doon. Wine remains the only product commercially available in Bonny Doon. The photo below shows the home of Santa Cruz Mountain Vineyards and Bonny Doon at Surf City Vintners.