Rece$$ion Busting Oregon Pinot Noir
Oregon turned 150 on Valentine's Day, February 14, 2009. America's thirty-third state is celebrating its sesquicentennial and has even broke out a song, "Oregon! Oregon!", that was originally performed for the state's 100-year anniversary. It doesn't quite have the ring of "New York! New York!", but give those spirited dreamers credit for trying. The United States Postal Service has issued a commemorative stamp to mark the occasion. I think they should have put a picture of a Pinot Noir vineyard on the stamp. I love the fish and crab that come out of the coastal waters of Oregon, but it is Pinot Noir that is Oregon's calling card today.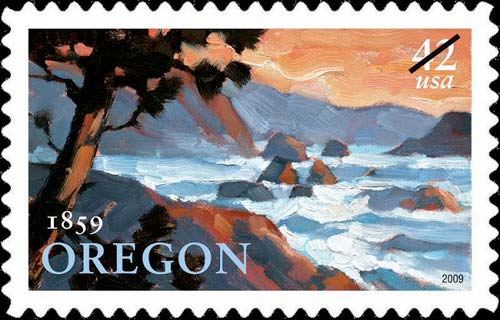 Oregon is facing serious economic challenges in step with the entire nation and a double digit unemployment rate in the state is on the horizon. The wine industry in Oregon has experienced a slowing sales growth. At the 2009 Oregon Wine Symposium in Eugene, sponsored by the Oregon Wine Board, Barbara Insel from Stonebridge Research, reported that inventory in wineries and restaurants and at distributors was increasing. Consumers are buying, but they are buying less quantities and lower priced wines. Oregon's Bill Hatcher, a partner in A to Z Wineworks, has lately been forecasting a gloomy outlook for Oregon. Hatcher estimates that Oregon is producing twice the wine it can sell. The 2007 Oregon Vineyard and Winery Report indicates that there are 395 wineries in the state, a marked increase from 195 only a few years ago. Jim Bernau, CEO of Willamette Valley Vineyard, Oregon's third largest winery, told Oregon Wine Press recently that, "The greatest opportunity is in our value priced wines. Movement at the higher price points has stalled."
When I inquired recently at a few busy local wine retailers in Southern California, I was told that sales had stalled for Oregon and California Pinot Noirs priced above $50 and consumers were more likely to seek out bargains. According to Cyril Penn, Editor of Wine Business Monthly, "Pinot Noir may be "hot," but for the first time in a while, the bulk wine brokers have shelves filled with Pinot Noir samples. They even have Oregon Pinot Noir samples to share." It is ironic that wine sales are lagging at a time when people, particularly Millennials, are becoming more interested in wine and the quality of wine produced in Oregon and California is at an all time high.
I normally receive occasional inquires asking, "What's a good Pinot for under $25?" Lately, this has been a constant question. Value has become the new bling. Finding wine values is now hip. Last year I ran a feature in the PinotFile (Volume 7, Issue 6) on Recession Busting Pinot Noirs from California priced less than $20 and summarized numerous value-priced California and Oregon Pinot Noirs tasted in 2008 in the end of year edition (Volume 7, Issue 9). I am one of the few wine reviewers who spends time sampling low-priced Pinot Noir in the marketplace, that is, the kind of wines many consumers buy on a daily basis at their local discount wine retailer, liquor and grocery store. It is a class of wines largely neglected in the wine press, yet is a highly popular category of Pinot Noir. Savvy customers are demanding decent wines at affordable prices. Some of these wines are of poor quality and tarnish Pinot Noir's reputation but many that are sourced from California and Oregon fruit are surprisingly good as daily drinkers. My intent in reviewing inexpensive wines is to uncover sensibly priced Pinot Noirs that can be enjoyed on the back porch or with simple meals and will leave you satiated and solvent.
This feature is devoted to Recession Busting Oregon Pinot Noirs priced at or less than $25. Why set a limit of $25 rather than $20 as I did for California Pinot Noirs? If I had limited the review to Oregon Pinot Noirs under $20, I would have had very few from the excellent 2006 and 2007 vintages to recommend. There is a big jump in quality for wines as you cross the $20 threshold. Remember that when you buy Oregon Pinot Noir from retailers located within Oregon, you pay no sales tax. This softens the blow of shipping charges which have noticeably increased over the past year. However, Oregon wineries are required to charge the buyer their state's sales or use tax and in some cases even tax on product and shipping costs. To offset this, many wineries are offering discounts on 6 or 12 bottle purchases and reduced or no shipping charges on significant purchases.
I have divided the 42 wines I sampled into three categories: Recession Busters (highly recommended), Recession Bumpers (worth consideration), and Recession Busts (you have been forewarned). The overall high quality of Oregon Pinot Noirs in this underbelly price category is impressive, with very few wines a bust. One important consideration in Pinot Noir under $25 is that you need to lower your expectations. These wines do not have the sensual aromatics of more expensive PInot Noirs and lack nuance and complexity on the palate. That said, they can provide a perfectly fine daily drinking experience. It all goes back to that old saw: you get what you pay for. As a side note, I found a higher number of corked wines (compared to more expensive Pinot Noirs) in sampling this price category. However, I had no difficulty returning corked wines to retailers who happily replaced the defective bottles. I think you will find that producers will do the same. Prices listed are either the retail price I paid for the wine or the retail price at the winery or both. In today's competitive retail wine marketplace, prices can vary considerably.
2007 is the most current vintage on the marketplace, with many wines from the 2006 vintage also available, and even a few leftovers from the 2005 vintage. Generally, the under $25 Pinot Noirs are made for early drinking and are at their best consumed soon after release. Oregon Pinot Noirs from the 2006 vintage have deeper color, more alcohol (even over 15%), richer fruit (more "Caliesque") and more tannin. The Oregon Pinot Noirs from the 2007 vintage are more classic with lighter color, less tannin and alcohol, lighter fruit (more austere), more elegance and bright acidity. The 2007 wines need food to bring them into focus; the 2006 wines can stand on their own. Buy 2006 for lust, buy 2007 for love!