J.K. Carriere Wines
Established in 1999, J. K. Carriere Wines is a Pinot Noir specialist founded by owner and winemaker Jim Prosser. The winery is currently located on a working hazelnut orchard in Yamhill County, but a new winery on Parrett Mountain, three miles east of the current location, is slated to open in the summer of 2009. New estate vineyards are also planned. The name J.K. Carriere is a combination of Jim's grandfathers names, J.K. Prosser and Paul Carriere.
Prosser has a very distinct winemaking style focusing on elegant, high acid, smooth tannin Pinot Noirs capable of aging. Can you say Burgundy? His wines are often lacking in user friendliness until they reach 5 to 6 years of age. Jim is good at tag lines and two of his best are, "Pinot Noir is a tuning fork for the soul," and "We believe the variety is Pinot Noir....not Merlot Noir."
Prosser is no ordinary winemaker. Like many of his profession, he started out in other fields, working for Xerox and dabbling in commercial real estate. He has traveled five continents, lived in Lituania as a business advisor for the Peace Corps and cycled the United States. Never one to shy away from risky activities, he is also an accomplished snowboarder, snow skier and fly fisher. A few years back, he was pictured in Food & Wine coated in snow and grinning while drinking some very cold Pinot Noir. In 2004 he was included as one of the "25 Coolest People Now" in Outside Magazine. He learned winemaking working for eight producers in four countries including Erath, Domaine Drouhin, Brick House and Chehalem in Oregon, Villa Maria in New Zealand, Tarra Warra in Australia, and Domaine Georges Roumier in Burgundy.
The soul of J. K. Carriere Pinot Noirs are the vineyard sources and they are among Oregon's finest: Chehalem's Corral Creek Vineyard, Shea Vineyard, Anderson Family Vineyards, Temperance Hill Vineyard, Momtazi Vineyard, Gemini Vineyard, Brick House Vineyard and Stony Mountain Vineyard. Production was less than 3,000 cases for the 2006 vintage. The wines are sold through a mailing list and directly from the website at www.jkcarriere.com. Since Prosser is a firm believer in aging Pinot Noir for maximum enjoyment, he bottles each one of his Pinot Noirs in magnums. I applaud this.
Prosser crafts a unique White Pinot Noir fashioned like a rosé Champagne without the bubbles that is hugely popular ($20) and a value play Pinot Noir called the Provocateur ($24). His label is the only one I know of that features a prominent wasp. Prosser is deathly allergic and has twice ended up in a near-coma working in the vineyards. The winery is open for Oregon's traditional Memorial Day and Thanksgiving weekend open houses with weekend hours in the summer before harvest and by appointment as time permits. 503-554-0721. The winery is located at 30295 Highway 99 W, Newberg, Oregon.
2006 J.K. Carriere Wines Willamette Valley Pinot Noir
13.7% alc., $42. · Dark reddish-purple color. Dark ripe fruit showing some port aromas and flavors but not prune. Light in weight yet offering a modestly rich mouth feel, supple tannins and a refreshing acid lift on the finish. Perfectly fine and a clear reflection of the vintage. Approachable now but will last.
2006 J.K. Carriere Wines Antoinette Willamette Valley Pinot Noir
13.75% alc., 148 cases, $65. Antoinette was Prosser's maternal grandmother. Sourced from 27 year-old vines in Temperance Hill Vineyard, the oldest from this vineyard. Wild yeast fermentation, aged 18 months in 6 French oak barrels, 2 new, 2 twice-filled and 2 neutral. Unfined and unfiltered. · Deeply colored. Dark fruits tending toward raisin with aromas of smoke, oak and a bit of good barnyard. On the palate there is plenty of satisfying oak-wrapped dark fruit which is shy and restrained. Currently the tooth-sticking tannins and hi-tone acidity overshadow the fruit. Not extremely charming or approachable yet but patience will pay dividends down the road (Prosser predicts a potential life of 12 to 20 years).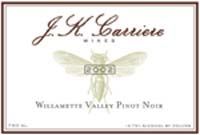 2006 J.K. Carriere Wines Gemini Vineyard Willamette Valley Pinot Noir
13.75% alc., 64 cases,$65. The vines are 15-year-old, Scott Henry trained, Pommard clone Pinot Noir planted in Laurelwood soil. Small lot wild yeast fermentations, aged 18 months in 3 barrels, one once filled, one twice-filled and one neutral. Unfined and unfiltered. · The nose is quite alluring as it expands in the glass over time revealing dark red stone fruits, especially black cherries, spice, oak and marzipan. Hearty core of red and black raspberries and cherries engulfed by flamboyant tannins. Two days later this wine was sampled from a previously opened and re-corked bottle and it was drinking beautifully, smoothly textured with more integration of tannins and more expressive fruit. The lesson here is to decant if you have to drink this wine now, but you would be well advised to keep your hands off of it for at least five years. It's got backside 9s on lock.