Two Hot Years for Shea Wine Cellars
Shea Vineyard dates to 1989, one of the first vineyards planted to Pinot Noir in the now esteemed viticultural area known as the Yamhill-Carlton District AVA of the Willamette Valley. Shea Vineyard is now surrounded by many premier Pinot Noir plantings including those of Willakenzie, Patricia Green, Penner-Ash and Beaux Freres. The vineyard today consists of 200 hillside acres of which 135 acres are planted to Pinot Noir and 5 acres to Chardonnay. The vineyard faces south and is divided into two hills, named East and West, separated by a valley containing native plants and trees. The soil found at Shea Vineyard is characterized by shallow sedimentary Willakenzie topsoil with underlying fractured sandstone subsoil. The Pinot Noir plantings are divided into 33 blocks, consisting of numbered blocks 2 to 14, 19 to 27, 30 to 33 and named blocks North, South, Oak Lane, Back, Dierdre's (formerly 28 and 29), Michael's (formerly 16) and The Terrace. See the map below for reference.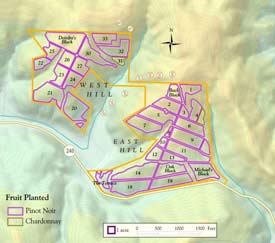 The original plantings of Pommard and Wädenswil clones were on their own roots and inevitably, phylloxera afflicted the vines and planned replanting progressed through 2005. The newer plantings include Dijon clones 114, 115, 777 and 828. Grapes from this distinguished site are highly sought after by many of Oregon's top wineries. Since 1996, Dick Shea has had his own label, Shea Wine Cellars. There have been several different winemakers to date, but the wines have been consistently excellent displaying a dark red and black fruit character, earthiness and a substantial structure now recognized as typical for the Yamhill-Carlton district. The Shea Wine Cellars Pinot Noirs are designated as Estate ( a blend of several blocks), block-designates which vary from year to year, and a special reserve wine labeled "Homer." Dick Shea is a baseball fan but in no way connected to Shea Stadium in New York. Dick's spouse, Deirdre, often compares Dick to Homer Simpson so the name "Homer" has a dual meaning. This cuvée us from the best barrels in the cellar and is the most voluptuous of the lineup, needing several years to reach its prime drinking window.
I recently sampled Shea Wine Cellars Pinot Noirs from two very warm recent vintages in Oregon: 2003 and 2006. My reviews are very flattering and deservedly so. The 2003 vintage Pinot Noirs are not for the timid. They are all big wines, darkly colored and intensely flavored. Some wines show overripe fruit with port and prune features. The 2006 vintage is more appealing to me with better acidity and less roasted fruit flavors.
Shea Wine Cellars Pinot Noirs and Chardonnay are sold to an enthusiastic mailing list at www.sheawinecellars.com and a limited number of retailers including Avalon Wine in Corvallis (www.avalonwine.com). The winery and vineyard are not open to public. 503-241-6527.
Just for the heck of it I blended the 2006 Pommard and 2006 Wädenswil Pinot Noirs in a 50/50 proportion. The result was quite appealing. Dark and fruity with some brown sugar notes, very smooth in texture with a clean finish. I preferred this over the Wädenswil clone bottled alone.
The 2007 vintage Shea Wine Cellars Pinot Noirs and Chardonnay have just been released. Autumn rains arrived early in 2007 but the grapes at Shea Vineyard ripen early and most of the fruit was ripe and picked before the onset of rain. In 2007 there are five Pinot Noirs: Estate ($45, 4,075 cases), East Hill ($55, 340 cases), Pommard Clone ($55, 290 cases), Block 33 (a new wine from Shea Wine Cellars, $64, 97 cases) and Homer ($82, 333 cases). The Chardonnay is sensibly priced ($35, 367 cases).