Pinot Briefs —Newsletter 7.15
Wine Judging is Inconsistent No surprise that a recent study published in the Journal of Wine Economics found that inconsistent judging makes wine awards less valuable as a consumer guide to wine quality. A survey of the judging panel of a prestigious annual wine competition found that less than half of the judges (30 out of 65) achieved anything close to consistent results. The results do not reflect badly on wine judges but indicate the difficulty faced in attempting to evaluate multiple wines at one sitting. Wineries love to use the results of wine competitions in their marketing programs, but they hold little significance for most wine connoisseurs who understand the vagaries of wine competitions. A Double Gold award or Best of Class award are probably the only wine competition rewards that merit serious attention.
Oregon 2008 Report According to the recent issue of the Oregon Wine Press, vineyard acreage increased from 17,400 to 19,300 acres between 2007 and 2008 with Yamhill County boasting the largest amount of harvested acres (4,997). Pinot Noir is still the most harvested grape in tonnage, amounting to 17,571 tons in 2008, or 50.6% of total production in Oregon. At of the end of 2007, there were 9,858 acres planted to Pinot Noir in Oregon. The top five in order behind Pinot Noir included Pinot Gris, White Riesling, Chardonnay and Cabernet Sauvignon. The number of wineries increased from 370 to 395, still ranking Oregon third in the nation behind California and Washington State. The number of vinifera vineyards was 792.
Wildfire Smoke Taints Some 2008 California Pinot Noirs Smoke from wildfires can infuse grapes with an aroma or flavor that is gamy or spicy. In small amounts, it is not particularly obnoxious, but in significant amounts can ruin the commercial acceptability of the wine. It is thought that the volatile compounds in smoke are either absorbed by the vines and transported to the grapes or adsorbed by the grapes directly. A number of filtering techniques have been tried to remove smoke taint but none will remove all the smoky aroma and flavor from significantly affected fruit. Of great concern is that even without wildfires in 2009, vines that yielded smoke tainted fruit in 2008 can do so again in 2009. Before this year's recent World of Pinot Noir, winemakers gathered to taste smoke tainted Pinot Noirs and discuss ways of dealing with the problem. The press was not in attendance and the findings were not publicized, but I got the impression that smoke tainted wines still retained smoky aromas and flavors despite sophisticated filtering processes. There are no clear answers at present on how to remove the effects of smoke taint in wine. Ted Lemon of Littorai chose not to bottle several of his vineyard designates from the 2008 vintage. Some grapes from the Anderson Valley and Sonoma Coast did not even make it into the winery. All the Cerise, Savoy and Roman vineyards were declassified into the Les Larmes blend and all the Hirsch Vineyard fruit was declassified into the Sonoma Coast bottling. Some rosé was made as well. Ted decided to change his winemaking techniques to emphasize fruit and producer softer, earlier drinking wines from the affected grapes. He has offered the wines well before his usually release schedule and is selling them at reduced prices. He is to be commended for being outright honest about the situation and making the best wine he could out of a disturbing vintage. The vineyards which were unaffected by the wildfires in 2008 will be handled in the usual manner in the winery at Littorai. For more information, visit www.littorai.com.

Santa Barbara County Vintner's Festival This annual celebration will be held Saturday, April 18, 2009 at River Park in Lompoc. Over 100 Santa Barbara County wineries will be pouring along with gourmet wine country cuisine, a silent auction and live music. Tickets are $75 and can be obtained at www.sbccountywines.com. A four day (April 17-20) Vintner's Visa to taste at 12 of your favorite wineries is available for $25 as well.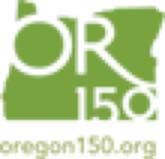 Oregon Celebrating 150 Years Participating Willamette Valley wineries are offering special wine tasting events and activities which began Valentine's Day Weekend and extend through Labor Day Weekend. For example, April 18-19, 2009, the Dundee Hills Winegrowers Association will sponsor the 2009 Dundee Hills Passport Tour with participating wineries including Daedalus Cellars, Dobbes Family Estate, Domaine Serene, The Four Graces, Vista Hills Vineyard & Winery, Winderlea Vineyard & Winery and Winter's Hill Vineyard. Visit www.willamettewines.com and www.oregon150.org for upcoming events. 2009 Guide to Willamette Valley Wineries This new guide contains a map and listings for 183 wineries and tasting rooms located throughout the Willamette Valley with the seven sub-AVAs highlighted in different colors. The guide also features dining, lodging and attractions in the Willamette Valley. The 19th annual Memorial Weekend in Wine Country is May 23-25, 2009 with more than 125 wineries and tasting rooms open to the public. A map and listing of participating wineries and their hours will be available online and by mail at the end of April. The new 2009 Guide to Willamette Valley Wineries and information on Wine Country Weekend are available at www.willamettewines.com.
Food & Drink Pairing Widget Noted wine writer Natalie McClean has launched a new Drinks Matcher widget, a portable version of the site's existing food and wine pairing feature. You can download the free Drinks Matcher widget to your computer desktop, website, blog or social media page like Facebook, MySpace or iGoogle from www.nataliemaclean.com/matcher. A mobile format is available for Blackberry, iPhones and SmartPhones. You can search for drinks to pair with food or vice versa.
Vimentis Brings Ritual and Romance to the Screw Cap The Vimentis was developed to replicate the cork's trademark ritual for screw cap wine opening. The one-time use Vimentis device is made up of a clear cylinder attached to a flat tab that is pushed down and locked on to the unopened wine cap. The whole Vimentis is turned to unscrew the cap, mimicking the rotation of the traditional corkscrew. The clear Vimentis, with the screw cap embedded within, can them be retained, much as a traditional cork. The Vimentis tab can be custom branded for marketing purposes.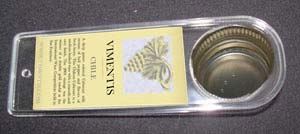 2008 Wine Market Council Consumer Tracking Study Overall table wine consumption increased for the 15th straight year in 2008. Generation X (ages 32 to 43 in 2008) and the Millennial population (15 to 31 in 2008) have been taking to wine in significant numbers at the expense of beer and spirits. Core wine drinkers (those that drink wine at least once a week) have increased 60% since 2000 and red wines account for more than 50% of their wine purchases. Domestic wines are favored over imports 2 to 1. California wines ranked high in flavor, value and overall enjoyment while Oregon wines were rated as the most unique.
Balancing Act Over 15% Alcohol At the recent World of Pinot Noir, the roving Grape Radio crew asked several winemakers on camera if they thought that New World Pinot Noir could be produced with 15% or more alcohol and still be in balance. The answers covered the broad range from "no" to "possibly" to "yes." The term balance refers to the harmonious or seamless combination of all components of wine including fruit, tannin, acid and alcohol so that no one component sticks out. The presence or absence of balance is a key criteria wine critics and judges use to judge the quality of a wine and predict its age ability. If a wine is not balanced at the onset, it will never become balanced, regardless of how long it is cellared. Wines that are seemingly balanced at the start, however, can lose that balance over time. Since the percentage of alcohol in a wine never changes over time, the gradual loss of tannins and fruit with aging can bring alcohol to the forefront and create an unbalance. This is often given as a criticism of high alcohol wines. Look for the winemaker comments in an upcoming video at www.graperadio.com.
Don't Forget the 2006 and 2007 Vintages in Burgundy The French feel we Americans fret too much over vintages. They are more inclined to revile in vintage differences and accept it as part of the charm of wine. The 2005 vintage for red Burgundy was a blockbuster and the two vintages that followed are surely to receive less attention by American Burgundy lovers. The truth is that both the 2006 and 2007 vintages were saved by good weather at the end of the growing season and are appealing vintages with good transparency, expression of terroir and upfront drinkability. According to Anthony Rose and Margaret Rand, writing in The World of Fine Wine (Issue 23, 2009), " The 2007 wines are on the light side. They are not excessively tannic, nor are acidities especially high, but there are some signs of greenness, though it is not a dominant feature of the vintage. It seems that the Cote de Beaune fared slightly less well than the Cote de Nuits. I am not convinced that the reds are, as some claim, better than 2006, a vintage that I believe has been underestimated for reds."
International Wine Review Report on Oregon Pinot Noir International Wine Review does in-depth reports on important wine regions of the world accompanied by tasting notes and ratings of new wines on the market. The latest Oregon Pinot Noir Report is now available. This 52-page comprehensive report examines the factors that have contributed to the success of Oregon Pinot Noir including the soils, climate and viticultural practices. Sustainable, organic and biodynamic viticulture practices are discussed along with minimalist winemaking practices currently prevalent in Oregon. The report includes reviews of more than 200 Oregon Pinot Noirs from distinguished producers and a list of top rated Oregon Pinot Noirs under $35. I have never seen such extensive coverage of the Oregon PInot Noir scene. Subscriptions to the International Wine Review are $50 for the online edition. (The Oregon Pinot Noir Report is worth $50 alone!). Visit the website at www.i-winereview.com.