Pinot Paradise
"This grape among all grapes wants to become wine"
Jeffrey Patterson, Mount Eden Vineyards
Of all the Pinot Noir growing appellations of California, the Santa Cruz Mountains receives the least respect and notoriety despite its heritage as the birthplace of Pinot Noir in North America. The reality is that this region is undergoing a remarkable renaissance and the small amount of Pinot Noir originating from this appellation is much better than you might realize. In cooperation with Appellation America, the Santa Cruz Mountains has made a major marketing push to bring awareness to the region's superb wines. Production is still small (there are only about 800 acres of Pinot Noir planted in the Santa Cruz Mountains) and the wines are often snapped up by locals. As a result, the distant populace in the United States has not discovered these Pinot Noir gems. To complicate matters, some notable producers in the Santa Cruz Mountains also source grapes from outside the appellation and feature wines from other more notable California appellations. Recent extensive tastings of Santa Cruz Mountains Pinot Noirs have led to the identification of six subregions which seem to have distinctive aromatic and flavor profiles. A seminar on these evolving subregions was held at the World of Pinot Noir and at this year's Pinot Paradise. To listen to this year's Pinot Paradise Technical Seminar (which includes introductory remarks on the Santa Cruz Mountains by Jim Schultze of Windy Oaks Vineyards & Winery, a talk on contrasts between Burgundy and the Santa Cruz Mountains by Joe Miller, PhD, University of California Santa Cruz, and a discussion of the newly identified subregions of the Santa Cruz Mountains by Clark Smith, Director of Appellation Tastings at Appellation America): "Pinot Paradise 3-27-09"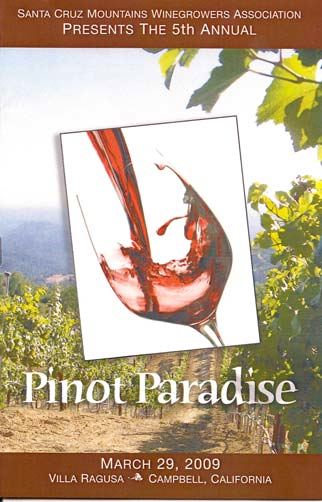 The Google map on the following page shows the Santa Cruz Mountains AVA, its sub-regions (in yellow print) and major Pinot Noir vineyards. This map was developed by Mary Lindsay, President of the Viticulture Association of the Santa Cruz Mountains and Prudy Foxx, a well-known viticulturist in the Santa Cruz Mountains who manages over 600 hundred acres of vineyards. The vineyards in the Santa Cruz Mountains are small and isolated creating a formula for uniqueness in the wines.
35 wineries that produce Pinot Noir participated in this year's Fifth Annual Pinot Paradise sponsored by the Santa Cruz Mountains Winegrowers Association. Clos de Tech, David Bruce Winery, Mountain Winery, Rhys Vineyards, Salamandre, Testarossa and Varner Wines are also in the Santa Cruz Mountains appellation but did not take part. A list of the wineries at Pinot Paradise and the Pinot Noirs they produce from the six sub-regions:

Skyline
Kings Mountain Winery (Estate)
Thomas Fogarty Winery (Estate)
Woodside Vineyards (Estate)
Summit Road
Byington Winery (Estate)
Burrell School (Estate)
Loma Prieta (Estate)
Muccigrosso Vineyards (Estate)
Silver Mountain (Muns Vineyard, Miller Hill Vineyard)
Sonnet Wine Cellars (Muns Vineyard)
Trout Gulch Vineyards (Amaya Ridge Vineyard)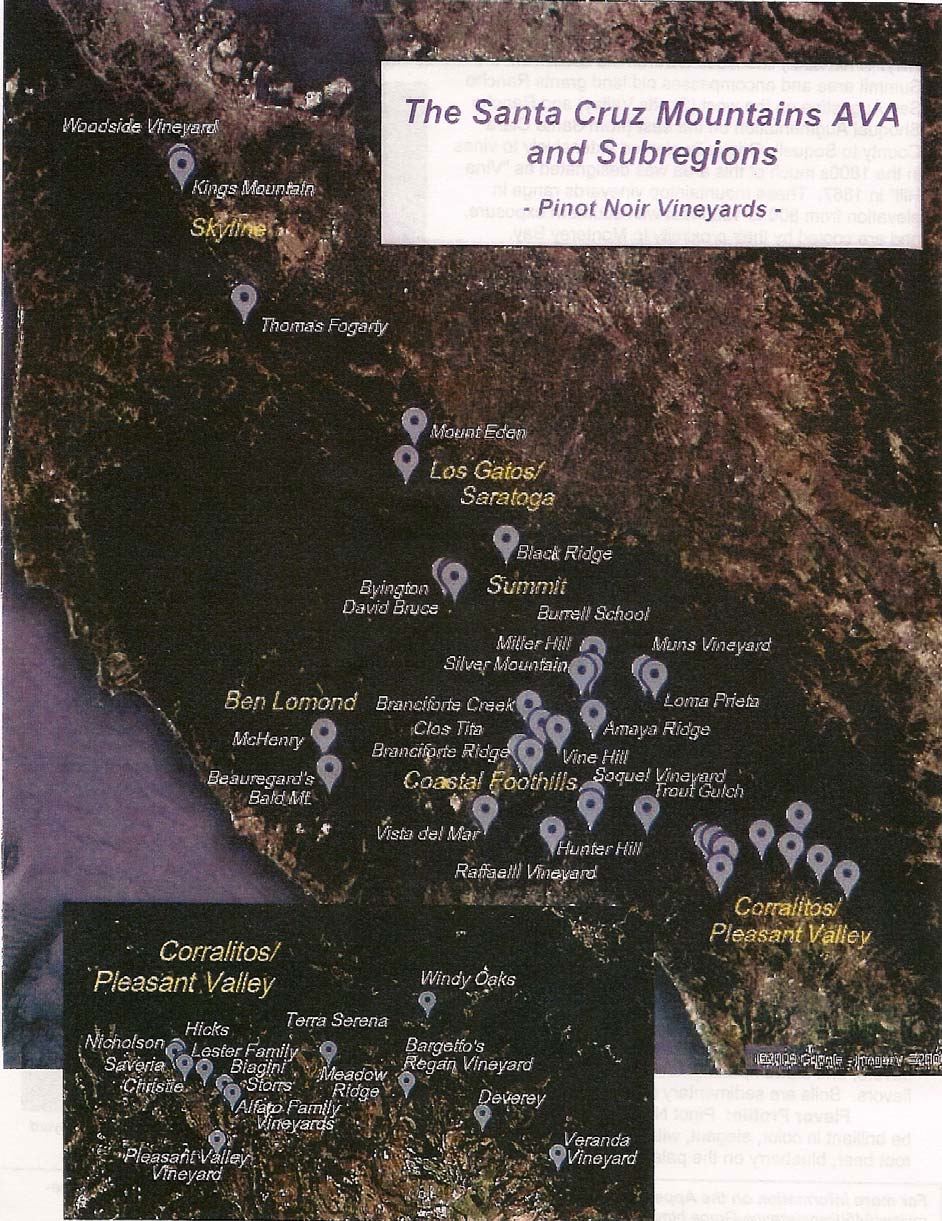 Coastal Foothills
Beauregard Vineyards (Trout Gulch Vineyard)
Big Basin Vineyards (Branciforte Ridge)
Clos Tita (Estate)
Hallcrest Vineyards (Vista Del Mare Vineyard)
Heart O' The Mountain (Estate)
Hunter Hill Vineyards & Winery (Estate)
Santa Cruz Mountain Vineyard (Branciforte Creek Vineyard, Branciforte Ridge Vineyard)
Wines of Vine Hill (Estate, Raffaelli Vineyard)
Ben Lomond Mountain
Beauregard Vineyards (Bald Mountain Vineyard)
McHenry Vineyards (Estate)
Saratoga/Los Gatos
Black Ridge Vineyards (Estate)
Cinnabar (Estate)
Mount Eden Vineyards (Estate)
Corralitos/Pleasant Valley
Ahlgren Vineyard (Veranda Vineyard)
Alfaro Family Vineyards (Estate)
Bargetto Winery (Regan Vineyard)
Big Basin Vineyards (Alfaro Family Lindsay Paige Vineyard)
Cinnabar Winery (Lester Family Vineyards)
Clos La Chance (Biagini Vineyard)
Domenico Wines (Deverey Vineyard)
Hallcrest Vineyards (Terra Serena Vineyard)
Loma Prieta Winery (Saveria Vineyard)
Nicholson Vineyards (Estate)
Pelican Ranch Winery (Veranda Vineyard, Remde Vineyard, Deer Park/Lester Family Vineyard)
Pleasant Family Vineyards (Estate, Lester Family Vineyard)
Roudon-Smith Winery (Meadow Ridge Vineyard)
Sarah's Vineyard (Veranda Vineyard)
Soquel Vineyards (Saveria Vineyard, Lester Family Vineyard)
Storrs Winery & Vineyards (Wildcat Ridge Vineyard)
Trout Gulch Vineyards (Regan Vineyard)
Wines of Vine Hill (Hicks Family Vineyard)
Windy Oaks Estate Vineyards & Winery (Estate)
The highlight of Pinot Paradise is the Grand Cruz Tasting held at the Villa Regusa in Campbell California. Nearly all the producers of Pinot Noir in the Santa Cruz Mountains are present proudly pouring their latest releases accompanied by gourmet artisan foods and an auction of 3.0 liter bottlings from each of the participants. In addition, a single Jeroboam containing wine from all the participating wineries is auctioned (photos below). Pinot Paradise is a more intimate event than many, allowing for quality time with the winemakers and winegrowers in attendance.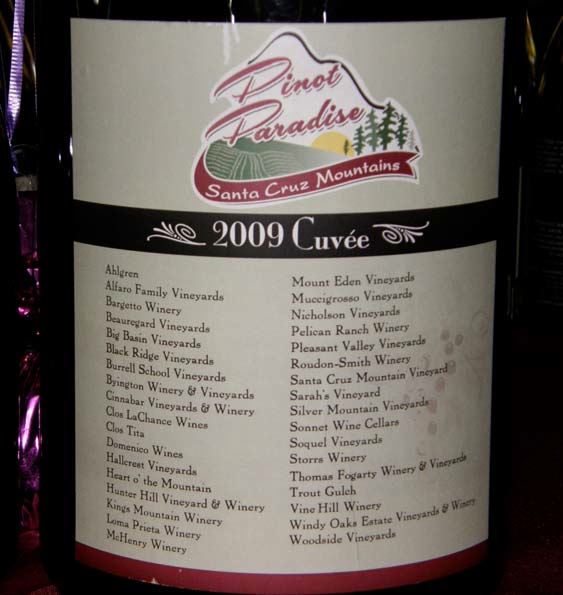 The Santa Cruz Mountains is home to over 70 wineries, with over 40 producing Pinot Noir. I sampled a number of the 70 Pinot Noirs poured at this event and I have listed below my favorites below. To locate the wines, consult the winery's websites or the Santa Cruz Mountains Winegrower's Association website at www.scmwa.com. There is also a Santa Cruz Mountains Pinot Only Wine Club worth investigating (www.santacruzwineclub.com). Vinocruz is a wine retail store in downtown Santa Cruz which stocks many of the small production Pinot Noirs produced in the Santa Cruz Mountains (www.vinocruz.com).
As you can see from this list, almost half of the outstanding wines came from the Corralitos/Pleasant Valley subregion. This area is at the southernmost end of the appellation just north of Watsonville. The vineyards are at lower elevations (typically 400 to 800 feet above sea level) and are close to the Pacific Ocean. Early morning fog is common in the summers followed by warm afternoons and evenings and cool night times. The resulting large daily temperature variation during the growing season leads to slow ripening and an extended growing season with vineyards in this sub-region usually the last in the appellation to be harvested. Soils here are well-drained sedimentary type (sandy, clay, silt and loam). Most of the vineyards are relatively young and planted to Dijon clones. The Pinot Noirs from this sub-region tend to feature dark red fruits with added notes of root beer, blueberry and spice on the palate. Like Pinot Noirs from the Santa Cruz Mountains generally, the wines have impressive minerality and inviting acidity.
2006 Alfaro Family Vineyards Lindsay Paige Vineyard Corralitos/Pleasant Valley Pinot Noir
2006 and 2007 Black Ridge Vineyards Saratoga/Los Gatos Pinot Noirs
2006 Burrell School Vineyards & Winery Estate Summit Road Pinot Noir
2007 Clos LaChance Wines Santa Cruz Mountains Pinot Noir
2005 Clos Tita Santa Cruz Mountains Cuvée Costal Foothills Pinot Noir
***2005 Hallcrest Vineyards Terra Serena Vineyard Corralitos/Pleasant Valley Pinot Noir
2005 Hallcrest Vineyards Vista Del Mare Vineyard Coastal Foothills Pinot Noir
2006 Heart O' The Mountain Coastal Foothills Pinot Noir
***2006 and 2007 Loma Prieta Winery Saveria Vineyard Corralitos/Pleasant Valley Pinot Noirs
2006 McHenry Vineyard Swan Clone Ben Lomond Mountain Pinot Noir
***2006 Mount Eden Vineyards Estate Saratoga/Los Gatos Pinot Noir
2006 Pleasant Valley Vineyards Dylan David Estate Reserve Corralitos/Pleasant Valley Pinot Noir
***2007 Pleasant Valley Vineyards Dylan David Lester Family Vineyards Corralitos/Pleasant Valley Pinot Noir
2005 Santa Cruz Mountain Vineyard "Bailey's" Coastal Foothills Pinot Noir
2006 Silver Mountain Muns Vineyard Summit Road Pinot Noir
2007 Sonnet Wine Cellars Muns Vineyard Summit Road Pinot Noir
***2007 Thomas Fogarty Estate Rapley Trail Vineyard Block M Skyline Pinot Noir
***2007 Trout Gulch Vineyards Amaya Ridge and Regan Vineyards Summit Road and Corralitos Pinot Noir
2006 Windy Oaks Estate Vineyards & Winery Wild Yeast Corralitos/Pleasant Valley Pinot Noir
***2006 Windy Oaks Estate Vineyards & Winery Diane's Block Corralitos/Pleasant Valley Pinot Noir