2009 Pinot Noir Summit
The Seventh Annual Pinot Noir Shootout is a series of focused tastings by a diverse panel of experts and included 270 Pinot Noirs from around the globe including Canada, Chile, France, Italy, Australia and New Zealand. Stateside, California dominated the wine submissions, but some examples came from Oregon, New York, Michigan and even Idaho. The Pinot Noir Summit is the final showdown, the culmination of the Pinot Noir Shootout. During the series of Shootout tastings, only 32 wines are tasted by the judging panel daily (four flights of eight wines each), allowing the judges to be completely immersed, focused and fair to the submitted wines and eliminating palate fatigue as a factor. The wines are tasted blind without reference to origin, appellation, vintage or price. At the Pinot Noir Summit, the judging panel's top 44 wines are paraded blind for the consumer and press attendees allowing them to compare their findings with the expert panel. The Pinot Summit is the only wine competition in which judges' conclusions are put to the test by an unbiased group of wine lovers. In addition, the preferences of male and female judges and attendees are tabulated separately for comparison. The two genders (not surprisingly) rarely agree on the best wines. The full results of this year's Pinot Noir Summit, held on Sunday, April 5 in San Rafael, California, are posted online at www.affairsofthevine.com.
I blind tasted all 44 Pinot Noir finalists, powering through them in about two and a half hours. Because of the time limitation, my tasting notes are succinct and my recommended wines are based on a brief glimpse of each wine. I have put the wines in four groups according to my personal taste preferences: Excellent (would buy), Good (might buy), Decent (would drink if someone else buys) and The Rest. Remember that these wines are all finalists and represent technically sound wines that at least some members of the judging panel recommended.
Excellent
David Bruce is a California Pinot Noir icon. Unlike many physicians who enter wine at or near retirement, Bruce jumped in when he graduated from Stanford Medical School. It was a bottle of Richebourg from France that inspired him to buy 40 acres of land near Los Gatos, California in 1961. He cleared the land by hand, built a small winery and planted 25 acres of vineyards. He did double duty for 25 years, working in his dermatology practice in Santa Clara and spending his free time making wine. He was influenced by Martin Ray, who was a legend in the Santa Cruz Mountains winemaking community.
Bruce instituted many technological advances in California winemaking many of which were learned from his trips to Burgundy. These included small barrel fermentation, whole berry fermentation for red wines, use of French oak barrels, foot punch downs, extended maceration and use of rotary presses. He was one of the first California winemakers to produce a Blanc de Noir, a white Zinfandel and late harvest wines. He became well known for his Petite Sirah.
Bruce's early work with Pinot Noir was fraught with difficulties (he called Pinot Noir the Dune of winemaking referring to the science fiction novel) but he persisted and his Pinot Noirs eventually earned him an international reputation. He was one of twelve California wineries that participated in the 1976 Judgment of Paris.
For more historical information on David Bruce, consult The David Bruce Winery: Experimentation, Dedication and Success (2002 interview), Regional Oral History Office, The Bancroft Library, University of California, Berkeley at www.archive.org/details/davidbrucewinery00brucrich.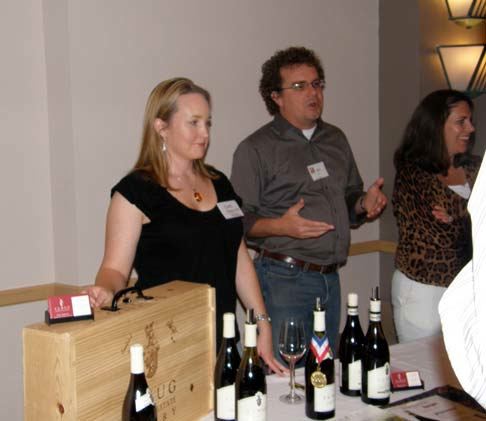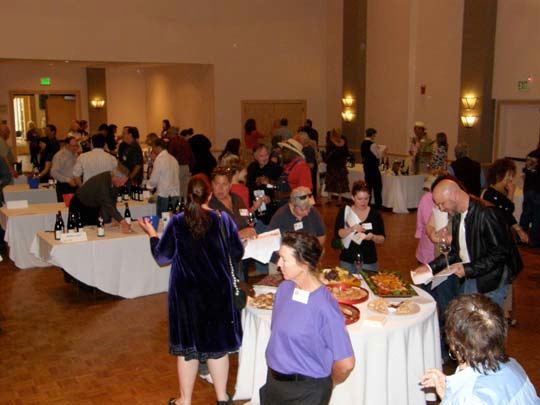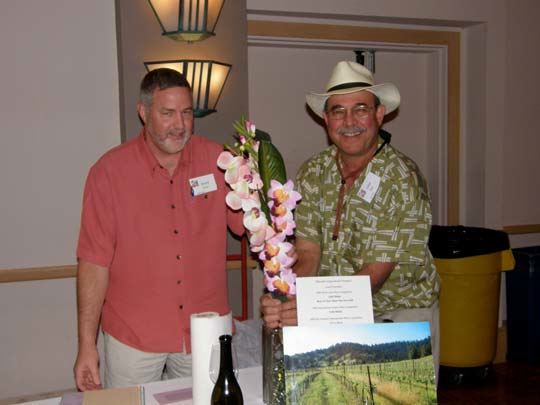 Good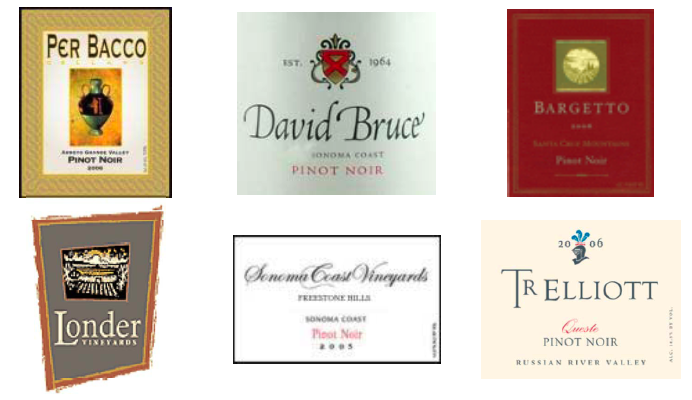 Decent
The Rest
2006 Adobe Road Sonoma Coast Pinot Noir 1,350 cases, $39.
2006 Fess Parker Bien Nacido Vineyard Santa Maria Valley Pinot Noir 1,950 cases, $55.
2006 Olson Ogden Russian River Valley Pinot Noir 283 cases, $42.
2006 Paritua Central Otago Pinot Noir 600 cases, $35.
2006 Sand Hill Durell Vineyard Sonoma Valley Pinot Noir 216 cases, $55.
2006 Stephen's Encell Vineyard San Luis Obispo County Pinot Noir 350 cases, $30.
2006 Willowbrook Cellars DuNah Vineyard Sonoma Coast Pinot Noir 190 cases, $44.