New Stars Along the Pinot Trail
Wine enthusiasts are often searching for the next great star producer of Pinot Noir. This is not surprising for it is our nature to seek out the latest news, the hottest fad. What do the first three letters in "news" spell? Who is going to be the next Sea Smoke or Kosta Browne?
Finding and identifying new Pinot Noir producers is a challenge because most of them are very small, boutique operations with little or no marketing budget. Winemakers are often shy and unassuming and promotion is not their long suit. Their total production is often less than 1,000 cases and samples may not be sent to major wine publications for review. The practice of submitting samples is a two-edged sword. A good score can boost a new producer's visibility instantly, but a poor score can seriously damage a start up producer's reputation.
How do I discover potential new stars? Sometimes the new producer contacts me, sends me samples and invites me to visit and taste. I rarely taste without meeting the principals face to face for this gives valuable information about the commitment, background and goals of the producer. In other cases, I meet the producer at a Pinot Noir Festival. Fine wine retailers, the wine press, wine blogs and wine websites can also be valuable sources of information.
What do I look for in a new winery to recommend? There are many factors to consider but most importantly I look at the vineyard sources and vineyard management, the winemaker's background and experience, the owner's (if he or she is not the winemaker) commitment, and the approachability and availability of the winery principals to the consumer. Most of all, though, what differentiates a potential new star is the quality of the Pinot Noir in the bottle.
Here are some sources of information on potential new stars along the Pinot trail (other than the PinotFile). Part of the fun of discovering a new wine is the search.
Publications
The Pinot Report, www.pinotreport.com
Wine Press Northwest, www.winepress.com
Oregon Wine Press, www.oregonwinepress.com
Wine Advocate, www.erobertparker.com
Burghound, www.burghound.com
International Wine Cellar (Steve Tanzer), www.wineaccess.com
Wine Enthusiast, www.we.com
Wine Spectator, www.ws.com
Wine & Spirits, www.wineandspiritsmagazine.com
Quarterly Review of Wines, www.qrw.com
Wine Retailers
(Informative newsletters or websites)
K&L Wines (California), www.klwines.com
Wine Exchange (California), www.winex.com
Hi-Time Wine Cellars (California), www.hitime.com
Avalon Wine (Oregon), www.northwestwine.com
Storyteller Wines (Oregon), www.storyteller.com
Wine Search Engines
Wine Searcher, www.wine-searcher.com
Wine Access, www.wineaccess.com
Vinquire, www.vinquire.com
Wine Zap, www.winezap.com
On The Web
Grape Radio, www.graperadio.com
Vinography: A Wine Blog, www.vinography.com
Grape-Nutz, www.grape-nutz.com
There are at least 600 wine blogs on the internet - search at www.alawine.com
Spell Winery
I first met Shane Finley while he was working as an assistant winemaker at Kosta Browne Winery in Sebastopol, California. He struck me as a bright, dedicated and passionate vintner. Shane grew up in Minnesota and after college found himself working in an insurance company cubicle in New York. During the process of entertaining clients at mealtimes, he was able to order good wines and became fascinated about wine. Shane soon left the insurance industry behind and ventured to California where a friend hooked him up with a job as a cellar rat at Copain Wine Cellars in Santa Rosa. Shane laughs about his first day on the job. Wells Guthrie said, "This is an ozone machine, this is how you do punch downs," and left him alone. The first three months on the job he did nothing but cleaning. Later he would travel down under and work at Torbreck in Australia and intern in France at G. Villard. He then found a home at Kosta Browne working under the tutelage of winemaker Michael Browne. Michael has great admiration for Shane's work ethic and winemaking skills and has encouraged him to strike out on his own. For now, Shane feels comfortable remaining at Kosta Browne and slowly developing a following for SPELL Winery.
Shane's first two releases are from the 2007 vintage and were released in February, 2009. Total production is 170 cases. I tasted the two 2007 SPELL Pinot Noirs on three separate occasions and can recommended them both.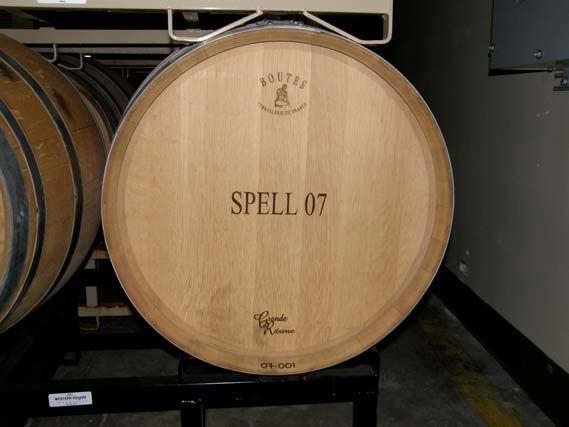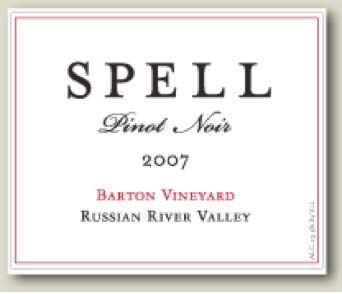 2007 Spell Barton Vineyard Russian River Valley Pinot Noir
13.8% alc., 45 cases, $47. The Barton Vineyard is located just outside the Green Valley sub-appellation of the Russian River Valley on Vine Hill Road. Clones 115 and Pommard. 25% whole cluster fermentation, aged 20 months in 50% new French oak, unfined and unfiltered. · Enticing and penetrating aromas of strawberries, raspberries, cola, baking spices and sandalwood. Very "Russian Riveresque" and I loved it. Red fruit driven flavors which are leaner than the Weir bottling but enough richness to satisfy. Very smoothly textured and nicely balanced. Will get even better in another one to two years.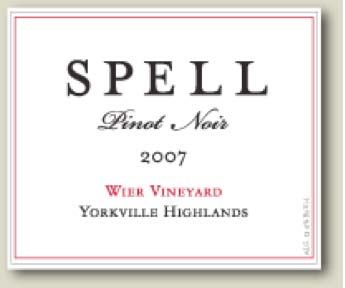 2007 Spell Weir Vineyard Yorkville Highlands Pinot Noir
14.2% alc., 120 cases, $47. The Weir vineyard is owned and farmed by Bill and Suki Weir and is located at elevations of 850 to 1000 feet on south and southwest facing gentle slopes. Clones 2A, Rochioli and DRC suitcase. 20% whole cluster fermentation, aged 10 months in 40% new French oak, unfined and unfiltered. · Dark reddish-violet color. Needs time to open. Brooding dark cherry and berry fruit aromas and flavors with a touch of citric peel on the back end. Flamboyant tannins coat the mouth and need time to be shed. The succulent fruit became more accessible in the opened bottle as I sampled it later in the day. If you open it now, drink it with a big ribeye steak.
The SPELL Pinot Noirs are sold through a mailing list and directly from the website at www.spellwinery.com. Contact Shane at 612-767-1109. Try to meet Shane on one of your Sonoma wine trips as he is a very gracious and engaging personality.
Waxwing Wine Cellars
Scott Sisemore is the only stay-at-home dad and winemaker that I know of. Scott has an impressive winemaking background that followed his graduation from Oregon State University with a BS degree in microbiology. From 1993 to 2000, he worked at a custom crush facility in Mendocino County and was involved with the Mark West label. He spent time making wine abroad in both India and Chile. After stints at Rosenblum and Ravenswood learning red wine making techniques, he returned to school obtaining an MS degree from University California Davis. He then became the assistant winemaker at Pelligrini Family Vineyards where I met up with him originally. Scott left Pellegrini in 2006 to stay at home with his newborn son. His wife had a well-paying job for a biotech company with good benefits so it made more sense for Scott to take over the daily household duties. To keep his professional drive alive, he founded a small winery, Waxwing Wine Cellars, to enable him to create ultra-small lot, handcrafted, cool climate Pinot Noir and Syrah. I visited recently with Scott at his leased space at Domenico Wines in San Carlos, California. We talked a little Pinot but mainly about his hobby ultimate Frisbee and the origin of the name Waxwing. The waxwing is a migratory bird named for beads of shiny red material ("sealing wax") on the tips of the secondary wing feathers, the function of which is open to much speculation. The bird has a propensity for over eating (they have been known to be so gluttonous as to be unable to fly) and constant chatter.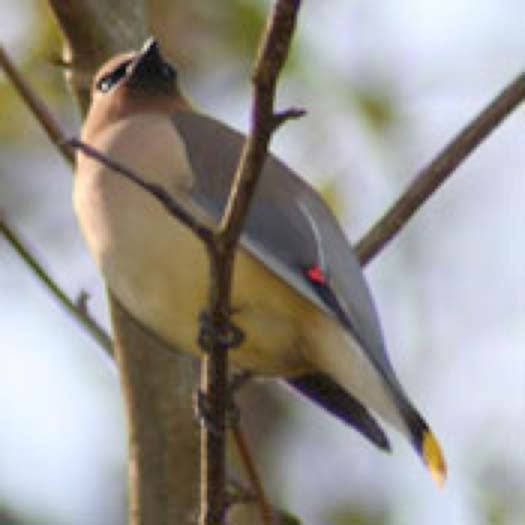 The inaugural Waxwing wine, the 2007 Toboni Vineyard Russian River Valley Pinot Noir, was released early this year. Scott met Joe Toboni while working at Pellegrini. During 2005 and 2006 Scott was involved with the custom crushing of Pinot Noir for Merry Edwards, Ted Elliott, Kevin Hamel as well as the Pellegrini Olivet Lane Pinot Noir. Joe brought fruit to the Pellegrini facility to produce his own Oakwild Ranch label. Scott was impressed by his Pinot Noirs and he enjoyed working with Joe. After leaving Pellegrini, Bob Pellegrini was shedding grape sources to concentrate more on his own fruit so Scott approached Joe to buy fruit and they decided to work on a handshake agreement. The Toboni family has been rooted in the San Francisco Bay area for several generations. Joe is a builder and his wife works in real estate. Joe and Mary Toboni bought their 25-acre property in the 1990s as a family (they have five children) getaway and planted 16 acres to Pinot Noir in 2000 and 3 additional acres in 2004. The Toboni Vineyard is located about a quarter of a mile west of the intersection of River Road and Olivet Lane.
Scott's Toboni vineyard block was planted in 2004 and is clone Pommard 5 grafted onto 101-14 rootstock. The yield in 2007 was 1 ton for the entire 3-acre block.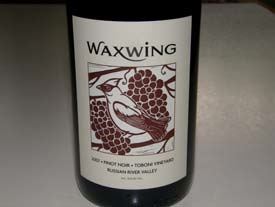 2007 Waxwing Wine Cellars Toboni Vineyard Russian River Valley Pinot Noir
14.1% alc., 55 cases, $30. Aged in 1 year-old French oak barrels. · Alluring aromas of Bing cherries, baking spice and sandalwood. Soft in the mouth with appealing elegant cherry pie flavors kissed gently by oak displaying a refreshing tang on the finish. A lighter-bodied wine that is almost ethereal and very easy to drink. The admirable acidity makes this wine a good food companion.
2005 Arista Toboni Vineyard Russian River Valley Pinot Noir
14.3% alc., $50. For comparison purposes I sampled this wine at the same time to compare with the Waxwing. · Oak char dominates the nose and the delicate red fruits. A silky wine that drifts over the palate with fruit that is clearly stellar, but the oak is overwhelming. I prefer the Waxwing for its prettier fruit expression.
I sampled the 2008 Toboni Vineyard Pinot Noir out of barrel (75 cases) and although it is darker and richer with more tannin and alcohol, it also has lively acidity and is equally fine. Scott's stated goal is to create wines with good acidity and sensible alcohol that are elegant in style. Scott will be hosting a Waxwing Wine Cellars launch party on Sunday, April 19, 2009, from 1:00 to 4:00 PM at Domenico Wines, 1697 Industrial Road, San Carlos, CA 94070. The 2007 Pinot Noir and barrel samples of the 2008 Pinot Noir and 2008 Syrah will be available for tasting along with gourmet tidbits (Scott is a good cook as well). The 2007 Waxwing Wine Cellars Toboni Vineyard Pinot Noir is available through a mailing list and can be ordered directly online (10% off orders of 6 bottles or more and free shipping to the San Francisco mid-peninsula area).
Tre Viti Wines
Don and Charlene Stolo bought 53 acres at the mouth of the Santa Rosa Valley about one and one half miles inland from the town of Cambria in the Central Coast of California in 2002. The known history of the Stolo Family property dates back to the late 1800s, when, according to local historian, Dawn Dunlap, the Phillips Family were the owners. They established a profitable dairy and planted 30 acres of oat hay in the field adjacent Santa Rosa Creek, a year-round stream spawning Steelhead Trout and a habitat for deer, bobcats, coyotes, wild boars, mountain lions and skunks. Phillips sold the property in the early 1900s to Italian-Swiss immigrant Salvatore (Sam) Berri and his wife, Katherine. The Berris enlarged the dairy operation, sold dairy products to nearby Harmony and built the barn seen on the property today. Sam Berri began buying grapes from York and Pesenti Family Wineries in Templeton to make his own wine and pressed the leftover skins to make a fiery grappa. For over 30 years, Sam had a prosperous grappa business in Cambria. One of his customers was saloon owner Rosa Camozzi and Camozzi's bar still exists in downtown Cambria. Sam and Katherine died in the early 1960s and their children sold the property to John and Peggy Prian who restored the historic Phillips/Berri house on the property. They planted a 9-acre vineyard to Pinot Noir, Chardonnay and Syrah and sold the grapes to local winemakers.
In 2002, the property was acquired by the Stolos who decided to begin producing their own wine. As Italian- Americans, Don and Charlene grew up with wine as part of their family's meals and celebrations. Their grandparents on the East Coast bought grapes from California to make wine. In 2004, with the help of their three children and neighbors, Don and Charlene harvested their first vintage from Stolo Family Vineyard. They bottled 176 cases under the Tre Viti Wines label. Tre Viti is Italian for "three vines." The theme of three was a natural considering the Stolos have three children and three varieties are planted in the Stolo Family Vineyard. Each new vintage is dedicated to Don and Charlene's grandchildren whose name is displayed on the label.
The Tre Viti winemaker is Stephen Dooley. Dooley is a University California Davis graduate with over twenty years of experience as a winemaker at Louis Martini Winery, Edna Valley Vineyard and Stephen Ross. The Stolo Family Vineyard is managed by Bill Kesselring who has been consulting on vineyards for a decade in Napa Valley, Sonoma County and the Central Coast including wineries such as Turley, Talley and Justin.
The proximity of the Stolo Family Vineyard to the Pacific Ocean which lies less than three miles away, makes the vineyard site unique. The location is quite cool and protected from heat spikes creating growing conditions that lead to a long hang time and small berries with concentrated flavors.
Future plans include construction of a winery and wine tasting facility on the property with projected completion in 2009 and the planting of additional vines on the land adjacent Santa Rosa Creek.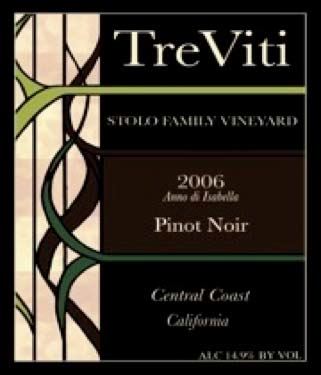 2006 Tre Viti Wines Stolo Family Vineyard Anna di Isabella Central Coast Pinot Noir
14.9% alc., 72 , $32. Yields 1.24 tons per acre, harvested at 27.4 Brix. Aged in 33% new French oak. Unfined and unfiltered. · Dark fruit aromas with whiffs of oak spice. A mid-weighted wine with ripe dark raspberry, edible flower and oak flavors. The tannins are nicely corralled and there is a refreshing citrus note to the finish which lingers with a riff of herbaceous oak.
Tre Viti Wines are sold on the winery's website at www.treviti.com. 866-212-7168. The winery also produces a Pinot Noir from Bien Nacido Vineyard (Santa Maria Valley).
Lucienne
Winemaker Paul Clifton came to wine from a firefighting career. He grew up in the Monterey Bay area and always felt the lure of the outdoors and agriculture. After college he considered a white collar job in the financial world but felt he was more suited to fight fires. After working as a firefighter for a few years, he decided to change careers and in 1996 began his pursuit of becoming a professional winemaker. He started at Bernardus Winery in Carmel Valley, where he was mentored by Don Blackburn, a well-known Pinot Noir vintner who now crafts wine at Emeritus in the Russian River Valley. Paul worked his way up from cellar rat to cellar master at Bernardus and in 1999 moved on to Byington Winery in the Santa Cruz Mountains as assistant winemaker. He developed a passion for cool climate viticulture and Pinot Noir in particular. To further his knowledge, he attended Lincoln University on the South Island of New Zealand and received a postgraduate degree in viticulture. Upon returning to the United States in 2003, he began working at Hahn Estates in the Santa Lucia Highlands with winemakers Adam Lazarre and Barry Gnekow. With time, Paul became the head winemaker at Hahn Estates and has brought the winery's Pinot Noir program to prominence. Like many winemakers, Paul is rather shy and unassuming and underplays his considerable accomplishments.
Lucienne Vineyards is an estate winery within the Hahn Estates umbrella of wines launched with the 2005 vintage. Owned by Nicholas Lucien Hahn, the winery is a separate facility - a winery within a winery. The goal at Lucienne is to produce premium Pinot Noir in small lots from two exceptional estate vineyards: Lone Oak Vineyard and Doctor's Vineyard. The winery takes its name from Nicky Hahn's middle name Lucien, but in the feminine form to honor the namesake of the Santa Lucia Mountain range where the vineyards are located.
The two vineyards are located on southeast facing slopes above the fog line creating a long daily exposure to the sun combined with cooling winds from Monterey Bay creating a long growing season (refer to map below).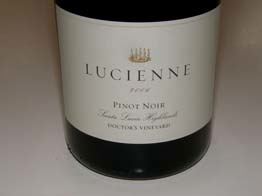 2006 Lucienne Vineyards Doctor's Vineyard Santa Lucia Highlands Pinot Noir
14.5% alc., 347 cases, $35. Vineyard planted in 2002. 100% de-stemmed, cold soak for 3 days, inoculated with BGY yeast, fermented in 3-ton open top fermenters, punched down three times a day, pressed with a basket press. Aged 12 months in 47% new and 53% neutral French oak barrels. · Deep rich nose of fresh plum tart with near port aromas. Brambly, earthy and rich dark stone fruit flavors with a riff of raisin and oak, framed by soft tannins and good acidity. The fruit approaches but does not cross over into over ripeness.

2006 Lucienne Vineyards Lone Oak Vineyard Santa Lucia Highlands Pinot Noir
14.5% alc., 217 cases, $45. Vineyard planted in 2001. 100% de-stemmed, lightly crushed, 3 day cold soak, fermented in 3-ton open top fermenters, inoculated with EC1118 yeast, punched down three times a day. Free run put to barrel, wine was pressed using a basket press, aged 12 months in 50% new and 50% neutral French oak barrels. · A thoroughly enjoyable wine with attractive spiced black cherries on the nose, dark cherries and raspberries on the palate framed by notes of coffee, leather and brown spice, augmented by supple tannins and ending with a lasting and silky finish.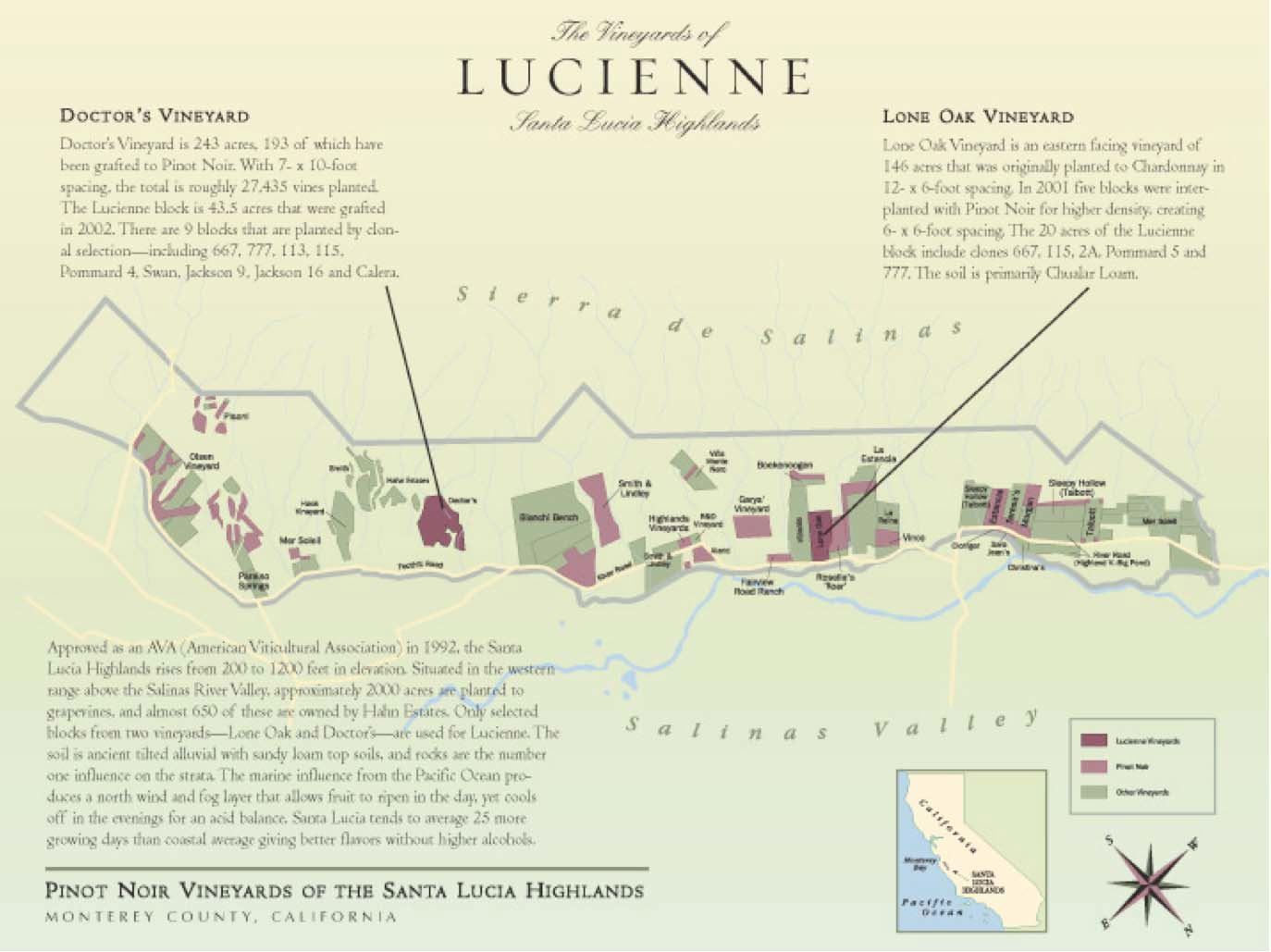 Lucienne Pinot Noirs are sold through the website at www.luciennevineyards.com. 831-678-2132. 37700 Foothill Road, PO Drawer C, Soledad, CA 93960. The Hahn Estates tasting room in Soledad is open daily.
Loos Family Winery
The Loos Family hails from Iowa where sweet dandelion and rhubarb wines were on the family table. In the 1960s, the family relocated to San Diego and then Greenbrae, California, where family trips to nearby Napa Valley and Sonoma ignited a passion for fine wine.
Loos Family crafts very small amounts of handcrafted wine vinified in single barrels yielding no more than 300 bottles of wine per barrel. Grapes are sourced from sustainable vineyards with an emphasis on crop thinning to produce even ripening and intensification of flavors. Winemaking employs small open top fermenters, cold soaks, native and cultured yeasts, manual punch downs, gentle bladder pressing, MLF in barrel, and minimal racking.
The Loos Family Logo is an artistic conglomeration of various symbols. The upper half consists of a cross with three points with each point representing an immediate family member and the overall cross shape reminds the Loos' of faith. The lower half takes the shape of a folded heart. This represents love of family, winemaking and life.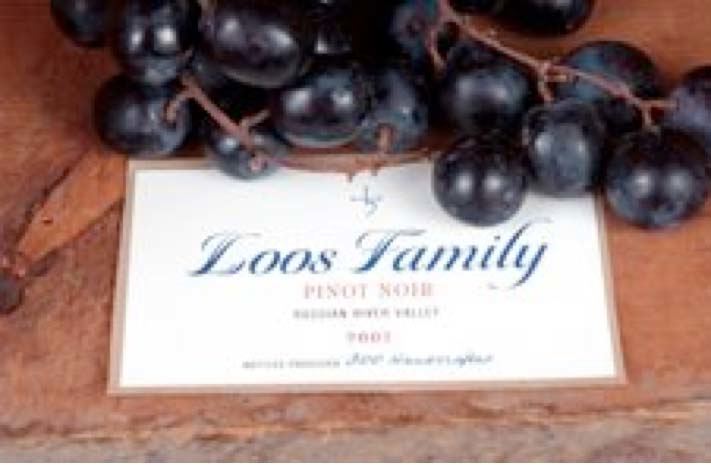 The first release from Loos Family is the 2007 Russian River Valley Pinot Noir from Bohemian Vineyard, a 7- acre parcel in Freestone that was planted from 1998 to 2000. Pinot Noir is the winery's flagship wine. Since the Loos Family are proponents of terroir, all the wines are vineyard designates yet curiously the front labels do not display the vineyard name. In 2008, there will be a Pinot Noirs again from Bohemian Vineyard and a second release from Annahala Vineyard in the Anderson Valley. The winemaker is Chris Nelson.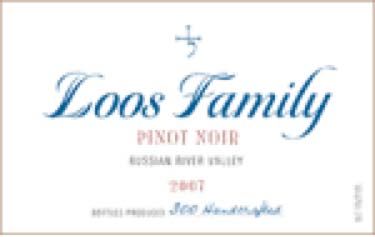 2007 Loos Family Russian River Valley Pinot Noir
14.0% alc., 300 btls, $40 (sold out). Dijon clones 115, 667 and 777 in equal amounts. Yields 2.5 tons per acre. Extended 9-day cold soak, gentle hand punch downs three times a day, 10 day fermentation with wild and proprietary yeast, aged 9+ months in 50% new and 50% neutral Francois Freres French oak with medium toast plus. Unfined and unfiltered. · Light garnet color. Complex aromatics showing black cherry, cinnamon apple, cola and a hint of oak. Lovely cherry fruit on an elegant platform with fine-grain tannins and a tangy finish displaying orange peel and a delicate floral bent that is very appealing. Very impressive effort for first time out.
Loos Family wines are sold through a mailing list and on the website at www.loosfamilywinery.com. 408-799-5938 (San Jose).
Berridge Wines
Richard Berridge, a landscape architect by trade, was one of the original founders of Duckhorn Wine in 1978 and has been involved in the wine industry ever since. In 2000, Berridge started his own Pinot Noir label out of Central Otago, New Zealand, called Drystone. Serendipity brought him together with winemakers Ginny Lambrix and Greg La Follette and several memorable barrels of 2007 California Pinot Noir. The two 2007 Pinot Noirs are from the Manchester Ridge Vineyard in Mendocino County and Van Der Kamp Vineyard on Sonoma Mountain. These first releases were debuted at the 2009 World of Pinot Noir at Shell Beach, California which is where I sampled the wines. The wines had created some buzz at the World of Pinot Noir and I stopped by the booth to meet Richard and Ginny. I do not have detailed tasting notes but I can confirm that the wines were very well crafted, drinking quite harmoniously despite 15% alcohols (Ginny confided they were 15% but label reads 14.5%). It is ironic that I was circulating among the crowd with videographer Mark Ryan for Grape Radio as we asked a number of winemakers short questions including, "Can a PInot Noir be in balance with 15% alcohol?" These wines were proof of the possibility. We also asked winemakers to finish the statement, "Pinot Noir is like sex because......." You will have to watch and listen to Grape Radio (www.graperadio.com) to hear the many clever and hilarious answers.
The Pinot Noirs are hand crafted using small 4-ton, open top former milk tanks with hand punch downs. Aging was carried out in 50% new barriques from Francois Freres, 3 year air dried, high toast and 50% once used Ramon barriques, medium toast long.
2007 Berridge Wines Manchester Ridge Mendocino County Pinot Noir 14.6% alc., 46 cases, $100, unreleased. I have had a number of fine Pinot Noirs from this vineyard which is planted along the first ridge from the Pacific Coast, a mere three miles from the Pacific Ocean. The site's cool, maritime climate slows growth and ripening and this vineyard is consistently one of the last to be harvested. Clones 114, 115 and 777 compose this blend.
2007 Berridge Wines Van Der Kamp Vineyard Sonoma Mountain Pinot Noir 14.7% alc., 44 cases, $100, unreleased. This vineyard is along the north facing slope of Sonoma Mountain planted in volcanic soils. 50% of the blend is old vine heritage selection planted 35 years ago, 25% Swan selection and 25% Pinot Meunier.
The two Pinot Noirs are scheduled for a fall 2009 release. Join the mailing list at www.berridgewines.com to receive an offering of the wines. 707-963-9701.