More Pinot Events

The 5th Annual Pinot Days at Fort Mason, San Francisco will feature 200 acclaimed Pinot Noir producers pouring their 2007 vintage wines at the Grand Festival on Sunday, June 28th, with many other preceding events geared for pinotphiles. On Wednesday, June 24, the Newcomers in Pinot tasting will feature 16 new hounds to the Pinot race. I will be moderating this tasting seminar. The Producer Spotlight Tasting in the evening on June 24 will be an intimate affair with accomplished winemaker Ed Kurtzman (Freeman, August West). Ed is one of the most approachable winemakers I know and this is a rare opportunity to spend an evening with Ed and his superb wines. Thursday, June 25, features the Winemakers Table Hop Dinner at Pres A Vi Restaurant. On Friday, June 26, join 80 people as they taste Pinot Noir along Westside Road in the Russian River Valley, culminating in a concert and barbecue at C. Donatiello Winery. The bus tour will include special tastings at Arista, John Tyler, Gary Farrell and Thomas George Estates. On Saturday, June 27, there will be a series of four 2-hour seminars: Celebrated Vineyards: Hirsch, Keefer Ranch, Pisoni and Clos Pepe, Pinot's 2007 Vintage: Gems from the Southern AVAs (16 winemakers from Santa Maria Valley, Santa Rita Hills, Santa Lucia Highlands, and Santa Barbara County), Pinot's 2007 Vintage: Gems from the Northern AVAs (16 winemakers from Russian River Valley, Carneros, Anderson Valley, Santa Cruz Mountains and the Sonoma Coast), and The Legends of California Pinot Noir (Richard Sanford of Alma Rosa Winery & Vineyards), Merry Edwards (Merry Edwards Wines), Jean Arnold and Bob Sessions (Hanzell) and Jeffrey Patterson (Mount Eden). Join the Prince as I moderate all of these tastings. There is also a series of retail store tastings in the San Francisco Bay area leading up to Pinot Days. For all the details and to obtain tickets, visit www.pinotdays.com. The event's tag line says it all: "Serious wines, serious fun."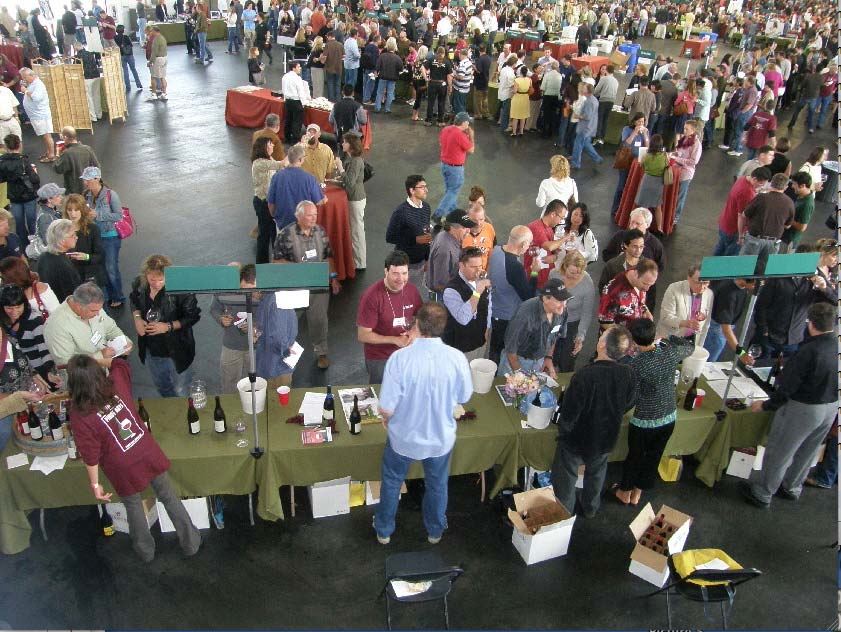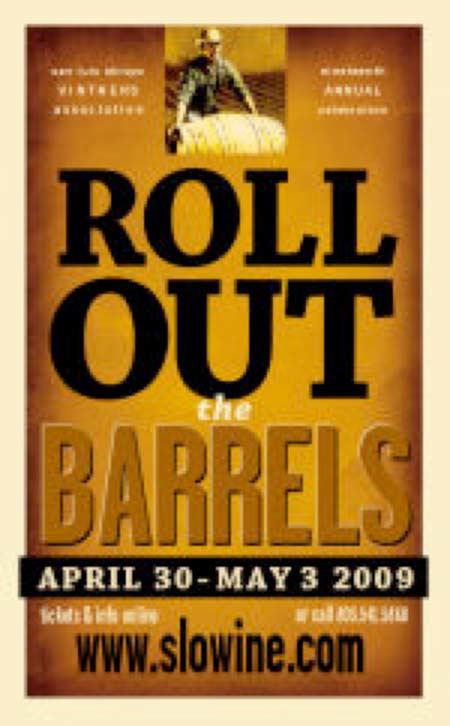 Four days of San Luis Obispo wine and food. On Thursday, April 30, the Barrels in the Plaza event is held in downtown San Luis Obispo's Mission Plaza. On Friday, May 1, there are Winemaker Dinners throughout south San Luis Obispo County hosted by wineries including Baileyana, Claiborne & Churchill, Domaine Alfred, Edna Valley Vineyard, Laetitia Winery, Ortman Family Vineyards & Salisbury Vineyards, Per Bacco Cellars and Tolosa Winery. Saturday and Sunday, May 2 and 3, participating wineries will have special open houses and events. Roll Out the Barrels is sponsored by the San Luis Obispo Vintners Association (SLO Vintners). Visit www.slowwine.com for details, to view a video on the event, and buy tickets.
Another regional event of great interest is a winemaker dinner by Mike Sinor (formerly Domaine Alfred, now Sinor-LaVallee and Ancient Peaks) at Et Voilà restaurant in San Luis Obispo on Friday, April 24, 2009. For reservations call the restaurant at 805-544-3663. Mike is pictured below talking PInot.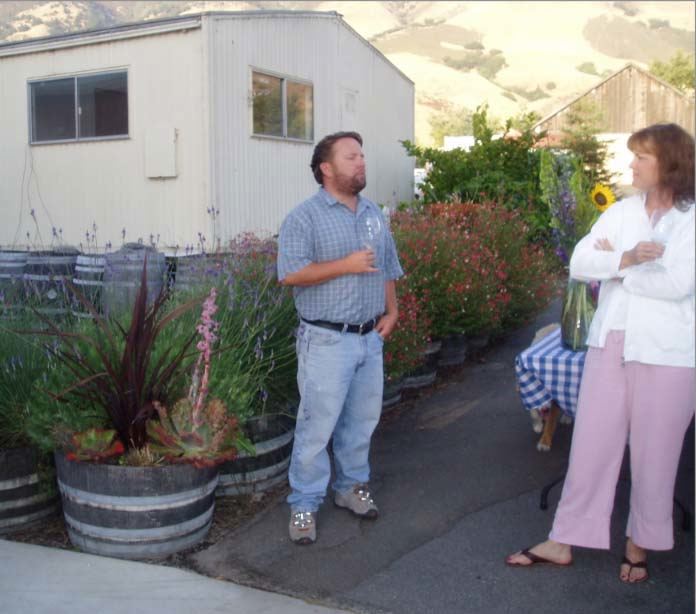 Taste the Place showcases a select gathering of estate wineries of the Yamhill-Carlton District AVA of Oregon's Willamette Valley on Saturday, April 25 from 11:00 to 4:00 at Anne Amie Vineyards, 6580 N.E. Mineral Springs Road in Carlton. $10 admission includes tasting and appetizers. Participating Yamhill Valley restaurants include Cuvée, Joel Palmer House, La Rambla and Nick's Italian Cafe. Participating wineries include Anne Amie, ADEA, Atticus, Barbara Thomas, Belle Pente, Carlton Hill, Carlton Cellars, Elk Cove, Ken Wright, Kramer, Lemelson, Monk's Gate, Panther Creek, Raptor Ridge, Resonance, Roots, Shea, Sineann, Soléna, Soter, Stag Hollow, Twelve and Willakenzie Estate. For details visit www.yamhillcarltondistrict.com or phone 503864-2991. This event is part of the Willamette Valley Wineries Association's 150 Days of Wine in the Willamette Valley, a series of wine events and activities taking place between Valentine's Day and Labor Day 290. For more information on these events, visit www.willamettewines.com/oregon150/index.shtm/.

The Dundee Hills Winegrowers Association presents the 4th Annual Dundee Hills Passport Tour on Saturday and Sunday, April 18 and 19. Interesting seminars are scheduled such as "All You Want to Know, But Were Afraid to Ask Regarding Vineyards and Grape Growing," "Benefits of Sustainable Agriculture," "Starting Your Own Winery - Dream or Delusion," and "How Mother Nature Dictates Vintages and How We Deal With It." Over 30 wineries are participating, many of which I have featured in the PinotFile including Argyle Winery, Daedalus Cellars, Dobbes Family Estate Winery, Domaine Drouhin Oregon, The Eyrie Vineyards, The Four Graces, Lange Estate Winery, Maresh Red Hills Vineyard, Stoller Vineyards, and Winderlea Vineyard & Winery. For information and to download your passport visit www.dundeehills.org.