Mr. Pinot's 30th Vintage
Calera Wine Company celebrated its 30th vintage with the release of its 2005 vintage wines. When Josh Jensen first planted his vines on a remote property in the Gavilan Mountains in 1975, he was among a few who were pioneering Pinot Noir wine growing in California. Dick Graff had preceded Jensen by ten years at Chalone, located just north of Calera in the same Gavilan Mountain Range in San Benito County. Others included Richard Sanford in Santa Barbara County, David Bruce and Merry Edwards, both in the Santa Cruz Mountains, Joseph Swan, Bob Pellegrini and Joe Rochioli, all in the Russian River Valley, Tony Husch in the Anderson Valley, and Francis Mahoney in Carneros. As it would turn out, despite the diversity of microclimates, all of them would prove successful. There was only one innovator other than Graff, however, who based his whole success on limestone which was rarely found in California soil in areas appropriate for viticulture. That was Josh Jensen.
Jensen was a student of and fervent lover of Burgundy, and was convinced that it was the limestone in the soil in Burgundy that made the wines so special. Jensen has said, "Here in this country, the establishment doesn't think limestone is important. I didn't waste my time debating it. I just saw where the great Burgundies grow and decided to let my wines do the talking."
When Jensen released his first Pinot Noir in 1978, his was oblivious to the saga that would follow. He was completely focused on producing fine Pinot Noir in California and admittedly it was a big gamble. Jensen would say in later years, "In my case, I just gambled. Pinot Noir was immensely unfashionable when I started. I was young enough that I didn't realize I couldn't do it, so I just did it. I was too dumb to realize I couldn't."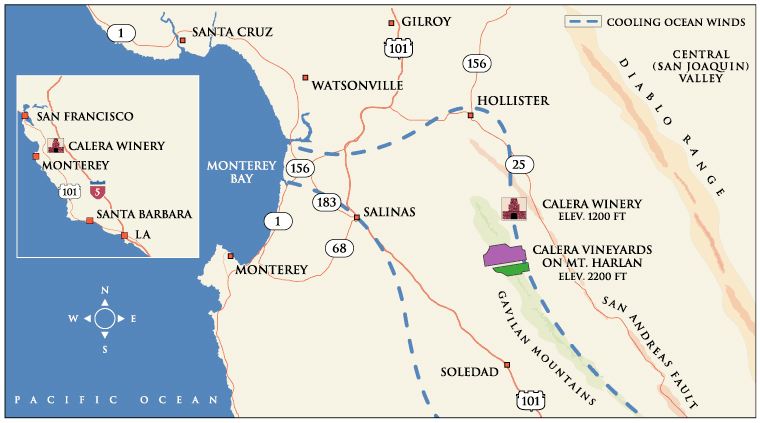 When Jensen returned from four years in Burgundy in 1973, he searched California for a site that combined limestone soils and a suitable climate for growing Pinot Noir. In 1974, he purchased 324 acres at 2,300 feet above sea level in the Gavilan Mountains for $18,500. The site had at one time been a limestone quarry. It was extremely isolated with no paved roads and Jensen did not own land that provided access to the property until 1982 when he bought adjacent land that became available. Most of the property consisted of steep hillsides and there was no electrical power or telephone lines. It was located on what the United States Geographical Survey termed "the central creeping zone" of the San Andreas Fault. This was about as unlikely a spot for growing Pinot Noir as one could find. What it did have, however, were soils with plentiful limestone and a perfect climate for Pinot Noir. The fog often rolls in from the neighboring valleys creating the potential for very long growing seasons and Calera often harvests well into October, after both Carneros and Sonoma County.
Jensen chose the name Calera, which is Spanish for lime kiln, referencing the old lime kiln left on the land when he acquired it. In 1975, while living on the property with his family in a trailer, he cleared enough land to plant the initial three Pinot Noir vineyards, all at 2,200 feet: Jensen Vineyard was named after his father, Stephen, Selleck Vineyard was named in honor of Dr. George Selleck who first introduced Jensen to wine, and Reed Vineyard was named after Jensen's business partner. Mills Vineyard, which was named after John Everett Mills who built the infrastructure on the property on Cienaga Road for the original mining operation, and the Chardonnay and Viognier plantings followed in 1984. The most recent planting in 1998 and 2001 is the Ryan Vineyard, named for Jim Ryan, the vineyard manager at Calera since its founding. There are also some unnamed plantings of Pinot Noir that have not yet produced commercially viable grapes. Jensen feels that there are locations on his property that may have even more potential for Pinot Noir than his original plantings.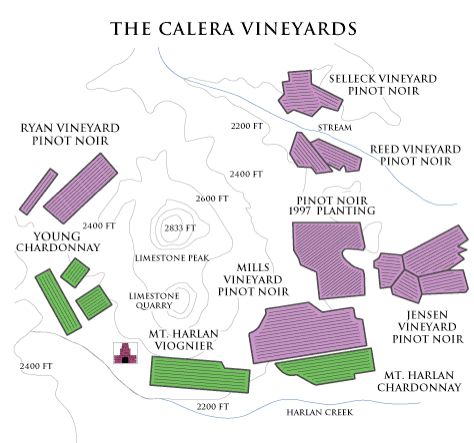 Jensen won't say where the original clones of Pinot Noir came from that are planted at Calera. Selleck, Reed and two-thirds of Jensen are probably "suitcase clones" either originating directly from Domaine Romanee-Conti or indirectly from Chalone. The rest of the plantings are presumably nursery bench grafts sourced within California. The Mills Vineyard and the Chardonnay and second planting of Viognier are own rooted, the rest of the plantings are grafted onto nursery rootstock.
By 2006, Jensen had 83.6 acres planted on his property consisting of nearly 1,100 acres. The winery, the world's first and only completely gravity-flow facility, was built into a hillside on seven different levels. Calera is the only winery in the Mt. Harlan appellation (Jensen can also use the Central Coast AVA and the San Benito AVA designations as well). Curiously enough, the vineyards are located in the Mt. Harlan AVA, but the winery technically is not, so the Calera label cannot use the "estate bottled" designation.
The first 30 vintages has brought Jensen many struggles. Yields have been consistently low, even less than a ton per acre in some vintages. He had to make Zinfandel from bought grapes until 1985 to provide some cash flow. Jensen constantly battled rattlesnakes, rabbits, gophers, deer, wild pigs and squirrels. He fought for recognition, and although by 1999 his wines had received considerable accolades from the wine press, the public seemed to turn their attention to newer and more fashionable cult Pinot Noir producers. Jensen was a firm advocate of the Burgundian idiom of Pinot Noir and lashed out at what he called "smasher-blasters," California Pinot Noir fruit bombs that he said were "mostly one-dimensional, simple but potent drinks that merely lose their fruit, their main if not their only appeal, with the passing years and just turn into.....expensive mud."
For years, the Calera Pinot Noirs were shy and closed upon release, reaching their best drinking window between five and twenty years after the vintage. This may have been one of the reasons that the unsophisticated wine-drinking public was disenchanted with the wines. I have noted that recent vintages have been a little more approachable after release.
The first winemaker at Calera was Steve Doerner, a microbiologist who had never made wine. He worked closely with Jensen until 1992, when he left for Cristom Estate in the Willamette Valley of Oregon. Subsequently, many future winemaker stars passed through Calera learning their trade from Mr. Pinot (Josh's moniker). Calera's winemaking regimen is as follows. The grapes since 1984 have not been de-stemmed except for some purchased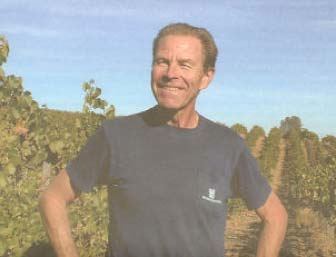 grapes and grapes from young vines. No cold soak is employed. Typically, tartaric acid is added, native yeasts drive fermentation, punch downs are by hand two to three times a day, and the wines undergo 100% malolactic fermentation in Francois Freres barrels, typically 30% of which are new. Racking is done twice into the fining tank (egg whites are used) and bottling tank. The single-vineyard Pinot Noirs are aged for 16 months before bottling. The Central Coast wine is aged in 12-15% new barrels for 10 to 11 months.
Jensen's vision for the perfect Pinot Noir is one "that is perfectly balanced on the cusp of richness and complexity, of fruitiness and subtlety, and is neither one nor the other." He describes the typicality of each of his single-vineyard Calera Pinot Noirs as follows.
Jensen Vineyard: 13.8 acres. Deliciously accessible aromas and flavors of blackberry, raspberry and strawberry jam. This vineyard produces wines of impeccable balance, rich, round and long-lived, sometimes developing with age to a thrilling combination of raspberry sauce richness, swished with the rasping perfume of leather. A complex wine and for me consistency of complexity is really the ultimate compliment to a Pinot Noir.

Reed Vineyard: 4.4 acres. Aromas of exotic wild raspberries, cherries and chocolate combine with savory fumes and herbal notes of sassafras. Chocolaty, raisiny character most years. It has a creaminess and softness and a less dense style than Calera's other single-vineyard Pinot Noirs. It is a precocious wine and the first of the single-vineyard wines to be released.

Selleck Vineyard: 4.8 acres. My personal favorite almost every vintage. Usually the most complex and dense of the single-vineyard Pinot Noirs made by Calera. Magnificently perfumed, full of the classic Burgundian entangled mysteries of cherry and plum, wild raspberry and blackberry, toast and cinnamon spice. The flavors are deep with black fruits, spice and mint all present in these rich, full-bodied wines. It is also the fastest to evolve. It seems to have one more layer, one more bit of depth and complexity than the others, and since that's what I appreciate the most, it appeals to me the most. This wine seems to have the greatest aging potential.

Mills Vineyard: 15.4 acres. Fragrant, spicy, cedar-like aroma, with underlying cherry and red berry fruit. Flavors include plums, olives and bittersweet chocolate. Long finish and broad round tannins. Terrific structure but it often seems leaner than the other three. Compared to any other Pinot Noir from any other producer, it is rich, full-flavored, dark and complex. Compared to our own vineyards, it seems less rounded and supple and fat.

Ryan Vineyard: 13.1 acres. Very bright and lovely, exhibiting bright red fruit, a hint of wild herbs, soft body and definitive Mt. Harlan minerality.
Recently I enjoyed sampling all the single-vineyard Calera Pinot Noirs from the 2005 or 30th vintage (Note: I previously reviewed the 2005 Ryan Vineyard so this issue features the 2006 Ryan Vineyard which is the current release). When you consider the pedigree, the impeccable winemaking, the uniqueness, the startling complexity and the age ability of these magnificent Pinot Noirs, the prices ($40-60) seem absurdly modest. These wines speak of terroir reflected in the distinctiveness of each of the vineyard-designate Pinot Noirs. I believe the Calera Pinot Noirs are among the greatest wines and most certainly among the most magnificent examples of their genre ever produced in California. I am not alone, for last year, Wine & Spirits Magazine named Calera Wine Company "Winery of the Year." There are only a handful of California producers crafting wines like these.

Calera Wine Company is located at 11130 Cienaga Road, Hollister. Tasting is available daily from 11:00 to 4:30. Directions are on the website at www.calerawine.com. 831--637-9170. Jensen's newsletters are very entertaining but I haven't seen one since 2007. The wines, including a number of library releases, are available on the website. In addition, there is wide retail distribution.
Besides the single-vineyard Pinot Noirs, Calera produces a Mt. Harlan Cuvée Pinot Noir and a Central Coast Pinot Noir from bought grapes. Chardonnay and Viognier round out the lineup. All the single-vineyard Pinot Noirs are released in the half bottle format allowing the consumer to enjoy the wines at a younger age while preserving their full bottles for future enjoyment. Calera also offers a half bottle sampler containing the four oldest single-vineyard Pinot Noirs plus the winery's Chardonnay and Viognier so one can sample to plan buys of full-sized bottles. The wines above are still available thorough internet retailers (the 2005 Jensen and 2006 Ryan can be bought directly from Calera). Damn the recession, buy Calera!
The back label of the Calera wines contains an astonishing amount of information that Pinot Geeks will savor.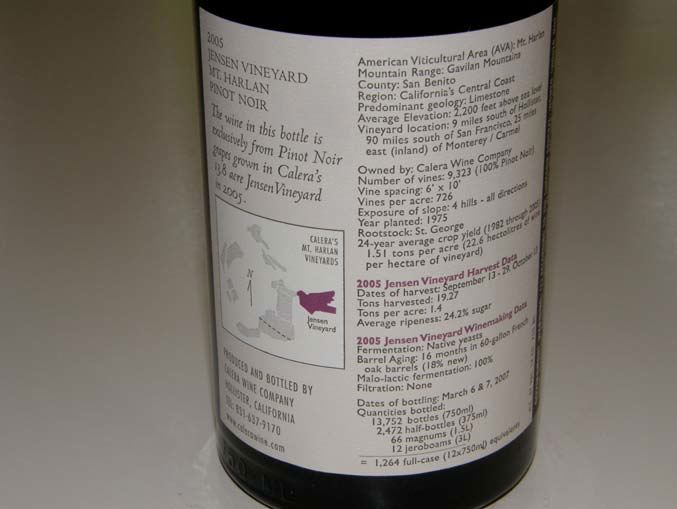 For the remarkable complete story of Josh Jensen and Calera Wine Company, I would highly recommend the book, The Heartbreak Grape, A Journey in Search of the Perfect Pinot Noir, written by Marq de Villiers (McArthur & Company, paperback, $10.99).