Clos Pepe Vineyards: A Window Into Time and Place
"Vigneron" Steve Pepe and vineyard manager and winemaker Wes Hagen are at the forefront of viticulture in the Santa Rita Hills. In less than ten years, the name Clos Pepe Vineyard on a bottle has become synonymous with quality. Think California Grand Cru quality. The Sta. Rita Hills appellation, nestled in an east-west valley, sits only a few miles inland from the Pacific Ocean. Morning fog, bright daytime sunshine and afternoon ocean breezes contribute to a terroir where Pinot Noir and Chardonnay can thrive. The resultant lengthy growing season slowly guides grapes to ripeness while allowing the fruit to retain the acidity that is so critical for a wine to perform at the dinner table and in the cellar. The sandy loam soils, rich in calcareous shale, contribute minerality and complexity to the finished wines. Pepe and Hagen have taken the right site and infused their knowledge, passion and commitment to create a vineyard that can produce wines of uncommon distinctiveness.
In Hagen's own words, he says, "We strive to produce wines that represent a time and a place. In a landscape where critics heap praise on 'heavy metal' wines more akin to fortified wine than a beverage for table, we believe that wine should integrate into a meal--we hope our customers discuss the flavors of wine and food and how they combine to make an experience. Great craft impresses not with an insistence that it be the sole focus of a room, but instead by its ability to integrate. I like to make wines that tell a story: a story of wind, fog, sunshine and the hard work of our crew. This vineyard has as much potential for Chardonnay and Pinot Noir as we are willing to imagine and draw from it with passion and labor. In this sense I want the wines to be 'jazz' over 'heavy metal'--a reflection of craft embedded in an ever-changing environment instead of a homogenized attempt to kowtow to the gods of concentration." You sense that Hagen is quite dedicated, cerebral and insightful and when you are trying to make premium Pinot Noir, these traits come in very handy.
The name, Clos Pepe ("Clo Peppy"), comes from the French word "clos" and the vineyard proprietor's name, Steve Pepe. In France, a clos may signify a walled vineyard or denote a winery in the same manner as the word "domaine" or "chateaux." So Clos Pepe = Pepe's Winery.
Steve Pepe oversees the entire operation, freeing Wes Hagen to carefully hand-farm the vineyard which is planted to 24 acres of Pinot Noir (four clones) and 4 acres of Chardonnay (two clones). Hagen's spouse, Chanda, assists him with the winemaking duties. A full-time vineyard crew of three insures that the vineyard is meticulously maintained. Farming is sustainable, organic and biodynamic. Yields are extremely low, averaging 1 to 2 tons per acre.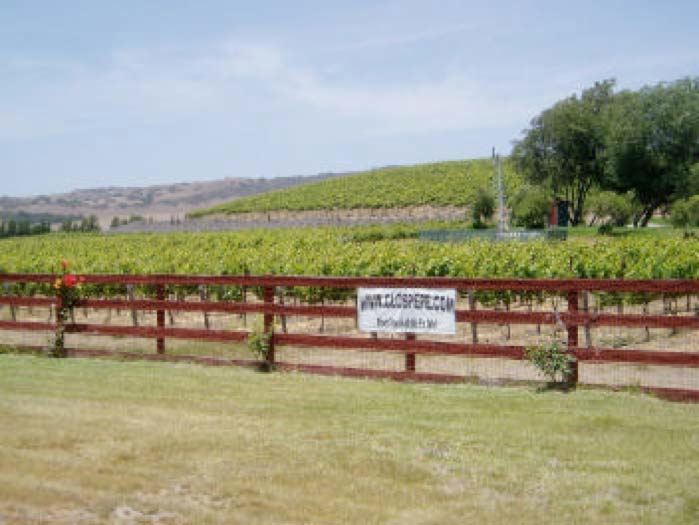 25% of the fruit from Clos Pepe Vineyard is retained for the Clos Pepe Estate wines which include a Pinot Noir, a Chablis-styled Chardonnay, a Rosé and a sparkling wine. The remainder of the fruit is distributed to some of California's highest-profile wine producers including A.P. Vin, Brewer-Clifton, Copain, Ken Brown, Loring Wine Company, Ojai, Roessler and Siduri. A total of 800 cases of Clos Pepe Estate Pinot Noir and 100 cases of Clos Pepe Estate Chardonnay are produced. The first commercial Clos Pepe Estate wine was released in 2000.
Winemaking is non-interventional and traditional for California. The grapes are fermented in small open-top fermenters, cold soaked for 2 to 3 days, allowed to begin fermentation with natural yeasts followed by inoculation with RC-212 yeast, aged in 25-50% new French oak barrels depending on the vintage, and bottled with minimal fining and little or no filtration. Hagen has really refined his style in recent vintages and the magnificent 2007 Pinot Noirs are easily drinkable now while possessing the structural power to age for 6 to 10 years.
Visit the excellent Clos Pepe Vineyards website at www.clospepe.com to view videos of the vineyard and extensive information about farming of the vineyard, winemaking philosophy, tasting notes and relevant insights about the artwork on the labels. Joining the mailing list is the best way to insure an allocation of the wines. An online store is available. Hagen contributes an informative blog about Clos Pepe on the website as well. Tours and tasting are available by appointment (consult the website). Customer service is professional and attentive. 805-735-2196