Paul Lato Wines: So Much with So Little
On my way back from the World of Pinot Noir in March, 2009, I stopped by Central Coast Wine Services in Santa Maria to visit Paul Lato and taste his 2008 Pinot Noirs out of barrel. Paul is a Polish-born professionally trained and educated sommelier. In 2002, he decided to follow his dream to make his own wine and arrived in California's Central Coast. That first year he made six barrels of wine and developed his skills while being mentored by Jim Clendenen at Au Bon Climat and Bob Lindquist at Qupe. He has closely studied the winemaking of the late Henri Jayer of Burgundy, while his stateside admiration is reserved for the older style of Williams Selyem wines. He has tasted wines from those producers and carefully studied their approach reaching the conclusion that "true artisanal winemaking is based on intuition, sensitivity and passion."
It is astonishing to visit and see Paul's working space - a 20' by 30' cage containing maybe 20 barrels of wine, a table that serves as a chemical lab, a small desk and a few boxes of bottled wine on a single pallet. It seems to fit Paul well, however, because he purposely intends to remain small. He is passionate about quality, often declassifying up to half of his production that fails to meet his high expectations. He has grown slowly and methodically, limited by his own resources (he spurns investors) and by his insistence on doing every step of the winemaking process himself. Chardonnay was added to the mix of Pinot Noir (80% of production) and Syrah in 2007. Total output varies depending on the vintage but does not exceed 500 cases.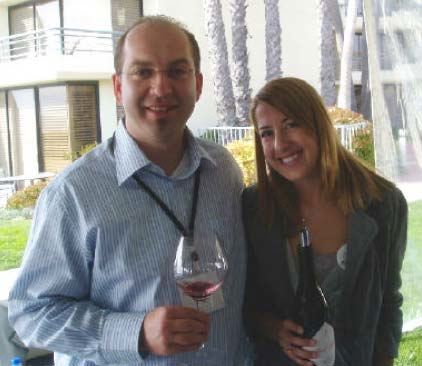 Paul only works with special vineyards that have a strong personality. Almost all contracts are per acre so he can work intimately with the vineyard managers to achieve his goals. Paul employs long cold soaks, quite warm fermentations, gravity racking only when necessary, and gentle fining with no filtration. He makes it clear that he has no recipe, varying his punch downs, new oak regimen and aging period (generally 14 to 18 months) depending on the vintage on the vineyard source of the wine. His goal is the perfect balance between elegance and intensity. His wines have always been admirable for their purity and refinement, finesse and balance but also for their distinctive reflection of each vineyard's terroir.
My previous comments about Paul are poignant. "Paul Lato bleeds Pinot Noir. He is a rare individual of great passion who is humble, yet aristocratic, both humorous and charming, and with a smile that shows a zest for wine and the good life."
My tasting notes of the 2008 Paul Lato Pinot Noirs from barrel and the 2007 Paul Lato Pinot Noirs from bottle follow.
Paul Lato Wines are sold through a mailing list at www.paullatowines.com. There is very limited retail and restaurant distribution. Check www.vinquire.com for internet availability from several sources. Paul is not the best businessperson and a number of followers have not received offerings despite joining the mailing list. If you want the wines, and you do, either call Paul (805-260-3210) or visit him in Santa Maria (by appointment). Paul's Chardonnay is outrageously good and I will report on this and other California Chardonnays in a future issue.