Sonoma Coast Vineyards: West County Pinot Noirs
John and Barbara Drady founded this label in 2002. John is a reserve-duty Gold Ridge Sonoma firefighter who assists with winemaking and directs the marketing of the Sonoma Coast Vineyards portfolio of wines. Barbara is well known in wine circles for her company, Affairs of the Vine, which conducts educational wine tastings for corporations and other groups, offers several weekend "Wine Boot Camps" where wine enthusiasts can obtain hands-on grape farming and winemaking experience, and directs the yearly "Pinot Noir Shootout and Summit." The pair have used their experienced palates to develop a label that focuses on Pinot Noir, Chardonnay and Sauvignon Blanc from the extreme or "true" Sonoma Coast. The extreme Sonoma Coast is referred to as "West County," and is roughly from Jenner in the South where the Russian River empties into the Pacific Ocean, to Annapolis in the North, and from the beaches to 5 to 6 miles inland including the first two ridges of the Coastal Range of mountains and the western slope of the third ridge. Ft. Ross, Occidental and western Sebastopol and Freestone are included, although all are south of Jenner. The Dradys are committed to producing ultra-premium wines that have age ability.
The vineyards selected for Sonoma Coast Vineyards wines are situated within a 4 mile radius of Freestone and are complemented by vineyards in the far southwestern reaches of the Sonoma Coast. According to Barbara Drady, the following distinctions typify the true or extreme Sonoma Coast: (1) Long growing seasons, (2) Cool temperatures which are marginal for ripening, (3) Production limited by temperatures, (4) Vines that produce grapes with mature fruit at lower sugar levels, (5) Crop loads that are very small, and (6) Thin, rocky and shallow soils that have not been farmed previously.
In 2008, Sonoma Coast Vineyards was sold to Leslie Rudd, who along with business partner Pat Roney, owns interests in a number of specialty food stores in Northern California including the Oakville Grocery and Dean & Deluca, a restaurant in Napa, and six wineries. He transformed Girard Winery into Rudd Winery, together with Roney bought Windsor Vineyards in 2007, acquired Grove Street Winery in Healdsburg in 2008, started a new label, Windsor Sonoma Winery, with a planned future production of 50,000 cases of Pinot Noir and Chardonnay, and has now entered the super-premium Pinot race. John and Barbara Drady remain intimately involved with Sonoma Coast Vineyards but the infusion of capital has allowed the label to expand production from 4,000 to 20,000 cases.
The winemaker is Anthony Austin (pictured below), who this year enters his 35th vintage. A University California Davis graduate in enology, Austin studied under the great Andre Tchelistcheff. He directed the first crush at Firestone Winery in 1976. Firestone was the first modern day commercial winery in Santa Barbara County. In 1981, Austin left to establish his own label, Austin Cellars, in Los Olivos. He made two legendary Pinot Noirs in 1982 from the Sierra Madre Vineyard and the Bien Nacido Vineyard.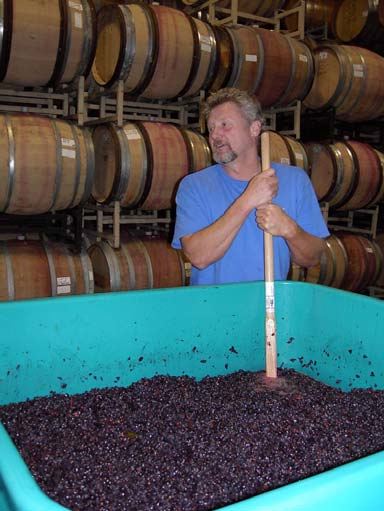 The Sonoma Coast Vineyards Pinot Noirs are Burgundian at heart in that they are made for food and are not a meal in themselves. None of them have aggressive tannins but do have the lively acidity that predicts age ability. The prices below are roughly what you can expect on the current secondary market.
The back labels are quite unique and informative: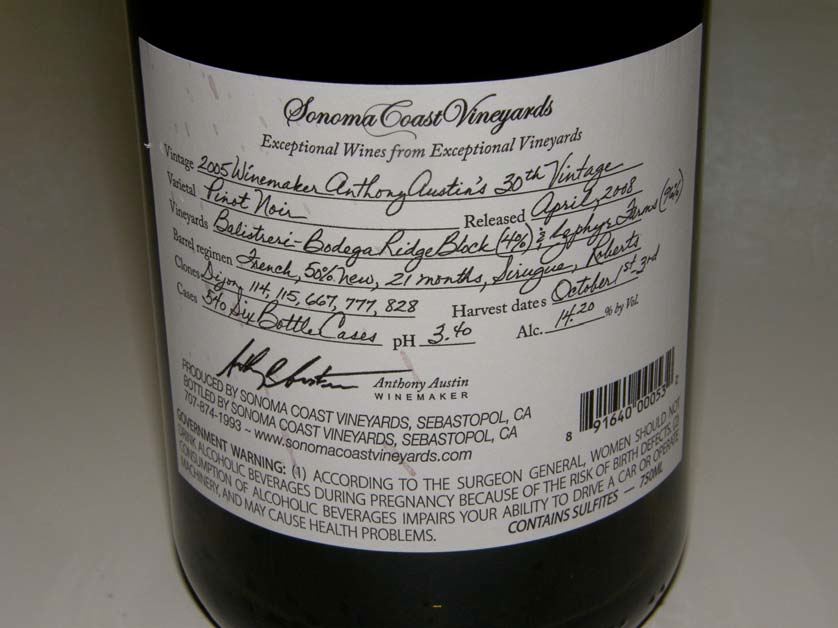 Sonoma Coast Vineyards Pinot Noirs are widely distributed through Wilson Daniels Ltd (St. Helena, CA, 707-963-9661) and are available from the website at www.sonomacoastvineyards.com. I have seen some of the wines significantly discounted from internet retailers. An excellent Chablis-styled Chardonnay is quite age able and a Sauvignon Blanc is among the best made in California. 707-836-5617. Contact me through my website and I can arrange a private tasting of Sonoma Coast Vineyard wines and a tour of their vineyards with John Drady.