Castalia Wines: A Little Known Gem
Terry Bering has been the Cellar Master at J. Rochioli Vineyards for nineteen years. Part of his pay is fruit from the estate, more specifically, prime fruit from a 19-year-old block of River Block and a hillside 18-year-old block planted to cuttings from the original West Block vines. Bering has been quietly crafting small amounts of a single Pinot Noir every year since 1992. The name, Castalia, refers to Apollo's favorite spring on Mount Parnassus in ancient Greece that bestowed drinks of the spring gifts of poetry and inspiration. Since 2006, Bering has put Rochioli Vineyard on the label, the only Pinot Noir in California other than those from J. Rochioli Vineyards so designated. Last year's 2006 vintage was stunning and the current 2007 release is equally spectacular. Considering the pedigree of the fruit, this little known gem is pretty much a no-brainer.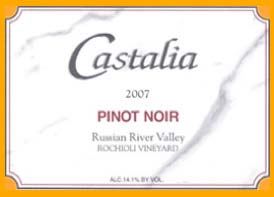 2007 Castalia Rochioli Vineyard Russian River Valley Pinot Noir
14.1% alc., 326 cases, $50. Aged 15 months in 30% new French oak barrels. · Effusive aromas of cherries, berries, mocha and minerals jump out of the glass. Delicious black cherry fruit which grabs your attention and lingers like a romantic kiss. Richly fruited and highly nuanced with hints of earth, tea, herbs and oak. The perfect harmony of optimally ripe fruit, vital acidity and refined tannins. The wine was opened in the morning and was even better later in the day. A dreamy wine of great charm.

2006 Castalia Rochioli Vineyard Russian River Valley Pinot Noir
14.1% alc., 328 cases, $50. · The nose is brimming with black cherry fruit accompanied by subtle dried herbs, smoke and char. Restrained but generous dark red fruits, especially black raspberry, coat the mouth and are complimented by stylish oak spice. The wine sports a refined mouth feel and the right touch of acidity. An engaging Pinot Noir of the highest quality and one that Apollo would have surely enjoyed.
Castalia Wines Pinot Noir is sold in 6 and 12 bottle lots on the website at www.castaliawines.com. There is limited retail and restaurant distribution.