Anam Cara Cellars: Celtic Pride in Every Bottle
Nick and Sheila Nicholas lovingly nurture a 30-acre vineyard located on the southeastern slopes of the Chehalem Mountains, just north of the town of Newberg. The property was originally an overgrown walnut, plum and hazelnut orchard with a neglected Christmas tree forest and included a quaint farmhouse dating to 1902 and several wooden outhouses. Lying between 450 and 650 feet in elevation, the well drained soils are primarily Jory series. Five blocks of Pinot Noir were planted in 2000-2001 to Pommard, 114, 115, 667 and 777 clones. There is also one acre each of Riesling and Gewürztraminer. Plans call for the planting of 6 more acres to Wädenswil clone Pinot Noir, Chardonnay and more Riesling. Farming is sustainable with both organic and biodynamic practices.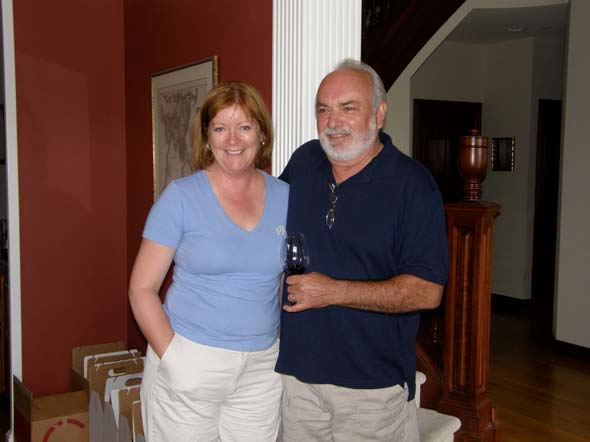 The words Anam Cara are Celtic for "friend of my soul" and symbolize the journey the Nicholas's have taken to make their wine and the relationship they have with their vineyard. The label depicts the vineyard. Production is 1,000 cases annually of primarily Pinot Noir with small amounts of Riesling and a Gewürztraminer dessert wine. The winemaker is Aron Hess (Daedalus and several other wineries) and the vineyard managers are Evan Bellinger and Buddy Beck.
I have sampled the 2006 lineup of Anam Cara Cellars Pinot Noirs on two occasions and my notes follow. The wines are reflective of the warm 2006 vintage in Oregon which resulted in darker colors, higher alcohols and tremendous concentration of Pinot fruit. These are hearty wines that are beginning to hit their stride now and have enough tannins (beautifully integrated and barely noticeable) and acidity to last a number of years. They will work both as wines for contemplation and wines for drinking at the table. I would recommend decanting if you plan to drink them now.
The Anam Cara Cellars wines are sold through a mailing list and on the website at www.anamcaracellars.com. Tours and tasting are available by appointment. If you visit, check out "Digger," who roams the property controlling the gopher population.