Evesham Wood: Commendable Pinotosity
Alison Ruch, Avalon Wines Staff Writer wrote an excellent feature about Evesham Wood wines and winemaker Russell Raney (www.avalonwine.com/Evesham-Wood-Wines.php). Raney's career in wine began as a winemaker in Germany and subsequently he worked in retail and as a wine buyer for a wholesale company in the United States. He was attracted to Pinot Noir but found few examples in the 1980s worth getting excited about. He decided to craft his own Pinot Noir and began a search for an appropriate setting in North America. He settled on Oregon's Eola Hills west of Salem and founded his label in 1986. He named his winery Evasham Wood after the Vale of Evesham in the Cotswold Hills of England because the site bore a resemblance to this part of the English countryside.
Farming of the 13-acre estate vineyard, named Le Puits Sec ("The Dry Well"), has been organic from the start and the vineyard was certified organic by Oregon Tilth in 2000 (the winery is also certified organic). The vineyard is dry-farmed and Raney is a firm believer in avoiding irrigation of vineyards after the vines are established if the climate is conducive. Ruch notes that Raney said, "But once the vines are into production our feeling is, in addition to wastefulness, the wines that are created from irrigated sites - they may be quite nice wines - are often less distinctive and tend to be very similar from year to year. This is because they're trying to give the vines, by way of irrigation, the same amounts of water each year." Raney is a member of the Deep Roots coalition, an advocacy group for wines produced exclusively from non-irrigated vines.
Raney has been heavily influenced by Burgundian winemaking techniques and two of his former distant mentors were the famous Henri Jayer of Vosne-Romanee and the less well-known, but equally accomplished, Michelle Niellon. Raney's admiration for the French is shown in the French names he uses for his wines. Production is kept small (less than 5,000 cases of primarily Pinot Noir and Chardonnay). Raney is committed to elegance and restraint, to balance and expression of terroir, what I refer to as "pinotosity." Evesham Wood wines are never fruit bombs, even in a warm vintage like 2006. These are connoisseur's wines.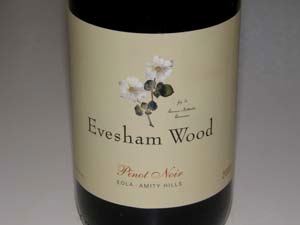 2007 Evesham Wood Eola-Amity Hills Pinot Noir
13.0% alc., 225 cases. $20.95. 65% Hill Vineyard and 35% Bryn Mawr Vineyard which is close by. Aged in 10% new French oak barrels and bottled unfined and unfiltered. · Reserved scents of cherries, peaches, herbs and hay. Light and elegant cherry and strawberry fruit with some structural power due to modest tannins. A thoroughly enjoyable value-priced Pinot Noir that gets the job done.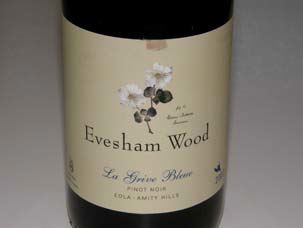 2007 Evesham Wood La Grive Bleue Eola-Amity Hills Pinot Noir
13.0% alc., 300 cases, $24.95. Made from the Evesham Wood estate vineyard which is a younger (12-year-old vines) part of the vineyard planted to clones 114 and 777. Ripest fruit on the estate in 2007. Aged 15 months in 15% new French oak barrels and bottled without fining or filtration. · The fruit comes in waves on the nose. Medium weighted red Pinot fruits on the palate with a little citrus note and subtle oak riff on the back end. Tasty and smoothly textured. A little more oomph and character than the regular Eola-Amity Hills bottling.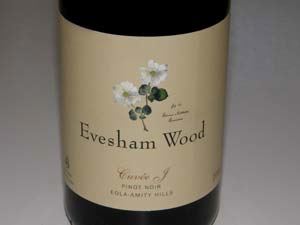 2006 Evesham Wood Cuvée J Eola-Amity Hills Pinot Noir
13.0% alc., 171 cases, $44.95. This is Raney's top Pinot Noir created for cellaring. Sourced exclusively from the estate vineyard, Le Puits Sec, with the fruit from the older Pommard section of the vineyard. Aged in 50% new French oak barrels and bottled without fining or filtration. · Riper and darker fruit highlighted with flavors of root beer, cola, marzipan and tea. This wine has a glass-filling presence yet retains an admirable elegance. The mouth feel is refined and the finish is remarkably persistent. The balance is spot on portending a long life ahead. Impressive effort.
Evesham Wood Vineyards and Winery is located at 3795 Wallace Rd NW in Salem. The above wines are available from Avalon Wine in Oregon (www.avalonwine.com). Visitors are welcome for tours and tasting by appointment. 503-371-8478. Open houses are held on Memorial Day weekend and the weekend before Thanksgiving each year.