Scott Paul Wines: Fine Oregon Pinot Noir and Burgundy too!
Proprietor and winemaker Scott Paul Wright had a thirty-year career in the music business. A well-known radio disc jockey ("Shadow Stevens"), he later worked in marketing and promotion for the radio and record industries. His successful career allowed him to enjoy the pleasures of famous wines. Eventually disenchanted with the music business, he left to become a winemaker. He would become the Managing Director of Domaine Drouhin and later started his own winery in Carlton, Scott Paul Wines.
Scott Paul Wines is a boutique winery dedicated to producing ultra-premium Oregon Pinot Noir. Scott's co-winemaker, Kelley Fox, has years of experience at Eyrie Vineyards, Hamacher Wines and Torii Mor. Scott's spouse, Martha, is the Brand Manager for Scott Paul Wines.

Scott is a Burgundy aficionado and imports Burgundies under the name, Scott Paul Selections. In addition, Scott will be producing a Scott Paul wine in Burgundy. The first wine is a 2008 Chambolle-Musigny Les Bussieres and will be released in 2010. Scott is a confirmed Chambolle freak. Who isn't?
Scott's wines are crafted in the Burgundian tradition with low yields in the vineyard and hands-off vinification in the winery which has no pumps. The winemaking employs no inoculations, no enzymes, no additives, no fining and no filtering. (What exactly does Kelley and Scott do all day?). Small amounts of new French oak are used (20% at most). Each vintage there are three cuvées sourced from several of Oregon's finest vineyards including Maresh, Momtazi, Shea, Ribbon Ridge and Stoller. The three wines are Le Paulée, Cuvée Martha Pirrie and Audrey. The Audrey bottling recently has been sourced only from Maresh Vineyard.
Like many of the Oregon Pinot Noirs from the 2007 vintage, the Scott Paul Wines are gentle, reserved and subtle. Given enough attention, they will charm you.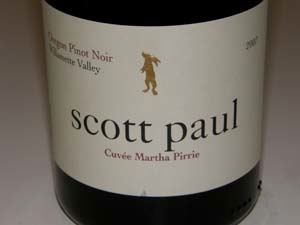 2007 Scott Paul Cuvée Martha Pirrie Willamette Valley Pinot Noir
13.1% alc., $25, screw cap. A selection from five sub-appellations of the Willamette Valley. Named after the Wrights' daughter. · A light and delicate wine with pleasing aromas and flavors of red berries, spice and herbs. Simple and easy to drink, I like it for its finesse.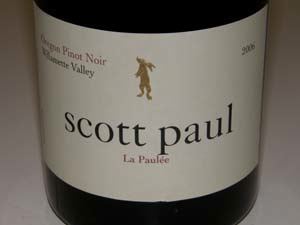 2007 Scott Paul La Paulée Willamette Valley Pinot Noir
13.9% alc., $30, screw cap. Made from the finest lots of the vintage from Ribbon Ridge, Momtazi, Shea and Stoller Vineyards. · Darkest in color of the three 2007 wines. Very lovely nose that is deep and satisfying, featuring ripe strawberries, red plums, cherries and savory Asian spice. Tasty and focused dark red fruits with a hint of earthiness and oak. The mouth feel is silky and the whole package is very harmonious.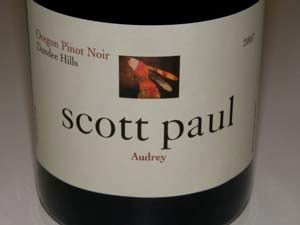 2007 Scott Paul Audrey Dundee Hills Willamette Valley Pinot Noir
13.1% alc., $65, screw cap. A barrel of the finest, most elegant and silkiest wine of the vintage. Sourced from blocks of Maresh Vineyard in the Dundee Hills planted in 1970. The name of this wine comes from Audrey Hepburn and is crafted to reflect her stylish grace and elegance. Also available in magnums. · This is not a "reserve" wine that is pumped up with fruit and oak. Restrained but very alluring perfume of crushed red berries, Provencal herbs, Chinese five-spice and gentle oak. Light, feminine and very satiny, yet delivers plenty of vibrant fruit flavor. The tannins are gossamer and the pleasing finish hints of fresh herbs and oak. The pedigree of the vineyard shows through and this is the most sophisticated wine of the Scott Paul trio.
The Scott Paul Wines tasting room is housed in a restored circa-1915 creamery and is the only one I know of in the United States that offers the visitor both New World and Old World Pinot Noir side by side. The Tasting Room is open daily from 11:00 to 4:00 Wednesdays through Sundays. Guided tastings are also available by appointment (contact Kelly Karr at 503-319-5827). The website is www.scottpaul.com. Listen to my interview with Scott Wright on Grape Radio: http://www.graperadio.com/archives/2008/03/31/shadow-stevens-and-thewines- of-scott-paul/. The Burgundy Express Wine Club offers two shipments each year of Scott Paul Selections Burgundies. Each shipment is intended as an educational and informative tasting flight with a specific topic covered in each group of four to six wines.