Station Imports: Central Otago Schist-Kissed Pinot Noir
Many people have an image in their mind of snow when they think of New Zealand's South Island and it would seem that the climate is not conducive to growing Pinot Noir. The truth is that Central Otago, which sits in the most southerly part of New Zealand's South Island, lies at the same latitude as Burgundy (45 degrees) but in the Southern Hemisphere. In an otherwise maritime country, Central Otago surprisingly has a continental climate because of its location surrounded by mountains which shield the region from ocean influences. Central Otago is the driest part of the country. The landscape has been created by volcanos and shaped and carved by glaciers creating deep beds of loess, schist (a metamorphic rock type that has a schistose fabric - coarse mineral grains which split into thin layers), quartz and greywacke (a hard, darkly colored sandstone) that provide the vineyards of Central Otago with good minerality and low organic matter that compare to the bare bone soils of Burgundy.
Station Imports is owned by Penny and Andy Loving (pictured below) who import wines to the United States from the Central Otago Wine Company and Rippon Vineyard as well as select producers in Marlborough. You have probably seen them in recent years pouring their wines at events like the World of Pinot Noir. The winemaker at Central Otago Wine Company, Dean Shaw, is often in toe as well and he is quite a character with a droll sense of humor and a serious passion for Pinot Noir. Shaw has a postgraduate degree in Viticulture and Wine Science from Lincoln University in Canterbury, New Zealand. He first came to Central Otago to work at Rippon Vineyard in 1994-1995. Later he settled in Cromwell as a partner in the Central Otago Wine Company that provides contract winemaking facilities for many local producers. It might be the impressive stereo system that he serenades his wines with or the minimal intervention or the use of wild yeasts, that gives his wines the many accolades from the wine press.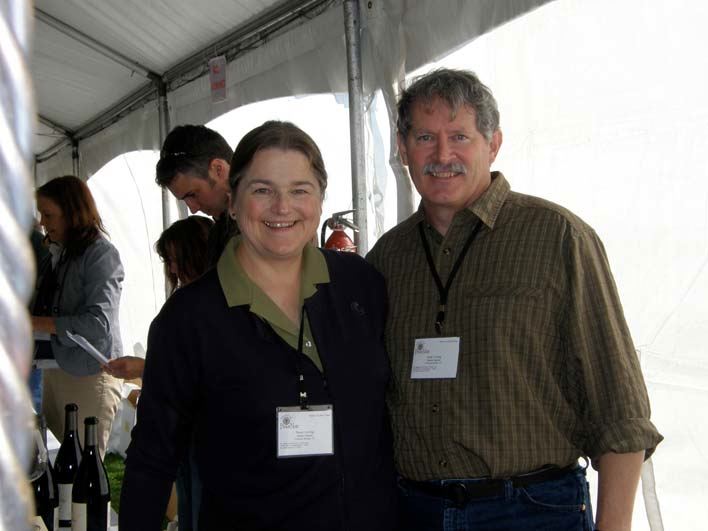 The Pinot Noirs from Station Imports are reasonably priced and offer a sensible opportunity to satisfy your curiosity about the Pinot Noir from down under. The 2007 vintage in Central Otago was quite successful as Joshua Greene proclaimed in the February, 2009 issue of Wine & Spirits magazine. "The 2007s will likely mark a turning point for the Central Otago region, with a critical mass of great Pinot Noir grown in schist."
All the wines above are available through Station Imports on the website at www.stationimports.com. Discounts are offered for multiple-bottle buys. If you are traveling to Central Otago, ask the Lovings to set up appointments for you to visit the Central Otago Wine Company and Rippon Vineyard.