More Sips of Pinot from Down Under
Penfolds, founded in 1844, and now part of the huge Foster's Group, produces over 2 million cases of wine annually. In the mid 1990s, they quietly began developing a line of "boutique" wines crafted by winemaker Peter Gago and his team. Penfolds has made its reputation on Cabernet Sauvignon and Shiraz, either singly or in blends, but the new Cellar Reserve label features varietals like Pinot Noir, Sangiovese, Grenache, Tempranillo and Sauvignon Blanc. The first commercial release was the 1997 Adelaide Hills Pinot Noir. The Cellar Reserve wines are made in tiny quantities by hand at Penfold's Magill Estate winery in Adelaide. Penfold's flagship wines, Grange and Bin 707, are also made in small quantities, so Penfold's may qualify as the world's largest boutique winery.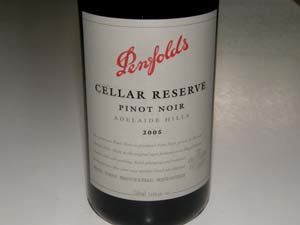 2005 Penfolds Cellar Reserve Adelaide Hills Pinot Noir
14.0% alc., $35. After a cold soak, the grapes are fermented in open-top fermenters driven by natural yeast with the use of hand punch downs. Unfined and unfiltered. · This wine is quite different from what we have come to expect from Pinot Noir crafted in North America. I found it difficult to describe the components of the aromatic profile but did identify raisins and a hint of porto. Dark fruits, sassafras, root vegetables on the palate. Looks and tastes slightly brown. There is some appealing textural softness and stylistic finesse. Tastes of Pinot Noir grown in California in the early 1980s on sites that were too warm. Only for the curious.