Recently Released Wine Books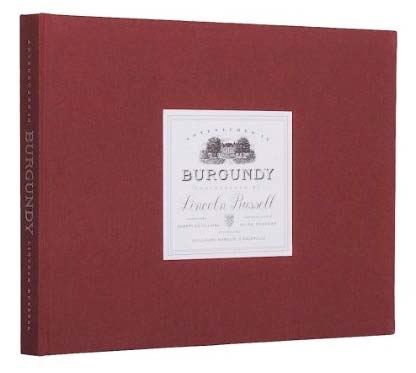 Adventures in Burgundy
This book is a result of a serendipitous meeting between the author, Lincoln Russell, and Burgundian winemaker, Etienne de Montille, while skiing the French Alps in January, 2005. Montille suggest to Russell that he do a book on harvest although Russell had never set foot in Burgundy. Russell was a Francophile at heart and he had twenty-five years of experience in photography, so off he went to Burgundy, spending large blocks of time there for three years. He was taken in warmly by the tight-knit community of Burgundians and allowed special access for many of his photographs.
Although the name would suggest a book filled with prose about wine travels, Adventures in Burgundy is a photographic impression of Burgundy, representing a selection of photos out of tens of thousands Russell took over a three year period. The beautiful pictures speak a language of their own conveying the spirit of the people and the land that together produce the world's most glorious wines. The magnificent portrait-quality photographs capture the face of famous vignerons such as Jacques Seysses, Charles Rousseau, Christophe Roumier, and Patrick Bize. Some of the photographs sent chills down my spine, causing me to dream of Burgundies I have enjoyed in the past: the head of a Francois Freres barrel imprinted with the words, "Romanee-Conti," unlabeled dusty bottles with tags reading 1845 Clos Vougeot, the 17th century cellar at Chateau de Chamirey, the wine cellar at Restaurant Tallevent in Paris, and harvest at La Tache.
I have traveled to Burgundy and returned with many personal photographs that bring back fond memories, but I will always cherish this book for it captures Burgundy like I could never do. You cannot have enough photographs of Burgundy if you are captivated by the history, the landscape, the tradition, the impassioned folks who craft fine Burgundy, and, of course, the wines. As Allen Meadows wrote in the Introduction for this book referencing a great Burgundy wine, "I have seen grown men cry, and, on more than one occasion, seen entire dinner parties struck silent by the unmatched genius of a magic bottle."
The large book is packaged in an appropriate Burgundy-colored cover with a tastefully simple label. Included are a Forward by Aubert de Villaine of Domaine Romanee-Conti, an Introduction by noted Burgundy expert Allen Meadows, and an Afterword by respected vigneron Guillaume Marquis D'Angerville. Published by Pinot Press/Stockbridge, hard bound, 168 pages, 2008, $50.
If you want to honor a good friend or spoil a spouse, give them this book along with a great bottle of Burgundy.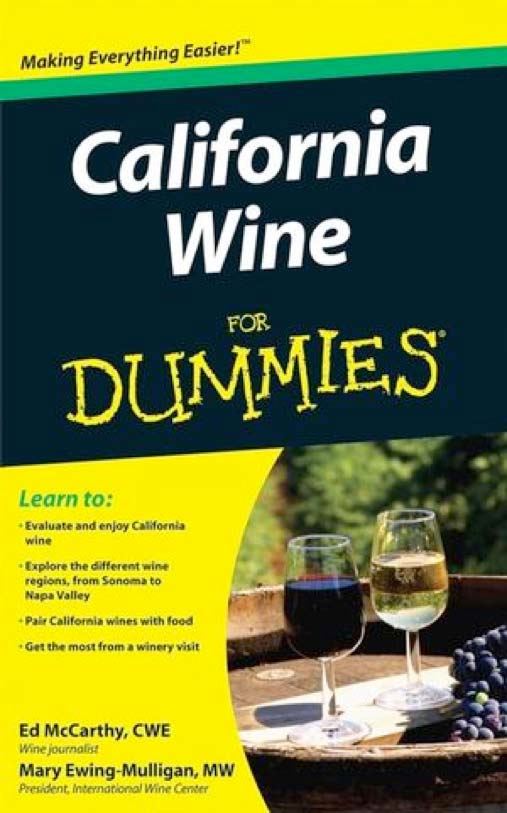 California Wine for Dummies
This is the seventh book Ed McCarthy, CWE, and Mary Ewing-Mulligan, MW, have written for the Dummies series of books written for beginners. The pair are married, having met at an Italian wine tasting many years ago in New York. McCarthy is a noted wine journalist and Ewing-Mulligan is a Master of Wine and together they have more than a half century of wine experience between them. Their original title for the Dummies series, Wine for Dummies, covers the very basics. Consider this book a sequel that focuses only on California wine.
The introductory chapters ("The Big Picture") cover the major varieties of grapes grown in California and a short history of the major wine-producing regions. There is a comprehensive listing of appellations but it would have been helpful to include appellation websites as they are excellent sources of region-specific information. Explanations of confusing wine terminology are included such as the words variety and varietal, and unregulated terms like estate grown, estate bottled and reserve. Curiously, the section on decoding a label has no illustration of a label for reference and doesn't explain that the alcohol percentage may be on the front or back label of a bottle.
The major varieties of California wine are featured in "The Headliners" chapters including Chardonnay, Sauvignon Blanc, Cabernet Sauvignon, Merlot, Pinot Noir and Zinfandel. Less common varieties such as sparkling wines, rosés and dessert wines are also included. Recommended wines are categorized according to three price categories, $12-$20, $20-$50, and $50-$100. The lists of wines are very comprehensive.
Sprinkled throughout the text are pearls such as, "When in doubt, reach for a Cab since they are more consistent in quality," Embrace etiquette of tasting and spitting," "There is plenty of wine at whatever price you choose," and "Your personal taste, not what other people tell you, must dictate your final choice of wine." The chapter on visiting tasting rooms and staying reasonably sober including the etiquette of spitting contains invaluable advice.
This book should be required reading for millenials, who are currently embracing wine drinking in this country. The young generation will take to the book because it is a quick read that is well organized. "Technical stuff" icons provide detailed information on certain topics but can be skipped or revisited. The reader can pick up at any point in the book and use it as a quick reference. Its handy size make it easy to pack for wine country trips. The book is also available in a smaller pocket edition for even more portability.
California Wine for Dummies is published by Wiley Publishing, Hoboken, N.J., paperback, 269 pages, 2009, $16.99.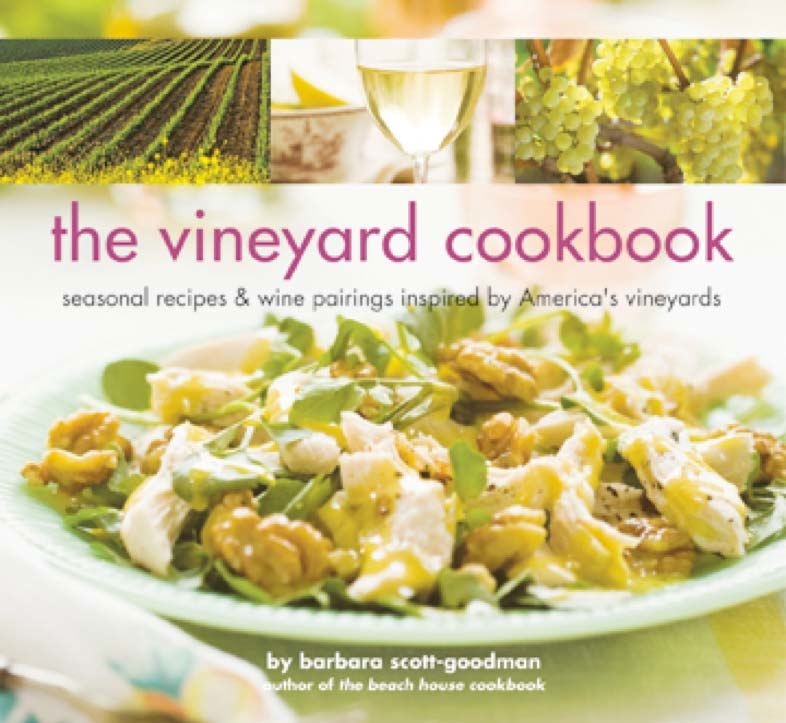 The Vineyard Cookbook
Barbara Scott-Goodman has compiled three menus for each of the four seasons (12 multi-course menus) comprising 60 recipes inspired by our country's wineries. Along with the recipes, there are brief profiles on wine varieties, wine recommendations offering different options arrange by price (four to nine options per course), and simple vignettes of 32 wineries from California, Oregon, Washington, Virginia and New York.
The most redeeming feature of this book is that the recipes are SIMPLE! I would not call this a gourmand's collection of recipes but that's not the idea. It is a utilitarian book that even a kitchen klutz like myself can use to turn out great dishes. Most of the recipes have only 7 to 8 ingredients and the instructions are clearly stated in three steps in many cases. These are dependable recipes without exotic ingredients that anyone can be prepared in a reasonably short period. Examples are grilled tuna with mango salsa, pork loin with orange marmalade glaze and slow-roasted cherry tomatoes. Complimenting the recipes are 100 food, vineyard and winery scenes beautifully photographed.
There is a helpful section included on hosting a wine and cheese party with descriptions of the major types of cheeses and appropriate wine pairings.
The book has an excellent index of recipes and the recommended wines are indexed by producer. The emphasis of the book on seasonality is commendable as Americans have come to realize the value of dining on foods that are fresh and local. This is a very useful cook book for SIMPLE to prepare satisfying meals and appropriate wine pairings.
Searching for the recommended wines should not be daunting. Simply consult your nearby fine wine retailer or search on the internet using wine-searcher.com, vinquire.com or winezap.com.
The Vineyard Cookbook is published by Welcome Books, New York, hard bound, 160 pages, 2009, $24.95.