Headlines & Trends in 2007
** Ernest Gallo died at his Modesto, California home at the age of 87. Ernest and brother Julio built the largest wine empire in the world, starting in 1933 with a $6,000 investment. By the 1990s, according to Fortune magazine, Gallo produced one out of every four bottles of wine sold in the United States and the winery's net worth was estimated to be at least $600 million. Ellen Hawkes, in her unauthorized biography of the Gallo brothers titled Blood & Wine, related that in the late 1960s, executives at Gallo were allowed to purchase Gallo wine at discount each year. Most of them opted to buy robust red wines like Gallo's Burgundy Pastosos. Influenced by the popularity of this style of wine, Julio and his winemakers came up with Hearty Burgundy. It was assembled with wines from Napa and Sonoma in addition to Central Valley grapes. Joe Rochioli sold his estate Pinot Noir early on to Gallo as there was little market for Pinot Noir at the time and his grapes went into Hearty Burgundy. Hearty Burgundy was embraced by wine snobs and critics. By 1989, Gallo was trying to change its reputation for cheap wines and produced a Hearty Burgundy Limited Release in standard bottles so as to remove the wine from the jug category.
** The demand for Pinot Noir in California continued to exceed the supply. Some United States brands began buying imported Pinot Noir and imports of bulk wine overall were up more than 200% in 2006. Brown-Forman Beverages expanded their portfolio of Pinot Noir (Five Rivers, Jekel) by importing Bolla Pinot Noir from Italy, and producing Gala Rouge and Fetzer Vineyards Valley Oaks Vin De Pays D'Oc Pinot Noir, both from grapes sourced from the Languedoc-Roussilon region of France.
** Wine consumption continued to rise quickly in the United States, so much so that the United States is expected to pass France, Italy and Spain as the world's largest consumer of wine in 2008. Americans spend considerably more on fine wine than their European counterparts.
** Direct-to-consumer sales are increasing rapidly. According to MKF Research and New Vine Logistics, direct sales of wine increased 31% in 2006 and is growing at three times the overall growth rate of the wine industry. Direct sales of wines priced over $30 were up by 68.5% in 2006.
** Along with increased consumption of wine in the United States has come an explosion of online wine retailers and wine bars in major cities.
** A Vinexpo study showed that wine has become more popular among the 20-25 year-old age group. These so-called millenials view wine as a healthy and high quality beverage and drinking wine is seen as a sign of maturity. A full embracement of wine by millenials is still being slowed by the cost and the snobbery associated with wine.
** Winemaking has sprouted up all over the United States including unseemly states like Tennessee, Montana, Connecticut, Kansas and Alaska. North Dakota, among many other states, now has a wine festival.
** Urban wineries have been around a long time, but they are now blossoming in converted industrial spaces that are zoned for light industry. The "urbanist" (a new term for the urban winemaker) is attracted by the low financial commitment required, often less than $100,000. Examples are Harrington and Eno wineries in Berkeley, Lost Canyon Winery in Oakland, multiple wineries in the "Lompoc Wine Ghetto" and "Pinot Prison" in Lompoc, a converted apple processing plant in Sebastopol housing Kosta-Browne and WesMar among several others, and Hip Chicks Do Wine in Portland, Oregon. Two urban wineries have popped up in Sacramento.
** Consumer winemaking has become very popular. Crushpad, founded by Michael Brill in San Francisco, assists wine enthusiasts in making as little as a barrel of wine. With a $5,000 to $10,000 investment, an individual or group can make a premium barrel of wine, with final costs ranging from a sensible $17 to $40 per bottle. Crushpad started in 2004 with 200 barrels and in 2007 produced over 1,000 barrels. Their success has spawned a Crushpad Japan which opened in 2007 in Tokyo. Other similar operations in California include Grapemasters, founded by John Tracy and vintner Stephen Yafa at Owl Ridge Wine Services in Sebastopol, and Bacchus Winemaking Club in San Carlos, California and New Jersey.
** Oregon continues to be at the forefront of shared winery facilities. Carlton Winemakers Studio houses 9 wineries and was the first multi-occupant winery model in Oregon. They have since been joined by August Cellars (8 wineries), Adea (5 wineries), Laurel Ridge (5 wineries) and the Carlton Crush Cooperative (4 wineries). These facilities offer the vintner financial advantages as well as allowing more control compared to custom crush facilities and offer more visibility to customers.
** The consumer has shown an increasing thirst for information about wineries and winemakers and wine tourism has benefited as a result. There are now programs where consumers can participate in grape farming and winemaking (for example, Wine Boot Camp run by Affairs of the Vine), blending seminars, unique and personal tours, and innovative wine and food events. Web sites now play a large role in fostering wine tourism.
** Cameron Family Glass Packaging announced plans to build the first new glass plant in the United States in 30 years dedicated to manufacturing glass exclusively for the wine industry. Located in Port of Kalama, Washington, the plant has the largest hydro-powered electric glass furnace in the world. The wine bottles will be made in part from recycled glass from Washington and Oregon. Bronco Wine Co celebrated its fifth anniversary of Charles Shaw Wines ("Two-Buck Chuck") by announcing plans to build a glass manufacturing plant along Hwy 29 in Napa. The eco-sensitive structure has been in the planning stages for six years.
** More and more winegrowers are toying with mechanical harvesters over concerns that tighter immigration laws will reduce the work force required to harvest grapes. At present, 50% of wine grapes in California are harvested by machine but less than 10% of these are grown in the premium wine production regions of Napa and Sonoma. Mechanical harvesting can save considerable money with costs running about $150 per acre compared to $600 per acre for harvesting by hand. The new generation of French harvesters ($180,000) are very gentle and can eliminate the need for a crusher-destemmer. However, they are best suited for thick-skinned Bordeaux grapes. Most Pinot Noir producers are reluctant to utilize mechanical harvesting because Pinot Noir is too thin skinned and delicate to survive the mechanized process. In addition, many Pinot Noir vintners prefer at least some whole clusters and fear that the quality of destemmed berries may deteriorate in transit compared to whole clusters.
** Basket presses are making a comeback. There are newer stainless steel variations of this oldfashioned piece of winemaking equipment. Basket pressing has the advantage of less extraction of harsh phenols from skins and seeds since it employs the gentle force of grape against grape rather than hydraulic compression. Less volume of press wine is obtained, but the color and quality of the press wine is better and more usable. Pinot Noir has been the most popular application of this new technology.
** Hand-held electronic noses which rapidly measure the volatile aromatic compounds in grapes in the field are available. Currently a research tool only, these devices simulate the human olfactory system and provide a sensitive indicator of grape ripeness on the vine. Up to now, picking decisions have been made using a number of keys including taste, seed color, pH, and berry weight.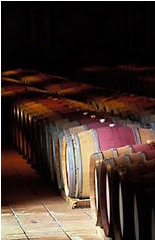 ** Alternatives to oak barrels are increasingly popular although vintners rarely talk about their use. They carry a stigma of being a cheap and artificial way of producing wine. With cost of high-quality French oak barrel approaching $1,000, the use of oak alternatives such as staves, chips, dust or shavings is appealing to producers of low cost wines. The cost of barrels can add nearly $3.00 to the retail cost of a bottle of wine. One technique that has been employed is adding oak blocks thru the bung hole of well-used barrels.
** As reported in Wines & Vines, oxygen-permeable polyethylene vessels called "Flextanks" can be used to store wine as efficiently as oak barrels. The tanks look like a super sized version of the polyethylene dispensers of catsup and mustard used at restaurants minus the spout on top. The tanks can passively micro-oxygenate wine and safely store it without evaporation. Oak alternatives can be used in conjunction with the vessels. Available from 50 to 600 gallons, the tanks are cleaner than barrels, occupy less room, are lighter, do not need topping, and don't wear out. The cost is one-tenth of traditional oak barrels. Used in Australia since 2003, a number of American wineries are now looking at this winemaking option. The romance of barrels is being assaulted on many fronts.
** Natasha Hughes, reporting in decanter.com (11/21/07), interviewed winemaker Matt Thomas from New Zealand who believes new oak barrels can be a source of Brettanomyces in a winery. He reasons that because of the increased demand for oak, more wood from infected sources is being used. Also, toasting barrels creates compounds that the Brettanomyces organism can feed on.
** Remote earth sensing as a tool to gauge the health of vineyards is now in widespread usage. One example is NDVI imaging (Normalized Difference Vegetation Index). A digital multi-spectral camera is mounted in a small airplane. The camera can recognize small differences in plant health and growth allowing the vineyard managers to fine tune irrigation, mulching, and treat disease pressure.
** The light brown apple moth (LBAM), which is native to Eastern Australia, has made its way to the San Francisco Bay area in 2007. It is very fond of apples and grapes. The moth's larvae damage the fruit that then becomes infected with botrytis. The larvae are tiny and very difficult to discover so it is a challenge to determine the level of infestation in a vineyard. Australia uses parasites and cover crops to control the moth. So far, the pest has caused little damage here.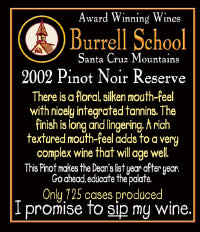 ** Wine Labels are under attack. In France, despite considerable protest, a new warning against drinking alcohol while pregnant is required. In the United States, the Alcohol and Tobacco Tax & Trade Bureau is planning to place warnings on wine of possible allergens from eggs (used in fining some wines), wheat (from barrels), and fish (gelatine used for clarification), This requirement is being proposed despite the fact that there has never been an allergic reaction directly linked to a fining substance in wine because the agents are removed before the wine is bottled. Allergic reactions to wine are limited to a few anecdotal reports and there is no firm scientific evidence that they occur. The European Union currently exempts egg-based products and fish gelatine as part of mandatory labeling requirements. The United States Treasury Department has proposed the required listing on labels of alcohol content (currently in place), servings per container and nutritional information such as calories, carbohydrates, fat and protein in a standard serving. There won't be any room on the back label of wine for case production, descriptions of the wine, name of the winemaker, cute stories or explanations of the name of wines. Does anyone really care that there is about 120 calories in a standard 5 oz drink of wine and whether it is nutritional? Finally, Oregon has updated its labeling laws. Varietal labeling for Pinot Noir, Chardonnay, Pinot Gris (which can also be labeled Pinot Grigio), and Riesling must contain 90% of the varietal. For 18 other varietals often blended, up to 25% of other varieties may be included. Also, 95% of the fruit must come from the specified place on the label (previously 100%) allowing vintners to top off wine from other sources.
** The genome of Pinot Noir was decoded by French and Italian scientists in 2007 and reported in Nature (August 26, 2007). This is the first fruit plant to have its genome sequenced. 30,434 genes are in grape DNA, twice as many as the typical plant. 89 TPS genes (terpene synthases) and 27 pseudogenes were discovered which produce the fragrant resins and oils found in red grapes. A disproportionate number of genes - 43 - are involved in synthesizing resveratrol. There was a humorous response in The Economist to this announcement. "This may open the door for transgenic wines that grow in places where cultivation is impossible, are disease-resistant, and boost the levels of wine's beneficial ingredients. This could lead to adding a gene for producing acetylsalicylic acid (aspirin), which is valued for its favorable cardiovascular effects, and even inserting a gene to produce sildenafil citrate, the active ingredient in Viagra. This would prevent the ultimate wine-induced humiliation."
** Whatever your personal beliefs are about the actual threat of global warming and the steps that need to be taken to counteract it, a few facts are clear. If carbon emissions continue unabated, California's annual temperature could rise 3-10° F by the end of this century. With this temperature rise comes concerns about rising sea levels, droughts, increased fires, extreme weather events such as heat waves and sustained heavy rains. A decrease in winter snow could mean a shortage of water for California agriculture in general and viticulture in particular. Wine grapes are particularly vulnerable to global warming because of the narrow temperature range in which they can grow. Researcher Gregory Jones of Southern Oregon University has said: "You add another couple of degrees on to warming in Fresno and it will become real challenging to grow anything other than table grapes or raisins because you can't produce premium high-quality wine in that hot of a climate without technology we really don't have today." One of the biggest challenges facing us is motivating people to change because the warming that has occurred in recent years has been beneficial to many grapegrowing regions of the world. Areas like Napa and Sonoma can actually benefit initially from warming because they become cooler srcondary to warming of interior valleys. There are very few wineries in the world that are carbon neutral. Oregon has taken a first step by the recently formed Governor's Carbon Neutral Challenge Initiative. 16 wineries have accepted the challenge from Governor Ted Kulongoski, the Oregon Energy Council and the Oregon Wine Board to make their wineries more environmentally friendly by reducing their carbon footprint. At present, standards are being developed for carbon accounting and reporting.
** "Sustainability" is a vague term practically every winery and vineyard likes to use as a badge of concern for the environment, but for the most part it is too general a term to have meaning and lacks standards of validation. There are no national guidelines for sustainability, only regional and local sustainable farming programs. In California, the California Wine Institute is developing a certification program that will insure when wineries call themselves sustainable, they will have actually earned it. Napa and Lodi currently have regional certification programs. Oregon has three sustainable certifications: LIVE (Low Input Viticulture and Enology) which includes Salmon-Safe Certification (in California the equivalent is FFF or Fish-Friendly Farming Certification), Organic (use of synthetic materials strictly forbidden - no chemical fertilizers, pest icides or herbicides), and Biodynamic (organic plus). Currently there are over 100 vineyards in Oregon with LIVE certification. 30 wineries or vineyards in the United States have been certified biodynamic by Demeter USA. Brickhouse Vineyards in the Willamette Valley, owned by Doug Tonnell, has been certified organic since 1992 and was certified biodynamic by Demeter USA in 2005. One point of clarification is important here as the terms "organic wine" and "made with organic grapes" are often misunderstood. In an organic wine, 95% of the grapes must be certified organic and no sulfites are allowed. In wines made with organic grapes, 70% of the content is certified organic and the wine contains sulfites. Solar power is being embraced again as the technology has improved. More than 30 wineries in the United States now use it to supply their electrical power as part of their program to strive for true sustainability.
* There has been a rise in the quality of premium wines exported from Chile in South America. Pinot Noir was rarely produced in Chile ten years ago, but today there are a number of quality producers, many using American winemaking talent. The list includes Kingston Family Vineyards (Byron Kosuge and Evelyn Vidal), Matetic Vineyards (Ken Bernards), Casa Marin (Greg La Follette) and Cono Sur.
** Animals have become the winegrower's best friend. The vine mealybug (VMB) feeds on the trunk, leaves and fruit of vines leaving a sticky, infectious waste product behind on the vine. In addition, the VMB is a vector for leaf roll virus. The pest is a problem in Carneros and the area south of St. Helena in Napa. Golden retriever dogs are now being trained to find the pests in vineyards. The VMB is but a tiny white speck and difficult to see with the human eye. Dogs can single out infested vines which can then be removed avoiding the spraying of whole vineyards. Sheep which are bred for their small stature are being used to mow, fertilize and weed vineyards efficiently. Notable wineries using sheep are Araujo, Beaulieu, Benziger, Domaine Chandon and Robert Mondavi. Mondavi alone employs 500 ewes. Sheep can be trained not to eat the grape leaves and do not like sour grapes. The Babydoll Southdown breed, which is less then 2 feet tall, shows the greatest promise for this vineyard work. Scottish Highland cows are also used to mow and fertilize vineyards. Chickens in traveling coops can be moved about the vineyard to eat cut worms and other pests as well as fertilize. Raptors and owls are a natural means of pest control and perches are often seen in vineyards now to attract these birds. These predators are voracious eaters of gophers, voles and rats. Bird houses in vineyards can welcome bluebirds which eat insects that carry Pierce's disease. Bats consume large numbers of insects and judiciously placed bat houses in vineyards can be beneficial (and may scare off obnoxious wine geeks as well). And finally, lets not forget there ARE beneficial insects in the vineyard. "Insectory" cover crops and vegetable gardens attract welcome ladybugs, spiders, wasps and damsel bugs.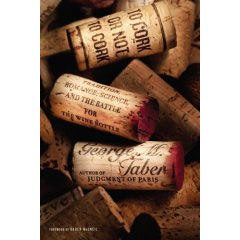 ** The wine industry debate over closures is ongoing. Proponents of cork point out that cork is the greenest closure, with cork forests retaining 14 billion tons of carbon dioxide per year. Alternative closures require environmentally destructive manufacturing processes and are not recyclable. Paul White, writing in Slow Food, remarks, "It is no surprise that screw cap technology is being championed by the Australian industry, which arguably has been and continues to be environmentally anti-terroir." 50% of Australian wine and 90% of New Zealand wine is currently bottled under screw cap closures. Cork taint, secondary to the chemical TCA (2,4,6-trichloroanisole) and produced by fungi that grow in cork trees, has been reduced in recent years. Corticeire Amorium, the world's largest maker of wine corks, has developed a process to steam out compounds caused by the naturally occurring fungus in cork and claims to have lowered the industry-wide cork taint incidence to less than 1%. Fans of cork also point out that cork tends to provide the right amount of oxygen to keep reduction problems that have plagued screw caps controlled. Randall Grahm, one of the strongest supporters of screw cap closures, has been plagued with reduction aromas in his concentrated red wines after bottling, finding that it takes these wines nearly two years to shed their funky metallic and closed fruit characters. Jamie Goode wrote a very succinct and informative article titled "Reductive Reasoning" in Wines & Vines (August, 2007). In the article, Goode explains that the explanation of screw cap reduction is much too complicated for most mortals, but basically has to do with post-bottling sulfur chemistry. (You can stop reading here). The screw cap shuts off all oxygen ingress and creates a "low-redox" environment that causes some undesirable sulfur chemical changes to occur producing sulfur compounds in a more "smelly and reduced form." The result is offensive smells of rotten eggs or dirty drains (hydrogen sulfide), burned match, rubber, cooked cabbage (hydrogen sulfide oxidized to mercaptans), and garlic, rubber, onion, cabbage (from mercaptans oxidizing to disulfides). It is important to point out that the liners of screw caps are largely the culprit. The "tin/Sasan" screw cap which is used primarily in Australia and New Zealand is responsible for causing mercaptan odors in a little more than 2% of wines. The "saranex only" closure allows more oxygen to enter the bottle and is not implicated in screw cap reduction. United States wine sales of screw caps increased 25% in 2006. George Tabor, the noted author of Judgment of Paris, released an absorbing treatise this year on the wine closure debate titled, To Cork or not to Cork, Tradition, Romance, Science, and the Battle for the Wine Bottle (Scribner, $26).
** The controversy over high alcohol wines continues and everyone has chimed in. Retailer Darrell Corti in Sacramento has publicly stated that he would not stock wines with more than 14.5% alcohol. Randy Dunn, longtime winemaker for Dunn Vineyards, is also adamantly opposed to high alcohol wines. In a letter to Wines & Vines (September, 2007), he said, "The current fad of higher and higher alcohol wines should stop… .I don't believe the average person is so insensitive to flavors and aromas that he must have a 15% Cabernet, Chardonnay or Pinot Noir to get the aromas and flavors. Influential members of the wine press have led the score-chasing winemakers/owners up the alcohol curve. These wines are made to taste and spit - not to drink," Steve Heimoff, writing in the Wine Enthusiast (October, 2007) is in Dunn's camp. He said, "California wines, both red and white, ... are overly sweet, high in alcohol and too oaky. They taste more like a Starbuck's frappiccino than anything resembling actual table wine. It's no exaggeration to say there's a backlash out there against high alcohol, sweet wines." James Laube takes a more tactful course. In the Wine Spectator (June 30, 2007), he noted, "If you taste a wine and it seems to be balanced, the alcohol content shouldn't matter." Dealcing and adding water to wines to reduce the alcohol is common practice in California now. The reasons are multiple, including a need to restart a stuck fermentation, to correct an out-of-balance wine, to avoid the increased taxation that comes with alcohol levels over 14%, or simply to arrive at the sweet spot where the alcohol level brings out the most desirable aromatic and flavor qualities in a wine. The two major technologies in California for removal of alcohol are Comp Tech's spinning cone method and Vinovation, Inc's reverse osmosis process.