Spotlight on a Star in the Making: Drew
On a gorgeous Sunday morning following the Anderson Valley Pinot Noir Festival Grand Tasting, I drove the circuitous Philo Greenwood Road west from Philo. Dotted with towering redwoods and with little sign of life, I finally emerged 15 miles later into a clearing where an apple orchard was perched on a knoll with sweeping views of the countryside extending to the Pacific Ocean. I felt like the gates of heaven had opened and I had entered paradise. Jason and Molly Drew felt this way as well when they first came upon this property renowned for growing "Greenwood Gold" apples. In 2004, they had been searching the North coast for an appropriate location for vineyards and a winery and as fate would have it, this was the first property the real estate agent in Elk showed them. They moved in with their family (two boys) and lived in a trailer until the winery and their upstairs home was completed. As I viewed the orchard from the upper deck of the winery building, Jason pointed out the perfect exposures that are slated to be developed into vineyards. He spoke with reverence about the land and I could sense his heart-felt appreciation and gratefulness for his destiny in finding this special spot of earth. Located in the only incongruous appellation in California known as Mendocino Ridge, this newly discovered region just north of the Sonoma Coast just might be the next haven for California Pinot Noir.
The photo below shows the future initial vineyard site in the distance and the shaded table where I sat down with Jason and talked.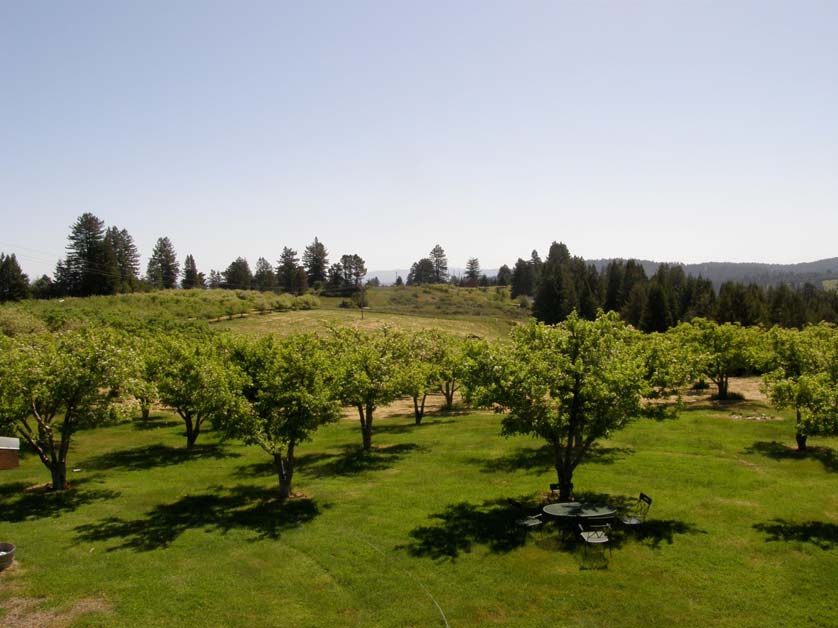 Jason Drew began his career in the wine industry in 1991 when he served an internship at St. Supery Winery while at University California Santa Cruz. His first real job was at Carmenet Vineyards in 1992 through 1995. In 1996 he became the vineyard manager at Navarro and was intrigued by the potential for winegrowing in the Anderson Valley and the adjacent ridge tops. To pursue further training in enology he chose to go to University of Adelaide in south Australia. His wife Molly was with him and his first son was born during finals week in Australia. He returned to the states and began work as an assistant winemaker under Brian Babcock at Babcock Vineyards in Santa Rita Hills in 1999. In 2000, he founded the Drew label and in 2003, left Babcock to concentrate fill-time on his own label. Listen to the full story in my recorded interview: "Interview with Jason Drew"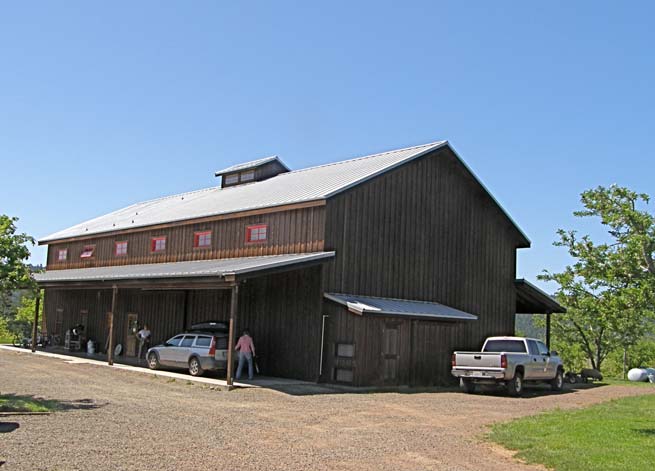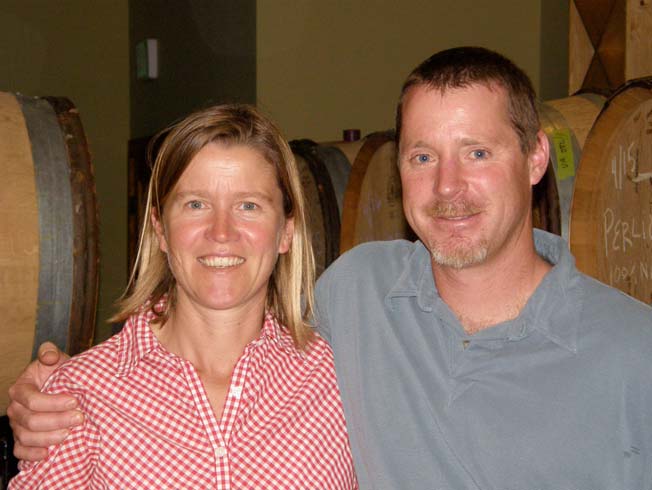 Since 2005, Jason's wines have drawn my attention as well as many well-deserved accolades from the wine press. Last year, Drew was chosen as one of the Wineries of the Year by Wine & Spirits magazine. He is a gifted artisan producer of wine and drawing from grape sources as diverse as Sta. Rita Hills, Sonoma Coast and Anderson Valley, he consistently produces Pinot Noirs that show great purity of fruit, balance and structure to predict age ability. His wines are sold largely through an eager mailing list of devotees with limited retail distribution. I would recommend you join the list to obtain these limited production gems for this is a star in the making.
I tasted through the entire 2007 lineup of six Drew Pinot Noirs. There will be no Savoy Vineyard bottling in 2008. Jason will be adding the Manchester Ridge Vineyard to his lineup in 2009. Jason also crafts cool climate Syrah from the Anderson Valley (Valenti Vineyard and Broken Leg Vineyard) and Manchester Ridge (Perli Vineyard Potato Patch). All the wines are sensibly priced ($40-$50) considering the quality of the vineyard sources and the impeccable winemaking.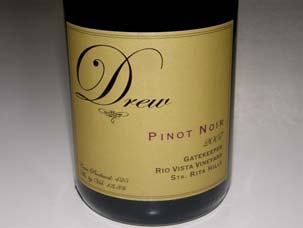 2007 Drew Gatekeeper Rio Vista Vineyard Sta. Rita Hills Pinot Noir
13.8% lc., 426 cases, $42. Sourced entirely from Rio Vista Vineyard located on the southeastern side of the Sta. Rita Hills AVA. Jason has worked with the same blocks from this vineyard since 2002. Average Brix at harvest 24.7º. Yields 2-3 tons per acre. Clones are 50% 777, 25% 667, and 25% 115. High density plantings dating to 1998. 10% whole cluster fermentation, 30% stem inclusion, 8-day cold soak, 21 days on skins. Aged 11 months in 30% new and 70% seasoned French oak barrels. · Expressive aromas of cherries, cedar, pine and mint. Delicious cherry and red plum with an appealing earthiness. Very smooth and elegant, nicely spiced, with soft tannins and a finish that lures you back for more.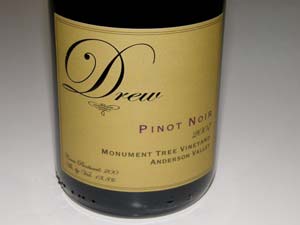 2007 Drew Monument Tree Anderson Valley Pinot Noir
13.8% alc., 200 cases, $42. This vineyard is located in the deep-end of the Anderson Valley in Philo. 15 acres planted to Dijon clones 114, 115 and 667 in 1999. Charles McBride is the owner. Yields were 2.4 tons per acre. Brix at harvest was 24.5º. 15% whole cluster fermentation, 30% stem inclusion, 7-day cold soak and 20 days on skins. Aged for 11 months in 30% new and 70% seasoned French oak barrels. · Moderately deep reddish-purple color. On the nose there are slightly confected red plums and berries, forest pine and cedar with a hint of camphor and spice, becoming more floral with time in the glass. Woodsy and earthy red berry fruit with a supporting dusting of oak. Beautifully composed with fine tannins, a spark of acidity and a soft and clean finish. Builds in momentum in the glass and keeps getting better and better. Like a well-perfumed and adorned debutante, this wine is a charmer. Tasted twice with consistent results.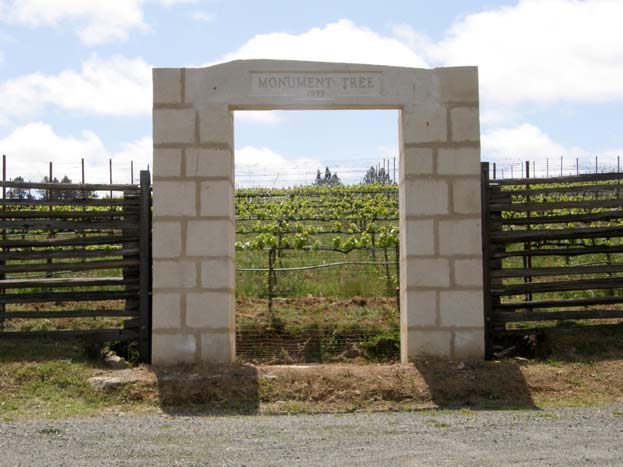 An aerial photo of McDougall Ranch Vineyard below (small vineyard just right of center).