Carneros We Love Ewe
In 1979, when Carneros attempted to become an American Viticultural Appellation, there were only two wineries (Acacia and Carneros Creek) and less than 1,000 acres of vines. It was Anthony Bell, an assistant winemaker at Beaulieu Vineyard, and Anne Moller-Racke, the viticulturist from Buena Vista, who helped submit the application that defined the Carneros region. The boundaries of the proposed 37,000-acre appellation were unique in that they encompassed the southern ends of both Sonoma and Napa Counties. Approval came in 1983, making Carneros the first established AVA based on climate rather than political boundaries. Carneros is classified as a Region I heat-summation climate, viticultural conditions ideally suited to Pinot Noir and Chardonnay. In 1985, the growers and wineries of Carneros founded the Carneros Quality Alliance to promote the region. The Alliance began 2006 with a new name, The Carneros Wine Alliance (www.carneros.com), with the goal of enhancing the well-deserved branding and image of the Carneros appellation.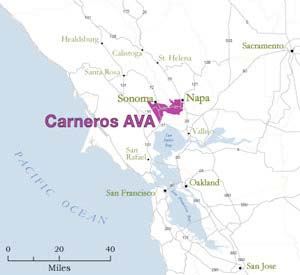 Historically, Carneros was a favored land for raising sheep (Carneros or Los Carneros in Spanish means "sheep" or "ram") and cattle, as well as farming grain and hay, pears, plums, apples, cherries, apricots and wine grapes. In the late 1800s, the region sent a steady flow of fruit, milk and cattle to San Francisco by way of railroad stations such as Schellville and Buchili Station and docks such as Cuttings Wharf and Bentley Wharf along the Napa River and Sonoma Creek.
Plantings of vineyards are said to date to the late 1830s, making Carneros the second oldest vineyard region in Northern California. By the early 1870s, William H. Winter of Indiana, had one of the largest vineyard holdings in the area and built the first winery in Carneros, Winter Winery. In 1881, Winter sold the Winter Winery to James Simonton, who along with Missouri viticulturist George Husmann, was the first to research phylloxera resistant rootstock. The Stanly Ranch, with over 300 acres, was one of the largest Carneros vineyards in the late 1880s.
Phylloxera in the late 1870s and 1880s, followed by Prohibition from 1919 to 1933, dealt a death blow to viticulture and the wine industry in Carneros. The first post-Prohibition winery in Carneros was founded by John Garetto at the present site of Bouchaine Vineyards on Buchili Station Road. Much of the Stanly Ranch survived phylloxera because it was planted on Vitis riparia rootstock. Realizing the potential of the Stanly Ranch vineyard, Louis M. Martini bought 200 acres of the Stanly Ranch in 1942, and along with Harold Olmo, conducted extensive clonal experimentation with Pinot Noir and Chardonnay. This research led to the development of UCD Chardonnay clone 108 and UCD Pinot Noir clones 13 and 15. These clones were widely planted in California from the 1970s to the early 1990s.
When Carneros Creek Winery was founded in 1972 by Francis Mahoney, there were only about 200 acres of vineyards in Carneros. Vineyard development was in its infancy, led by Beaulieu Vineyards, Buena Vista and growers Ira Lee, the Sangiacomo family, and Rene diRosa of Winery Lake Vineyard. The 1980s were marked by investment in vast acres of Carneros vineyard land by notable Napa-based wineries such as Clos du Val, Clos Pegase, Robert Mondavi, St. Clement, and William Hill. By the 1990s, the region had become a silent supplier for these and other well-known wineries located in the more high-profile Napa and Sonoma appellations. The cool climate region was admired for its Burgundian varietals, Chardonnay and Pinot Noir, and sparkling wines, but Carneros struggled for public identity.
As I noted in Volume 7, issue 12 of the PinotFile ("Carneros Renaissance on Track"), Carneros is now led by corporate owners and small boutique operations that are leaving behind the mass farming of grapes and dedicating themselves to precision viticulture that in turn is leading to distinctive ultra-premium wines from estate-grown fruit. The words "Carneros," "Estate Grown," and "Estate Bottled," now adorn many Pinot Noirs from this region. Carneros Pinot Noir, Chardonnay and sparkling wines can now compete with the best from the more visible and highly touted appellations of California.
The most distinguishing climatic feature of Carneros is its strong maritime influence, particularly the incessant breezes. Carneros is an unshielded land with its arms open to the nearby Pacific Ocean and adjacent San Pablo Bay (the northernmost reaches of the San Francisco Bay), resulting in treacherous and unceasing winds that rip through the hollows and hillsides. Rows of eucalyptus trees, planted to combat the gales, are far and few between. As the air over Carneros heats up during the day, it begins to rise, attracting the cool air over the ocean and bay. The resulting breezes continue throughout the afternoon and taper off in the evening as temperatures drop. Fog then rolls in during the night and begins to burn off in the early morning. The summer heat is thus moderated by both wind and fog resulting in a long, moderate growing season. The winds can benefit the vines by reducing the chance of mildew and mold, but also stress them by drawing water out of the leaves faster than it can be replaced by the roots. In the vines battle for survival, yields are very low.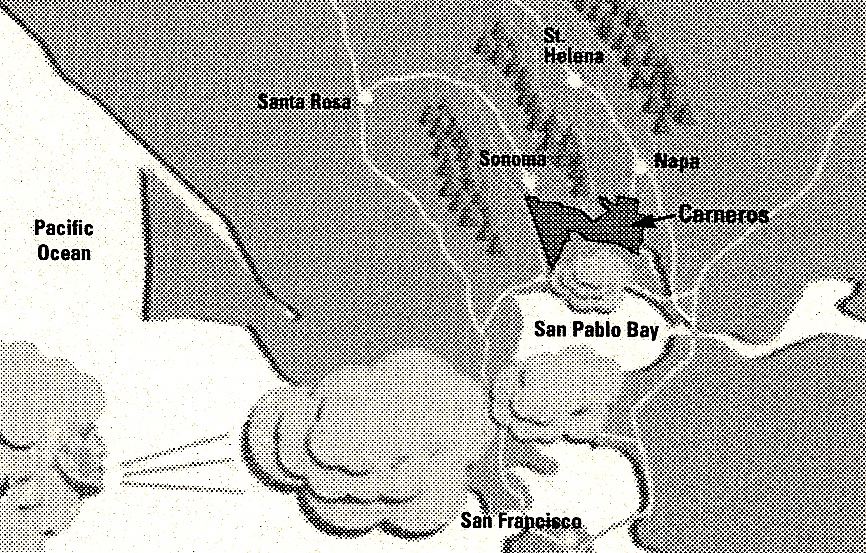 The soils in Carneros are shallow (approximately 3 feet), densely compacted, relatively impermeable and high in clay content. The two main types, Haire and Diablo, were formed by deposits left from the receding waters of San Pablo Bay. The soils limit the growth of the vine's root system and provide barely adequate nutrients and water to sustain growth. The lack of water (rainfall is 20 inches per year, less than both Napa and Sonoma Counties) requires short, frequent drip irrigation, particularly in the late summer months. The combination of intense winds, shallow soils and lack of water have given Carneros vines the title of "The Hardest Working Vines on Earth."

Wineries Within Carneros that Produce Pinot Noir
Acacia
Adastra
Artesa Winery
Bouchaine Vineyards
Buena Vista Carneros (Winery in Carneros, Tasting Room in Sonoma)
Casa Carneros
Ceja Vineyards
Cuvaison
Domaine Carneros
Donum Estate
Etude Wines
Folio Winemakers' Studio (Hangtime)
Gloria Ferrer Caves & Vineyards
Jacuzzi Family Vineyards
Madonna Estate
Mahoney Vineyards
Mayro-Murdick Wines
McKenzie-Muller Vineyards & Winery
Molnar Family/Kazmer & Blaise
Nicholson Ranch
Robert Stemmler
Robledo Family Winery
Roche Carneros Estate Winery
Roshambo Winery
Saintsbury
Schug Carneros Estate
Truchard Vineyards
Valerie's Vineyard

"Eighth Street Wineries" Within Sonoma Carneros that Produce Pinot Noir (www.eightstreetwineries.com)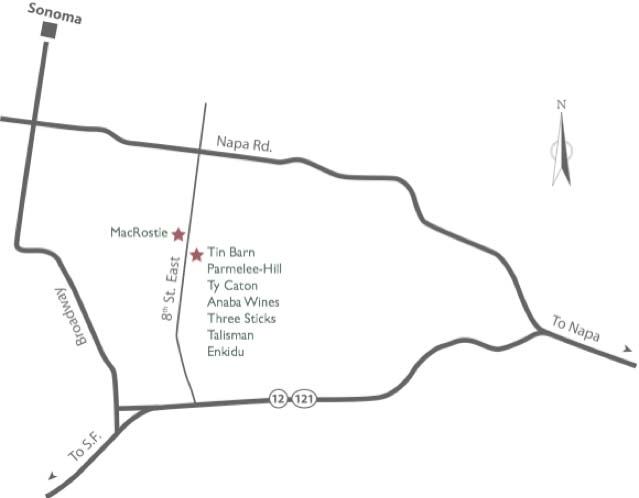 MacRostie (Wildcat Mountain)
Talisman Cellars (Wildcat Mountain Vineyard, Adastra Vineyard)
Three Sticks (Durrell Vineyard)
Tin Barn (Ricci Vineyard)





Wineries Outside Carneros Producing Pinot Noirs from Vineyards in Carneros (partial list)

Abiouness (Stanly Ranch Vineyard, Hudson Vineyard)
Ambullneo
Ancien Winery (Toyon Farm Vineyard)
Ardiri Estate (winery is in Cornelius, Oregon, vineyard in Carneros)
August Briggs (Sinskey Vineyard)
B. Kosuge Wines
Beaulieu Vineyard
Beringer (Stanly Ranch)
Carneros Della Notte
Castle Vineyards & Winery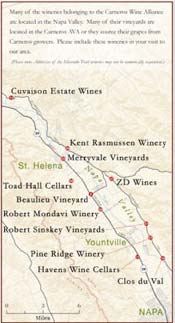 Clos du Val
Clos Pegase (Mitsuko's Vineyard)
Fotinos Brothers Winery
Homewood Winery
Kent Rasmussen Winery
Kirkland Ranch Winery
La Crema
Larson Family Winery
Lioco
Lost Canyon (Las Brisas Vineyard)
Merryvale Vineyards (Stanly Ranch Vineyard)
Mi Sueño Winery
Patz & Hall (Hyde Vineyard)
Paul Hobbs (Hyde Vineyard)
Renteria (Knittel Vineyard)
Reynolds Family Winery
Robert Mondavi Winery
Robert Sinskey Vineyards (Sinskey Vineyard)
Signorello (Hyde Vineyard, Las Amigos Vineyard)
Steele
Toad Hall Cellars (Lavender Hill Vineyard)
Whitehall Lane Winery
ZD Wines (DeLeuze Family Vineyard)
The Pinofication of Napa Valley
Napa Valley is synonymous with Cabernet Sauvignon (or car parts as the Sonomans like to say) and Sonoma County has been identified with Pinot Noir. Truth be known, the Napa portion of Carneros and some mountain vineyards in Napa County have been producing Pinot Noir for many years. In addition, many wineries in Napa Valley own vineyards in, or source grapes from, Napa Carneros. Some of Napa's most visible Cabernet Sauvignon producers are spending small fortunes to play the Pinot Noir game.
A partial list of Napa Valley wineries producing Pinot Noir includes Anderson's Conn Valley Vineyards, Andretti Winery, Arger-Martucci Vineyards, August Briggs, Barnett Vineyards, Beringer, Cakebread Cellars, Cartlidge & Browne, Caymus Vineyards (Belle Glos), Cliff Lede Vineyards, Clos Pegase, Cosentino, Del Dotto Vineyards, Domaine Chandon, Duckhorn Vineyards (Goldeneye), Dutch Henry Winery, Elizabeth Spencer, Elkhorn Peak, El Molino Winery, Flora Springs, Franciscan Estates, Hagafen Cellars, Joseph Phelps Vineyards (Freestone Vineyards), Judd's Hill, Kent Rasmussen Winery, Kuleto Estate Family Vineyards, Marguerite Ryan, Markham, Mario Perelli-Minetti Winery, Mayacamas Vineyards, Miner Family Vineyards, Merryvale, Monticello, Patz & Hall, Peter Michael Winery, Reynolds Family Winery, Robert Mondavi Winery, Robert Sinskey Vineyards, School House Vineyard, Signorello Vineyards, Sterling, Sutter Home/Trinchero, Toad Hall Cellars, Twomey, V. Sattui Winery, Villa Mt. Eden, Whitehall Lane Winery and ZD Wines.
As Napa becomes more "Pinofied," Sonoma is taking on a more "Napafied" character. Healdsburg now personifies everything that is sophisticated about St. Helena, with high-end restaurants like the Dry Creek Kitchen and Cyrus, luxury hotels like Hotel Healdsburg and Les Mars, and chic boutiques that rival any along Highway 29. Carneros blends the high brow side of Napa (The Carneros Inn and the spectacular Jacuzzi Winery on Highway 121) with the rural charm of Sonoma.
An excellent Visitors Guide to Touring and Tasting at the wineries belonging to the Carneros Wine Alliance is available at www.carneros.com. Information about the wineries of Carneros and visiting the region is available at www.carneroswineries.org and www.loscarneroswines.com.