Carneros Heritage Fest 2009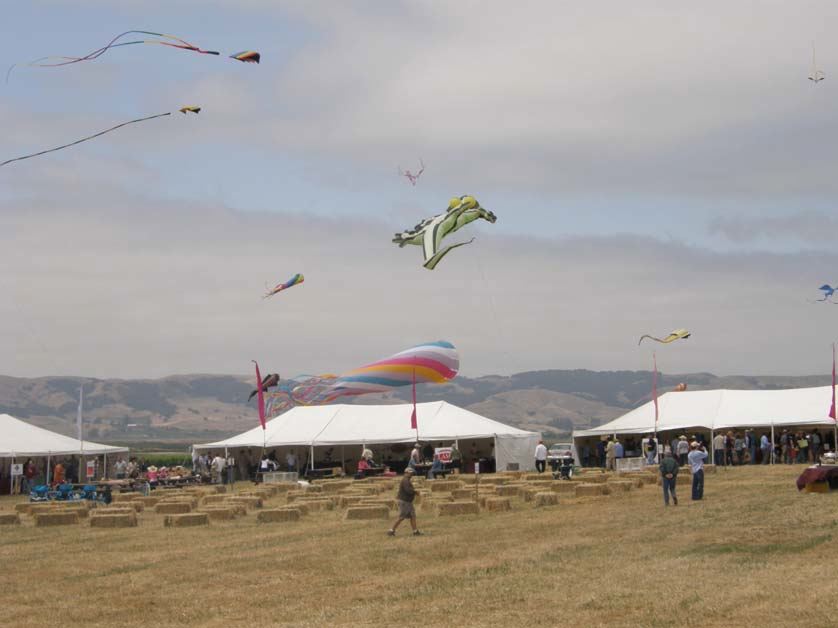 The Carneros Heritage Fest is the region's annual celebration of its western heritage (the Sonoma Rodeo was held annually in Carneros on the Millerick Ranch from 1929 to 1950), its signature wines, and its bounty of lamb and local artisan foods. I attended the recent Fourth Annual Heritage Fest, billed as "Wines, Vines, Woolies & Wetlands." Held May 30th, 2009 at The Donum Estate, the event was co-hosted by Buena Vista Carneros in partnership with the Sonoma County Wine Grape Commission, The American Lamb Board, the Napa Farm Bureau, and the California Department of Fish & Game. This is a unique family oriented wine and food festival benefiting the Carneros Land Stewardship Foundation, an organization whose mission is to promote the education, conservation, preservation and restoration of the land, ecological habitat, creek beds and wetlands in the Carneros region.
I eagerly sampled the Pinot Noirs from the 25 producers present and found some new discoveries. The two Pinot Noirs being poured by Merryvale, the 2007 Carneros Pinot Noir (14.8% alc., 2,028 cases, $35) and the 2007 Stanly Ranch Estate Carneros Pinot Noir (14.8% alc., 185 cases, $45) were among the most exciting wines I tasted at the event. Both are crafted in an elegant, feminine style with nuanced flavors.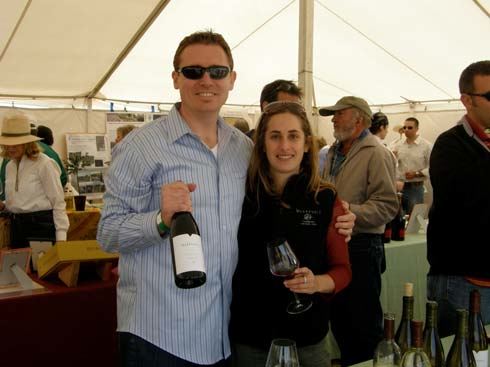 Another favorite was Adastra, a family owned winery with a 20-acre CCOF-certified organic vineyard in Napa Carneros. Owned by Chris Thorpe and son-in-law Edwin Richards, the name Adastra is taken from the Latin saying per aspera ad astra, "through striving to the stars." Pam Starr has being Adastra's winemaking consultant since 1997. The 2006 Adastra Carneros Pinot Noir (15.2% alc., 194 cases, $40) and the 2006 Adastra Proximus Carneros Pinot Noir (an "ultrareserve" wine, 15.5% alc., 254 cases, $56) were poured. These are full-bodied and hedonistic, very appealing sipping wines which hold their alcohol well. The Proximus ups the ante a few notches (80% new oak) with spectacularly spiced aromas and flavors.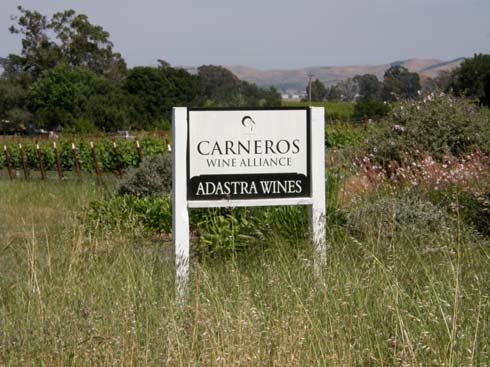 The Ceja Vineyards 2006 Carneros Pinot Noir (13.9% alc., 1,000 cases, $38) was picked at a lower Brix and was crafted in a much more reserved and delicate style that was very charming and food-friendly (see review page 10). You won't meet a more charming person than Amelia Ceja, one of the founders of Ceja Vineyards and an accomplished winemaker who was pouring at the event (below).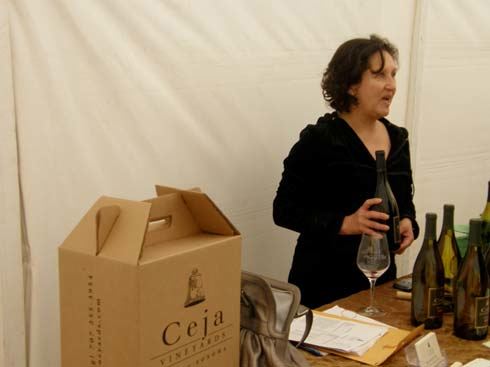 I was thrilled to finally meet two generations of the deLeuze family of ZD Wines, including Robert de Leuze, the CEO and winemaker emeritus. Pictured below are Sheryl deLeuze (Robert's wife in middle), her son and winemaker Brandon (pictured right) and Brandon's girlfriend, Katie Winchell . I have been a fan of ZD Pinot Noirs for many years. Pinot Noir has been produced at ZD every year since 1969. ZD's first Pinot Noir was labeled, "Produced in Sonoma County from Grapes Grown in the Carneros Region of Napa," making ZD the first winery to recognize Carneros on the label. The inaugural 2007 ZD Norman deLeuze Founder's Reserve Carneros Pinot Noir (13.9% alc., 750 cases, $65), sourced from the estate certified organic DeLeuze Vineyard in Napa Carneros, was released this year. Fruit from this 37-acre vineyard (6 acres of Pinot Noir planted to Hanzell and Swan heritage selections) traditionally went into the ZD Reserve Pinot Noir. This bottling coincides with the winery's 40th anniversary, and is a very special Pinot Noir. I reviewed the wine very favorably in the PinotFile, Volume 7, Issue 17. This past week I tasted this wine for the third time in a lineup of top 2007 California Pinot Noirs at a wine dinner. Tasted blind, the ZD Founder's Reserve was one of the group's favorite wines. It is available from the winery (www.zdwines.com) with limited retail distribution.
Carneros Pinot Noir, with its earthy and wild mushroom underpinnings and bold flavors of raspberries, cherries and spice, has come of age. Styles range from light to gutsy but the consistent finding is full-flavored and long lived wines of great interest.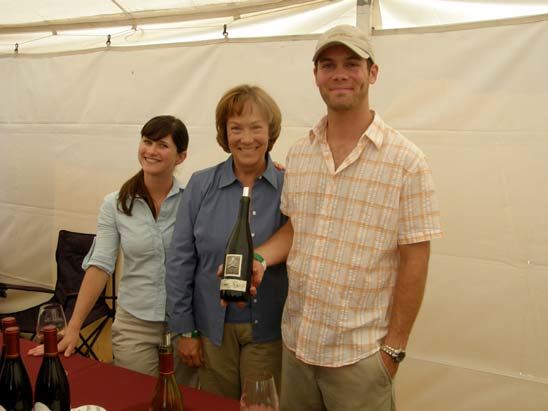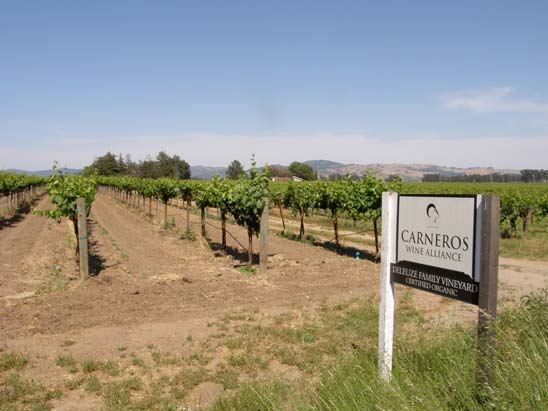 A highlight of the Heritage Fest was the Artisan Lamb BBQ conducted by Brendan Guenther, chef and owner of Rocker Oysterfeller's Kitchen and Saloon in Valley Ford, and the Sonoma County and Napa County Farm Bureau "Grillers" under the direction of Al Wagner of Clos Du Val. The menu reflected the Carneros heritage of farmers, sheepherders and the Mexican-American community. Menu: Sonoma Lamb Tostados with Mexican White Bean Puree, Red Chile Crusted BBQ Leg of Lamb, Frijoles Charros with Rancho Gordo Heritage Yellow Eye Beans, Carneros Chardonnay-Braised Riverdog Farm Kale and Straus Family Creamery Ice Cream.
The Napa versus Sonoma ThrowDown Chef Competition was a gourmand's delight with eight chefs offering different preparations of lamb supplied by the American Lamb Board, all paired with Carneros wines. The offerings included Lamb Paillard, Crepinette and Marguez Sausage over Sicilian Rice Salad (Taylor Boetticher, chef and partner of Napa's Fatted Calf) and Pomegranate and Harissa Glazed Leg of Lamb in Housemade Pita with Quinoa Tabbouleh (Angela Tamura, chef at ZuZu in Napa). The hands down winner came from Ryan Pollnow, the chef at La Crema Wine Estate in Sonoma County. He matched La Crema's 2007 Los Carneros Pinot Noir with Grilled Leg of Lamb with Green Garlic Chimichurri smoked over Pinot Noir barrel staves. Second place was from the brothers and chefs Pablo and Erasto Jacinto of The Border in Napa who cooked an Oaxaca-style Lamb Barbacoa with Pinot Noir and Chardonnay Salsas and Sweet Corn Polenta Tamale paired with 2006 Ceja Carneros Pinot Noir. Sampling the many lamb dishes with Carneros Pinot Noir was an epiphany.
Food and wine were the center of attention at the Heritage Fest, but there was so much more: ecology and wildlife exhibits, sheep herding demonstrations with border collies, display of Olde English Babydoll sheep used in vineyards for weed control, falconry demonstrations, wagon rides, kite flying, live music and even a hay maze for children. I have included a few more photos that capture the festive atmosphere. Mark this event on your calendar for next year.