Carneros is the Birthplace of Mexican-American Wineries: "De Parte De Mi Familia, Para Su Familia"
The Carneros region is steeped in Mexican history. The last of the twenty-one California missions, Mission San Francisco Solano, was established in Sonoma in 1923. By 1834, the Mexican government planned to secularize all the California missions. Mariano Guadalupe Vallejo, the Military Commander and Director of Colonization of the Northern Frontier arrived with settlers to assume control of the mission and distribute the mission lands. Thousands of acres of land were given freely to those of naturalized Mexican citizenship who promised to develop the land. In truth, the land grants were awarded almost exclusively to Vallejo's relatives and friends. The Carneros region lies within the original boundaries of four of these land grants: Rincon de los Carneros, Entre Napa, Huichica, and Petaluma.
The grants were soon subdivided and sold to farmers who quickly settled Carneros. As American, German, French and Irish settlers came to Carneros in the 1840s, discontent with the Mexican government began to grow. In 1846, American frontier settlers overthrew Vallejo's forces in the Bear Flag Revolt. California existed as a republic for a month before being incorporated into the United States.
Approximately 100 years later, in 1942, when the guest worker program was begun, Mexican immigrants came to the Carneros region, becoming the backbone of the wine industry and providing a majority of the field labor. Many braceros toiled long hours as field hands in the vineyards with limited wages and benefits. Over time the value of these migrant Mexican workers has been recognized, leading to a dedicated effort to provide proper health care and living facilities as well as advancement opportunities. Despite considerable hardship, there were a number of workers who had the skills and passion to succeed in the wine industry and seized the opportunity. The strength of family personifies the foundation of these newer wine producers as is reflected in the Spanish, "De Parte De Mi Familia, Para Su Familia," or "From My Family, to Your Family." Many of these success stories personify the American Dream and unfolded in the Carneros region.
Reynaldo Robledo, Sr., is a prime example. Robledo came to the United States in 1968 at age 16, accompanied by a few other relatives from the Mexican State of Michoacan. Initially, he lived in a migrant labor camp near Calistoga, working long hours pruning vines for as little as $1.10 per hour. Within eight months, he was in charge of thirty-six workers. After 35 years, he has his own vineyard management company, Robledo Vineyard Management, LLC., with over 30 year-round employees. He became the first Mexican migrant vineyard worker in North American to own a winery, Robledo Family Winery, and to open a tasting room. He owns approximately 200 acres of vineyards and manages 90 acres for other growers in Napa, Sonoma and Lake counties, sells grapes to many noted wineries, farms olive orchards for olive oil, and produces 12,000 case of estate wine. Robledo's entire family, including nine children, all work in the family business. The winemaker is Reynaldo's son, Everardo Robledo, who began working in the vineyards alongside his father at an early age. The winery produces multiple varietals including Pinot Noir. The Robledo Family Winery lineup of wines is sold primarily through the winery's Wine Club and the website at www.robledofamilywinery.com. The tasting room at 21901 Bonness Road in Sonoma is open by appointment daily (707-939-6903).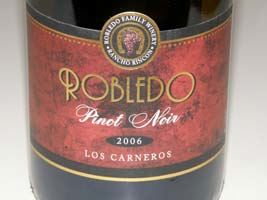 2006 Robledo Family Winery Los Carneros Pinot Noir
14.5% alc., $40. · Complex scents of ripe berries, oak toast, smoke and tobacco. Full-bodied flavors of dark berry fruits with an earthy, forest floor underpinning. Beautifully balanced with fine grained tannins. Still drinking fine the next day from a previously opened, recorked bottle. This wine will complement dark meats.
Pablo Ceja gathered up his wife Juanita and their six children and immigrated to the United States in 1967 as part of the bracero work program. They settled initially in St. Helena in the Napa Valley and their family grew to ten children. Later they moved to Carneros and on weekends the family worked together in the vineyards. One of the sons, Pedro, went to college and studied engineering, eventually marrying Amelia Morán Fuentes. They had a dream of owning land and growing grapes in the Napa Valley. In 1983, the family pooled its resources and bought 15 acres in Carneros, planting 13 acres with Pinot Noir in 1986. In 1999, Ceja Vineyards was founded by Pedro Ceja and his wife Amelia, and Armando Ceja and his spouse Martha. There are now three generations working in the family business. Armando Ceja is the winemaker, assisted by Amelia, the much-loved public face of Ceja Vineyards. When she says you are invited to visit any time, she really means it. The Ceja vineyards are situated on Las Amigas Road in Napa Carneros (photo below), Arnold Drive and Dale Avenue in Sonoma Carneros, and Adobe Road in Petaluma. The winery's logo features a bell with the Latin inscription, vinum (wine), cantus (song), and amor (love). The lineup of fine wines includes Pinot Noir, Chardonnay, Cabernet Sauvignon, Syrah, Merlot, Sauvignon Blanc, Vino de Casa Red and Vino de Casa White, and Bella Rosa (a rosé). The wines are sold through a mailing list (www.cejavineyards.com) and Wine Club. A wine tasting salon, lounge and art gallery is open daily 12:00-6:00 at 1248 First Street in Napa. Saturday nights there is a salsa party at the salon. Ariel Ceja has created the internet's first and only bi cultural online cooking show and social networking site, www.saludnapa.com.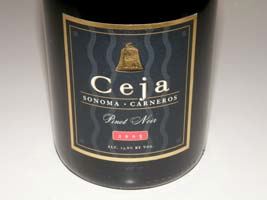 2005 Ceja Vineyards Sonoma Carneros Pinot Noir
13.8% alc., $38. · Scents of cherries, leaf, oak and spearmint. Melange of red fruits including cranberries with a hint of earth and green veggies. Medium-weighted, delicate in style with a smooth mouth feel and respectable balance. Oozes pinotosity.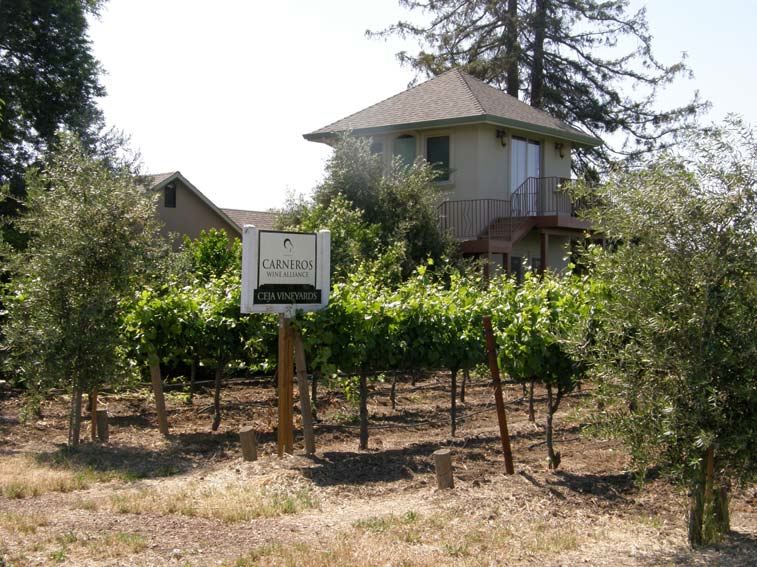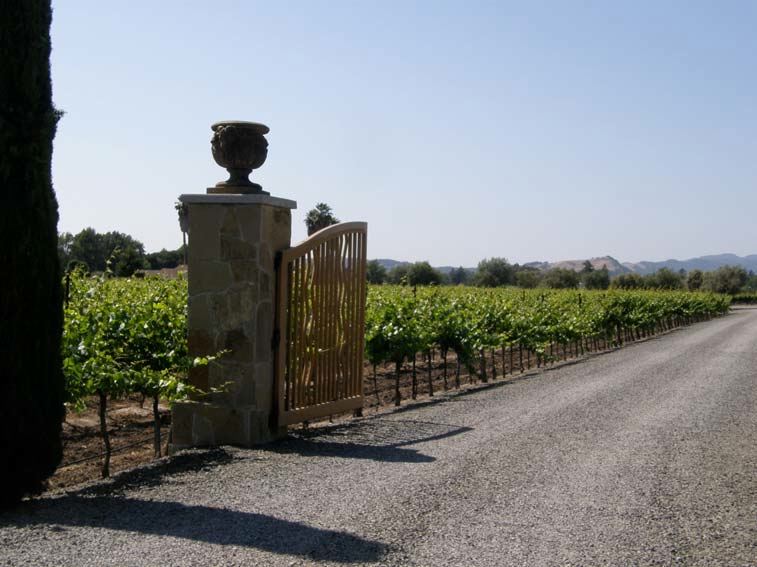 Roland Herrera arrived in the United States with his family from the Mexican State of Michoacan in 1975 at the tender age of 15. His first job was as a dishwasher at Auberge du Soleil. Later he gained an appreciation of pairing fine wine and food while a line cook at Mustards Grill. At age 17, he was hired to build a stone wall around Warren Winiarski's home at Stag's Leap Wine Cellars. Winiarski took him under his wing, encouraged him to get an education, and Herrera worked his way up from cellar rat to cellar master. He furthered his winemaking skills at Chateau Potelle, Vine Cliff and Paul Hobbs. Herrera's work with native yeast fermentations has been well-recognized and his wines have been served at White House State dinners. His small winery, Mi Sueño, means "My Dream" in Spanish. Herrara sources grapes from leased vineyards farmed exclusively by Herrera Vineyard Management in Napa Valley, Carneros, Russian River Valley and Sonoma Mountain. He also consults for a number of boutique wineries including Robledo Family Winery, Baldacci Family Vineyards, Longfellow Wine Cellars and Sharp Cellars. Ricardo Herrera, former assistant winemaker of Screaming Eagle and Dominus, is the Director of Vineyard Operations. The winery was consolidated into one facility in 2006, locating in an unassuming industrial park just south of downtown Napa at 910 Enterprise Way, Suite M. The phone is 707-258-6358. Besides Chardonnay, Cabernet Sauvignon and Syrah, Pinot Noirs are produced from both the Russian River Valley and Carneros. A second, limited production line of single vineyard, barrel selected wines is produced under the Herrera label including a Selección Esmeralda Russian River Valley Pinot Noir ($95). The wines are sold through the website at www.misuenowinery.com and through limited retail distribution.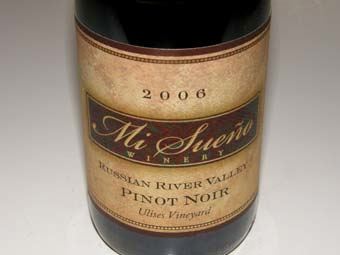 2006 Mi Sueño Winery Ulises Valdez Vineyard Russian River Valley Pinot Noir
14.7% alc., $27 (375 ml). Unfined and unfiltered. · A very distinctive ripe style of Pinot Noir. Unusual nose of roasted plums, oats, maple syrup and brioche. Rich, ripe and plush slightly roasted flavors of blackberries and raspberries with an undertone of root beer. Substantial intensity with harmonious t n' a and a lingering finish.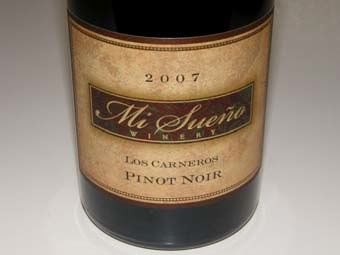 2007 Mi Sueño Los Carneros Pinot Noir
13.7% alc., $37. · The nose is very appealing and picks up intensity in the glass. Dark cherries, herbs and green garden are featured. Delicious and nuanced with flavors of cherries, berries, earth, cola and mocha coming and going. Soft and smooth with admirable persistence on the fruity finish. A classic and classy Pinot Noir.
Salvador Renteria grew up in Jalisco, Mexico where he worked as a barber. Along with his older brother, he arrived in Napa Valley from Mexico in 1962 and initially worked as a field laborer. The first year was wet in the Napa Valley, and disenchanted, he returned to Mexico. He returned to the Napa Valley two years later to stay, and quickly became a vineyard supervisor. Renteria oversaw the development of vineyards at Beaulieu Vineyard, Clos Pegase, Cuvaison and Silverado and was highly respected by famed vintners such as Andre Tchelistcheff and Rick Forman. During the decade he worked at Silverado, he helped develop significant vineyards, including Three Palms. Renteria was among the first in Napa Valley to experiment with trellising and canopy management, leading to lower yields and higher quality grapes. He was able to successfully bridge the cultural and communication gaps between wineries and vineyard workers. In 1987, Renteria Vineyard Management was started, becoming one of the first Mexican-owned vineyard management companies in the Napa Valley. The company managed vineyards for Screaming Eagle, Dalle Valle, Domaine Chandon and Trefethen among others. In 1993, Salvador's son, Oscar, who had started picking grapes at the age of 12, assumed proprietorship of Renteria Vineyard Management. He had graduated from St. Mary's College and his sister, Marcella, attended Stanford. Renteria Vineyard Management employs 140 people and oversees 1,250 acres in Napa County. The company grows grapes for clients that include Williams Selyem, Caymus, Rombauer, Duckhorn, Etude and Robert Mondavi Winery. Oscar was driven to make wine, and in 1997, Renteria Wines was launched and today produces 1,800 cases of Cabernet Sauvignon, Merlot, Pinot Noir and Chardonnay. An 8,000 square foot gravity-flow winery and cave is being built on Mt. Veeder. Salvador has retired and lives comfortably in the hills above Silverado Country Club, and although he plays golf regularly, he still walks the vineyards and keeps a steady eye on the company. The winemaker at Renteria is Karen Culler who has a Master's Degree in Viticulture and Enology from University California Davis. Pinot Noirs are produced from the Knittel Vineyard in Carneros, the Russian River Valley and Sonoma Coast under the Renteria label. A second label, Salva Tierra, honors Virginia Salvatierra, a Costa Rican whose daughter, Denise, married her high school sweetheart, Oscar Renteria. The Renteria and Salva Tierra wines are sold through a mailing list with limited retail distribution. Tasting is available at the Folio Winemakers' Studio in Napa Carneros at 1285 Dealy Lane (open daily). The website is www.renteriawines.com.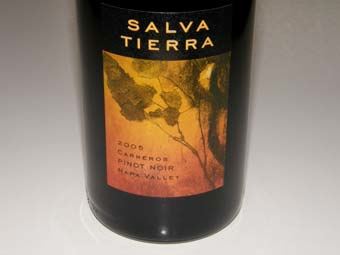 2005 Salva Tierra Napa Valley Carneros Pinot Noir
13.1% alc., $27. · Moderately light in color. Fruity aromas of cherries and berries with a hint of tobacco that fade over time in the glass. A simple quaff that is light in weight featuring dark red fruits, lively acidity and minimal tannins. I would chill this wine and drink it with simple foods such as roasted chicken.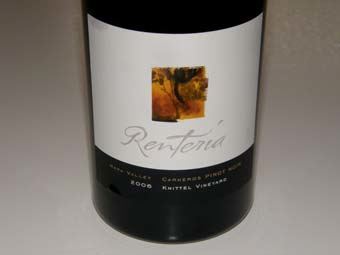 2006 Renteria Knittel Vineyard Carneros Napa Valley Pinot Noir
14.2% alc., 600 cases, $38. · Captivating aromas of black cherries, herbs, oak, cedar and prickly pear. Well-herbed and tasty dark red fruits on an elegant framework of velvety tannins leading to a fragrant finish. A thoroughly enjoyable wine.
Michoacan Ulises Valdez crossed the border in 1985 at age 16 and traveled to Sonoma County to join his older brother who was a field laborer in the vineyards. Although he was underage, he lied about his age, and based on his skills, obtained a job pruning vines. Like many migrant workers, he lived in humble conditions and rode a bicycle to the vineyards. He received amnesty in 1986 and achieved citizenship in 1996. Valdez became a partner in the Florence Vineyard Management Company and in 2003 bought Jack Florence Jr.'s stake in the company. It was renamed Valdez & Sons Vineyard Management Inc.. His company manages vineyards for many notable producers including Kent Rosenblum, Jayson Pahlmeyer, Paul Hobbs and Mark Aubert. Valdez now controls 150 acres of vineyard land in Sonoma County and has over 70 employees. His Pinot Noir vineyards include the Ulises Valdez (UV) Vineyard near Sebastopol in the Sonoma Coast appellation, and the Lancel Creek Vineyard in the Russian River Valley. In 2006, he started Valdez Family Wines, marking twenty years in the wine business. He produces Pinot Noirs from his own vineyards that are vinified by noted winemaker, Mark Aubert. Aubert attributes much of his success to Valdez, who is his vineyard manager and viticultural partner. Valdez's website is www.valdezfamilywinery.com. The wines (including a Sauvignon Blanc and Zinfandel) are sold primarily through a mailing list. Not long ago, I ran into Ulises in the Russian River Valley and he proudly showed me his property overlooking the river where he is building a hospitality center and tasting room, winery, and eventually a home.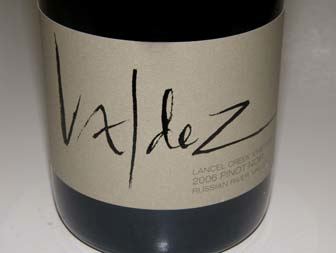 2006 Valdez Family Winery Lancel Creek Vineyard Russian River Valley Pinot Noir
15.2% alc., 250 cases, $65. · Dark reddish-purple color. A well-endowed Pinot featuring dark berries, plum and mocha flavors. Very smoothly textured with soft tannins. Nicely balanced with enough acidity to partner beautifully with food. This wine is proof that Pinot Noir with over 15% alcohol can be in balance.
Besides the Mexican-American-owned wineries mentioned above, there are over 15 others including Alex Sotelo Cellars, Carneros della Notte, Cesar Toxqui Cellars, El Centauro del Norte, Frias Family Vineyard, Guerrero Fernandez, Gustavo Thrace, J. Lohr Vineyards & Wines, Karl Lawrence Cellars, Sequoia Grove Vineyard and Two Wives. Arturo and daughter Ana Keller are Mexicans (as opposed to Mexican-Americans) who own Keller Estate in Petaluma, a fine producer of Pinot Noir.