Praiseworthy 2007 Pinots from J Vineyards
The 2007 vintage marks a significant change for J Vineyards & Winery, whose widely recognizable yellow "J" logo has distinguished both J varietal and sparkling wines for over twenty years. With the 2007 vintage, J Vineyards & Winery is launching a new look to the winery's Pinot Noir and Chardonnay wines with the introduction of a new "J Vineyards" brand and new labeling.

The new "J Vineyards" brand and packaging (above) reflects the Russian River Valley which is the primary source of grapes for the winery's Pinot Noirs and Chardonnay. The background terroir pattern on the simple and sleek labels is infused into the paper, reflecting striations in water, stone and vines, which are the important components of winemaking.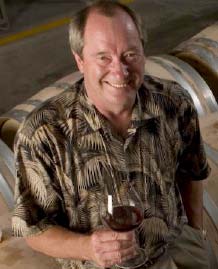 The new labels represent a new commitment to ultra-premium Pinot Noir and Chardonnay under the direction of veteran winemaker, George Bursick, who joined J Vineyards in May, 2006 after a distinguished 22-year career at Ferrari-Carano Winery. Although the 2006 vintage wines were the first fully executed vintage under Bursick's direction, in 2007 he was able to more fully institute his innovative winemaking techniques which will continue to evolve and be refined over several vintages. Fortunately, J has the financial resources and the drive to give Bursick the freedom to acquire the latest winemaking equipment necessary to fine-tune and advance the varietal wine program.
George Bursick is driven to create Pinot Noir with elegance and balance through detailed and gentle winemaking practices. Most importantly, he is committed to create wine with supple mouth feel and most of his winemaking techniques, which are often risky, are directed at achieving that end. His winemaking regimen, which is not defined by a recipe and is constantly evolving through experimentation, includes the following: (1) Removal of seeds to reduce immature tannins. Adequate tannin is obtainable from the skins which can be left in the fermenter longer as the skin tannins are less aggressive. Seeds are removed by the de-stemmer, the vibrating table, and special Italian-made tanks which allow easy disposal of seeds which sink to the bottom. In 2007, 40% of the seeds were removed, in 2008 65%-70%, and in 2009 90% of the seeds will be removed; (2) Long fermentations in open top fermenters are employed resulting in softer extraction. Up to 10 days cold soak followed by 3 to 4 week fermentation and up to 10 days of maceration after dryness before pressing; (3) Use of indigenous yeasts and inoculation with yeast strains from the University of Dijon that date back to the 1930s; (4) Minimal new oak aging. Bursick dislikes new oak for Pinot Noir, preferring an "oak slap" for Chardonnay. In 2008 and 2009, he is aging the Pinot Noir primarily in second-year French oak barrels previously used for Chardonnay; (5) Slight fining is done if needed and gentle filtering is made necessary by the high risk winemaking in which minimal sulfur is used.
Judy Jordan founded J in 1986 as a small méthode champenoise sparkling wine project at her father Tom Jordan's winery in Alexander Valley. In a short time, J set the standard for sparkling wine in California. After moving to the old Piper-Sonoma facility in 1996 and remodeling it in 1999, the winery launched an enhanced Visitor Center experience for consumers which remains the industry standard. Today, J produces a Vintage Brut and a Late-Disgorged Vintage Brut, a Non-Vintage Brut Rosé, and a Non-Vintage J Cuvée 20 Brut. The iconic yellow "J" will continue to identify J sparkling wines. Volume will decrease as the winery's emphasis shifts to varietal still wines, but the sparkling wine program will maintain and even exceed its present level of virtuosity.
J Vineyards & Winery now farms ten estate vineyards totaling just over 274 planted acres in the Russian River Valley. There are 35 sub-blocks, nine rootstocks, 15 clones of Pinot Noir and 3 clones of Chardonnay. Under the direction of noted viticulturist John Erbe, the emphasis is on site-specific wines of great character and sense of place. J also buys fruit from a few prestigious vineyards. A map of the vineyards is on page 4.
In late June, I sat down with Bursick and tasted through the 2007 lineup of J Vineyards Pinot Noirs. The wines are scheduled for a mid-to-late August to September 1 release. When asked about the timing of the release, Bursick replied, "Release is dictated by the aromas. Texture is always present. The wines will be tight initially due to reductive winemaking." The wines were all decanted before my tasting but I definitely noticed some modicum of restraint initially in the wines with aromas and flavors blossoming after an hour or so in the glass as we tasted through the wines. The Russian River Valley appellation bottling is the best choice to drink now. The other Pinot Noirs are approachable but will benefit from decanting or another six months in the bottle. These are all marvelous Pinot Noirs sporting elegance, smooth textures and impeccable balance. They ooze "pinosity." Bursick is definitely on to something and as he becomes more familiar with the idiosyncrasies of each vineyard and is able to fully institute his winemaking program, J Vineyards will surely be a reference standard not only for California sparkling wine, but also Russian River Pinot Noir.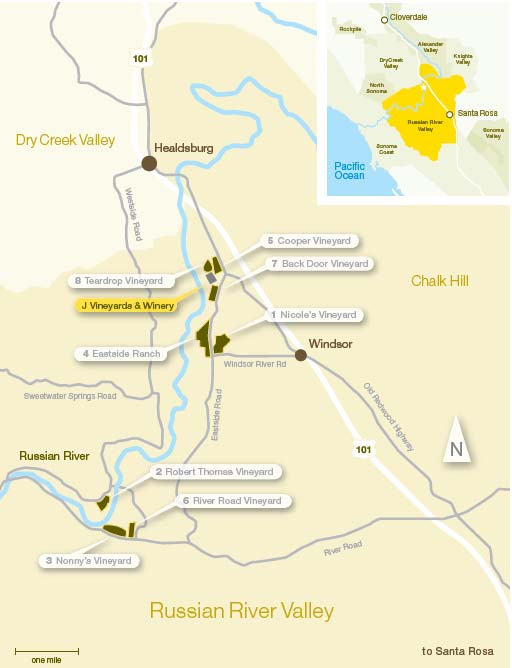 I visit many wineries in my travels along the Pinot trail, but J's modern Visitor Center is one of the classiest I have ever met with. The Visitor Center provides several tasting experiences for visitors. When J launched its Visitor Center in 1999, it was the first to blend wine tastings with seasonal food pairings. The Signature Bar is open for tasting daily, except major holidays, 11:00 AM to 5:00 PM ($10). The J Bubble Room experience ($55 per person) offers sit-down service of library vintages and small production wines with a tasting menu. When weather allows, a tasting menu is also offered on the outdoor J Terrace ($35). The J Essence Tasting ($200 per person) includes transportation to one of J's estate vineyards, a private vineyard tour, and an intimate seven course wine and food pairing luncheon in the Bubble Room. Reservations are required for all but tasting at the Signature Bar. Tours of J are offered daily at 11:00 AM and 2:30 PM by appointment. J Vineyards & Winery is located at 11447 Old Redwood Highway in Healdsburg. The phone is 888-JWINE-CO and the website is www.jwine.com.