Lane Tanner's Enticing Pinots
Lane Tanner, the Pinot Czarina, is a California treasure who has not received the notoriety that she deserves. She was one of the first female California winemakers to make a credible Pinot Noir in California (1984) and has demonstrated a remarkable resiliency and consistency over the past 25 years. There is nary a mention of her in books on Central Coast Pinot Noir (Santa Barbara County Wineries, California's Central Coast, The Ultimate Winery Guide). She works out of a small space at Central Coast Wine Services in Santa Maria Valley which is not on anyone's Pinot Noir winery travel itinerary. She doesn't own any vineyards and her "tasting room" is a closet-size space in the voluminous building at Central Coast Wine Services housing many other wineries. Fortunately, author Judy Reynolds, in her book, Once Upon a Vine: The Secret Stories of California's Artisan Wineries, writes about Lane (who she affectionately calls "Bette Midler in a bottle). Reynolds says, "What do you get when you blend a wry sense of humor with pixy good looks and a yen for chemistry.... In the madcap life script that Fate wrote for Lane Tanner, you get a winemaking woman who started her own brand in the earliest days of Santa Barbara Pinot Noir..... and lots of laughs."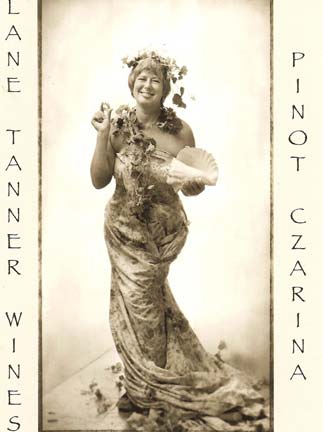 Lane is a delightful woman whose charm is reflected in her enticing Pinot Noirs. After graduating from college with a degree in chemistry, she found herself working on the bottling line at Konocti Winery in Lake County, California. Konocti's winemaker, Bill Peese, found out she had a degree in chemistry and moved her into the winery lab. The first day in the lab, she was introduced as the new enologist to the winery's consultant, Andre Tchelistcheff. The only problem was that Lane had no clue what an enologist was. Andre kept telling the winemaker, "Have Lane test this, have Lane test that." Fortunately, Andre was charmed by her spunk and her future career was born. Her encounter with Tschelistcheff has led to her adopting her current moniker, "Pinot Czarina." Tschelistcheff's sister was a Czarina but is now deceased, so Lane decided to carry on the name.
Lane moved to an enologist position at Firestone Winery in Santa Barbara County in 1981 and then started her eponymous label, Lane Tanner Winery, in 1984. Victor Geraci, writing in Salud! The Rise of Santa Barbara's Wine Industry, noted, "Lane Tanner proved that a woman could also achieve status as an independent winemaker." Lane's first Pinot Noir was released under the Hitching Post label in 1984 made from grapes from Sierra Madre Vineyard and Santa Maria Hills Vineyard. This was the house wine for the Hitching Post restaurant in Buellton made famous in the movie 'Sideways.' Her first wine under the Lane Tanner label was the 1989 vintage when she released a Pinot Noir from both Sierra Madre Vineyard and Sanford and Benedict Vineyard. She points out that these vineyards are now 100% replanted so are not the same as when she sourced them. Lane was one of the first winemakers to acquire a contract for Pinot Noir grapes from the famed Bien Nacido Vineyard, a contract that continues to the present day. Currently, she is married to Australian winemaker, Ariki (Riki) Smith (Labyrinth Wines) who handles the heavy chores in Lane's current winemaking location.
Because of her extensive experience with California Central Coast Pinot Noir, I asked her what she thought was the biggest change in California Pinot Noir in the last 25 years. Lane said the single most important change in the life of Pinot Noir winemakers was leaf pulling. "Before we started leaf pulling, Pinot Noir grapes seldom got riper than 23º brix before the crop would be lost to mold. Even at 22º brix, mold was present. The color was always light with an almost watery look. Leaf pulling allowed us as much hang time as we wanted and the color difference in the finished wines was astounding!"
Lane producers about 1,500 cases of Pinot Noir from purchased Santa Barbara County grapes. In 2007, production was down and she made only two wines. As she says, "The crop was way small!" Yields were only one ton or less per acre resulting in wines that are "unusually thick and bolder, even with my finessful (her term) touch." Lane is known for elegance and sensible alcohol levels. She often picks her grapes before other winemakers. That said, her Pinot Noirs are not "sissy" wines but rather Pinot Noirs of flavor, nuance and charm.
Her winemaking regimen includes de-stemming into 4' by 4' by 4' open-top fermenters. Fermentation goes on with Aussmanhausen yeast over two weeks. The wine is aged 11 months in 46% new French oak barrels with the remainder being one-year-old barrels. The wine is unfined and gently filtered ("rock and frog filtering") for visual clarity. All wines are very low in sulfites because Lane is allergic to sulfites. Because of the small clusters and berries in 2007, the wines are concentrated and more on the dark side than is usual for Lane. The alcohols are a touch lower.

2007 Lane Tanner Bien Nacido Vineyard Santa Maria Valley Pinot Noir
13.9% alc., 295 cases, $33. From N Block (Martini clone on its own rootstock planted in 1973). Back label says, "Laugh More-Flirt Often." · Appealing intense aromas of blackberries, raspberries, plums, raisins and herbs. Tasty earth-dusted berry flavors with pepper in the background. There is a slight roasted quality to the fruit. Alluring richness, smoothly textured, with a tenacious persistence on the finish. Lane Tanner Pinot amped up a notch. Not as expressive as it will be but great cheekbones now.

2007 Lane Tanner Julia's Vineyard Santa Maria Valley Pinot Noir
13.8% alc., 447 cases, $36. Sourced from block B4 (Martin Ray selection) of Julia's Vineyard which is located about 3 miles east of Bien Nacido Vineyard. The crop was low so it ripened earlier and harvest occurred about a month earlier than in 2006. Lane was the first to pick at this vineyard. Aged 11 months in 33% new French oak and 44% one-year-old barrels. The wine was not finned and was gently filtrated. · Watch out for this spiced-up mother as it will seduce you. On the extroverted nose there are lovely scents of framboises des boise and cassis liquors which draw you into the glass. The lush berry fruit is rich and opulent with well-integrated tannins and a whisper of oak. Balance is spot on. The mouth feel is satiny and the long, powerful finish is seductively perfumed. This is a wine with considerable cleavage that is hard to say no to.
Lane Tanner Wines are available on the website at www.lanetanner.com. There are small amounts of the 2006 Santa Barbara County and Julia's Vineyard Pinot Noirs still available as well as a limited number of library wines. Prices for the 2007 vintage are the same as for the 2006 vintage. Its a no-brainer: great Pinot at a sensible price made by a pioneering and highly respected California winemaker. The Bien Nacido bottling is the least expensive Pinot Noir from this vineyard on the market today (due to a contract that dates back to 1993). Free shipping on orders of 8-12 bottles. Phone Lane for questions or flirting: 805-929-1826.