Eric Kent Wine Cellars: Wine as Art in Santa Rosa
Like Superman's Clark Kent, there is in reality no Eric Kent. Eric is owner Kent Humphrey's middle name and Kent is his first name. Being on the humble side, Kent just could not bear to be blatantly eponymous. He also could not imagine people in a trendy restaurant asking the sommelier for a bottle of "Humphrey" Pinot Noir. So, he inverted his first and middle names and his "nom de vin" was born.
Kent grew up in California around a family table that enjoyed wine. His college path, however, was not directed toward wine, but rather the doctorate program at University of California Berkeley in French. He soon opted out of academia and pursued a job in advertising. He started his own agency and his company grew rapidly but his youthful idealism was drained and he says, "The work nearly sucked the joy out of life." During the ten years he worked in advertising, he sampled, savored, collected and delighted in wine. When he finally broke from the advertising world, his friends and family encouraged him to seek a career in wine.
He considered attending University California Davis for winemaking training, but realized that many of the wines he most admired were made by people who had no formal training in wine. So he sought out hands-on experience. A few years later, he was offered some classy fruit from top notch vineyards and Eric Kent Wine Cellars was born. He produced 375 cases in the inaugural 2003 vintage and has since grown to 1,900 cases annually. Given his run-in with big business, he plans to stay small and lean with growth stopping at 4,000 cases. The plan for that buildup is sensibly paced and he is content to take whatever time is necessary to do it well. His wines have created a sensation from the beginning and the demand may accelerate his projected rate of growth.
Eric Kent Wine Cellars is a family affair with his wife, Colleen, an accomplished artist, working with Kent in making blending decisions and he helping her choose the individual art works that grace the bottles of Eric Kent wines. Kent's sister, Renee (pictured below with Kent), is the Director of Wholesale and Distribution. Over half of the wine is sold directly to E/K Direct Club members who receive significant discounts. Kent specializes in coastal Pinot Noir, and cool-climate Chardonnay and Syrah.
The works of art featured on the front labels are quite striking. The artwork is from deserving, but yet undiscovered talent. Each artist brings a unique vision that compliments the spirit behind the wines. The labels add another dimension to wine by creating a built-in discussion with every cork pulled. With each vintage, a portion of the wine sales is donated to help support the work of struggling artists.
Kent's winemaking regimen is traditional. He employs a 4 to 8 day cold soak. Stem inclusion is variable and will depend on the appearance and taste of the stems. Native fermentation is employed for the Chardonnays, the Pinot Noirs are frequently inoculated. Aging is carried out in 45% to 55% new French oak barrels.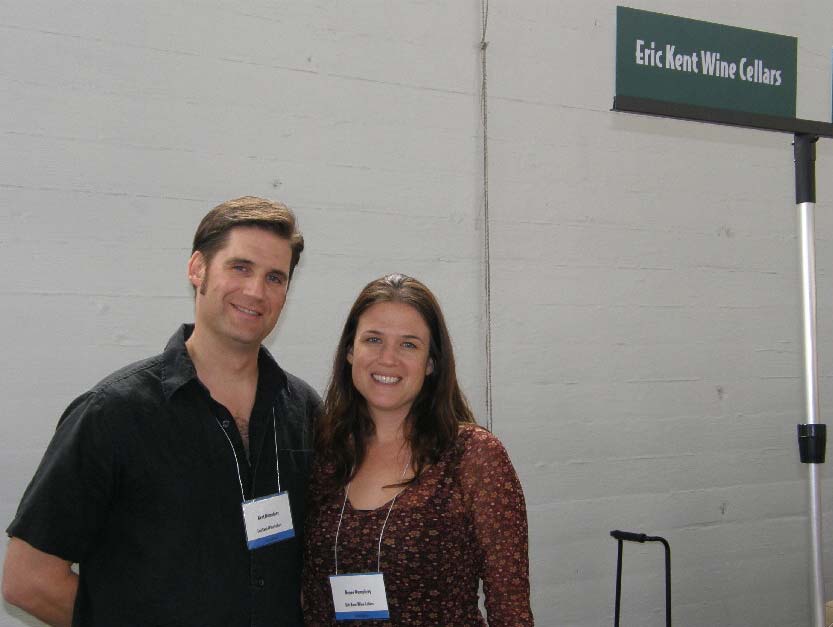 I tasted the three 2007 Eric Kent Pinot Noirs with Kent recently. They are all quite different wines true to their disparate origins, and each offers excellent drinking. The 2007 Stiling Vineyard Russian River Valley Pinot Noir will be released in the fall. The 2007 Small Town Sonoma Coast Pinot Noir is unfortunately sold out, but the Windsor Oaks Vineyard Russian River Valley Pinot Noir is still available.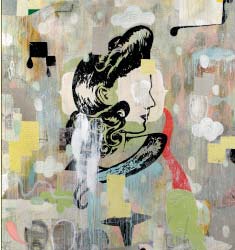 2007 Eric Kent Wine Cellars Stiling Vineyard Russian River Valley Pinot Noir
14.7% alc., 307 cases, fall. Pronounced "Styling," this vineyard was planted initially in 1989 with Swan clone and then inter-planted with Dijon 115 clone. This wine is almost entirely Swan clone. 30% whole cluster. Aged in 55% new French oak barrels. Label art is by John Yoyogi Fortes. · The nose is quite charming and accessible featuring black cherries, raspberries and red plums. Caressing in the mouth with soft tannins and defining acidity, the flavors of dried cherries and baking spice stand out. This vintage offers more elegance and restraint than the 2006 version and is a sleek and seductive wine that is quite stylish.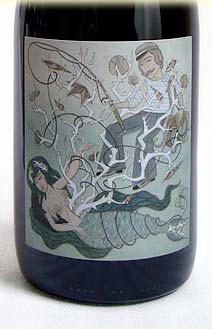 2007 Eric Kent Wine Cellars Windsor Oaks Vineyard Russian River Valley Pinot Noir
14.9% alc., 352 cases, $39 (Club Pre Release $30.25). Second vintage from a 220-acre Russian River Valley vineyard located east of Highway 101. Planted to 18 varietals, Kent sources four Pinot Noir clones (about 25% of each) including Dijon 114, 115, 667 and 777. An early ripening site that allows for 17% whole cluster inclusion. Aged in 50% new French oak barrels. Label art is by Evan B. Harris. · Ripe, but not overripe, aromas of dark fruits, roses and brown spices. The flavors echo the aromas with an added hint of savory herbs, sassafras and raisins. A pleasing fruit-forward wine with fine-grain tannins and a refreshing finish. Approachable now and showing more pizzazz than the 2006 vintage.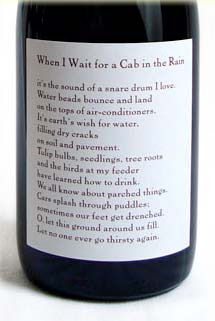 2007 Eric Kent Wine Cellars Freestone Pinot Noir
14.8% alc., 148 cases, $48 (Club Pre Release $39), sold out. The label says, "Freestone," marking the western Russian River location of the two vineyards that provided the grapes. After the label was printed, Kent found out "Freestone" is trademarked and had to change the name to "Small Town" which is the name of the wine on the website. This cool area is most akin to the true Sonoma Coast, with harvest coming three to five weeks later than Kent's other fruit sources and arriving in the winery at a lower brix with more natural acidity. Clones are Dijon 115, 777 with 7% Swan clone from Stiling Vineyard. Aged in 45% new French oak barrels. Label artist is Meghan Adler. Unfiltered. · This is a spectacular Pinot Noir that is packed with nuanced and layered aromas and flavors. Berry compote, black cherry cobbler, anise, herbs, forest floor all show up in a smoothly textured, beautifully balanced, full-bodied and opulent package that has a very powerful charisma. Understandably sold out.
Eric Kent Wine Cellars offers wines for sale on the website at www.erickentwines.com. Sign up for the E/K Direct Club to receive significant discounts on purchases. Wines are offered in the spring and fall with the option of designing your club shipments any way you like, up to six bottles of each wine. Like the Freestone bottling above, the wines are frequently sold out through pre release to E/K Direct Club members. There are small quantities of Eric Kent wines available through retail channels and at fine restaurants (see website for locations). The phone is 707-527-9700. Details of the artists whose work appears on Eric Kent labels is offered on the website by Colleen Teitgen (Humphrey), the Curator for Eric Kent Wine Cellars. You must visit the website which is one of the most navigable and comprehensive that I have ever seen for a winery.