Landmark Vineyards
"I will never put my name on a product that does not have in it the best that is in me."
John Deere
Landmark is not on the beaten path of the Pinot trail since it is located in Kenwood in the Sonoma Valley, and it is better known for its superb Chardonnays (Overlook, Damaris Reserve, and Lorenzo) which rival the best in California. Nevertheless, pinotphiles know that Landmark is a top choice for consistently excellent Pinot Noir as well. I have sampled many vintages of Landmark Pinot Noir but had never visited the winery to meet the owners and winemakers. While visiting Sonoma before the recent Pinot Days event, proprietor Mary Colhoun proudly welcomed me to Landmark's beautiful landscaped visitor center and winery. I was able to sample both the current 2007 Landmark Pinot Noirs in release and 2008 wines in barrel.
Mary, and spouse Michael, follow a long family tradition of farming and agriculture. Michael's great-great-great grandfather was John Deere, inventor of the first steel plow and the founder of one of the world's largest farm equipment manufacturing companies. Michael's mother, Damaris Deere Wiman Ethridge, along with other partners founded Landmark in 1974 in Windsor, California. The partners subsequently sold the Windsor property and Damaris moved the winery to a scenic site at the foot of Sugarloaf Mountain in the Sonoma Valley in 1979. Damaris, who was John Deere's great-great granddaughter, convinced her son, Michael Deere Colhoun and his wife Mary, to move from the East coast in 1992 to take over the day-to-day operations of the winery. With no experience in the wine business, (Michael was a commercial real estate executive who grew up on a dairy farm), the Colhouns have done a remarkable job in bringing Landmark Vineyards into the upper echelon of California wineries.
The thrust of Landmark from the beginning was Chardonnay, which now makes up two-thirds of the winery's 30,000 annual case production. Landmark obtains Chardonnay grapes from about 28 different vineyards primarily located in Sonoma County with small lots coming from Monterey and Santa Barbara counties. Many of these vineyards have been under contract for years. The Pinot Noir grapes come primarily from the Sonoma Coast (Kanzler, Keller Estate, Flocchini, Gap's Crown and Armagh). A vineyard-designate Pinot Noir is sourced from the noted Solomon Hills Vineyard in Santa Maria Valley.
The current winemaker, Eric Stern, has been with Landmark for twenty years. Stimulated to pursue a career in wine after working as a wine shop manager, sommelier and salesperson for an importer and wholesale distributor of wine, he obtained a degree in enology from California State University Fresno. Stern apprenticed at Acacia and Carmenet wineries and joined Landmark as an Assistant Winemaker in 1989. In 1993, he was promoted to Winemaker and worked with consulting winemaker Helen Turley. The wines have been superb ever since. Greg Stach (pictured below next to the vintage John Deere tractor that stands at the entrance to Landmark), also has an enology degree from California State University Fresno, and is currently the assistant winemaker.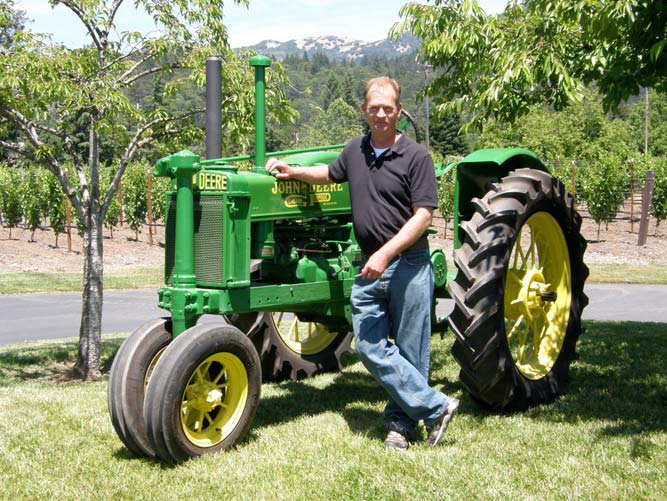 2007 Landmark Grand Detour Sonoma Coast Pinot Noir
14.0% alc., 2,500 cases, $40. Grand Detour is named for the location of John Deere's black smith shop in Illinois. This wine is a blend of five Sonoma Coast vineyards. Aged in 33% new oak barrels for 10 months. · Dark ruby in color. The nose is scented with black cherries and black raspberries with a hint of dark caramel. Richly flavored, but discreetly concentrated darker fruit flavors with an underpinning of attractive earthiness. Seamless with gentle tannins and a fine nerve of acidity. Like many of the 2007 vintage Pinot Noirs from California, this wine will benefit from more time in the bottle.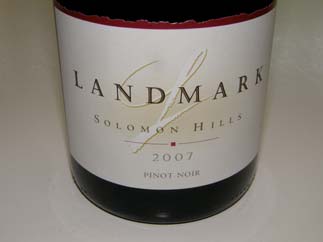 2007 Landmark Solomon Hills Santa Maria Valley Pinot Noir
13.8% alc., 120 cases, $55. This barrel select blend consists of 67% Pommard clone and 33% Dijon 777 clone. A small percentage of whole cluster fruit was used. Aged in new and one-year-old French oak for 16 months (6 months longer than other Landmark reserve-styled Pinot Noirs). · Appealing nose of changing themes including dark red cherries and berries, spices including cardamon, and floral scents. Richly layered with spiced dark stone fruits exhibiting a lovely Pinot sweetness and a slight smoky edge. Sturdy on the palate with a soft and satiny texture and healthy tannins that need time to resolve. Satisfying now, but will improve with another 6 to 12 months in bottle.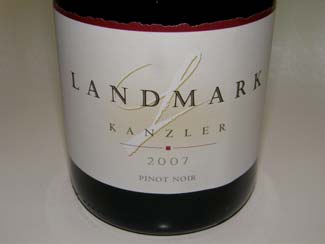 2007 Landmark Kanzler Vineyard Sonoma Coast Pinot Noir
14.9% alc., 500 cases, $65. Kanzler Vineyard is situated just west of the town of Sebastopol on a 16-acre site. The clonal mix for this wine is 54% 115, 44% 667, 3% Pommard. Each block was harvested separately and fermented individually. Only the best barrels of free-run juice were chosen for this blend. · Similar to the Grand Detour in style and flavor but with the fruit intensity ramped up significantly. Complex aromatic profile of black cherries and blackberries, black grapes, pepper and oak. A plush and creamy palate of dark fruits, dark chocolate and slight toasty oak char all wrapped in a complimentary robe of moderately firm tannins. A tenacious wine that grabs hold and persists through a long and chewy finish. If you are feeling hedonistic now, decant and serve with hardy foods.
Landmark Vineyards wines are available through fine wine retail stores, at the winery's tasting room and on the website at www.landmarkwine.com. The comfortable tasting room is housed with the winery at 101 Adobe Canyon Road at Highway 12 in Kenwood and is open daily from 10:00 AM to 4:30 PM. Wonderful picnic grounds are combined with views of the Sonoma Mountains, beautifully landscaped grounds for relaxing, and a bocce court for fun. A cottage on the property is available for overnight rental. The phone is 707-833-0053.